5 Reasons To Chop Off Your Hair (Even If You're Emotionally Attached)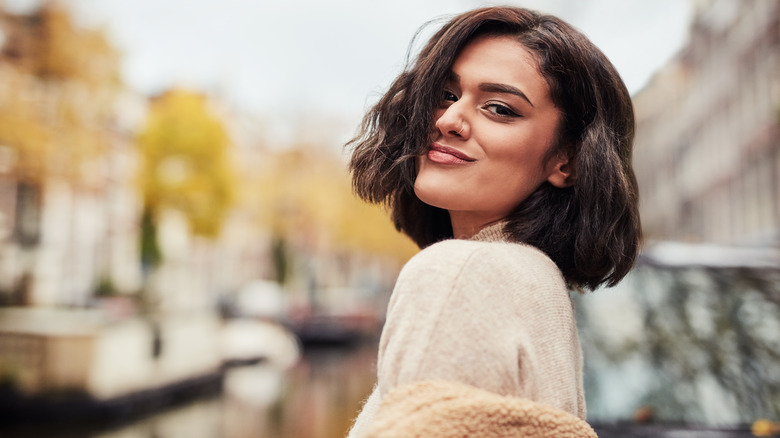 Luminola/Getty Images
Cutting off your hair can feel like a new beginning. If you've recently gone through a breakup, moved to a new city, or are generally celebrating a new era of your life, chopping off your hair might be the freeing marker you need. Our hair represents so much about us — whether you like showing off your gray hair or changing it up and going full Barbiecore with pink hair. Many of us naturally feel very attached to our hair, but sometimes we find reasons to cut it off — maybe it's due to wanting a fresh start, improving our hair health, or perhaps wanting to spend less time and money on our manes.
There is something powerful about our willingness to drastically cut off our hair. As the warmer weather is upon us, you may consider a major chop to avoid overheating or to commence this year's hot girl summer. We've rounded up some of the best reasons to chop off your hair, even if you've grown comfortable with your beautiful mane. If you're thinking of ways to make this summer one for the books, this one's for you.
It's a fresh start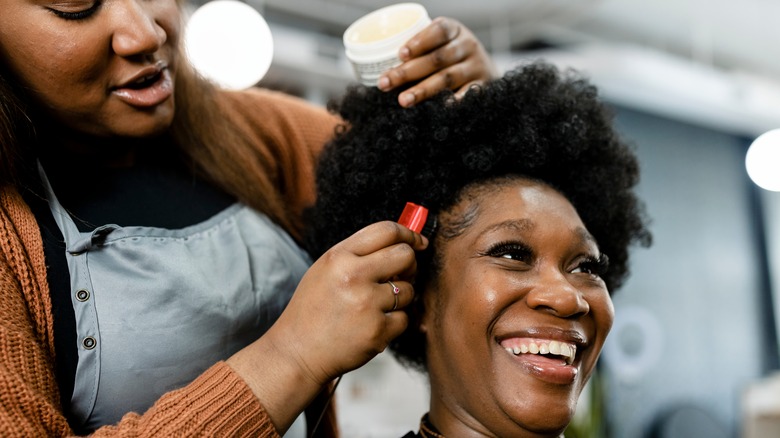 Rawpixel.com/Shutterstock
New haircut, new you. Getting a new 'do can be the catalyst for cultivating an entirely new look from head to toe. If you've been feeling stuck in a style rut, changing up your hair in a dramatic way can help inspire you to express your style in fresh new ways as well. Beyond the aesthetics of chopping off your hair, a fresh start can also help you create a new routine that will grow your hair back to its healthiest form. Your new short haircut can also help you reimagine and streamline your hair care routine. What better way to start summer 2023 than with a beauty routine that works with your busy lifestyle?
If you're a woman or femme-identifying person, a haircut can also help you examine how long hair plays a role in upholding misogyny and rigid gender ideals. The expectation that luxurious and long hair looks best and most appropriate on us perpetuates traditional gender roles and ideas of femininity. Exploring what looks and feels best for you can help enhance your most authentic identity in a world that often puts women in boxes.
If you don't like it, it grows back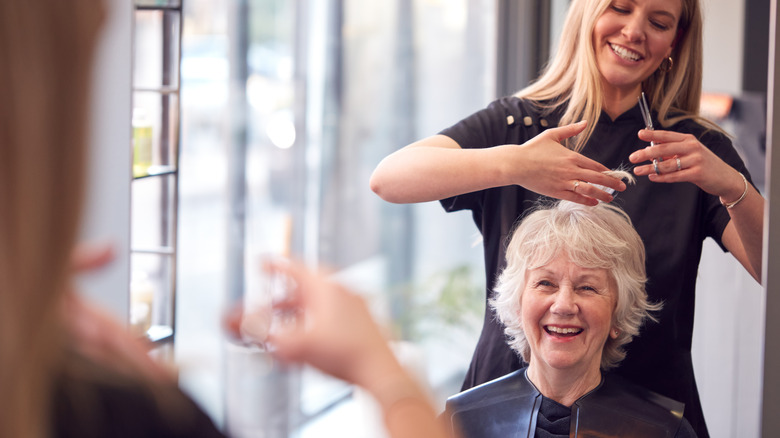 Monkey Business Images/Shutterstock
One of the most common pre-haircut fears is that we won't be satisfied with the final product. Thankfully, hair grows back, which makes it one of the best outlets for self-expression. Even if you end up wanting to grow your hair back, going for the chop may help boost your mood. Liz Hughes, a Houston-based licensed professional counselor told Mane Addicts, "It still provides that instant gratification for change that we are craving at that moment, with the ability to undo it if it's the worst thing ever. The reward system in our brain provides us with dopamine when we achieve this quick fix, which leads to us temporarily feeling really good."
Additionally, many "bad haircuts" can be fixed by getting creative with how you style your hair and respectfully telling your stylist you aren't happy with your haircut so they can help you fix it and know what to avoid next time. Haircuts, whether good or bad, can also help you realize what styles do and don't work for you, as well as new ways to take care of your hair.
Bangs, bangs, bangs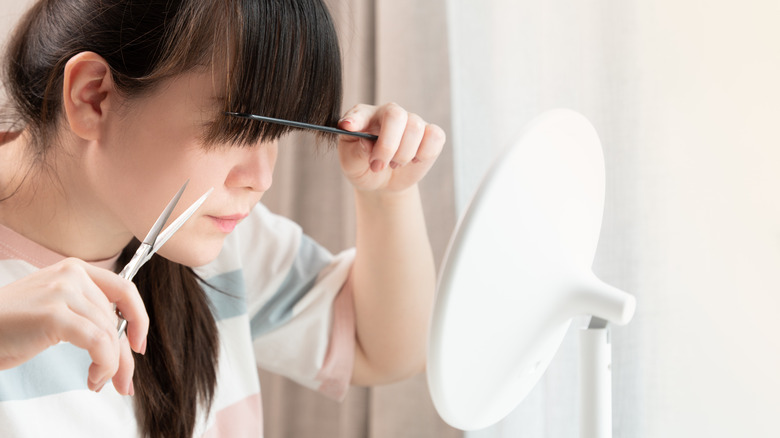 myboys.me/Shutterstock
Bangs have never gone out of style — and they're one of the best ways to change up your look without going for a full chop. If you're not looking for a drastic change in length, getting bangs can make a huge difference by adding definition and changing the shape of your face. The best part is you can pin them back when you're not in the mood to deal with them.
If you want to ease your way into this new look, think about asking for curtain bangs. New York City-based stylist Emily Heser explained to Glamour, "Curtain bangs are the gateway to bangs, because they're super versatile. They're long enough to grow out or pin back if you want, but they can also be cut into a shorter look." There are also a ton of ways to style curtain bangs, no matter your hair's length, so you've got versatility on your side. You can also opt for side-swept, choppy, wispy, or blunt bangs. Bangs exist for every face shape and hair texture, and in the hands of the right stylist, you could start your summer off looking cuter than ever.
It's great for hair health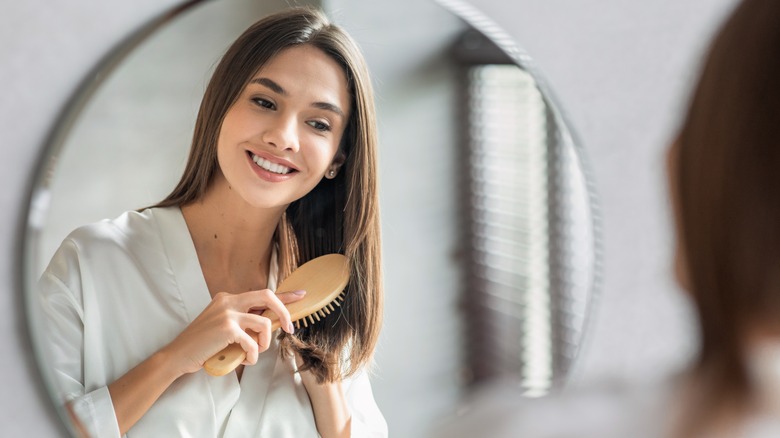 Prostock-studio/Shutterstock
According to Hair Cuttery, there are many benefits to getting a haircut, including better scalp circulation, healthier hair growth, and shinier strands. Chopping off your hair into a short 'do is also handy if your hair is severely dry or damaged from heat styling. It's also easier and quicker to style shorter hair, which means less time spent under a hair dryer and other hair-damaging heat-based tools.
Because an essential part of hair hygiene is "the less heat, the better," going for short hair is ideal if you're looking to achieve better-looking strands. The hair that grows back will be fuller and healthier, and will give you the chance to incorporate healthy hair habits into your routine, like scalp massages, deep conditioning, and other self-care practices like hair oiling. You might also start switching up your tried and true hair products for those that may be better suited for your hair type. 
There are financial benefits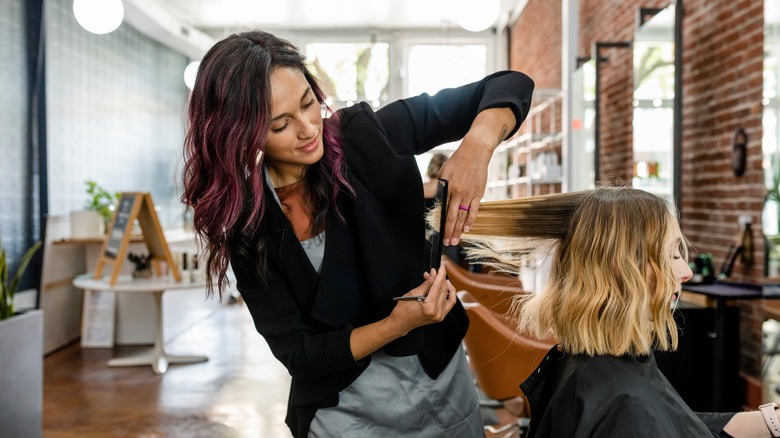 Rawpixel.com/Shutterstock
If we haven't convinced you yet why chopping off your hair is a good idea, consider the potential financial benefits. Rather than spending your hard-earned money every month on products that you hope will revive your damaged hair, a cut can offer the results you're looking for. Intensive solutions meant to treat hair are often expensive, time-consuming, and a last resort for those with deeply damaged hair. If you're looking to streamline your routine and budget, a haircut might be just what you need. Plus, shorter hair equals less product, so you'll be able to stretch your shampoo, conditioner, and styling products that much longer.
Whether you go for a bob, pixie, or buzzcut, chopping off your hair can help you begin the hair care journey your strands deserve. You'll notice the immediate relief of cutting those dried and suffering ends off, and you'll be more inspired than ever to keep those locks looking and feeling healthy.