Pink Hair Is A Power Move, But It's Also A Commitment. Here's What To Know Before You Go Full Barbiecore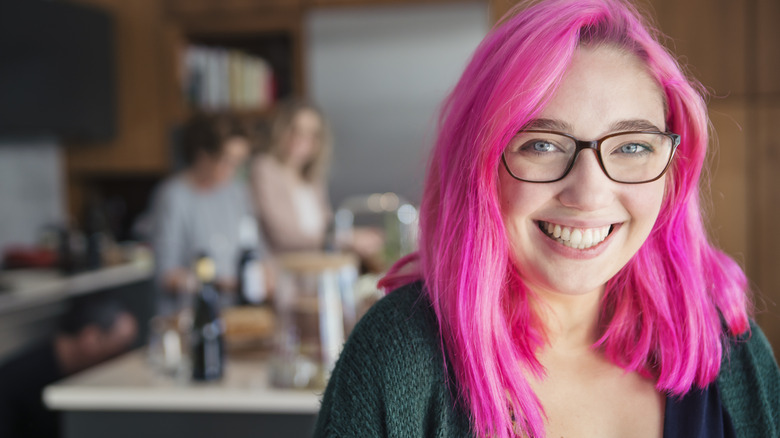 Martinedoucet/Getty Images
You've probably noticed, vibrant hair colors like blue and green are no longer reserved for anti-establishment punks. Despite the stereotypes still thrown at women with unnatural hair color, fantasy colors have become mainstream. Bold pink is an especially popular choice — particularly with the rise of Barbiecore.
Following an embrace of bright colors since the end of the pandemic, the Barbiecore fashion trend has been steadily rising. It's nearing a fever pitch thanks to the upcoming "Barbie" movie from Margot Robbie and Greta Gerwig, their much-anticipated take on the iconic Mattel doll due in July. "A much-welcomed mood-booster after the last few years, 'Barbiecore' is all about embracing vibrant hues — particularly the doll's signature hot pink — in everyday life," Dayna Isom Johnson, Etsy's trend expert, told Good Morning America. "And with many nostalgic for simpler, sunnier, and more carefree times, it only makes sense that this '80s-inspired, unapologetically pink aesthetic is taking center stage as the 'it' style of the summer." 
But pink hair is not something to be taken lightly. Between the initial color process, the upkeep, and the damage the process can do to your locks — not to mention putting yourself on display in this bold way, it's a big change that can feel intimidating. So here are some things to keep in mind before you take the pink plunge.
Going pink can be a complicated process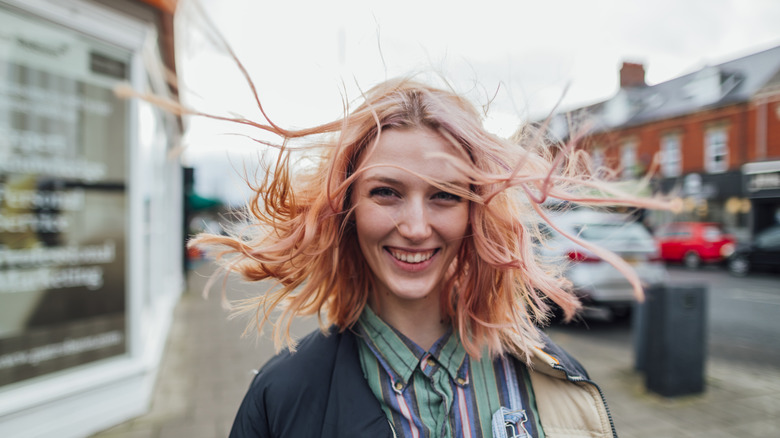 Solstock/Getty Images
If you want to think pink for your hair, be prepared to spend time in the chair — the hairdresser's chair, that is. Dark hair will take some doing to turn pink. It's considerably easier to color your hair if it's already light. Blonde, silver, and white hair might take to the pink dye easily and in one sitting, possibly even at home. But dark brunette, brown, or black hair will need bleaching first, likely requiring help from professionals. Some dyes include conditioning properties, and professional colorists know how to carefully strip the color from dark hair while limiting the damage, but the process can still wreak havoc on your strands. For that reason, if you're unsure about going pink, you might first test it with a washable spray, or try the color out on a few thick strands, rather than going all-over pink.
Dark hair would need more or less bleach depending on the shade of pink you want, and often, the lighter the shade, the more bleach will probably be required. "If you are wanting to be a pastel pink you will need to get your hair to the lightest blonde possible. Otherwise the pale pink will turn out a dingy orange-ish color," colorist Chezney Schulz told InStyle. 
A fuchsia or hot pink also requires bleaching, but perhaps not as light. If your hair is very dark, it may take a few trips to the salon to get the color you want. It's also helpful to find a salon or hairdresser that specializes in creative colors.
Lots of pink shades to choose from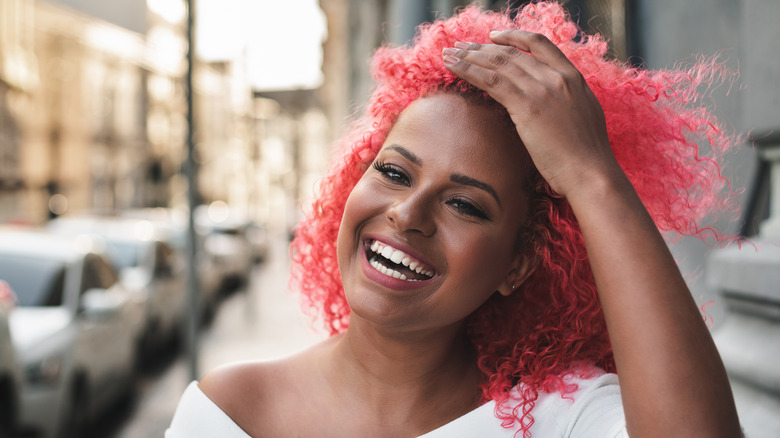 Pollyana Ventura/Getty Images
Speaking of color, there are lots of shades of pink to choose from, whether you like light pastel, bubblegum, rose-gold, fuchsia, or dark rose. While pink can suit all skin types, it's helpful to keep your skin undertone in mind when choosing your shade. Generally, cooler colors with violet or blue bases match cool undertones, while warm colors with yellow or orange hints are flattering to warm undertones. 
Pink can be a high-maintenance shade because it fades quickly, so upkeep is required for bright, vibrant color. Wash your hair as infrequently as possible and use a sulfate-free shampoo and conditioner that protects color. Rinse with lukewarm or cold water to slow the fade and you could even keep some pink dye in your shower to reapply as needed. If you're concerned, consider balayage, a low-maintenance color technique that uses hand-painted highlights and lowlights to hide demarcation lines, allowing your roots to blend with the color. This could mean less-frequent touch-ups, saving you money in the long run.
Whatever shade of pink you choose, it's bound to boost your confidence and make you feel happy. "You just can't be sad when you've got pink hair," PaintedLoveJade says. "If you're feeling a bit down about yourself, go dye your hair a fun color. 100 percent recommend."