Perfect Hairstyles For Showing Off Your Gray Hair (Because It's Awesome, Obviously)
One positive that came from the pandemic lockdown — a "silver lining," if you will — could be that many women decided to embrace their gray hair. Andie MacDowell was one famous example, who stopped dying her hair and instead promoted her age. "I want to be old. I'm tired of trying to be young," the 65-year-old actor told Katie Couric, adding that trying to be young takes "a lot of effort."
But even young women lately are enjoying gray, silver, and platinum as fun and flirty hair colors, sometimes with dye. Model Kylie Jenner went silver for a while (through a complicated salon process that you shouldn't try at home). However, it's often difficult to truly love your gray hair when our anti-aging society has equated it with ugly and old — especially for women while gray-haired men are seen as distinguished.
Fortunately, more and more women are using TikTok and Instagram to promote the joys of silver, gray, and white hair, regardless of age and without concern for who may notice. "They will notice because we have been programmed to notice. To notice perceived flaws in 'beauty'," Instagram user @silverstrandsofglitter posted, a member of the Silver Sisters movement that breaks down beauty standards and promotes gray hair. She explained, "But my gray hair is not a flaw. My gray hair is normal. The idea that it is not, is the flaw." If you're ready to embrace your grays, here are some hairstyles that will make you feel great about your decision.
Ease that awkward transition period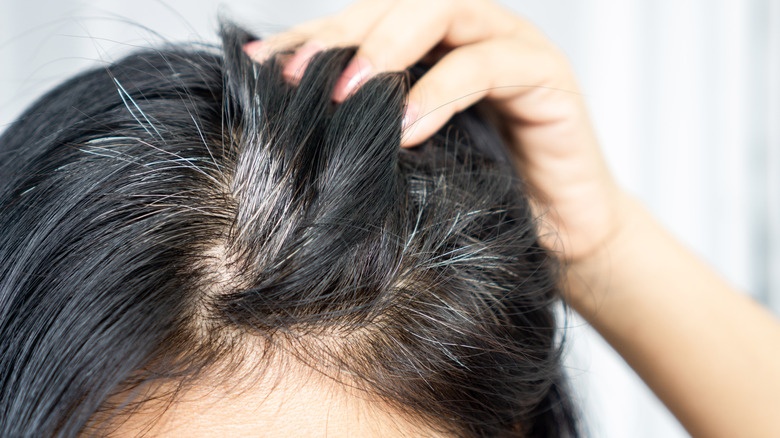 Doucefleur/Shutterstock
Letting your gray hair grow out can take a long, difficult time, but there are some options for easing the transition. Obviously the simplest one, in terms of money and care, is waiting six months to a year or more for your hair to grow out. That was easy while hiding in lockdown, but now that stretch can be emotionally painful, and you might be tempted to give up — though it's worth it if you can stick it out. In the meantime, there are a few remedies, either at home or at the salon, to make it better.
While your hair is growing out, you can use temporary touch-up products to blend the roots, or even try to remove any dye from your hair with hair-stripping products. If you're not sure whether you'll like the gray, for example with dark hair, you could try it out with a temporary spray color. If you already have blonde hair, try a platinum gloss.
If you're ready to go all gray, you can dye your hair a gray or platinum color at home. But be sure to use a temporary or wash-out dye, or you'll simply replace your current demarcation line with a different one. If you'd like to commit fully, you can go to a salon for additional help.
Your stylist can speed up the transition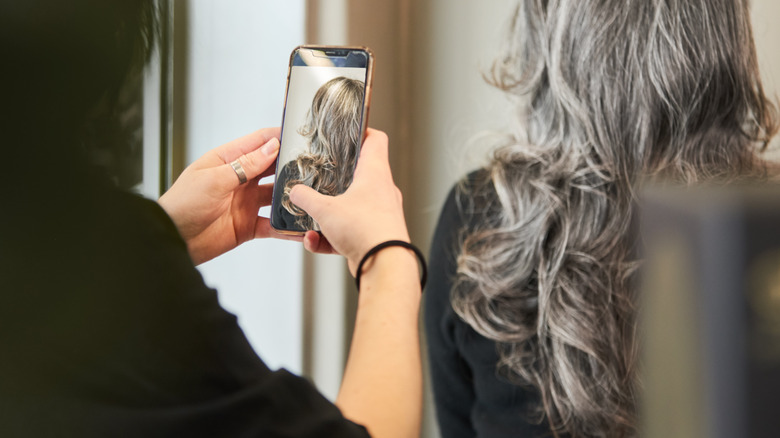 Aj_watt/Getty Images
If you don't want to wait during that lengthy grow-out period, salons can speed up the transition to gray — but be prepared to spend a good amount of money and time in the chair. The process can take hours to complete, and it's complex enough that you don't want to try it at home.
Let your roots grow out at least two to four inches, so your hairdresser has some natural hair to work with. Then, they can use various products to lift the existing color and blend it into your natural color. The process is involved, using lots of products. Lighteners, pigment removers, bleaches, toners, and hair color can all be used to blend and match your natural color. Protectants and masks can also help shield your hair from the damaging process. "Monochromatic color, which is flat with no dimension, looks really hard and is very ageing," L'Oreal color spokesperson Jack Howard told Good Housekeeping. So, stylists can weave in highlights (lighter colors) or lowlights (darker colors) to soften and enhance your natural color.
Commit fully with a short haircut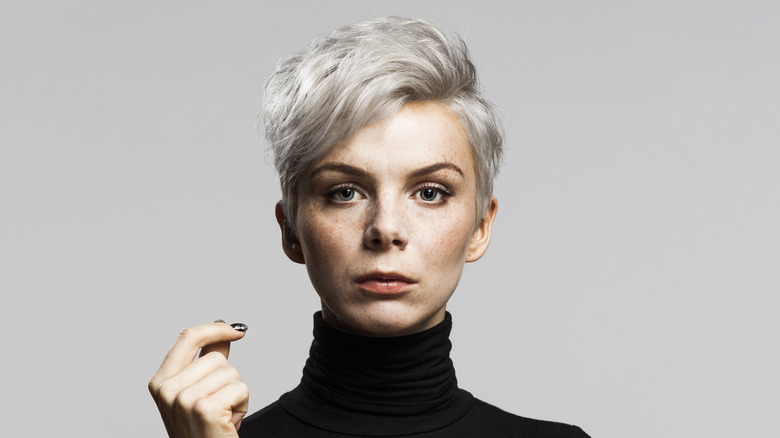 Visualspace/Getty Images
If you're ready to fully commit to gray hair and don't want to wait or chemically treat your hair, you could consider chopping the color off with a short cut. As evidenced by many celebrities, like Jamie Lee Curtis, Helen Mirren, or Judi Dench, a short, edgy haircut could be quite striking. "If [your hair] is a natural gray, more often than not it has a tendency to lean towards a little bit more of the conservative side," says stylist Justin Hickox, "So, therefore, you can get away with a little bit more of an edgy cut."
If you like very short hair, a messy pixie cut could do well, or if you'd like something a little longer, go for a short bob, either straight or with layers. In fact, Hickox recommends having some layers to create shape and movement in the hair. Hair that is one length, he says, "[has] a tendency to kind of get wider at the bottom and that tends to bring the eye down," which can make the wearer look tired or less youthful.
However, if you're not used to short hair, it may not be something you want to do. "You don't necessarily want to opt for an incredibly drastic change in your hairstyle," says Lynn, a Silver Sister. She explains, "Being gray itself is a big decision, and making too many decisions at once can be kind of shocking." But if you're already used to short hair, it can speed up the process.
Go for a hairstyle that's in-between
While a short cut is a trendy way to go gray, it isn't the only option for cute hairstyles — especially as younger people deny the harmful stereotypes and embrace their grays instead. In fact, some stylists say to avoid a severe cut.  Our faces can appear more angular as we age, so softer cuts can help balance your overall look.
If you'd like something softer but still edgy, go for a "lob," or a long bob, one that falls slightly below the jawline. "The subtle layers will frame the face, making it appear fuller," Gibson-Forbes says. You can also try a shag cut or an animal-themed cut, like an Octopus cut, and celebrity hairstylist Jamie Stevens told GH that collarbone length is a perfect in-between. "With subtle layering, this will help lift your neck and jawline to give a youthful appearance," he says. 
Whatever you do, it's best to have a softer style with movement in your hair (and not through volumizing products). "It is important that you have some movement and flow to your hair because that's going to have a tendency to look a lot more youthful," says Justin Hickox, who says highly-structured styles can look dated. There are lots of different lengths and styles to suit your face shape and your personality.
Embrace your length with balayage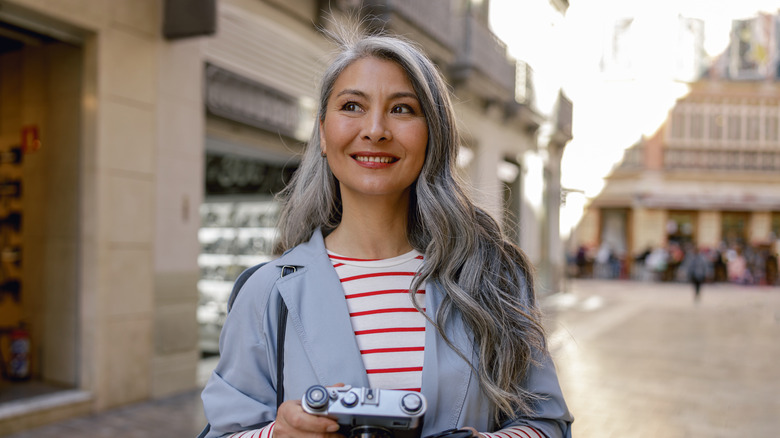 Creative Credit/Getty Images
As long as your gray hair makes you happy, it can be any length, including long. "The only caveat is making sure that hair quality and density supports a longer style, so regular nourishment and a focus on condition is important," colorist Christel Barron-Hough told Good Housekeeping. Especially since hair loses elasticity and becomes more breakable as we age, it's important to keep silver hair healthy, often through products like conditioners, supplements, or masks.
However, it's also helpful for silver hair to have depth. "Grey hair has no tone in it, so you need to add warmth, otherwise it can look flat and one-dimensional," colorist Francesca Dixon said. One way to do this is through a hair coloring technique like balayage. While highlights saturate the hair from root to tip in a foil, balayage is hand-painted starting in the middle. Ombre is a similar technique that focuses its light and dark contrast at the bottom of the hair, and if you'd like to really go edgy, add some vibrant color, like hot pink or blue.