Another Early Aughts Relic Is Rising From The Dead But This Time It's A Comfy Staple: Fit-And-Flare Dresses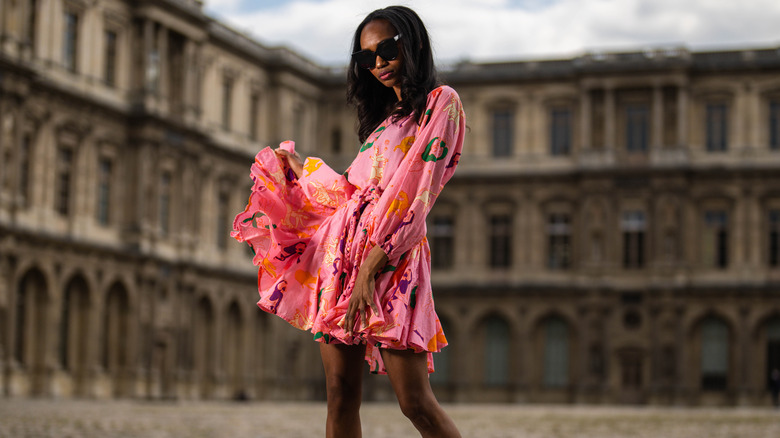 Edward Berthelot/Getty Images
Of all of the Y2K returns, we are most excited about the fit-and-flare dress coming back into style. This particular dress is such a hit because it's comfortable, versatile, and looks flattering on everyone. The cut means exactly what it sounds like; it's fitted on the torso and then flares out into a voluminous skirt. The resurgence of this look is coming in all kinds of lengths. We're seeing this iconic style in mini dresses, knee-length, midi, and maxi. The styling on the top is versatile too. We're seeing fit-and-flare dresses with tank top straps, long sleeves, and everything in between.
This figure-flattering style has come back into style just in time for summer. Thanks to the breezy volume of the skirt, this Y2K dress means you can stay stylish even when the heat is on. It's really the perfect way to embrace a nostalgic trend from the early aughts while staying comfortable and chic.
The short fit-and-flare dress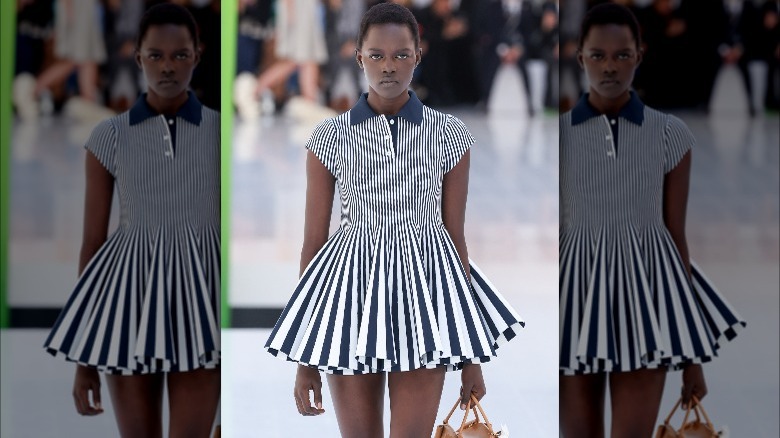 Peter White/Getty Images
Mini fit-and-flare dresses are the most playful way that we've seen this Y2K relic come back. Loewe's 2023 collection was full of ultra-short fit-and-flare dresses. They played on the current trend of athletic leisure and offered tennis dresses with fitted t-shirt tops. Gucci was also onto this Y2K trend with a black mini fit-and-flare dress featuring a polo top. Clearly, this style works well when it plays on athletic inspiration.
Another reason we love this dress in a mini version is because of how flattering it is on everyone. TikTok personality C_poca styled homecoming dresses for the pear body shape and said that the fit-and-flare was one of her favorite options. But her advice is arguably good for anyone. "It's all about drawing attention upwards," she said, praising the fitted torso of the fit-and-flare dress. These mini dresses also show off the legs, creating a perfect summer look, especially if you're attending a wedding where the dress code is casual.
The fit-and-flare dress also comes in a drop waist, like the navy Oscar De La Renta Water Lily dress. The drop waist, a design reminiscent of the 1920s, features a silhouette where the waist falls at the hips, creating the illusion of a longer torso. Whether casual or formal, there's a lot you can do with a mini fit-and-flare dress.
The long fit-and-flare dress
If mini-dresses aren't your thing, don't worry. The fit-and-flare dress has had a major comeback with longer hemlines too. The Bea Tank Dress by Pixie Market is the perfect example of everything this Y2K look has to offer. The tank top is fitted around the torso and has a drop waist, elongating the upper body. The skirt flares out with ample fabric and cuts off around the calf. Zara has also jumped on this revived trend with the Strapless Structured Dress. The top is a fitted tube top and ends in a drop waist, with a wide, flowy skirt.
What we're loving about the longer hemlines of the fit-and-flare dress is how comfortable they are for the summer. If thigh chafing is a worry in the heat (and it is for almost everyone) these ample skirts can hide a pair of anti-chafe biker shorts like the cooling, light shorts by Thigh Society. The breezy fabric means you won't feel the cling of your clothing around you — another win in hot weather. The fit-and-flare style is also perfect for maternity wear, as fashion writer Stephanie Broek shared on Instagram. Perfect for tapping into comfort while remaining breezy and chic for summer.