Sweaty, But Make It Fashion. Our 12 Tips For Staying Stylish When The Heat Is On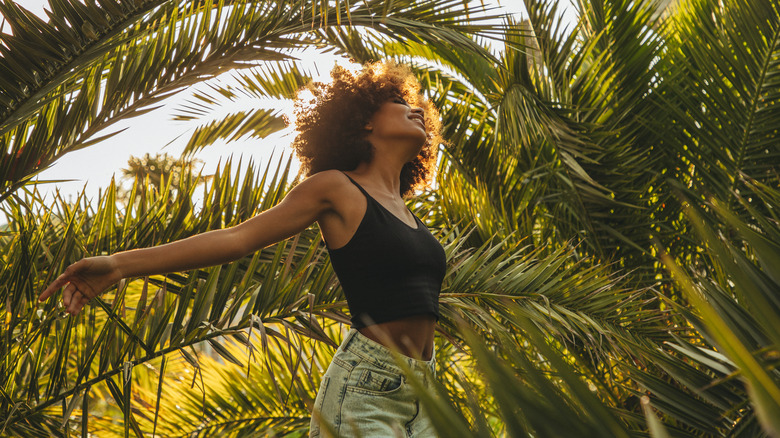 Coffeeandmilk/Getty Images
When it's hot outside, fashion sometimes takes a backseat to comfort. If you get overheated in the summer, the wrong clothing can do more than make you sweaty — it can cause you to be downright miserable and uncomfortable. We want you to know that you don't have to sacrifice style when temperatures rise, you just need to be aware of which clothing items will keep you cool and which ones will make you wish you were in front of an air conditioner. There are many options for cool clothing no matter how hot the summer heat is turned up, and a lot of that starts with how you wear your chosen garments.
Let's take a look at some stylish ways to stay fresh and cool during the summer. The right clothing, from fabric to colors, from what you wear on your feet to what you put on your head, can help you feel less sweaty and have you feeling glamorous even when you feel like you're melting. Even your jewelry can add to how hot you're feeling when summer kicks in, but the summer sun has nothing on these cool clothing tips.
Look for lighter colors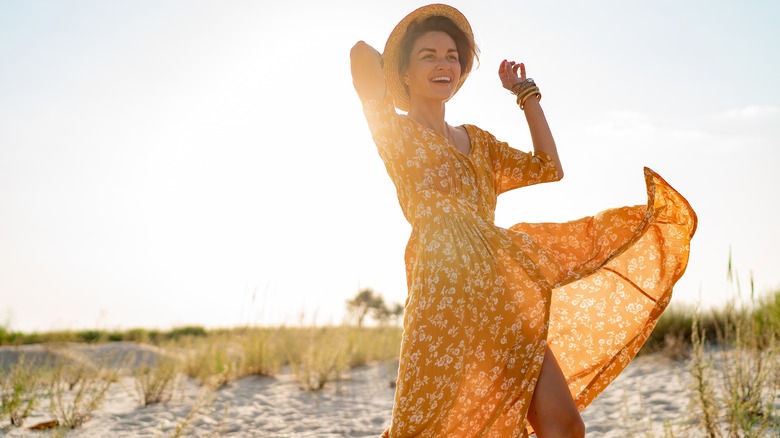 Maria Markevich/Shutterstock
When the temperature increases, reach for the lighter tones in your closet. Darker clothing, like black and navy blue pieces, will make you hotter. It's a proven fact that dark clothing absorbs more heat than light-colored clothing, because it absorbs more light, making you even hotter when you're outside in the sun; Yes, your dark clothing is basically attracting more heat to your body. You can be absolutely fashionable in some pastels, whites, or any other pale colors. Stock your wardrobe with light-colored cotton tees and other natural fabrics — the options are endless with muted hues and pastels. For your bottoms, khaki shorts and pants offer a light tan option that goes with just about everything. We also suggest donning fashionable white jeans, even all year round.
Of course, if you're a fan of dark clothing you can still wear it. You'll just want to find ways to help your darker colors stay cooler. You can start by mixing your darks with some lighter-colored layers on top — a loose button-up shirt in any light color with a black tank top underneath looks nice, or for a risque look, pair a sheer pale top with a black cropped cami or sports bra. We say skip the darks if you're spending too much time in the sun, or grab that lacy black parasol and adopt a serious Victorian vibe.  
Pass on the jeans (or maybe not)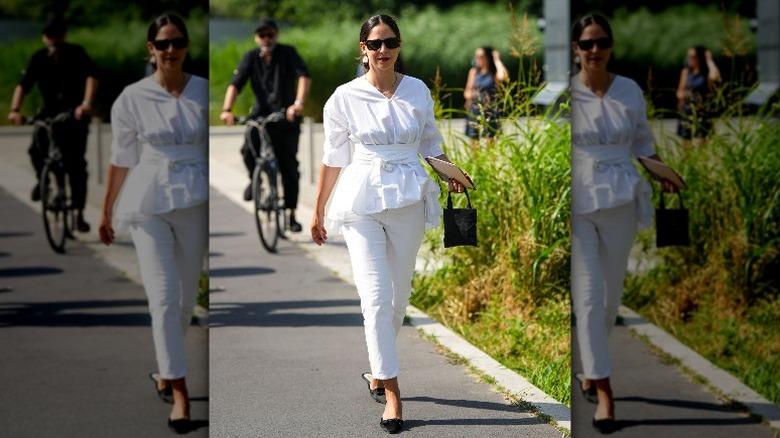 Edward Berthelot/Getty Images
Jeans are great to wear when you want to keep your legs warm because they help hold your body heat. That may seem counterintuitive when it comes to staying cool in the summer, but we're here to tell you that you can still rock those jeans in the summer months — you just have to do it right. When it comes to wearing jeans in the heat, it's important to understand that not all denim is created equal. Chances are if you grab two different pairs of jeans out of your closet right now, you'll notice some of the differences we're about to discuss.
Compare the weight of your jeans, and wear the lighter ones that aren't as thick and confining as they'll leave room for your body to breathe. Consider the fabric enhancements, such as lycra in your stretchy jeans. Those stretchy jeans won't keep you as cool as a loose-fitting pair would. Go for faded, white, or other lighter-colored jeans instead of black and darker shades. Ripped jeans definitely give you some extra cooling, and you can also pair your jeans with some summer sandals and roll those cuffs for a little more bare skin.
Look for sweat-wicking fabric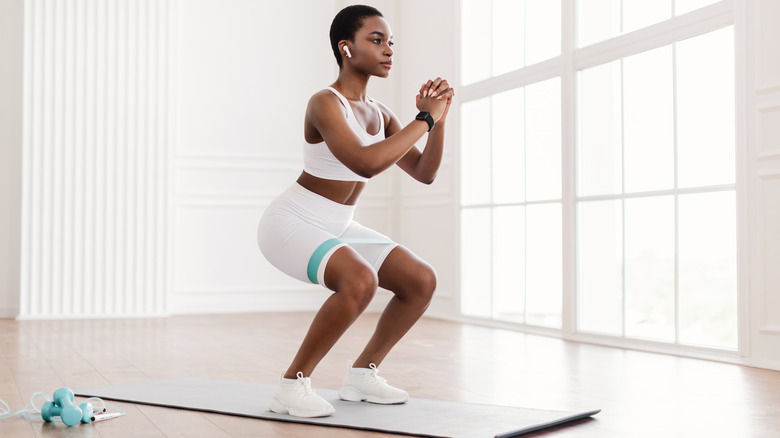 Prostock-studio/Shutterstock
Speaking of fabrics, whether you're wearing pants or shorts, sweat-wicking materials are the way to go when it's exceptionally hot out. Athleisure is becoming more acceptable as an everyday outfit staple, so don't be afraid to shop in the workout clothing department for your summer garb to stay cool, and definitely grab those yoga pants when you're looking for something cooling and fun to wear on a night out on the town. The right accessories will help you bring your athleisure wear to an acceptable summer look, including an oversized tee and some strappy sandals.
But what is sweat-wicking fabric? While cotton is natural and may feel cool in the summer, it can end up wet with sweat; It just gathers there and stays until it naturally dries (which could take hours). The special polyester fibers in sweat-wicking fabrics will collect your sweat, but they disperse it so it can evaporate faster. You can find sweat-wicking fabric used to make tees, pants, shorts, tank tops, and so much more. Synthetic fibers aren't the only sweat-wicking fabrics out there. Wool also wicks away moisture, as does bamboo which is becoming a popular fabric in clothing.
Other cooling fabrics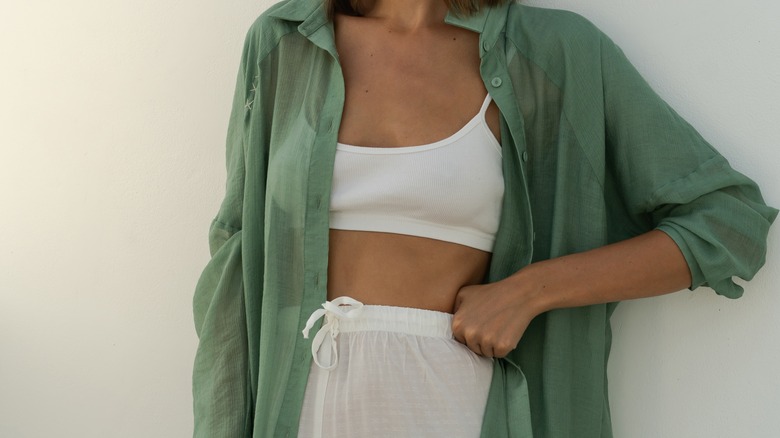 Svitlana Sokolova/Shutterstock
While these fabrics may not keep you sweat-free, they can help you stay cooler than some other options out there. When it comes to the best fabrics to wear during the dog days of summer, we suggest looking at fabrics that are considerably breathable. We already mentioned cotton as one of those breathable fabrics, plus it's natural. Denim can be breathable, just follow the suggestions we shared earlier. Some other great choices include rayon, silk, linen, nylon, and micromodal.
The thin fibers of rayon are what make it breathable, although it's mostly made of synthetic fibers blended with cotton. Silk is thin and natural, and even though it holds heat in during the colder months, it somehow works to keep you cool when it's hot, making it a great staple in your wardrobe year-round. The loose fibers used to create linen fabric make it breathable and also ensure it dries faster as well. Nylon helps keep sweat off your body, much like polyester, and that's part of how it keeps you cool. Oh did we mention? It's also breathable. Finally, micromodal, which is commonly found in underwear, is a partially synthetic fabric that offers breathability in a soft package.
Loose-fitting pieces breathe better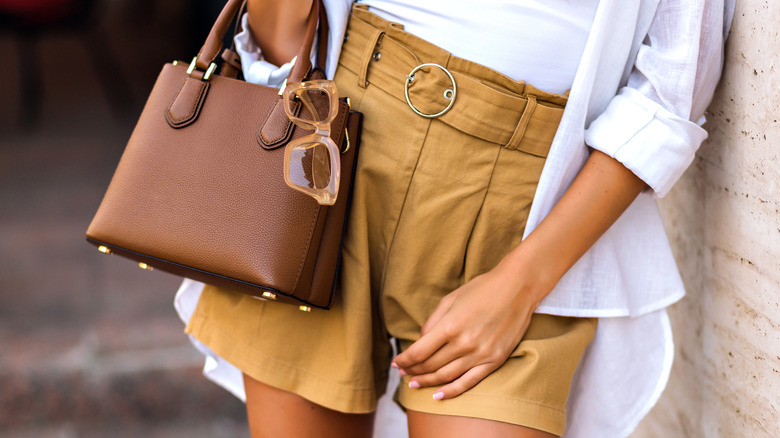 Ann Haritonenko/Shutterstock
While most of us may think of tight and skimpy clothing as the summer go-to pieces, there's something to be said for the way loose pieces help keep us cool on hot days. If you're not a fan of crop tops and short-shorts, then looser clothing options are sure to be a favorite in your summer wardrobe. Even a long sleeve shirt of the right fabric and looseness can keep you feeling crisp and cool on a sunny hot day. They also offer you more protection from the rays of the sun and pesky bugs. 
Tight clothing is constricting, so it holds in all of your body heat. That's great when you're cold, but not so enjoyable when you're already hot. Adding outside heat to what you're creating yourself can easily make you feel overheated on even the mildest hot day. Loose clothing leaves room for the air to flow around your skin underneath, allowing you to cool off without needing to shed extra layers. Another benefit of loose clothing is that it helps prevent chafing. When you're sweaty and you're wearing restrictive clothing, rashes, and chafing are bound to happen. Loose clothing causes less friction and less sweat.
Pick breathable shoes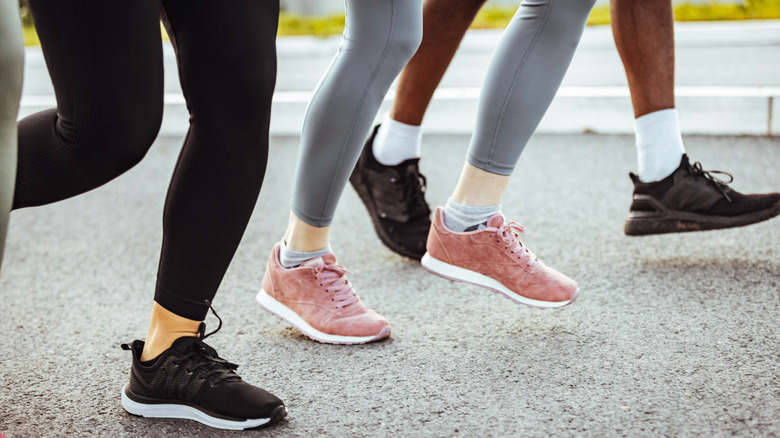 Ljubaphoto/Getty Images
When it comes to clothing that breathes, you want to look beyond tops and bottoms. Consider your footwear too. Our feet are one of the areas where we hold heat inside to keep us warmer, which is why you add extra socks in the winter when you're feeling chilly. If you want that heat to flow out, you'll want to wear shoes that don't stop your feet from doing their job: regulating the temperature of your body.
There are all sorts of shoe options that allow your feet to breathe. Sandals are one of the most summery options, and there are so many different types to choose from. Any open-toe dress shoes will help with regulating your body temperature when you're working in the office. If you're planning on doing a lot of walking or you need some cooling shoes for your workouts, we recommend investing in breathable workout shoes. From walking shoes to cross trainers, there are breathable tennis shoes that have a mesh-like fabric to allow for more airflow. Of course, certain shoes require socks, so grab some bamboo or other sweat-wicking socks to help your feet keep cool when they have to be more covered.
Sweat-proof your makeup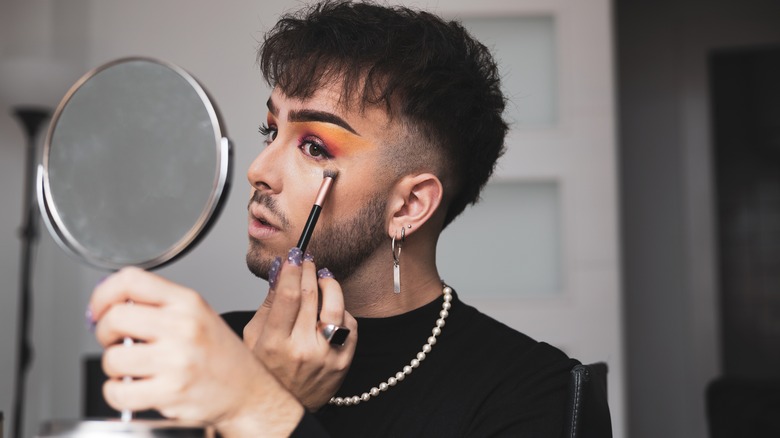 Yiistocking/Shutterstock
We want to make sure that you realize being fashionable has more to do with just your clothing, and that you can make your makeup look fabulous even on the hottest days. We've all had those days where the moment we step outside into that heat wall, our makeup is suddenly a sweaty mess. Within an hour, it can look like we never makeup did it at all. To avoid this, all you have to do is sweat-proof your look to keep it from melting off. While you can buy makeup that's made to be sweat- and water-proof, and you can look for oil-free formulas that stay on longer, there are also some other things you can do to help keep things set in place even when the day has you dripping with perspiration.
You can opt to use a setting spray or powder that's made to keep your makeup in place longer. Setting sprays are nicer for those with dry skin, as they won't absorb as much oil from your skin as a powder will. If you choose to use a powder, put it on the parts of your face that tend to be oilier and skip the dry spots.
Go sleeveless (or at least short-sleeved)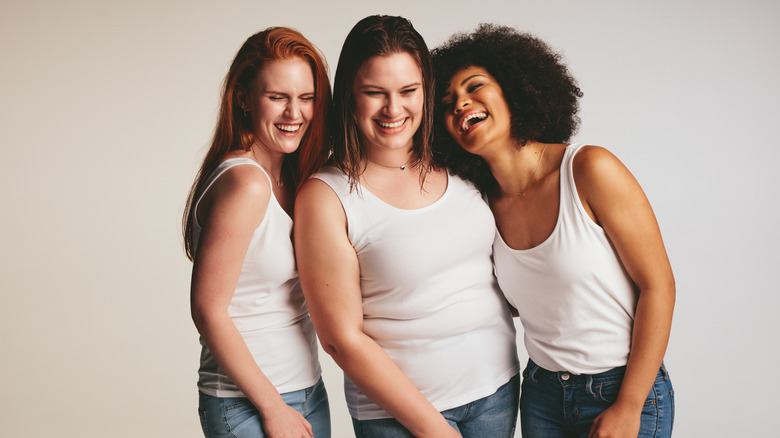 Jacob Lund/Shutterstock
If you want to show off your shoulders and arms (we understand that not everyone does), wearing sleeveless tops is an excellent way to stay cool in the summer while still being stylish. The right style of camisole or tank top can go well with dress pants to keep you cool in the office, while tanks with fun prints or racerback styles and tube tops are great for a night out or spending time at the beach. Aim for whatever makes you feel comfortable. The thing is, there are so many options, ranging from spaghetti straps to thicker straps, low-cut necks to higher collars, and more.
Of course, if you're spending a lot of time in the direct sunlight in your sleeveless tops, we highly recommend using sunscreen to protect your skin or a loose layer that can protect your shoulders when you're in direct sunlight, and can be removed when you're not. Camisoles and tank tops pair well with layers in the summer, so they're a must-have item in your warm-weather wardrobe. The right layers can also help protect your skin from any sun damage or sunburns.
Keep your layers light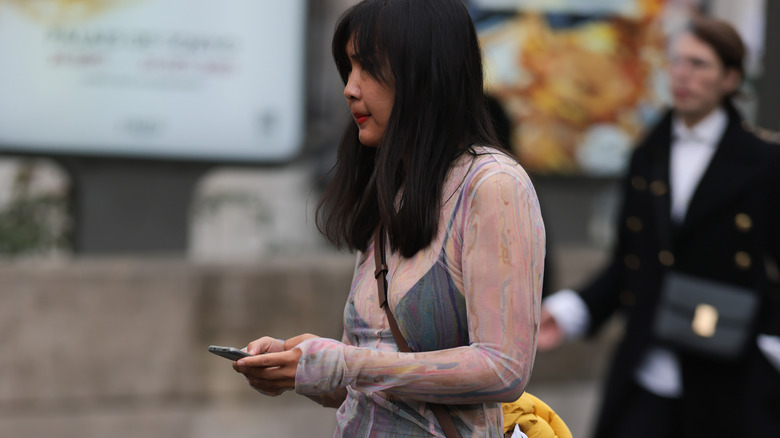 Jeremy Moeller/Getty Images
When it comes to layering clothing in the summer, you have a couple of options. You can add those loose layers we already talked about, and you can add some sheer layers that add a fun and flirty edge to your look without making you feel like a melting pile of goo. Of course, it all comes down to picking those cooling fabrics.
If you don't like showing off your upper arms but still enjoy wearing tank tops and camisoles in the summer, you can wear sheer tops over them. Cover more skin with a sheer long-sleeved dress over a sleeveless dress, like the woman pictured. You can also pair sheer skirts with biker shorts or even mini skirts. This offers up a great way to mix and match color schemes as well. Pair a sheer black top over a neon tank for something fun and retro, or pair a white sheer top with a navy blue camisole for something a little more business-casual. Plus, your shoulders are still showing, but the sheer layers offer a little more forgiveness for the parts of your arms you're not a fan of.
Wear skirts instead of pants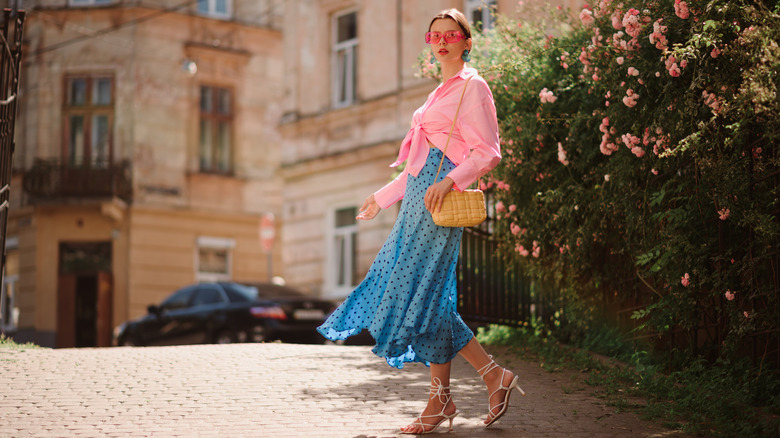 Victoria Chudinova/Shutterstock
If pants feel far too hot for you, you don't have to wear them at all during the summer. Leave the pants for winter and grab a skirt. There are plenty of skirts that offer flowy fabric that helps you stay cool, and they look good with workwear and casual attire. You don't always have to opt for short skirts if that's not your style, and long skirts can be worn in the warm months as long as you're opting for a loose skirt in a cooling fabric (like one of the ones we mentioned earlier). Tighter long skirts that aren't breathable will feel just as hot and constricting as pants.
If you need a break from your shorts, skirts make a great replacement or alternative to them as well. Shorts that are at or above your knees don't have to be as flowing to help you stay feeling cool either. Of course, short skirts aren't always the best option for some summer activities, so why not throw a pair of bike shorts under your skirt when you require a little extra protection?
Pass on the bulky accessories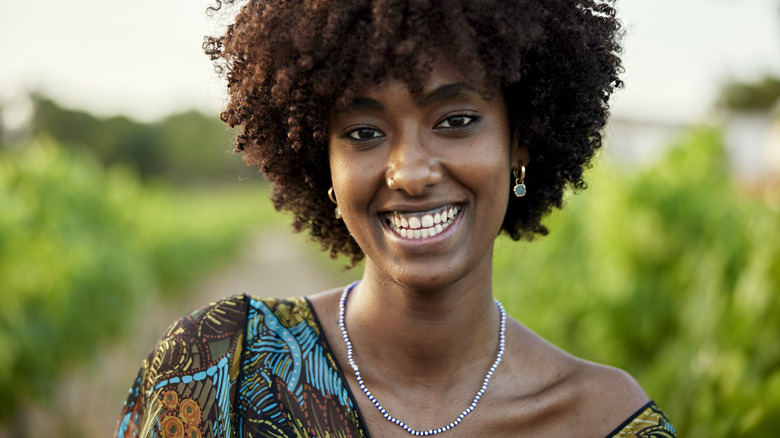 Xavierarnau/Getty Images
While you may not think your accessories will be much of an issue in the heat, big chunky necklaces on your skin can quickly feel like a hot weight around your neck that's producing extra sweat. The same goes for bulky rings and chunky bracelets. Save your statement pieces for when you know you'll be spending most of your time in an airconditioned space, and dig out some lighter and daintier pieces for the times when you'll be outdoors.
We also suggest watching what materials your jewelry is made out of. When you're sweating more, some metals have a way of reacting with the acids in your skin and can leave you with green or black spots under them — that doesn't look fashionable. If you want to wear metals, reach for your good silver pieces, 24K gold, or even platinum accessories. We also suggest wearing jewelry made from natural materials, like real stone beads, seed beads, or pearls, as stones and pearls both tend to stay cooler. While they will slowly heat up with your body, they don't tend to hold heat as much as plastic accessories do.
Grab a hat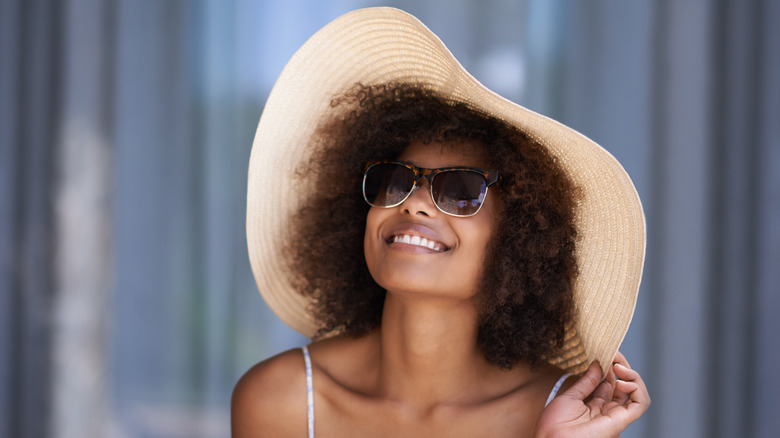 Peopleimages/Getty Images
Sunglasses aren't the only summertime accessory you should never leave the house without. We think you should have a fashionable hat to pull all of your outfits together. There's something to be said for even the most basic hat, like a baseball cap. Hats offer breathability, scalp protection from the sun, and a little bit of cooling shade from the bill in the front. However, there are some other hats that can give you even more shade, and help protect your neck and perhaps even a little bit of your shoulder skin.
Something like a cowboy hat can be helpful; If it's made of straw you'll have a natural material, a little more shade protection, and it's still breathable. But wide-brimmed sun hats help keep the sun off of more of your body, and they're absolutely fashionable. Opt for lighter-colored hats, no matter what type you pick, as a black hat is just going to make you hotter.