5 Novelty Bags To Elevate Your Look (They're Not As Silly As You Might Think)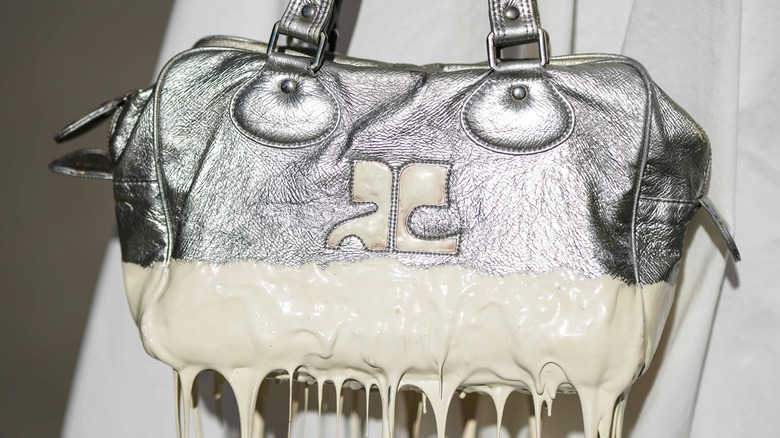 Edward Berthelot/Getty Images
Purses are the perfect way to complete any outfit, whether it's an anti-trend staple or not. While you might have one or two purses that are perfect for any occasion, we often pair them up with specific types of 'fits — after all, a more casual purse might not be the best choice to pair with a highly professional look.
Regardless, you might be getting a bit bored with your current collection of bags at the moment, and we don't blame you. This means that now is the perfect time to get something new for your closet with purses that stand out on their own. Why not go outside of your comfort zone and opt for a non-traditional bag? There are a few trending types of non-conventional and novelty bags to get your hands on, from huge oversized bags to animal-themed shapes. No matter what shape these bags take, their objective is clear: to complete your look in a fun, carefree, and stylish way.
The circular purse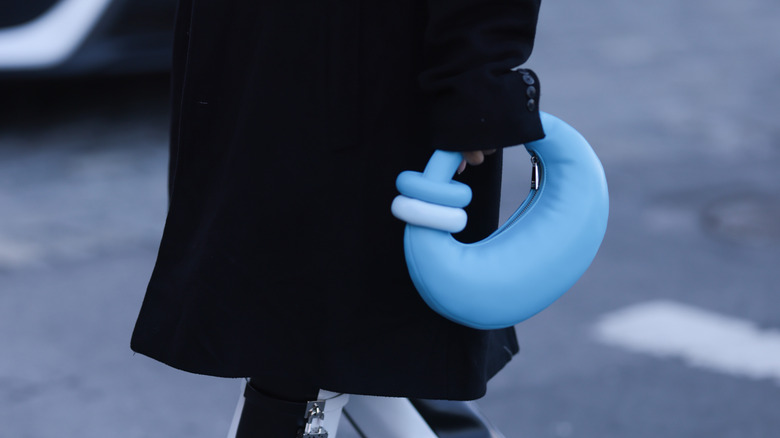 Jeremy Moeller/Getty Images
These types of purse shapes are nothing new. In fact, they seem to come back into fashion every few years, and for good reason. The universal appeal of circle-shaped bags can help you get a lot of mileage out of them. You can find all sorts of these bags for different purposes, from tiny ones for nights on the town to ones that can fit your tablet or laptop. If the cyclical nature of the circular bag look is anything to go by, you should get on top of the trend now for a timeless addition to your bag collection.
And believe us, they will be timeless, thanks to the fact that it matches that perfect balance between sophistication and novelty — a great match with almost any outfit. This is especially true with the new crop of circular bags being made as of late, which ditch a perfectly-round shape for more unique designs.
The animal-shaped purse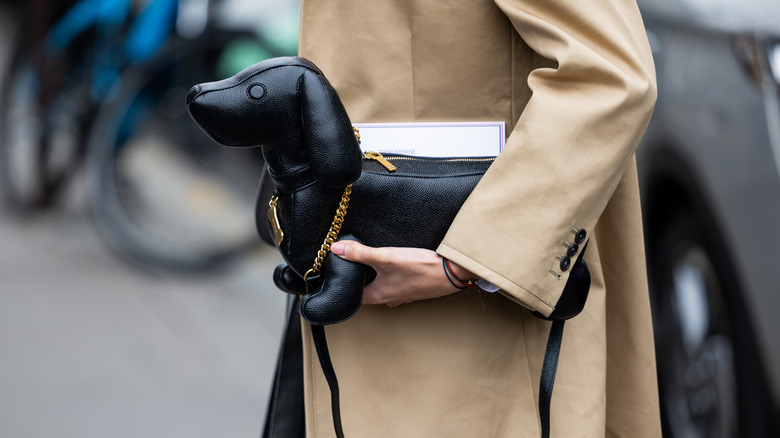 Christian Vierig/Getty Images
Animals and fashion don't always mix well together, but this is a rare instance in which they do. We're not talking simply about purses and bags with animal prints. Rather, we're talking about bags shaped like animals. That might sound a bit ridiculous right now, but with so many animal purses currently on the market, it's hard not to feel curious about owning one. This is especially true when you read up on how popular these types of purses are becoming in the fashion world. The lighthearted and not-entirely-serious shapes of these bags can make almost any outfit look more fun to wear.
And that, ultimately, is where the appeal of the animal bag lies. With the pandemic in the rear-view mirror (despite COVID-19 still very much being a thing), fashion is allowing itself to be more fun. Why should you deprive yourself of this whimsy? The answer is simple: you shouldn't.
The ludicrously capacious bag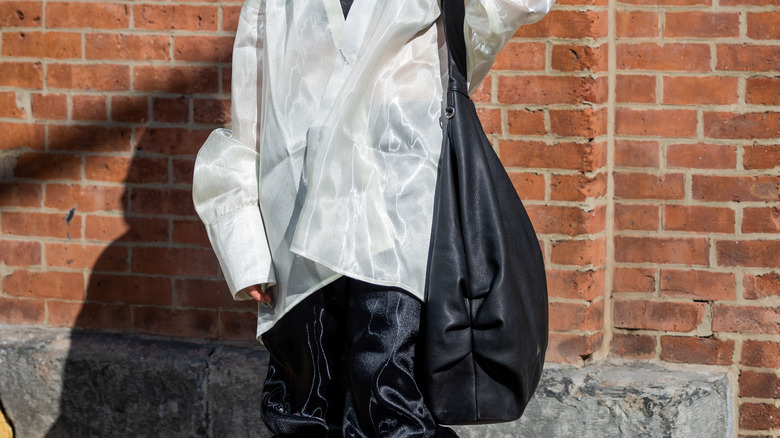 Christian Vierig/Getty Images
Carrying around a bag that could fit your subway flats or a lunch pail might have sounded unappealing in years past, but certainly not this year. In fact, the bigger the bag, the more trendy it might be. This is especially true if you're trying to pull off a more sophisticated, business-fashionable look — you'll want to carry around all your work (or play) essentials in these bags.
Style is the key idea to take away from this trend. Bigger bags, for the most part, have been considered unchic, with bags such as briefcases and backpacks often getting singled out as examples. That's not necessarily the case with this trend though, as bigger totes prove that you can carry around your essentials while also looking fashionable and trendy. It just goes to show that you don't have to sacrifice comfort and accessibility for style, and this trends proves that.
The geometric purse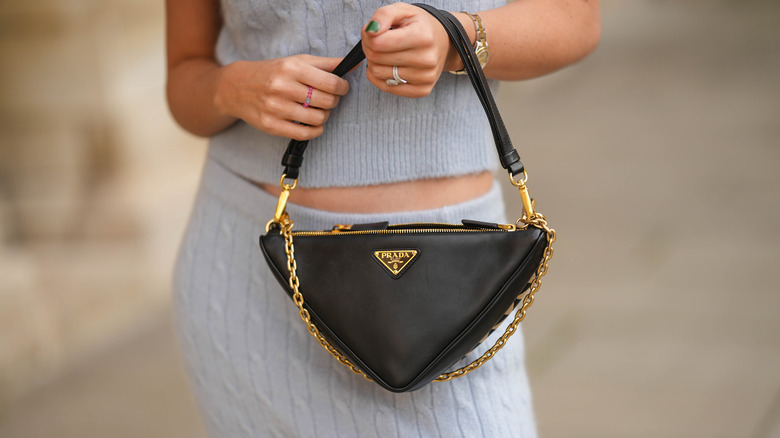 Edward Berthelot/Getty Images
Whether the bags are rectangular, triangular, or something else entirely, the distinct angles of geometric-shaped bags will very much be present in shows and runways this year. The resurrection of the geometric bag could be a classic case of what's old becoming new again. These shapes were a big fashion trend in the '90s, with fashion designers like Kate Spade popularizing the look with super-structured shoulder bags. Similar attempts to bring it back have fizzled out just as quickly as they began. However, with Spade's fan-favorite iconic Sam Bag returning to shelves, the style could have a lot more staying power now.
Of course, rectangular shapes aren't the only ones inspiring this re-emerging trend. Bags shaped as triangles have been seen on the runway as a show-stopping addition to outfits. Not only that, but woven geometric patterns have been having a resurgence of their own as well.
The woven basket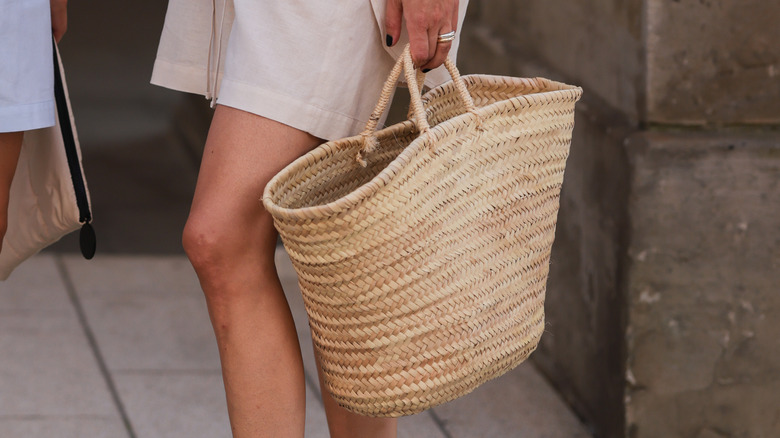 Jeremy Moeller/Getty Images
Now here's a bag style that is having a major moment. Basket-themed purses have been popping up on the streets and runways this year in an offshoot of the fashionable accessibility trend we previously discussed above. With the majority of these bags, you can just open them up to find everything you need for your day out at your disposal. If you are in need of a larger bag with a summery flair, then this trend has you covered. These types of purses are often made to replicate the look of classic picnic baskets, especially those with a bucket shape. 
You don't have to go on a picnic with these types of bags, although it would definitely be seasonally appropriate. This bag style looks great with almost any outfit you wear this summer, from a beach-ready swimsuit to a light and flowy dress. No matter what you use it for, you'll be turning heads with this standout piece.