Embrace The Oversized Handbag Comeback And Stop Pretending You Can Fit Everything In A Tiny Clutch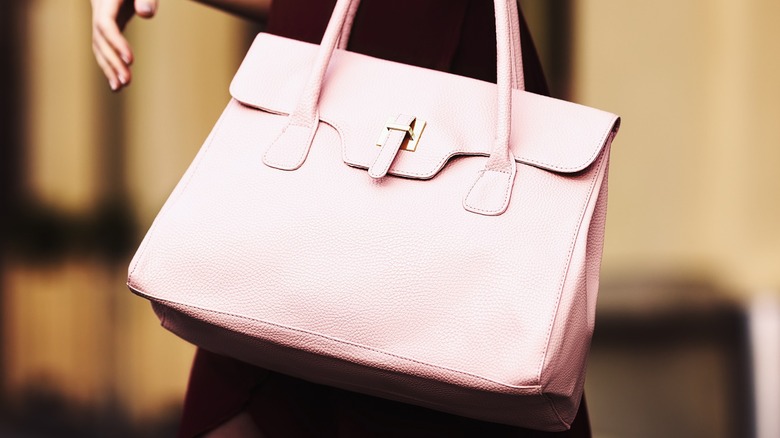 Victoria_fox/Getty Images
Once upon a time, the impossibly tiny handbag was making a comeback. Now, the return of the big bag is upon us. Trends tend to oscillate, sometimes between extremes. But the real question is, where had all the big bags gone? While some cite the pandemic as the main reason why big bags went out of style — nowhere to go, nowhere to be, no reason to carry a bunch of things around — we would rather believe that all the big bags migrated south for a long winter, and now they have returned. We're calling it the big-bag bang. We are ready to embrace them! 
Elizabeth Layne, chief marketing officer of Rebag, told Refinery29, "Space is the biggest factor to the oversized handbag trend, with customers fitting everything from laptops to lipsticks in a practical and stylish way." Big bags made a splashing comeback during New York Fashion Week Spring 2023, showing up in the collections of Peter Do, Coach, and Luar, per Fashionista. And the trend continued during New York Fashion Week Fall/Winter 2023, showcased again by designers such as Ulla Johnson, Tory Burch, Louis Vuitton, and Gabriela Hearst. But you don't need to snatch a bag off the runway rack to participate in the BBB. Big bags can be bought online from resale outlets and thrift stores at both luxury and affordable prices. Should you really want to make a statement with your bag, now is the time to go big or go home.
The slouchy bag
Should you be looking for a classic tote that will fit almost everything and anything, look no further than this slouchy bag from Free People. TikTok user @alyssamchesney flaunts her sage green tote in a TikTok video, though the vegan leather bag also comes in five other colors, including black, for everyday wear. The perfect large size, this tote also features several interior pouches for when you need the extra space to stash your books, planners, laptop, and anything else that you may need (or want) to have on hand. We recommend wearing this bag with a pair of wide-leg jeans, platform loafers, and a simple, light sweater for an everyday look. For more of a day-to-night feel, wear it with a maxi dress, floor-length coat, and simple flats. We feel confident that you could also pack a pair of heels in this bag to change into later, if need be!
The oversized bag
Perhaps, like Peter Gabriel, you've been waiting for this moment all your life: the moment you have a justifiable reason to indulge in a super big bag. Maximalism might just be winning the argument against minimalism for one logical point: a giant bag just fits more things than a little one does! TikTok user @lanzkersey shows off her giant Hermés bag in her TikTok video. "Do I even have to mention that you can fit literally anything you want in this?" she boasts. 
When you're ready to get lost in a super big bag, look no further: Zara offers a gigantic "maxi leather tote" for those who simply cannot get enough of their stuff. This bag can put your entire weekend into one place, from your laptop to gym gear, snacks, makeup bag, and anything else you might need when you know you'll be away from home for a while. This bag might be something of a splurge, currently retailing for $199, but its simple design and durable leather material could make this bag both timeless and long-lasting.
The denim bag
Beloved for its durability and wear-with-anything feel, denim is something of a miracle fabric. Denim can be worn on nights out, and of course, for a casual everyday fit. All of this is to say that, when looking for a big new bag, why not go with denim? TikTok creator @itsjdevinci unboxes an Yves Saint Laurent denim bag in her TikTok video, which can be worn as both a shoulder bag and a crossbody. 
When you're ready to match, Los Angeles Apparel makes a denim tote bag in 12 different colorways to suit your preferences. According to its website, the bags are "dyed in batches," and the high-quality pigments will not fade after a few washes. We also appreciate that Los Angeles Apparel is transparent about the wages its workers receive for their labor. Durable, dynamic, and always in style, this 100% cotton tote is perfect for re-joining the big-bag trend, as you could use it over and over again. We recommend wearing this tote with a simple white cotton dress. Each tote currently retails for $24.
The big colorful bag
Should you be looking for a bright bag, check this out. What's deep, blue, and absolutely mesmerizing to look at? An oversized bag from NA-KD! Did you think we were talking about the ocean? Well, you could say they have some similarities. For example, this bag comes in a color that reminds of us of pristine ocean waters, and it does feature a lot of space, but probably not enough to swim in. Featuring one compartment with a zipper, and two other open pockets, this bag is designed for some organization, so your items are not all lost at the bottom. It also has a magnet closure, so nothing will spill out on accident when you set it down. While the woven texture is super chic, its slouchy build is casual enough to be worn with almost any outfit. We love the idea of wearing this woven bag with a pair of boyfriend jeans and a blazer, mixing high and low. It currently retails for $94.95.
The duck bag
Just because big bags are practical doesn't mean they can't also have personality! Wearing a bag is a fantastic way to introduce a complementary color, pattern, or texture to your outfit. When it comes to a bag that's both smart and stylish, we love bags from Baggu. TikTok user @ctlyons24 demonstrates the spaciousness of her Baggu duck bag with a bold cow print in her video. While she uses hers for work, we can just as easily imagine wearing this bag to the park: stock it with a few books, notepads, gel pens, and headphones, then lounge on the grass, watching the clouds pass idly by. Sorry — where we? We recommend experimenting with "clashing" patterns — for example, wearing a cool print with a floral dress. Made of recycled cotton canvas, Baggu's horizontal duck bag currently retails for $34. Plus, it comes in eight other colorways and patterns to suit your aesthetic.
The quilted bag
Another popular bag is the quilted style. The oversized quilted leather Yves Saint Lauren bag worn by Instagram user @handbag_holic is one example, though it says in her caption, "Not everyone will be a fan – but that's okay." Although we cannot get enough of the look, the $4,900 price tag might be slightly out of budget! For those who love the polarizing style, but not the hefty expense, Vince Camuto currently offers a leather bag with a similar quilted pattern and shape for $228. The interior features pockets and a magnetic closure to ensure your things are secure. And remember that style is highly personal — live your truth with a bag that makes you feel good to wear.