Nail Transitional Dressing Meghan Markle-Style With A Chic Turtleneck Tank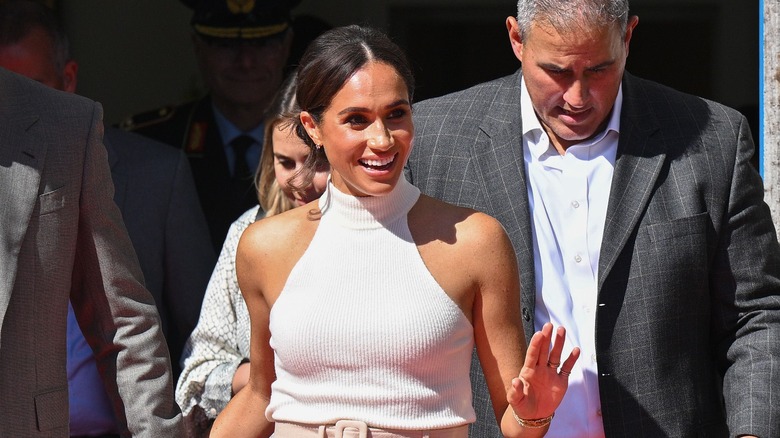 Samir Hussein/Getty Images
It's always exciting to put together your trendy essentials for the next season, but don't forget to always have some transitional pieces on hand. Perfect for throwing on during days when the weather can't seem to make up its mind, they also keep you from looking either outdated or, on the flip side, too avant-garde for the current fashion cycle.
Transitional dressing is the sweet spot where classic lines and contemporary flair meet, and Meghan Markle is someone who has hit that balance. The pieces she chooses for her day-to-day style still befit her status as the Duchess of Sussex without being too staid, thanks to their slight nod to the all-American appeal and comfort of sportswear. One item she has been frequently spotted wearing is the turtleneck tank top. Whether paired over a skirt, jeans, or as part of a turtleneck dress, Markle has shown how this unique sleeveless neckline is chic and versatile, setting off her beautiful face while also flattering her shoulders and arms.  
Per InStyle, the turtleneck tank is great for letting your shoulders get a dose of vitamin D while still tapping into the classiness of a higher neckline. Come gloomier weather, it's sleek enough to be worn under a blazer while providing cozy protection to your neck. This piece also comes with interesting variations, from the length of the rolled-up neckline to the cut of the armholes, so you can find the right one to provide the kind of exposure and coverage you need as the season turns. 
Find cuts and fabrics that work for you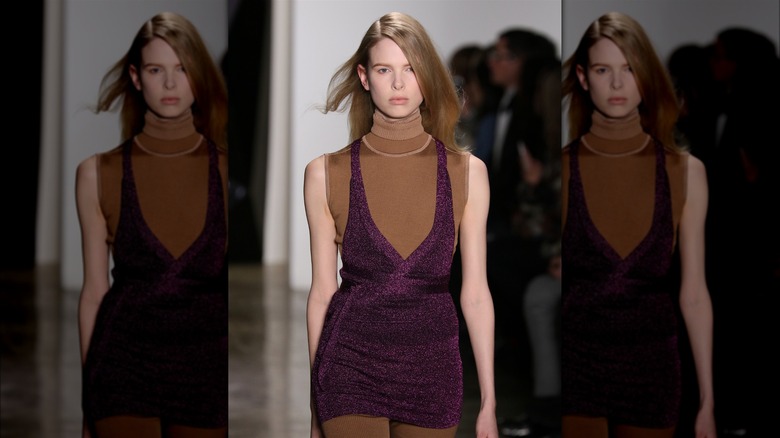 FashionStock.com/Shutterstock
Contrary to what you might think, turtlenecks aren't just for the long-necked. Those who are unsure whether this style would emphasize the shortness of their neck can find a great alternative in a mock turtleneck. Even with the neckline higher than most other tops, this style still leaves most of the neck exposed, creating graceful lines as the silhouette widens toward the shoulders. Speaking of, Markle has worn cuts that expose not just her shoulders but also her clavicle. If you're not as comfortable baring as much skin, you can still exude a confident, effortless charm with a turtleneck top that comes with cap sleeves, which, according to MasterClass, slightly extend over the shoulder but don't cover the armpit.
When it comes to fabric, consider your comfort level and the typical weather in your area. Turtleneck tank tops can be made from a variety of textiles, from cotton to wool to cashmere, so you can pick something that feels light and breezy for when the season starts to get warmer and have a thicker, cozier one for cooler days. Be adventurous, too, with your color choice. While black is the standard for turtlenecks, try out unexpected hues like green, coral, and yellow for a fresh spin.
There's more than one way to style this layering piece
Once you've found your perfect turtleneck tank, wear it with denim pants, slacks, and skirts of any length and look pulled together immediately. For days when you need to do some layering magic, follow Vogue's market editor Kirby Marzec's tip and treat your turtleneck tank as a t-shirt or undershirt. "Let it poke out the top of a crewneck sweater or wear [it] with an open blazer," she says. Shrug on an oversized shirt or blouse, a thick cardigan, a leather jacket, a puffy windbreaker, an oversized blazer, or an overall, and be ready to face the chill in style.
@noornavaid

sleeveless turtleneck lookbook ✨ pause for outfit details (also this song has been stuck in my head for weeks and now i miss the 2000s 😭)
Expand your turtleneck tank collection further with a turtleneck tank dress. Whether body-con or just body-skimming (a la Meghan's choice), hitting you right at the knee or at maxi length (as suggested by The Cut), it's a wardrobe essential that can easily take you from day to night. It's great enough to wear on its own and it looks chic under a coat, but why not wear this dress over a sleeved top for a different take? Simply find a mid- or long-sleeved t-shirt that's cut a little close to the body so your turtleneck tank dress retains a smooth silhouette. Go with something that has a solid color that either complements or contrasts with your dress, although a print like plaid would also look great underneath it. Finish the look with the weather-appropriate footwear of your choice.