A Preppy Tennis Necklace Is The Ultimate Timeless Accessory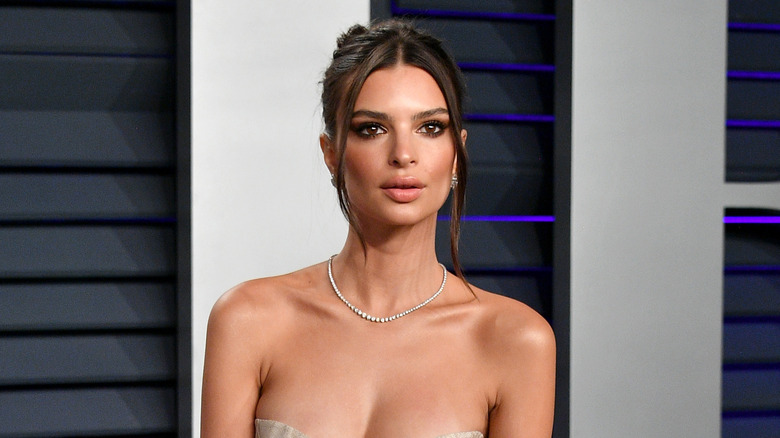 Dia Dipasupil/Getty Images
If you've watched any red carpet from the past three decades, you've probably seen at least one celebrity wearing a tennis necklace. The timeless jewelry piece consists of a complete strand of diamonds — in less traditional settings, they're made of other gemstones — worn close to the neck. When crafting a classical tennis necklace, jewelers construct the strand using diamonds of the same size. However, the trend of graduated diamonds, where diamonds change in size, culminating in a larger stone in the center of the necklace, has also become a favorite. 
It all started with the tennis bracelet. The term caught on in 1987, when tennis star Chris Evert paused the U.S. Open to look for her diamond bracelet, which had fallen off during the match. During an interview after the game, Evert called the piece her "tennis bracelet" and the name caught on. Ever since then, people have been referring to continuous strands of diamond jewelry as "tennis bracelets" or "tennis necklaces" depending on the piece. Now, the tennis necklace has become an iconic part of any chic wardrobe, with people wearing it for formal events, and as a staple in their everyday jewelry collection. It's certainly a rebuttal against the oversized jewelry trend we're seeing, but since the tennis necklace is so classic, you can pair it with pretty much anything. 
Layer a tennis necklace with other pieces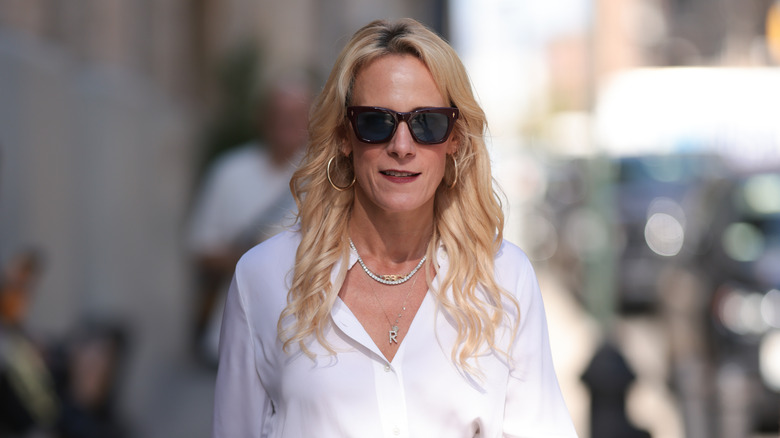 Jeremy Moeller/Getty Images
As glamorous as they are, tennis necklaces can totally be worn in an everyday look. Dress them down by pairing them with a button up top and cool sunglasses. The beauty of tennis necklaces is that they work so well with other pieces of jewelry. Layer them with necklaces of varying lengths to tell a story. Just for fun, include a modern take on the classic Boleyn necklace by wearing an initial lariat on top. They work really well in a team. As jewelry designer Thelma West told The Zoe Report, "Various well-coordinated pieces can complement each other — an important way to let your jewelry personality shine through." The tennis necklace is the perfect piece for pairing.   
Tennis necklaces are worth the investment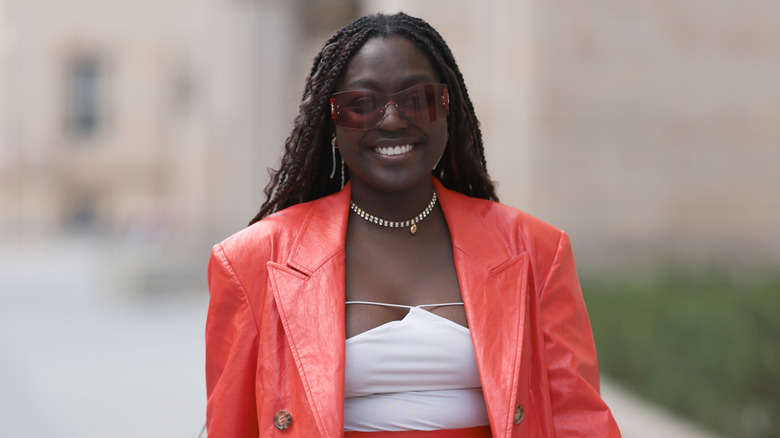 Jeremy Moeller/Getty Images
Tennis necklaces typically run from a choker size, which is ten inches, to a longer piece, capping off at 18 inches. Even at their longest, tennis necklaces are meant to be shorter. Primarily, this makes them wearable, since they sit so close to the neck, and secondly, this is because a long tennis necklace would be prohibitively expensive. Even a small, simple necklace is going to cost a fair amount up front. A three carat necklace in 14 karat gold by J.R.Dunn runs at $5,500. Meanwhile, a lab grown necklace of white sapphires by dorsey rings in at $430, so there are more economical options. Think of the necklace as part of your lifetime wardrobe. Speaking of one of her own pieces, LA jewelry designer Katherine Kim told The Zoe Report why the cost of any tennis necklace is justifiable. "This piece is an investment and is meant to be worn for years, and one day passed down," she said. "It will always stand the test of time." You'll have it for your entire life. 
The glamorous tennis necklace for a night out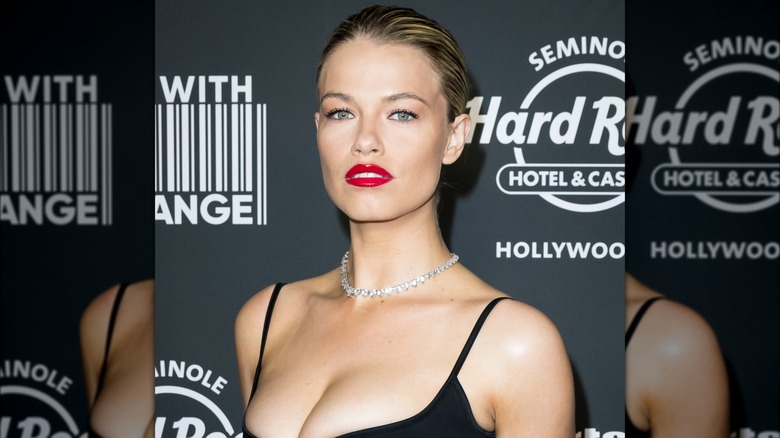 Jason Koerner/Getty Images
Yes, you can wear tennis necklaces everyday, and, as Chris Evert proved, you can wear these pieces even while you work out. But the tennis necklace also carries considerable weight in an outfit. You don't always have to dress it down. The key to making your diamond strand pop is by letting it stand alone. A minimalist top lets the eye focus on the necklace. Keep other jewelry minimal, or non-existent. You don't really need earrings. If you really want your necklace to have it's moment, pull your hair away from your face also so that all of the attention falls on your timeless jewelry. 
A tennis necklace with a long strand of pearls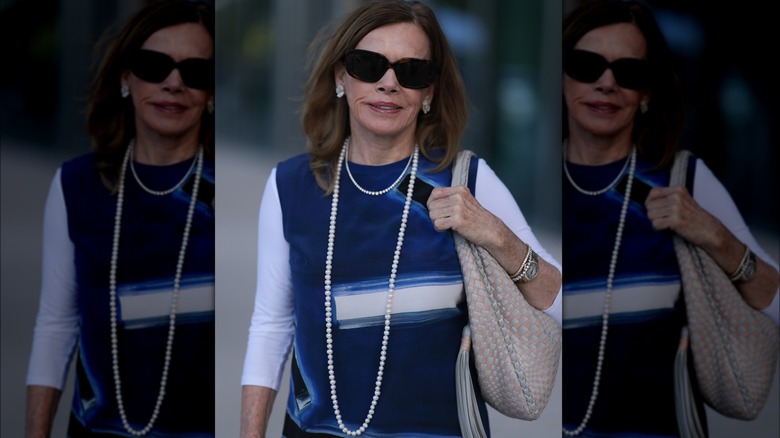 Jeremy Moeller/Getty Images
Play with length by pairing a tennis necklace with a solitary strand of pearls. The look gives any outfit a finishing touch of pure decadence, and the extreme disparity between the two strands makes an outfit more interesting. Fine jeweller Octavia Zamagias told Net-A-Porter how she wears her tennis necklace: "Always layer. I love mixing lengths and styles." While there is a case for paring down all other jewelry, with some looks, you can do for statement earrings and a cluster of bracelets. The final effect of jewelry on several parts of the body makes any outfit elegant. 
The classical tennis necklace with heavy glam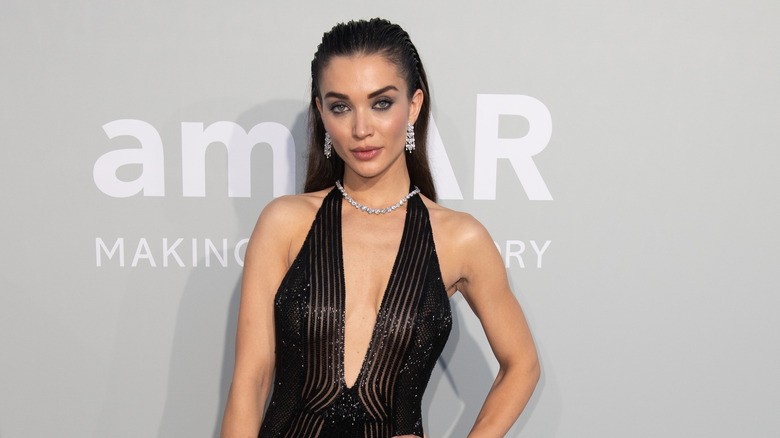 Samir Hussein/Getty Images
While tennis necklaces never go out of style, the look is having a renaissance. Fine jewelry designer Lizzie Mandler told The Zoe Report. "Tennis necklaces have had a huge revival recently." Mandler later added, "I've always been drawn to the way a tennis necklace works, the mechanism behind each link that allows it to move seamlessly with the body." What's so perfect about these necklaces is that you cannot go wrong. Wear it with a hoodie, or wear it to a white tie event, and your tennis necklace will carry you through as your lucky charm. Makeup free or decked out in smokey eye, your tennis necklace is the right choice.