Margot Robbie's Favorite Books Are The Perfect Classic Fantasy Reading List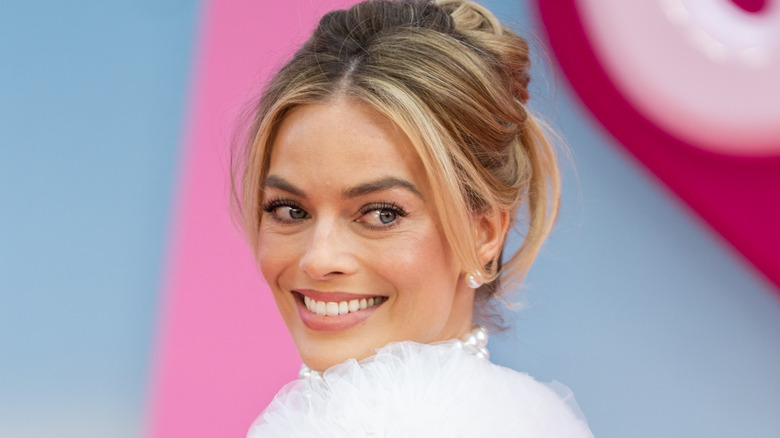 Samir Hussein/Getty Images
Since the release of 2023's most anticipated movie "Barbie," Margot Robbie has been making her way through the spotlight. We've all been influenced by the actress in some way, whether you took on the Barbie obsession this summer or chose Weird Barbie as a last-minute Halloween costume. Amidst the admiration for Robbie's performance, style, and effortless Barbie transformation, Chanel's In The Library series asked Robbie to share the fantasy books that defined her childhood.
According to Robbie herself, reading was a significant part of her childhood. "I was a voracious reader when I was little, and I think I read for the escapism," she told Chanel, pointing out how the hobby first sparked her passion for storytelling. As Robbie grew up, watching movies similarly became an outlet for escapism, curiosity, and exploration. Fantasy books offer insight into our most mystical, magical, and otherworldly thoughts. And what better way to get into the spooky season than by reading Margot Robbie's favorite fantasy books?
The Hobbit by J.R.R Tolkien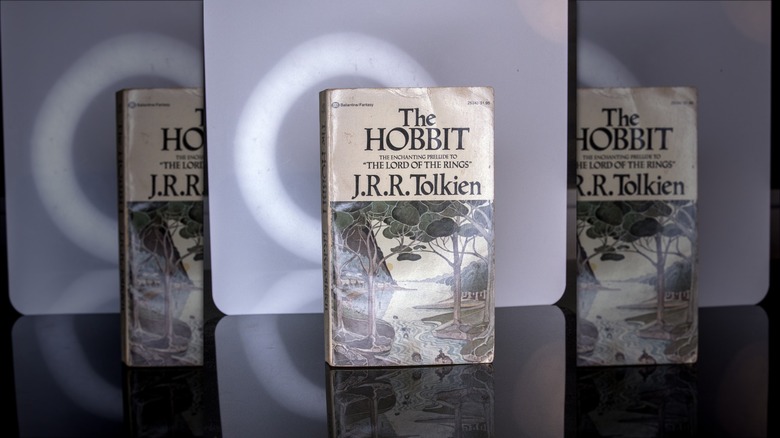 Bill Tompkins/Getty Images
Margot Robbie's obsession with fantasy novels first began in the classroom. The first book Robbie remembers devouring is "The Hobbit" by J.R.R Tolkien, telling Chanel that after her teacher read the first chapter of the book out loud, she knew immediately she wanted to read ahead of everyone else in her class. "I went home and found my sister's copy," she explained. "I read the whole thing and was hooked and into reading." Robbie wouldn't be alone in this love for Tolkein's classic. In fact, "The Hobbit" is one of the most highly recommended books for children and young adults who are interested in fantasy novels.
The Hobbit follows mythical creature Bilbo Baggins and his quest to find a magical ring that causes physical invisibility. Per USA Today, there's a reason why Tolkein's novels have resonated with children and adults alike, with meaningful themes, platonic relationships, and comfort seekers driving the story. 
Harry Potter by J.K. Rowling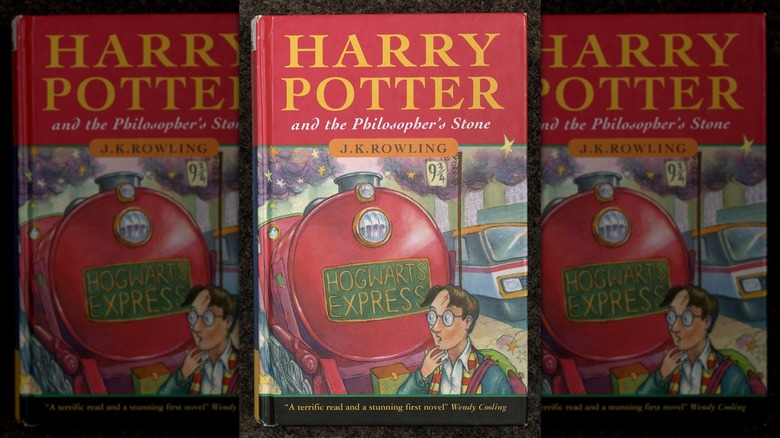 Getty Images/Getty Images
Robbie admitted during an interview on the "Barbie" press tour that she considers herself to be a "huge Harry Potter fan" and is a self-proclaimed "Gryffindor." However, the Hollywood starlet said people would probably find her passion for the story is, "on a level that I think would surprise and alarm people. [...] I listen to the audiobooks every night And I play Hogwarts Legacy."
Like many other Millennials, Robbie's passion for the franchise began with reading the Harry Potter book series by J.K. Rowling, which she notes as one of the more obvious and essential of fantasy books. "I know that's not like super niche or anything," she told one interviewer in 2022. Specifically, Robbie notes "The Order of the Phoenix" and "The Philosopher's Stone" as her favorite installments in the series. In case you aren't familiar, Harry Potter is a hero's journey and coming-of-age tale that follows a young wizard throughout his years at Hogwarts School of Witchcraft and Wizardry, as he battles against the dark forces that wish to harm him and his friends. From the mythical creatures to hidden plot secrets, there's just so much to learn about.
In her Chanel interview, Robbie explains how she'd sit in her treehouse before reading her Harry Potter books. "You'd often want to be outside to get away from everyone else," she said. "So I had a tree I'd go sit in and read, and do my homework. And I'd read on the roof all the time. It was another place to get away from everyone."
The Magicians Trilogy by Lev Grossman
One of Robbie's current favorites in the world of fantasy is "The Magicians" by Lev Grossman, which is categorized as an adult fantasy and coming-of-age novel. The book tells the story of Quentin Coldwater, a young man who's secretly studying at a school of magic. Robbie refers to the story as "a kind of grown-up Harry Potter," telling Chanel viewers that she's "still reading quite a mixture of things for fun." As a way to maintain her fascination with fantasy novels, Robbie continues to seek out adult fantasy stories.
Robbie isn't the only one who admires "The Magicians'" brilliance. According to a 2009 New York Times review, Michael Agger described the novel as an attempt to go where other fantasy novels haven't yet, reintroducing adults to the fascinating world of mythic and magic. The trilogy is also reminiscent of "Harry Potter," with themes of magic school, confused wizards, and lots of unexplained events.
Dune by Frank Herbert
Although "Dune" (yes, like the movie!) by Frank Herbert is a science fiction novel that plays with the realm of fantasy, it's still one of Robbie's favorite fantasy-fiction reads. The formidable novel, which won the Nebula Award for Best Novel in 1966, follows young warrior Paul Atreides as his family becomes stewardship of the new planet Arrakis. The characters are driven by their desire to find a spice which extends the longevity of life. In other words, the novel imagines a complex reality that takes place thousands of years from now. 
Robbie has played a few fantastical characters herself, from Harley Quinn in "Suicide Squad" to Daphne Milne in "Goodbye Christopher Robin." Novels like Dune by Frank Herbert can offer actors insight into complex realities, which Robbie notes as one of her most influential mediums when it comes to acting. "I do read purposely," Robbie explained. "I just bought an old paperback of Dune. Then they made the movie Dune."
The Five People You Meet in Heaven by Mitch Albom
We've saved the best for last: Margot Robbie's favorite book. When asked her favorite fantastical book, Robbie explained to Chanel that "The Five People You Meet in Heaven" by Mitch Albom is extremely meaningful to her. In fact, Robbie is so sure of the book's impact that she read the first line aloud: "This is a story about a man named Eddie, and it begins at the end with Eddie dying in the sun. It might seem strange to start a story with an ending, but all endings are also beginnings. We just don't know it at the time.'"
As Robbie explained, the book is set in an emotionally complex reality that will challenge every reader's thoughts, perspective, and idea of morality. "I'm not good at articulating my feelings about this book," she said. "I just have a lot of feelings about it." There's no better way to describe the genre of fantasy — we can't wait to see what you'll read next!