Metallic Shoes Are The Trend Spicing Up Our Cold Weather Outfits - How To Style Them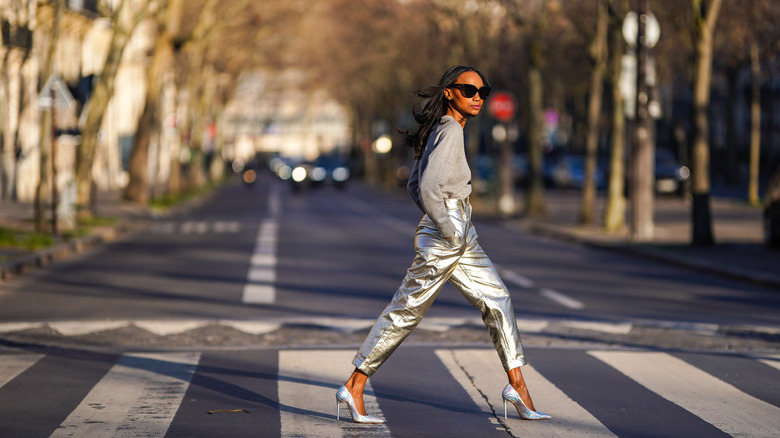 Edward Berthelot/Getty Images
As we jazz up outfits for the cold weather, jewelry trends are (literally) bigger than ever. And while we're loving the glitz and sparkle of huge earrings, necklaces, and bauble rings, we're also looking at footwear as a form of shiny accessorizing. Silver, gold, and metallic shoes are the new way of slaying, starting from the ground up. 
We've seen this trend make waves all year in part thanks to the popularity of the Renaissance and Eras Tour fashion. But these shiny shoes aren't just for concerts or special occasions. A metallic shoe works well because it makes a fashionable statement without overwhelming an entire outfit. Gold and silver tones are also the perfect way to give your darker, neutral outfits some added va-va-voom without committing to primary shades like red. Plus, they literally match with everything. We can't get enough of the metallic shoe trend, and love that it's happening in a range of footwear, from pumps to boots to clogs.
Make your western outfit modern with silver boots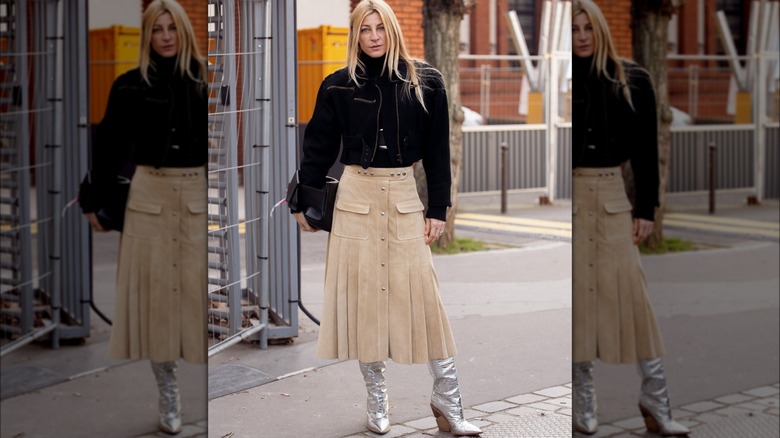 Raimonda Kulikauskiene/Getty Images
We see a futuristic cowgirl on the horizon. Dress down a metallic wedged cowboy boot by pairing with a modern, neutral palette of Western wear. A mid-length, pleated leather skirt in sand is the perfect tone to bring the space-age silver back to earth. Note that the hardware on the skirt still carries that silver color, so there's a unifying thread between these pieces. Top it off with a cropped, black jacket and a black shoulder bag to create more contrast with cool tones. An unfussy middle part in the hair gives the look a polished, contemporary finish. 
Wear knee high socks with gold, platform heels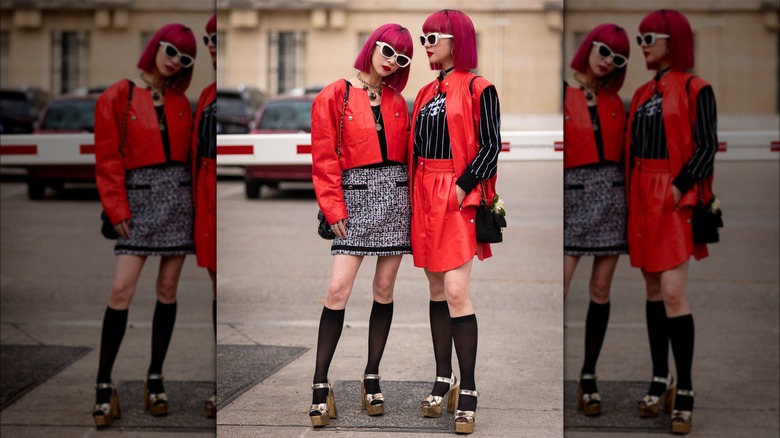 Claudio Lavenia/Getty Images
Metallic leather platform pumps are the best way to make an already exciting outfit stand out. Lean into the school girl vibe by wearing your gold platform pumps with a short skirt and knee high stocking. A sheer, black option is just right for giving the look some edge. Plus, in cooler weather, you'll be thankful for an added layer. Style your look with bright pops of red that are so vivid your gold pumps will read as a glamorous, neutral base to a fabulously outrageous outfit. 
Create a monochromatic look through silver, platform boots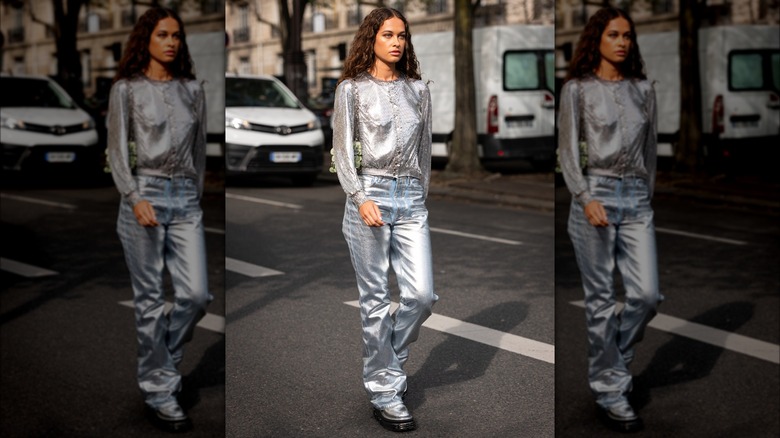 Claudio Lavenia/Getty Images
Explore new galaxies by going all silver. While monochromatic looks can encapsulate any color, silver is an unexpected and refreshing take on a tonal look. A silver sweater with gorgeous, silver pants makes for the most decadent pairing for a night out on the town. Keep hair and makeup natural, because the rest of the look is out of this world. Thick-soled, silver boots give this dazzling look an extra edge. And while you're the coolest gal about town, your feet will be warm and cozy. 
Pair gold clogs with a trench coat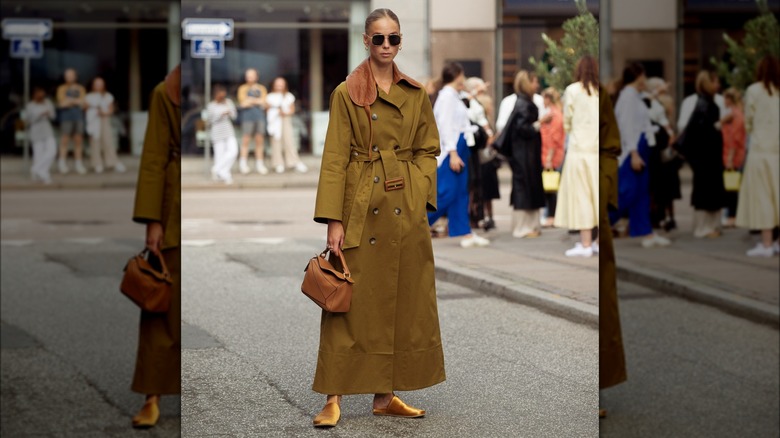 Raimonda Kulikauskiene/Getty Images
In a sumptuous display of golds, bronzes, and warm olive tones, these casual gold clogs are anything but chill. The rich, metallic tones give the whole look an extra jolt, all while remaining neutral. An olive green overcoat with leather detailing is the perfect outerwear for a look that's grounded in a warm, hue reminiscent of gold treasure. Match your jewelry and handbag hardware to the shoe to tie everything together. Don't forget about gold-rimmed aviator sunglasses and delicate, gold earrings. 
Make a simple outfit pop with silver block heels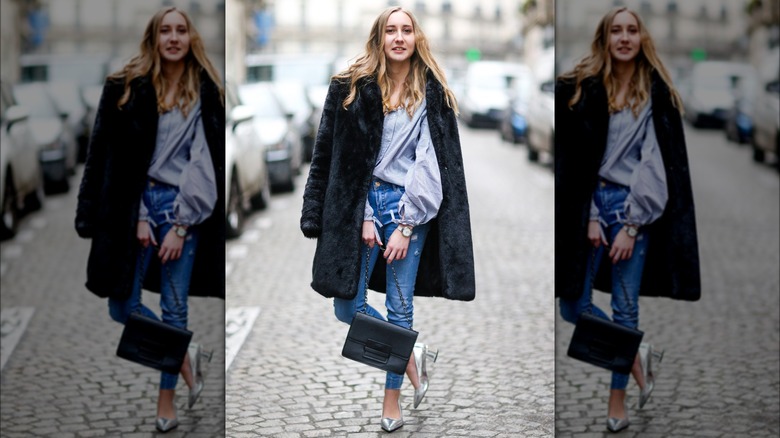 Edward Berthelot/Getty Images
Not every outfit has to be decadent all around to benefit from a gorgeous pair of metallic shoes. A classic pair of skinny jeans (yes, you can still wear them) and a button-up blouse can be dressed up to a memorable daytime outfit with a pair of silver metallic block heels. The shiny shoe choice electrifies an otherwise typical outfit that one would normally wear with a predictable nude or black ballet flat. But, by keeping the outfit in cool tones, the silver blends in beautifully without standing out too much.