The '90s Lip Look Making A Comeback In 2023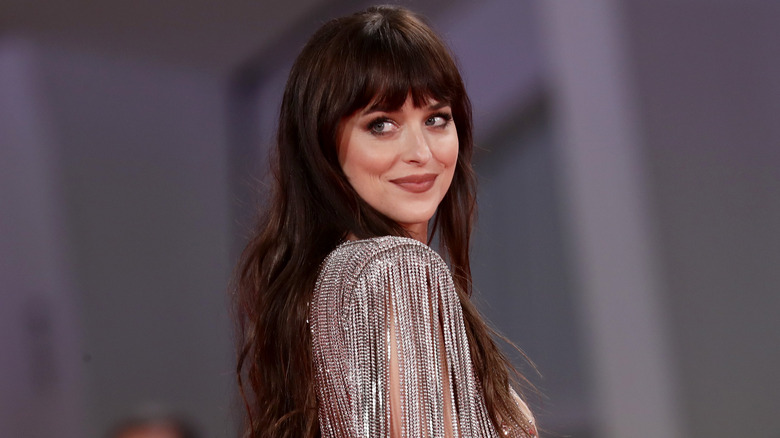 Vittorio Zunino Celotto/Getty Images
We may receive a commission on purchases made from links.
We're in total acceptance that '90s nostalgia is in full effect, from jean cuts and tie-dye to makeup trends. One of the most iconic looks from the '90s that we're loving is the brown lip. The style shines thanks to an over-exaggerated lip liner, brown lipstick, and a jolt of lip gloss. We're in love with the look for so many reasons. For one, any excuse to wear a lipliner is a welcome one, since there's an easy hack that mimics a lip flip without the botox. Lipliner makes lips appear fuller and helps the product stay on longer. 
We're also in love with the trend because glossy, hydrated lips are everything we're after right now as one facet of the hottest makeup trends right now. The '90s lip is everything that we love because it makes lips look big and voluptuous while giving a polished finish to your makeup routine. It's everything we need right now and more. The best part is that it's as easy as could be. You can use several products, but you can also stick to a brown liner and gloss. See? It's a cinch. 
Brown lipliner is the vital ingredient for a '90s lip
With the throwback urge for '90s nostalgia, the brown '90s lip is a key feature of makeup trends at the moment. The look is reminiscent of Pamela Anderson, with a heavy liner outline around the lips. Apparently, in the '90s, there was no time for subtle, nude shades. It was a dark brown liner to make things pop, and baby, that's back. "We will be continuing with the '90s lip looks this fall, " celebrity makeup artist Tobi Henney told Byrdie. "Think latte-style lips with brown liner, lipsticks, and glosses."
The first step to nailing this iconic look is choosing a dark mocha liner. "Choosing a pencil two shades darker and cooler [than the skin] helps create dimension," make-up artist Ranti Adeyemi told Vogue. "The classic '90s lip is brown, but in order to accommodate all skin tones, ashy plums and soft grays can also create the same effect." Overline the lips slightly, giving the cupid's bow a little bit of extra definition. 
Just because the look is luxe doesn't mean that the price tag has to be outrageous. NYX's Professional Makeup Slim Lip Pencil in Coffee is a perfect choice, and it's under $5. For a higher-end option, Charlotte Tilbury's Lip Cheat Lip Liner in Foxy Brown gives a decadent, velvet finish and offers the perfect color choice for $25.  
The gloss component of the '90s lip
Once you've got your chocolate brown lipliner in place, then you can play with lipsticks and glosses. This is the fun part, where you can play with looks to find what suits you. For some, a matte brown lipstick is the finishing touch for this lip. For others, gloss is everything. "Play around with matte, sheer, and gloss finishes to wear this look day and night," Henney told Byrdie. It's up to you. However, the current consensus is that lip gloss is vital in order to achieve a contemporary '90s remake.
There's the option of using lipliner and gloss alone, or there's the option of adding a layer of lipstick before the gloss. "Rub the lips together without lipstick, then apply flesh-toned color in the centre with a little clear gloss on the perimeter for high shine," Adeyemi told Vogue. A clear gloss is a great choice, but so are glosses with a slight color finish. For brown glosses, check out Fenty's Beauty's Gloss Bomb Heat Universal Lip Luminizer + Plumper in Hot Chocolit for $26. NYX's Butter Gloss in Ginger Snap is another great choice for only $5. If you'd rather combine the brown lip liner with a pink gloss, try NARS' Afterglow Lip Shine Gloss in Turkish Delight for $26. You can get as high maintenance as you want with it by using multiple products, but you can also just use a brown liner and a high-impact gloss.