Here's How To Get Rid Of Lingering Eyebrow Tint Fast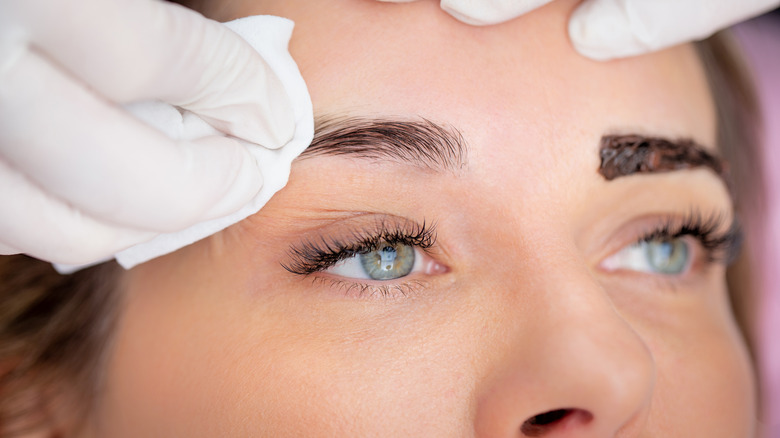 Casarsaguru/Getty Images
Among the many eyebrow trends out there, you may have tried eyebrow tinting. It's an easy way to fill in sparse brows and temporarily enhance them without having to manually fill them in every day with a brow pencil or gel. However, mistakes can happen, whether the tint was left on for too long or you got the wrong color, and sometimes you can be left with brows that are way too dark and bold for your liking. But don't panic; it's only temporary. 
Results vary, but tinting will usually last three to six weeks, while others claim it to last for up to eight. The color will slowly start to fade over time, but it's definitely nerve-wracking when you look in the mirror and realize you didn't get what you wanted. No one wants to feel embarrassed by their brows, so if you're in need of a quick fix to fade some of the color, we have some tips for you.
Go over your brows with makeup remover and a cotton pad
Some brow experts recommend using a silicone-based or oil-based makeup remover to help reduce some of the pigment. Pour some on a facial pad and gently rub on your eyebrows to remove the excess color. You may need to repeat this a couple of times.
One makeup artist on TikTok also recommended using micellar water to help get the brows a bit lighter. Micellar water is often used to cleanse the skin of dirt and oil, due to its composition of micelles. So it may be able to remove some of the tint. 
Try cleansing the brows with a clarifying shampoo or exfoliant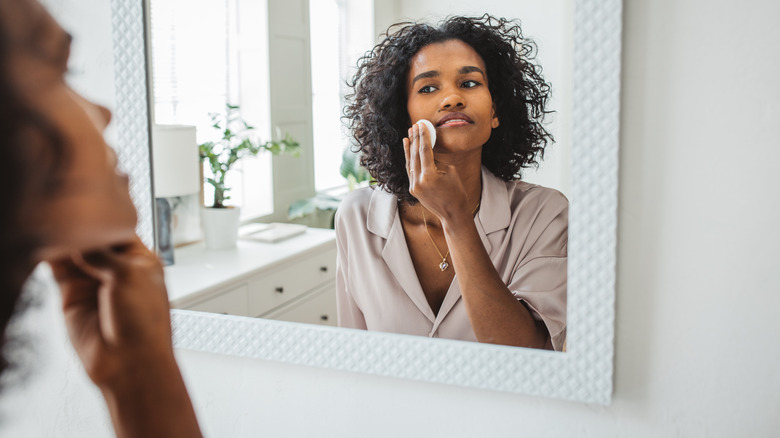 Svetikd/Getty Images
In an interview with Bustle, makeup artist Maria Licari suggested first using a clarifying shampoo, as it strips the hair of build-up from dyes and natural oils. "You should then follow up with a dab of peroxide soaked in a cotton ball and gently swab it over the tinted areas. Repeat over the course of a few days until color seems to have stripped," Licari said.
It may also help to use a gentle exfoliant on the brows if the shampoo doesn't seem to be breaking down the dye.
Cover up the dark dye with foundation
Even though the goal of eyebrow tinting is so you don't need to go heavy on brow products, makeup can be your friend when you need a quick fix. Take a bit of foundation and put a small amount on an eyebrow spoolie, using your finger to rub the foundation into the spoolie. Then, gently brush the foundation on your brow hairs to dull the eyebrow tint. You don't need a whole lot of foundation to do the job; just a bit will go a long way.
Ask a professional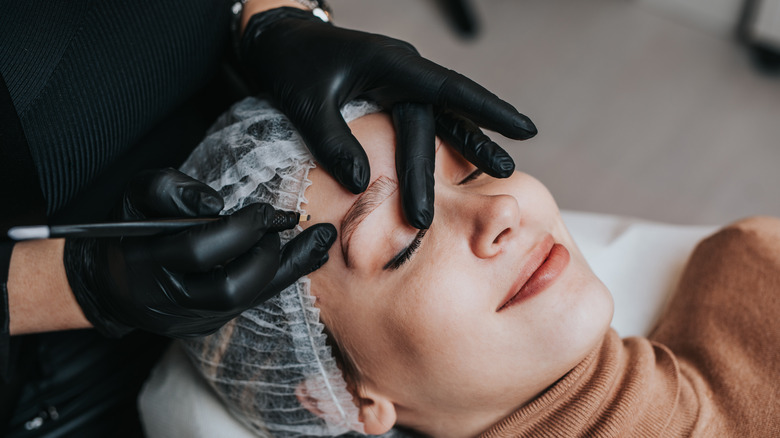 hedgehog94/Shutterstock
If you got your eyebrows done in a salon, it's okay to let your specialist know that you aren't okay with the eyebrow shade they gave you. They most likely have a professional dye remover to easily take the color away.
If you took the DIY route at home, don't hesitate to call or visit a local salon to ask for their advice. They run into all sorts of hair and makeup issues all the time, so they'd be happy to help you out.