How To Fill Out Your Sparse Brows (Even If You Barely Have Any To Begin With)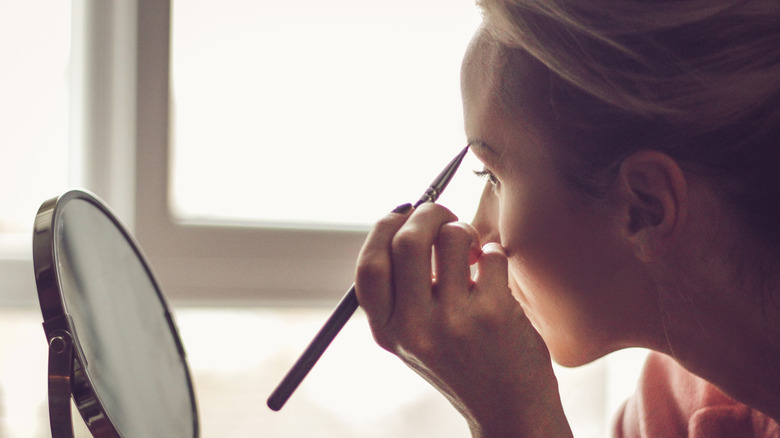 Nevena1987/Getty Images
Gone are the days of overplucked, thin brows. Since the start of the 2010s, big, full brows have been in, with no signs of them disappearing any time soon. While people with thick eyebrows have been celebrating the trend, those with sparse brows have been scrambling to find ways to add hair to their arches, turning to products like Anastasia Dip Brow Pomade and even more intense beauty procedures like micro-blading or powder brows to regain volume. But if you're not quite prepared to drop that kind of money on your brows, you may be feeling out of luck.
The good news is with the right tools and technique, you can totally achieve a full brow at home, even if you haven't got much hair there. Even those with thicker brows can benefit from learning a few tips on how to properly sculpt and perfect their shape. From how to draw on the most natural looking brows, to going full glam, your sparse brows can do it all.
Feathery brows
If you follow makeup trends, you'll know that feathery soap brows have been having their moment in the sun. While those with thicker brows have been having an easy go of it, sparse brows haven't been as lucky – that is, until now. Helen Phillips, the national artist for Sephora Collection, breaks down the necessary steps to achieve this look with thin, barely-there brows.
To start, use a brow powder to fill in any empty space along the natural shape of your brow bone. With a more powder-heavy look, your brows will seem more naturally full, more so than they would if you only used a pencil. Still, you don't want to forego the pencil entirely. Sparse brows require more products than other eyebrow types, especially when you're going for that natural, feathery look. In her tutorial, Phillips uses a fine brow pencil, flicking upwards to create a "hair-like effect." The ultimate goal is to give the eyebrows more dimension, rather than simply drawing them on.
When you're taking pains to create a faux-feathery look, don't neglect your actual brows! Phillip recommends using a brow gel as the finishing touch, to fluff them up and keep them in place. Just make sure that the brow gel you use is either clear, or the same color as your other makeup products, so the look remains smooth and cohesive. If there's more makeup concentrated in one area, comb through your brows with a spool to even them out.
Instagram brows
That being said, not everything has to look natural. If you're a fan of a more intense makeup look, there's no shame in opting for an all-out Instagram brow. The good news: your brows are a lot more versatile than most. You're not as limited by your brow shape as those with fuller brows, and while your natural brows will act as a guide, most of the look will rely on the shape you choose to draw on. The bad news: it will require a lot more makeup and effort. If you're the kind of girl who's practically a MUA, anyway, then these are perfect for you.
To start, grab your favorite brow pencil, and draw an outline of the desired shape around your brow. Since this look doesn't aim to be natural, there's no need to draw on hairs throughout the brow, like you would with the more feathery look. You will want to draw on little hairs at the beginning of your brow, though. Fill it in with a little powder, but don't go overboard – you'll need to stay within the lines you drew. Finally, use an angled brush to get that perfectly tapered end, concealer to clean up any smudges or unevenness, and voila! You've got your Instagram brows.