Repurpose Your Taylor Swift Eras Tour Outfits Into Halloween Costumes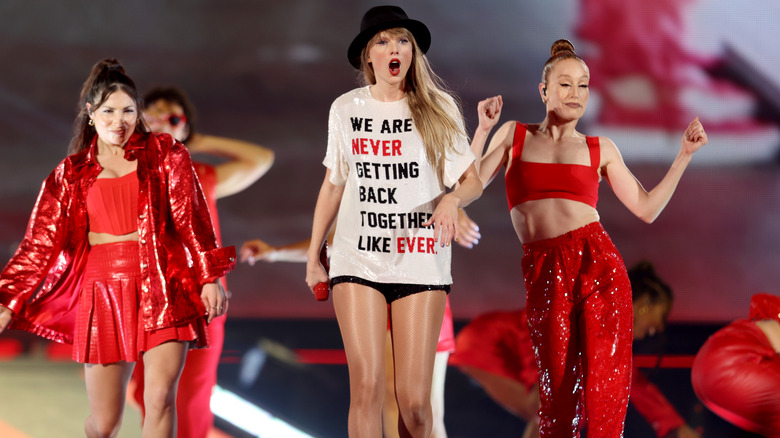 Omar Vega/tas23/Getty Images
Ready to be the actress starring in everybody's bad dreams? You've come to the right place. Halloween is right around the corner, and while you may be preparing for the occasion with subtly spooky manicures, figuring out your costume is just as important. If you're a sentimentalist, your fashion items from the Eras Tour may still be in the back of your closet. Get ready to pull them out, because they're perfect for repurposed Halloween costumes.
Taylor Swift has given us no shortage of iconic looks to recreate, and the proof is in the pudding. Swift is no stranger to changing up her style, kicking off her career with cowboy boots, curly hair, and banjos and transitioning into a more sophisticated, upscale, and Hollywood-inspired style as she's grown up. As Swift reclaims her masters — or the ownership of her previous albums — she's reinventing her old looks with a modern touch, giving us even more options to choose from.
Let's be clear: the purpose of our advice is not to help you dress like Swift, but to repurpose your Eras Tour outfit into a traditional Halloween costume. More importantly, you can create an iconic Swift-inspired look without spending too much money. Whether you were in a black bodysuit sporting the "reputation" era or all glam in the pastel shades of "Lover," there are a number of ways to repurpose your Eras look into a Halloween costume while still honoring your personal style.
Dark fairy with a reputation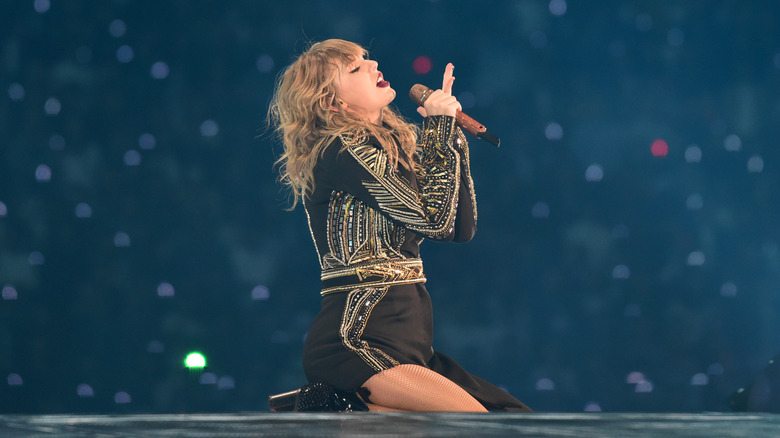 Jun Sato/tas18/Getty Images
As a dark fairy, your reputation precedes you. If you dressed up as Swift's "reputation" era, which is often filled with all-black everything, a dark fairy is the perfect way to repurpose your outfit. Attach a pair of dark wings to the black bodysuit you wore to the show and enhance the outfit with a smokey eye and dark lip. You can dress the outfit up to your liking, pairing a bodysuit with fishnet leggings and hand warmers. Dark fairies are also the perfect Halloween costume for those of us who run cold — with monochrome black clothing, you'll be warm all night.
Cardigans for manic pixie dream girls
Instead of being a cardigan under someone's bed, it's time to repurpose your folklorian outfit into a manic pixie dream girl. Manic pixie dream girls are typically characterized by their quirky style and shy nature — an idea that's perfectly representing Swift's album "folklore." In storytelling, manic pixie dream girls are used as a vessel for mental turmoil, another facet explored in Swift's folklorian love triangle. Betty and Augustine can definitely be categorized as manic pixie dream girls, and with the right cardigan, so can you. You may already be equipped with Swift's cardigan, but if not, any white cardigan with black accents should do. Pair it with a white dress (think Swift in her cardigan music video) and you've transformed into a manic pixie dream girl.
Debut or Fearless cowgirl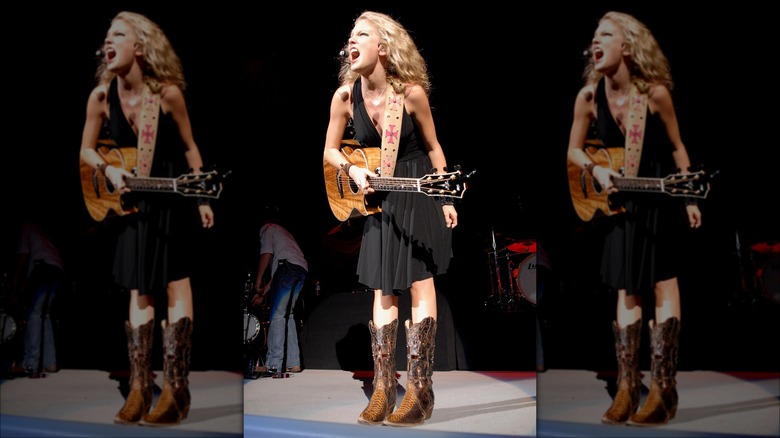 Jeff Daly/Getty Images
Yeehaw! Cowboys never go out of style, and Swift's country roots are a perfect way to repurpose your Fearless Eras Tour outfit into a western look. Swift's formative years were full of sundresses, cowboy boots, and country music, and yours can be, too. Find your favorite lightweight dress (hopefully one that you can twirl in) and pair with your favorite pair of Western style boots. For the ultimate cowgirl look, consider curling your into loose waves and finishing off the look with a cowboy hat. If the weather is chilly and layering is essential, throw a jean jacket on top. While the point of these outfit inspirations is to create a costume unique to you, Swift offers a great starting point. You'll be warm, able to walk far, and all without spending a dime.
Glinda the Good Witch for Lovers
From the pink bodysuit in Swift's "ME!" music video to her puffy-sleeved red carpet outfits, the possibilities for inspiration from the Lover era is endless. But while pink defined the Lover era, but years before, it was popularized by Glinda the Good Witch from "The Wizard of Oz." If you went to The Eras Tour as Swift during her Lover era, you may already have a pastel-colored dress on hand. Taking inspiration from the good witch herself, pair a fluffy pastel dress with a sparkly crown and star-shaped wand. Add pink or white mary-janes to complete the look and wear your hair in soft curls for a finishing touch. 
Lady in Red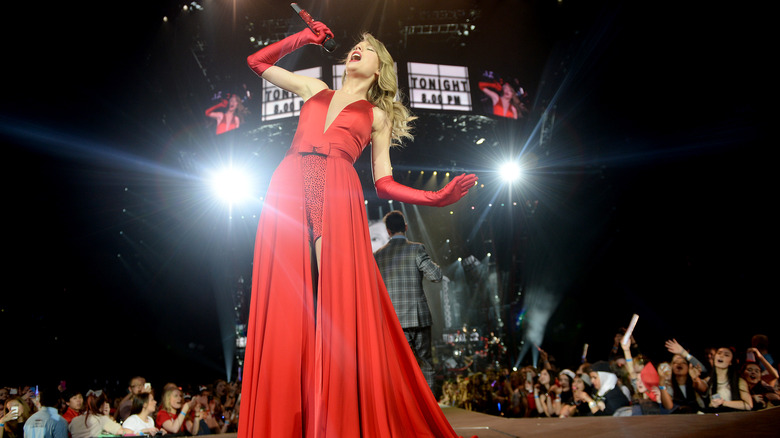 Sam Hussein/tas/Getty Images
For those of us who are perpetually in our Red era, repurposing a red dress is the perfect way to achieve a classic Halloween look: Lady in red. Just like Swift's tumultuous album, red can also symbolize courage, sacrifice, danger, and more. Those who wore a look inspired by her vault track "I'll bet you think about me" dress or by Swift's 2012 Billboard red dress are likely wondering when they'll have a chance to wear such a statement dress again. Red is a perfect standout color that will have people asking who you are, gasping at the answer, and admiring you all night long. Add a pair of matching satin gloves and pair with pin curls or waves to transform your typical red dress into an Old Hollywood look, or pin your hair up and wear white gloves to go full "Pretty Woman." If a red dress isn't enough to keep you warm, make it monochrome and pair it with red leggings and a jacket (bejeweled, perhaps? You decide!).
Dorothy of Speak Now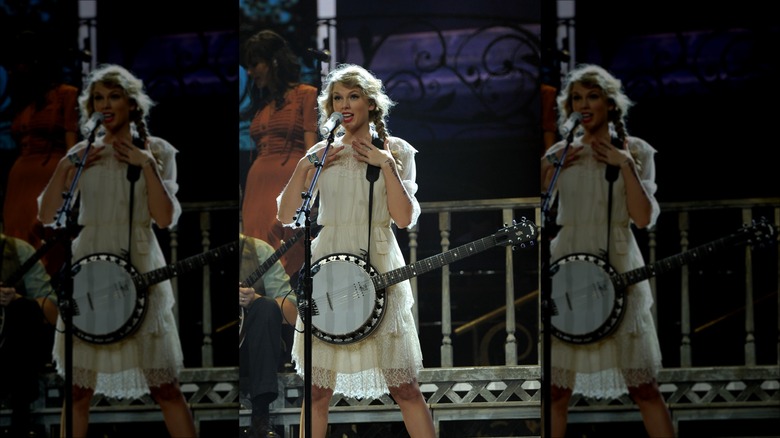 Larry Busacca/Getty Images
There's nothing quite like a modest white dress that makes you feel like you're living in 1930s Kansas. During Swift's "Speak Now" tour, she sported a clean white dress paired with a banjo, a look that many diehard fans replicated at the 2023 Eras Tour. Although the costume isn't exactly like Dorothy's famous blue checkered dress, it's an alternative and unique take on the iconic costume. Find a mid-length white dress and tie a thin belt across the waist to finish off the look. Braid your hair to the side, and voila! You're Dorothy of the Speak Now era.
'80s retro girl with 1989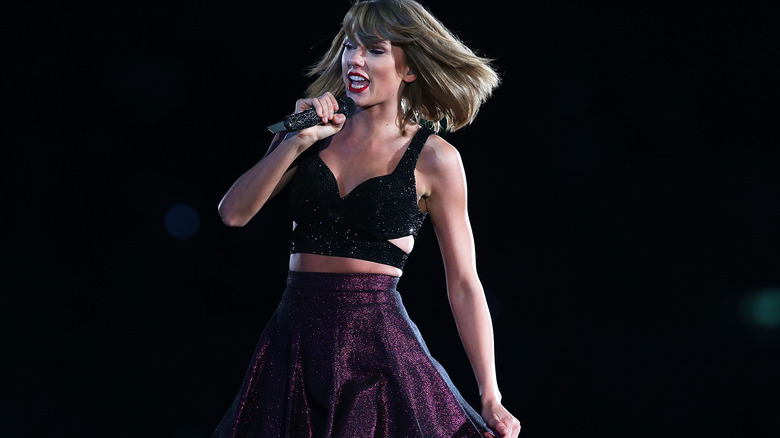 Graham Denholm/Getty Images
Our final look encompasses our favorite parts of Halloween: Dressing in vintage clothes, wearing a flared skirt, and looking stylish amidst other costumes. Swift's "1989" era was all about bright technicolor that reflected the album's 1980s synth-pop vibes. If you dressed as 1989 Taylor for The Eras Tour, it's time to repurpose that high-waisted skirt, crop top, sleek jacket, and pair it perfectly with your favorite set of sunglasses and leg warmers. It's easily recognizable, comfortable, and an easter egg only dedicated Swifties will be able to identify (though with a few accessory swaps, you can easily turn it into another icon — Madonna, Blondie, you name it). For other trick-or-treaters, you're just a girl from the '80s!