3 Fashion Essentials To Bring To Taylor Swift's Eras Tour (And What To Leave At Home)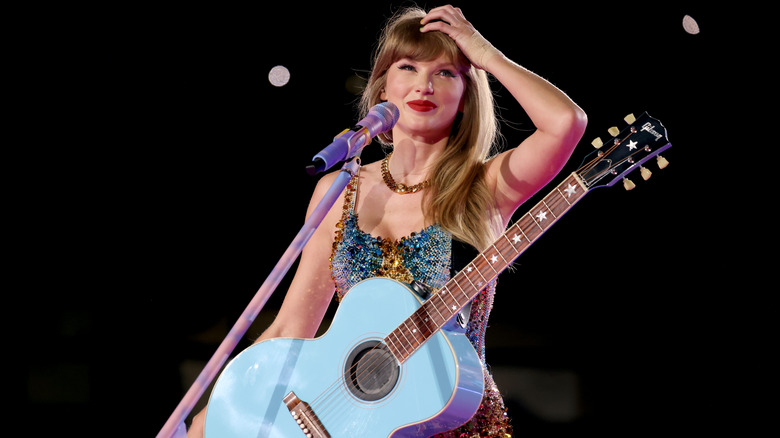 John Shearer/tas23/Getty Images
If you're one of the 3.5 million people who registered for Ticketmaster's Eras Tour presale, then you might have been lucky enough to receive tickets to the most anticipated tour of the year. While you likely have a checklist to make sure you bring everything you need, we've rounded up some fashion essentials to enhance your concert experience (and suggestions for what you can leave at home). From friendship bracelets and weather-appropriate necessities to a concert-friendly bag, we've got you covered.
Taylor Swift's seemingly effortless and unique journey as a musician has made it so that the concert experience is one you'll never forget. Above all, it's important to remember that you're in the presence of someone whose career has been fueled by creativity, courage, and fearlessness (pun intended). Before we jump in, let's keep in mind the mission behind her career and what separates her from the ever-changing landscape of celebrity culture. Whatever you choose to bring or not bring to the show, embrace that mindset, and don't be afraid to express your own unique personality through your fashion — whether you're looking to try out the indie sleaze trend, or if you're someone who goes for heart-shaped everything.
Weather-appropriate fashion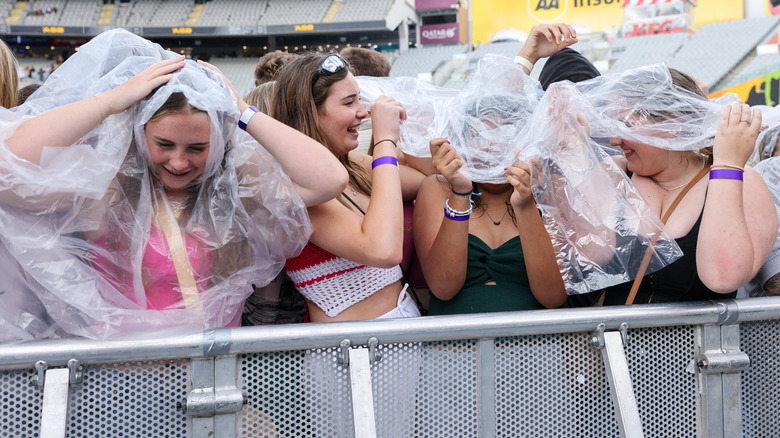 Dave Simpson/Getty Images
Whether you're traveling by plane, car, or bus, what you pack is everything. Check the weather ahead of time — if your concert date calls for rain, make sure to bring a sturdy poncho and clothes you don't mind getting wet. Taylor has been known to play rain shows with the same energy and time she puts into sunny and dry shows, so be prepared to sing along with her even if it's drizzling out. If you're planning on wearing a dress during a rain show, you may want to think about bringing leggings to avoid feeling cold. If your 'fit doesn't go well with leggings, leave the dress at home and swap it for a cute but durable outfit — perhaps going for a timeless outfit formula that will have you looking chic.
Additionally, extremely hot and dry venues might call for the opposite. If you're on the floor, wearing short and loose clothing can help keep you from overheating amidst the singing, sweating, and dancing of the crowd. Packing items to keep you cool — a hat, portable fan, and bottles of water may be a good idea as well. The more wearable essentials you bring to your concert, the better you'll look and feel.
Make and trade friendship bracelets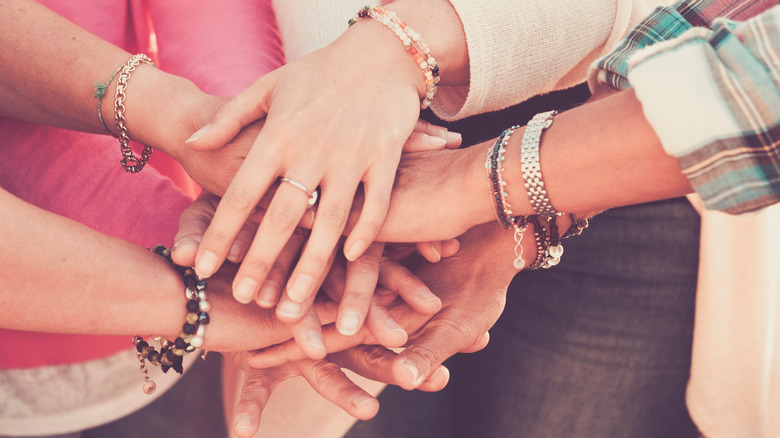 simona pilolla 2/Shutterstock
One of the most unique facets of The Eras Tour is the friendship bracelet trading that takes place pre-show. Fans are spending the week before the concert beading together bracelets that resemble Taylor's quotes, lyrics, and phrases that most resonate with them. If you want to get the most out of your Eras Tour experience, make at least five to 10 bracelets that you can trade with other fans. As Taylor instructs on her "Midnights" album, "Make the friendship bracelets, take the moment and taste it."
You'll likely meet and interact with other Swifties while buying food and drinks, in line for the bathroom, or at your seats. You can show off your bracelets and see what other fans have created while sending them off with your handmade jewelry. You can definitely wear tons of jewelry to your concert, but we recommend filling your arms with friendship bracelets instead of anything expensive. The diamond wristwatch you love can stay at home and wait for another event as it's best not to wear jewelry that you're worried about losing.
A clear and lightweight purse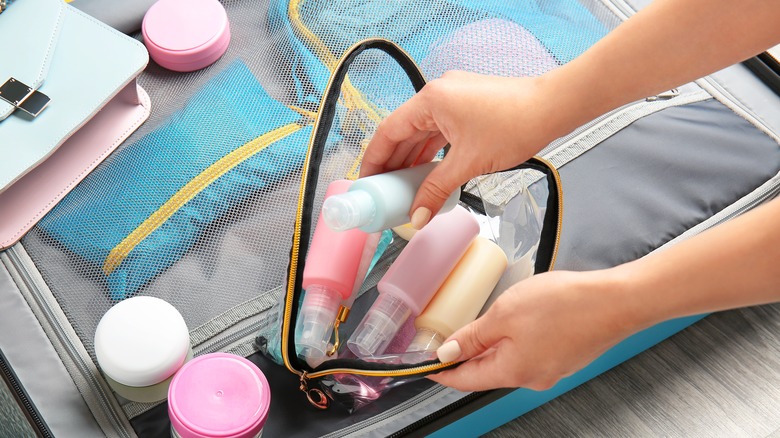 Pixel-Shot/Shutterstock
A huge part of preparation is knowing where you'll put your belongings without having to carry them in your hands or keep them in your pocket — especially since you'll be singing and dancing along. Every venue has its own bag policy, but the general consensus is this: a medium-sized clear tote bag will do the trick. You'll likely need to carry important items like your phone, wallet, a snack, etc., and you'll also need a place to put items you receive at the concert like bracelets, merchandise, and even parts of your costume that you're ready to take off. You'll also be given a digital bracelet before the show that is synced to light up based on the song Taylor is playing, which you might want to keep in a safe place during or after the show.
Weather is also fickle, which means if you bring a jacket or poncho to the show and it doesn't rain, you'll want a place to put it. Lastly, if you're someone who records often during concerts, you'll want a clear tote to hold a portable charger that can be easily detected and approved by security. Charging your phone will also come in handy after the show when you're searching for an Uber, Lyft, or friend to take you home safely. With these necessities in hand, we know you're going to have the best time.