11 Low-Key Halloween Manicures For Subtle Spookiness
Just like Christmas, Halloween is the perfect time to treat yourself to a mani. There are just so many ideas out there to get you in the spirit of the season. From dark colors, to nail art, to nail accessories, there are so many different ways you can wear your passion for the season on your hands. Only, there's one problem. Over-the-top manis and pedis, which are absolutely gorgeous, can also be time-consuming. And when you're busy trying to juggle all the demands of the season (we know you're Miss Popular jumping from pumpkin patch to Halloween party), the thought of sitting in the nail tech's chair for hours on end can sound pretty darn scary. Not to mention having to match your trendy fall 2023 nails to all the different outfits you're wearing in October. 
But, don't get too terrified. If you're ready to trick or treat yourself to a spooktacular manicure this Halloween — but want to keep things a little more low-key and understated when it comes to your talons — then we have the ideas for you!
Witch way to the pumpkin patch?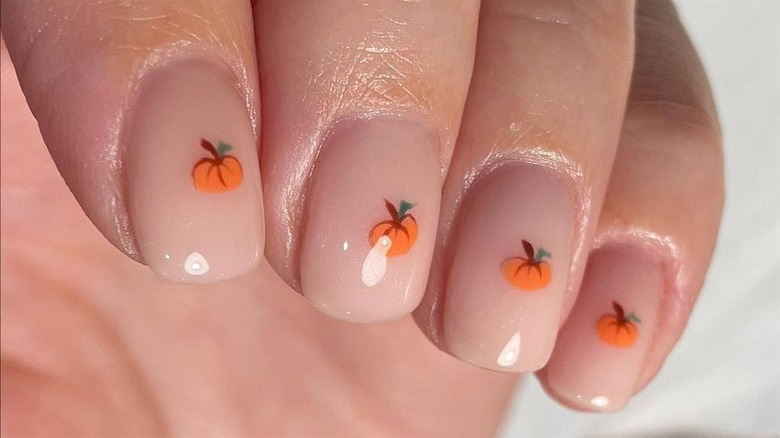 Instagram
How adorable is this super cute pumpkin manicure? We can't get enough of the understated design over a nude nail, which brings just the right amount of seasonal color into your manicure, especially if you want something a little simpler. While a qualified nail tech should be able to achieve the design with no problem, those trying out this look at home may want to opt for small pumpkin nail stickers to get the look.
Counting cobwebs
Another simple Halloween manicure to give a go this year is this super cute web look. Black tips add that extra dose of dark spookiness, while the white webs really stand out against the dark twist on the French manicure. We love the placement of the webs on this look too, since only placing the design on two fingers makes it a little more understated. This look is far easier to achieve than you might think, too. All you need is a fine line brush, and your lines don't have to be perfectly straight. Hey, it is Halloween, after all!
Don't forget the glitter!
Glitter nails can actually be pretty understated in a world of ornate nail art — when done the right way, of course. A dark purple glitter polish is ideal for those looking for a more low-key Halloween manicure, as it gives a mystical vibe without being too over the top. A stunning glitter shade like this one will also catch the light to show off all the different shades within it, which could be a nod to all the mystical tones the holiday carries.
Or try a faux blood look
Want to step things up a little but still not go too far? Then why not try this faux blood look? Instead of the classic tips, add red polish to the ends of your nails to look like dripping blood. While the blood stays the same, this look is totally customizable because you can choose whatever color you want for the base of your nails. If you want to make this look a little more understated, you could even go for a lighter red base so the two colors don't stand out too much.
Bring it black
What says low-key Halloween vibes better than chic all-black nails? It doesn't get much simpler than a swipe of black polish, and it's perfect for the season when you want to keep things a little more subtle. Don't think subtle has to mean boring, though. Adding a glossy top coat will bring the shine to your haunting manicure, or you could even try adding a layer of black glitter polish to the top for something still low-key but with just a little more glam.
This design is fun without being too out there
This nail art look brings together a few of the colors we're used to seeing at Halloween — orange, black, and gold — and creates a fun yet still somewhat understated design. Because the silver lines are so subtle, they're barely there, which gives this unique design a delicate aura for those who are looking to keep things a little simpler.
Give 'em pumpkin to talk about
If going to dark with your manicure isn't your thing, then why not try the other color we strongly associate with Halloween on your talons? Orange, of course! This super cute manicure brings pumpkin orange to life, with a twist via the sliver of glitter on the nail bed. Though this look is matte, it's totally open for interpretation. You could go for a shinier polish if you're not a fan of matte nails.
Be a Hallo-queen with this simple nail art
Another way to keep things simple is with some low-key designs on every other nail. This fun yet modest look features cobwebs in the corners of one nail and a ghost on the ring finger. And, we can't lie, we're kind of obsessed. Keeping the base color neutral lets the designs do all the talking without the nails getting overwhelmed, though if you want to put your own spin on this fun look, you can still choose whatever base color you like to make it your own.
Why not try the brush mark ghost?
With an orange base and creative ghost design, this look is totally adorable and so easy to do at home. All you need is to apply a couple of coats of orange polish over your nails. Then, grab a white polish and remove some of the excess product. Having less polish on the brush will make getting the effect of the ghost's tail much easier. Swipe it on the nail and add a couple of black dots for the ghost's eyes and you're done! A low-key ghost look we totally love.
Dark aura nails are subtly spooky
Another spooky look that's not too on the nails? Trendy aura nails, of course! Aura nails have surged in popularity, and the idea is perfect for a more subtle Halloween manicure. That's because the whole concept is a little softer, with the light merging out into the dark. You're not getting a look that's too harsh or in your face — yet it still packs a dark and mysterious punch.
Bring out the ombre
Ombre nails are another fun way to go a little more subtle for the season. Red and black are two colors we closely associate with Halloween, so pairing these two will give you a haunting yet glam effect. This concept can also be done with a whole host of colors that will have you looking anything but basic. Why not try it with purple and green? Or black and orange? The color possibilities are endless and totally boo-tiful!