Aura Nails Aren't Going Anywhere For Fall 2023 - How To Get In On The Trend
Have you ever been told that you give off a certain aura or energy? Or maybe you've taken a quiz to tell you what color your aura is. As experts at Women's Health Magazine put it, an aura is an energy field that radiates off everything, including ourselves. The color of your aura changes, like your mood, depending on what's going on in your life. You might radiate a red aura, for instance, if you're going through a significant change in your life.
Whether or not you believe in the concept of an aura, it makes for an undoubtedly eye-catching and gorgeous manicure. Aura nails certainly had their moment last year, garnering nearly 200 million views across TikTok and dazzling the nails of our favorite celebrities. And it seems as though they're one of the fall 2023 nail trends to have on your radar this year as well. As celebrity nail artist Zola Ganzorigt recently told Who What Wear, "Every single client of mine is asking for aura nails, even Christina Aguilera." 
For this manicure, people will often go for a solid background and then choose a darker or lighter color for the aura. You can go with any color combination, but just make sure the colors pop against each other. For instance, you can choose a light blue background with a dark blue aura, or vice versa. The aura manicure will add a mystical feel to your manicure, just in time to get you in the Halloween spirit. 
Products you'll need for aura nails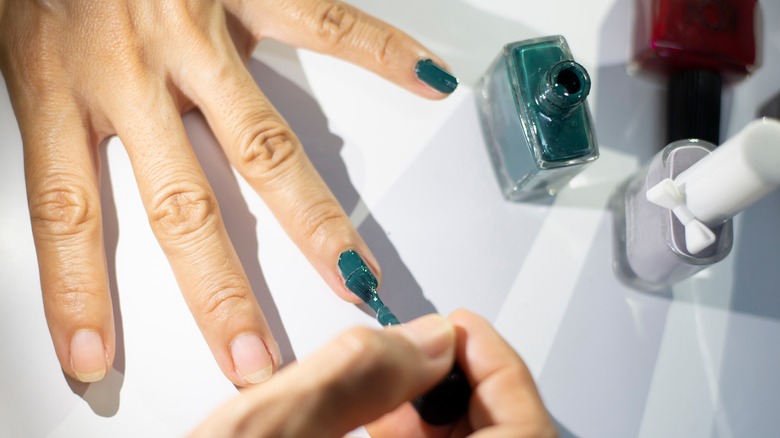 SERASOOT/Shutterstock
The aura manicure can easily be achieved at home. One popular method involves using a blooming gel, a gel base coat that allows color to blend out across the nail without smearing. The color is applied on top of the coat blooming gel while it is still wet, and almost magically, it spreads out across the nail and reveals an aura-like glow. With this method, it helps to use a dotting tool to apply the color with precision. If you don't have a blooming gel at home, you can also use a makeup sponge to create a similar effect to the aura design. The sponge allows you to easily apply the color and helps to give an ombré effect. 
No matter which method you choose, it's best to start any manicure with a base coat to protect your nails and help the polish adhere better. Then, of course, you'll need your polish colors. You can use gel or regular polish for your background color, but just remember that when using gel nail polish, you need to cure it with UV or LED light so it can harden and dry. You'll also want to use a top coat to preserve your gorgeous nails after you've finished painting. Once you have all your tools, you're ready to get started.
Apply your base coat and polish color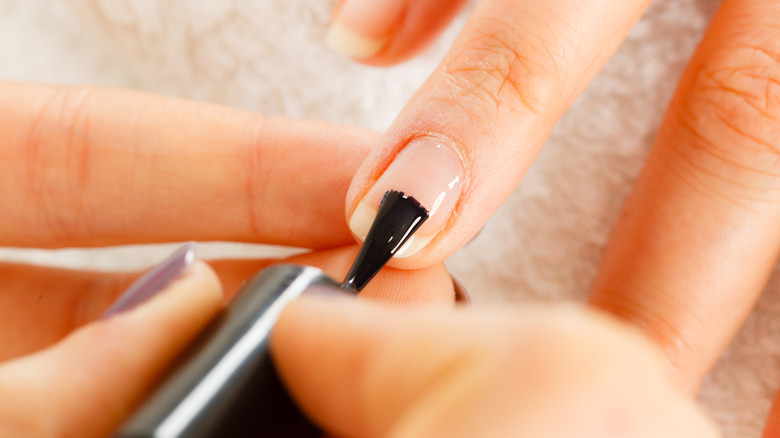 Anetlanda/Getty Images
Prepping your nails with a base coat will help the polish adhere to your nails and stretch out the life of your mani-pedi. Apply your base coat to clean and dry nails, and then they'll be ready to paint. 
Paint a solid coat of polish on each nail to create the background for your aura. You can create a multicolored look with several different polishes, or go for something more uniform. Let this coat dry before moving on to the next step. If you use gel polish, cure it under a UV or LED lamp. 
Method 1: Place blooming gel in center of nail and apply second color
Apply your clear blooming gel on top of your solid base. Don't let it dry; the gel works its magic while it's still wet. Use your dotting tool to apply the second color (your aura's color) on top of the blooming gel. You want to place the color in the center of your nail and give it enough room to spread out across the nail. 
If your nails are short, a small dot will do. For longer nails, you might want to make an oval shape, so the color blends throughout the whole nail. Then, wait for the aura effect to take place. It may take a few moments for the polish to start blooming, but do your best to be patient. 
Method 2: Use a makeup sponge to create an aura
On your makeup sponge, paint the color of your aura in a small circle. You can also paint another circle around it with the background color so that the polishes blend together well, as shown in the TikTok video above. Dab the sponge carefully on the center of each nail until you get a gradient, aura effect. For any needed touch-ups, go in with a tiny edge of the sponge to brighten any colors that need another layer.
You can also use a small beauty blender if you have one. Place the polish on the pointy end of the sponge and dab it on the nail. This will create a nice circular shape to create your aura effect. 
Let nails dry and apply top coat
Now that your aura is radiating beautifully off your fingertips, give your nails a moment to dry. Cure them under UV or LED light if you used blooming gel along with regular gel nail polish. With regular polish alone, you can let it air dry. Apply a top coat to seal everything in and make it last as long as possible. Now, you can show off your magical nails to the world.