Why You May Want To Make Your Bronzer The Last Step In Your Makeup Routine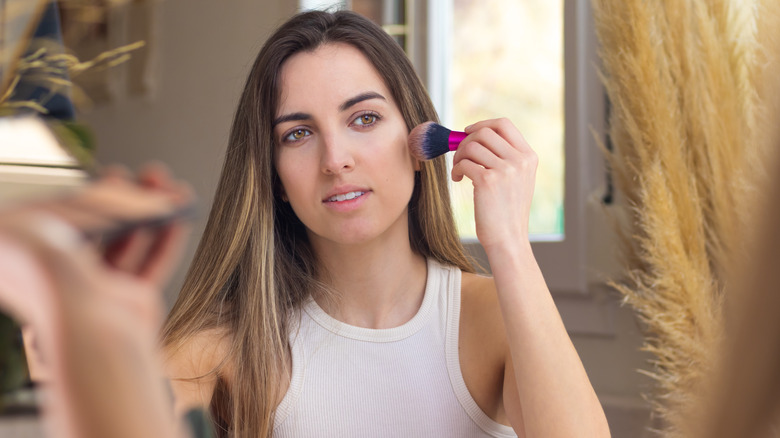 Pablo Vivaracho Hernandez/Getty Images
We all have our own unique ways of applying bronzer. Over the years, everyone has picked up little tips and tricks from here, there, and everywhere that make our application work just that little bit better for us. Heck, sometimes it can all be about trial and error and what was initially a mistake can actually lead to a total makeup technique breakthrough you end up doing on purpose for years to come.
Think about it. When exactly do you apply your bronzer? Is it after your foundation but before your blush? Is it before or after your concealer? Do your powder your face afterwards? Or is it different every time? Well, it turns out makeup artists have the answer. Next time you're going for a more bronzed look, try putting your bronzer as the last step in your routine — yup, after you've already got foundation, concealer, and blush on your face. Celebrity makeup artist Tobi Henney shared with Byrdie that this is the best way to apply bronzer for long-wear, and even suggested putting it on after setting powder. 
Applying your bronzer last could help keep muddy makeup at bay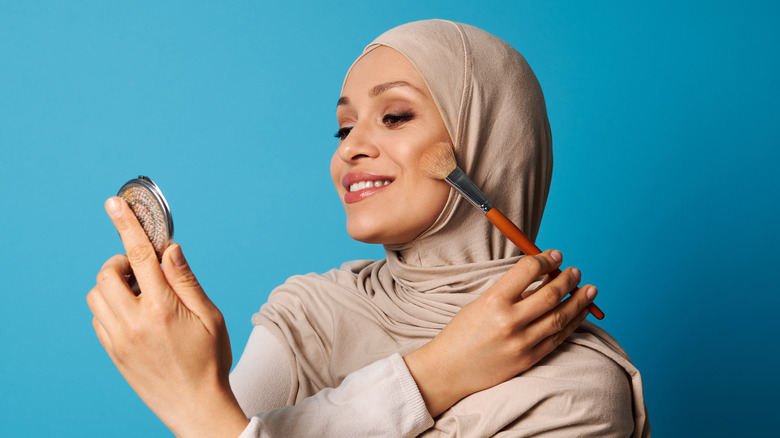 Taras Grebinets/Getty Images
So, why is it such a good idea to put your bronzer on last? Having everything else already done means your bronzing product, be it a powder, cream, or liquid, will be less likely to stick to your foundation. When you apply bronzer underneath other products, like highlighter, concealer, or setting powder, it can appear patchy. This can cause you to put on unnecessary amounts of extra product. Even worse, anything you apply on top of your bronzer can actually end up spreading the product further than you might like, which is how your face can end up looking muddy rather than snatched.
Instead, it's best to apply bronzer as the final step to ensure everything stays put. Plus, once you've applied everything else to your face, you'll be able to get a clear picture of which parts actually need a little extra color. In some cases, your blush could be doing a pretty good job at giving you a healthy look on its own, meaning you don't have to go so heavy with the bronzer.
Equally, making bronzer your last port of call will stop it from smudging and allow its true color to shine through without anything over the top that could alter the shade. Applying it last also means there won't be anything like eyeshadow fallout or baking powder to dust off, nor will you have to keep adding more because it's been disturbed by other products. That's particularly handy because a light hand is always recommended for a naturally bronzed look, as going too heavy can leave you looking orange.
But remember applying bronzer isn't the same as contouring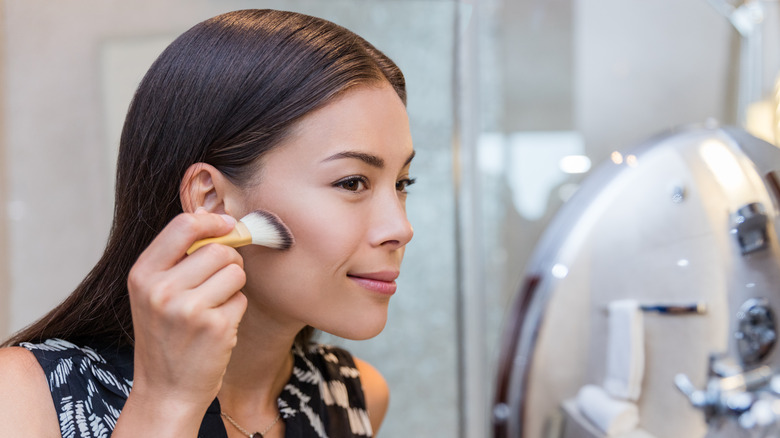 Maridav/Shutterstock
Now that we've established when to apply bronzer, you may be wondering: what about contour? There's one crucial thing to keep in mind here: Don't confuse bronzing with contouring. Sure, you can definitely use your bronzing products to contour, but the purpose of contouring is to carve out the face and create shadows. Contouring defines specific parts of the face, such as the bridge of the nose, and pushes back other parts (such as the hollows of the cheeks or the sides of the forehead). Since the application is so precise, you would contour before you apply bronzer. As for bronzing the face, however, the main goal there is to give your skin a healthy all-over glow, which means you'll apply it to slightly more broad areas.
Although the ideal bronzer placement may vary slightly from person to person, there are a few points on the face that look great on almost everybody: along the hairline on your forehead, across the bridge of your nose, and, lastly, on your cheeks. A good rule of thumb is to think of anywhere you might naturally catch the sun. To get that stunning sun-kissed glow, celebrity makeup artist and ambassador for Catrice Cosmetics, Emily Gray, recommended to CNN Underscored to apply powder bronzer gently with a brush, then taking a few paces back and checking out your handy work in natural light. This will show whether you need more or have missed an area.