Get Glowing With Golden-Hour Makeup, Summer's Most Magical Trend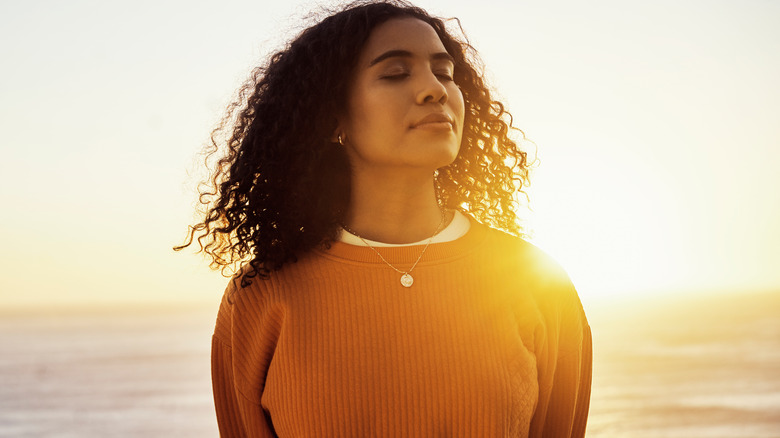 Pixdeluxe/Getty Images
We may receive a commission on purchases made from links.
This summer, it's all about burnishing your face with a sunset glow. It's also about keeping your makeup more natural, streamlined, and less obviously contoured than in past seasons. This overall golden haze also happens to be completely on point with monochromatic makeup, the easiest way to upgrade your look.
Even though this golden hour face is a current TikTok trend, it also happens to be a classic. Let's face it — metallics never really go away, and this look is subtle, so it has staying power beyond its trend status. Here's something to keep in mind: the way to make sure this is flattering is to know your skin's undertone. At first glance, this look is born for those with a warm undertone because golden, peach, and salmon sunset colors are naturally warm. But if you're cool, look for gold highlights and shimmers that you can repurpose on eyes and cheeks that come in a cooler goldish-pewter tone. If you can, get recommendations from someone knowledgeable at Sephora or your favorite store.
How are people achieving the golden hour look?
First, always start with a fresh, clean face and a solid skincare routine. Use a facial cleanser, add your moisturizer, and give it two to three minutes to settle in before dotting on your foundation. Blend with a foundation brush for full, sheer coverage. Tap concealer under your eyes and use a small concealer brush to blend it seamlessly.
Start with a liquid bronzer along your cheekbones, then a few dots above your eyes near the hairline, a touch on the tip of your nose, alongside the upper bridge of your nose, and along the jawline. Use a brush to blend well — remember, you're not going for obvious contouring. This look is softer. Use a dot or two of a liquid blush. Optionally, pat your face with setting powder, then translucent powder. Now you can add another bronzer and blush layer on top, then blend. Experiment with the order you apply your makeup for subtle shifts.
Golden shimmer or highlighter on your cheeks is next, with a touch just on your browbone and nose as well. Finish your eyes with liner and mascara. For lip color, you want a neutral pinky-brown (without any metallics), not too darkly pigmented, either matte or glossy, and voila.
Some specific product ideas
You can add an eye shadow if you want, but the tutorial above is all about the glow from the liquid bronzer, the gold shimmer highlight, and a neutral lip. For the look we described, if you were to add a shadow, we recommend adding a super neutral golden-beige shade (without any metallic flecks) like Urban Decay's Warm Beige Matte.
If you do want to play up your eyes, we're guessing designer Tom Ford had a hand in inaugurating this trend with his summer 2023 Golden Hour eye shadow quad. It's four palettes of sunset colors — a subtle gold, a slightly cooler metallic pink, and two more deeply pigmented colors: copper and a bronzey-brick. On TikTok, rio.makino achieved a sunset-y look on her eyes with a peachy matte color underneath, then added Make up by Mario's Master Crystal Reflector in Quartz for a gorgeous, glittery wet look. Her cheeks were close to the matte peach color she had on her eyes for a cohesive, monochromatic effect.
Bronzers and shimmers are the stars of golden hour makeup. Merit Bronze Balm Sheer Sculpting Bronzer is unique because there are five variations for different skin tones — fair, light, medium, medium-deep, and deep. For highlighters, ILIA's Multi-Stick Cream Blush + Highlighter + Lip Tint in Gold has a cooler tone, while Rare Beauty by Selena Gomez's Positive Light Liquid Luminizer Highlight in Bronze Gold is perfect for a warm undertone.