Does The Order You Apply Your Makeup Products Really Matter? (Spoiler Alert: Yes And No)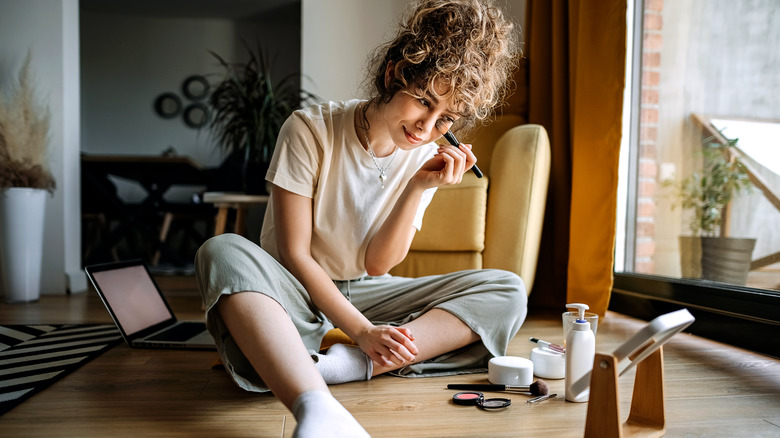 Enigma_images/Getty Images
If you wear makeup regularly, you likely have a pattern or process for applying it — but have you ever wondered how big a difference it would make if you put on products out of order? 
Well, there are definitely some guideposts that will always make sense to follow, especially in a cleansing ritual. For example, you won't want to wash your face, moisturize, then apply a toner. Toner has a mild astringent action that will strip off the moisture, undoing what you've just done and wasting two products. There is a common order for applying makeup products that works for a lot of people; however, even if you're using the suggested traditional layering sequence, feel free to experiment to see if the final result gives you a look that's truly in line with your personal style.
When it comes to the order in which you apply your makeup, it can be beneficial to change things up and try something new.  Do you want a natural, no-makeup look? Or maybe you'd prefer to create a deliberate sense of artifice. While common sense might say foundation comes first, then blush, it might be cool to try a more pigmented blush under sheer foundation just to see what happens. If you look in the mirror and see a clown looking back at you, while that won't work for a job interview, it might be fun at a party. Most of the time, the order you apply your makeup products is what creates a flawless look, but we'll consider two different approaches.
The basic order to apply makeup for a polished look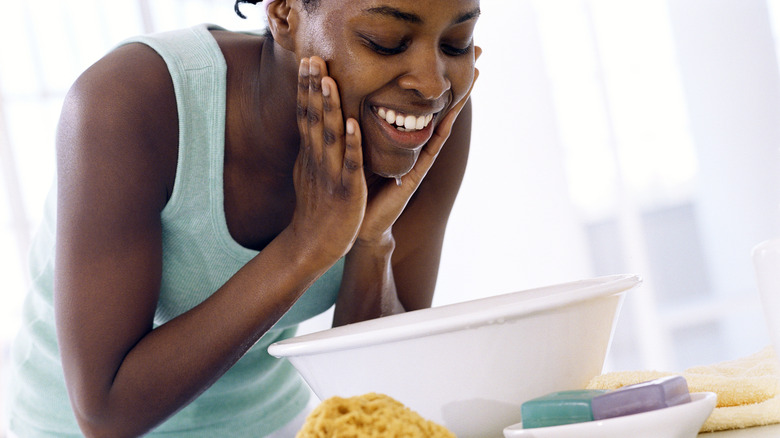 Digital Vision/Getty Images
The traditional sequence for makeup application starts with prepping the skin: cleanse, tone, and moisturize before glowing yourself up. Nava MD Clinical Skincare reminds us to use water-based products before oil-based products. A water-based cleanser absorbs faster and preps your skin for an oil-based moisturizer. You've seen pilling on your sweaters — the fabric forms tiny little balls — and your makeup can do the same thing if the layers piled on top of each haven't absorbed into the skin first. The secret is to make sure you allow time after every step for products to fully absorb.
We've adapted this sequence from celebrity makeup artist Joseph Carillo. Apply 30 SPF sunscreen followed by a primer. Primers soften the look of pores and create a canvas for your foundation. Add eye shadow now or later, but if you sweep richly pigmented powders on your lids now, you won't have to repair the colored sprinkles that fall onto your foundation afterward.
Blend your foundation with a blender or foundation brush. Wait for it to set before lightly tapping on the concealer. Blush, bronzer, or contouring are next. A good guide: use cream blush formulations if your skin is dry, and powder if it's on the oilier side. Finish (or start) your eyes with shadow, liner, mascara, and brows, followed by lipstick or gloss. A great way to keep lipstick smudge-free: set it with foundation first.
Renegades, ignore that previous advice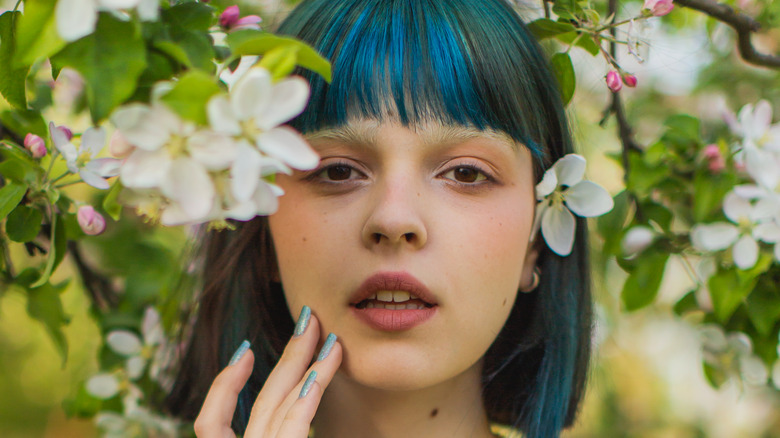 Iiievgeniy/Getty Images
Trends, lifestyles, and tried-and-true makeup application techniques all get tossed in a blender and reinvented on social media, creating innovative ways to mix up the order of your makeup application (although washing your face first is still a keeper).
Creativity abounds. Blogger and makeup experimenter Little Barbie Doll shares her best practices for using eyeshadow as a blush. Shadows tend to be more deeply pigmented to last longer on the eyes, so consider using a light touch on your cheeks unless you're angling for a more radical club look. Note that because it's heavier, eyeshadow as blush might cause acne. Esmi Skin has some tips for using blush or bronzer on your eyelids, including deepening the color by wetting your application brush first. Using bronzer on the eyes and cheeks creates a monochromatic look that's an easy upgrade.
As for the order of your makeup application, TikTok user @goldenbeauty_xo got fabulous results by underpainting. She definitely moisturizes first, but then goes rogue by dabbing translucent powder all over her face, then spritzes on a setting spray. Next, after allowing the spray to dry, she adds her primer. She lets that dry too, then blends in foundation with a luxurious brush. Users with oilier skin who tried it loved it, and others commented that this method doesn't work as well if your skin is dry.