Why You Should Definitely Never Wear Heels With Leggings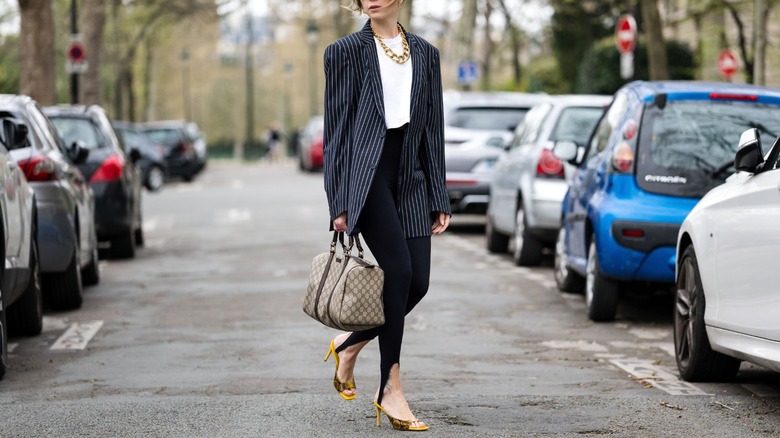 Getty Images
The rulings are out and theories have been proven: leggings and heels, just aren't a great fit for the cannon of today's classic styles. When we think of leggings, they are probably most synonymous with images of big fall sweaters, cozy comforts, workout gear, sleepwear, and the perfect item for pulling out of the laundry while making a quick run to the grocery store. It's almost impossible to remember the classic 1978 film Grease without imagining Olivia Newton-John's transformation from the shy, pastel-painted innocent to the outspoken, sexy extravert in her shiny, black leggings and high-heeled, red mules. However, as we know, not all iconic Hollywood looks accentuate every silhouette.  
In the 1960s, along with innovative materials, came the popularity of stretchy fabrics and thus, leggings, have been a staple in our capsule wardrobes ever since. There's over 60 years of debating the best footwear for leggings looks. From awkward exposed ankles to shoes that un-make the outfit, today, it's safe to say that dependent upon current trends, leggings and heels just aren't working in our favor.
Unlike tights, leggings interrupt the flow of an outfit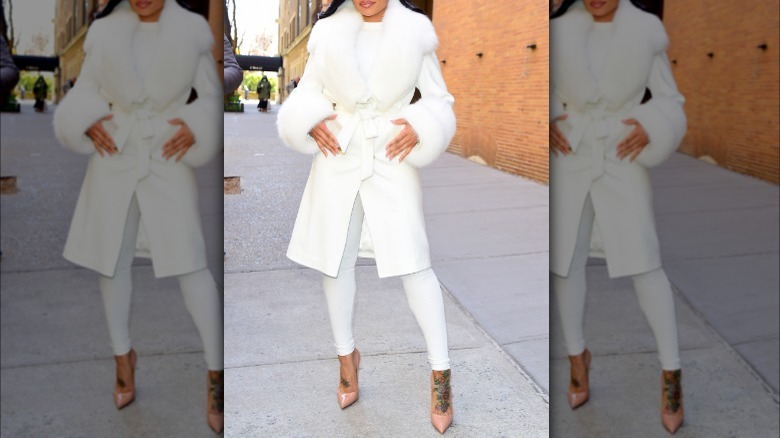 Getty Images
Our eyes (and minds) tend to enjoy less obstacles in general, but also, good design. The incongruence of casual, stretchy pants with an elastic waist perched on top of a precarious, delicate heel is jarring, and not necessarily in a good way.  Ease and flow are often considered a positive state of mind, and since fashion is a natural go-to for self-expression, the same rules (and messages) apply. 
Leggings are rarely the stand-out item in a gym outfit, unless they have 'look-at-me' designs or cutouts. In which case, ideally, one would want to tone down the rest of the outfit to highlight the creativity on display. Who doesn't love some good contrast? However, leggings form-fitting nature makes them tend to appear like second skin, or thicker tights that aren't really meant to be the focal point of an outfit. Yet unlike tights, which go through to the toe, leggings have an opening, ending the flow of a look right at the ankles and  achieving a kind of disruption that needs repair, not attention. The peek-a-boo of an ankle created from pairing leggings and heels can, frankly, be too much of a good thing and become the one worrisome place the eyes are drawn to try to "fix" in your entire look. 
Eyes up here, folks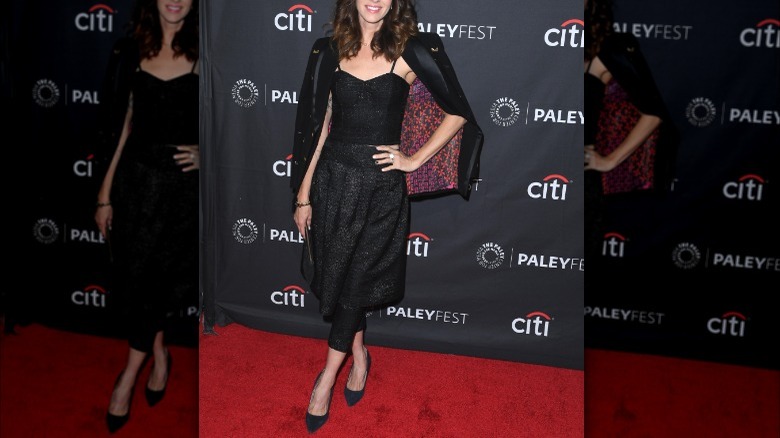 Getty Images
Like a great pair of stilettos or over-the-knee boots, it's fun to wear a statement piece on your feet. Stylist and fashion writer Nicole M. Caruso believes the adage that the shoes make the outfit and supports the case in a photo-journalistic article featuring an otherwise ordinary outfit that transforms with each change of footwear. However, if comfort is also a priority, look it might be better to consider wearing a skirt over the top to create some intrigue with the outfit and make it seem more elevated. Think of it like this: If you're going to deal with the pain of heels, you might as well sport an outfit that's worth it. 
Finally, if you can't seem to part with your leggings-as-pants — and that's totally fine — know that there is ways to be stylish. Look for leggings made with vegan leather or quality fabric to create a more elevated version of your favorite comfy pants that won't look out of place over your favorite pumps.