Shackets Will Never Leave The Fall Fashion Conversation - Here's How To Style One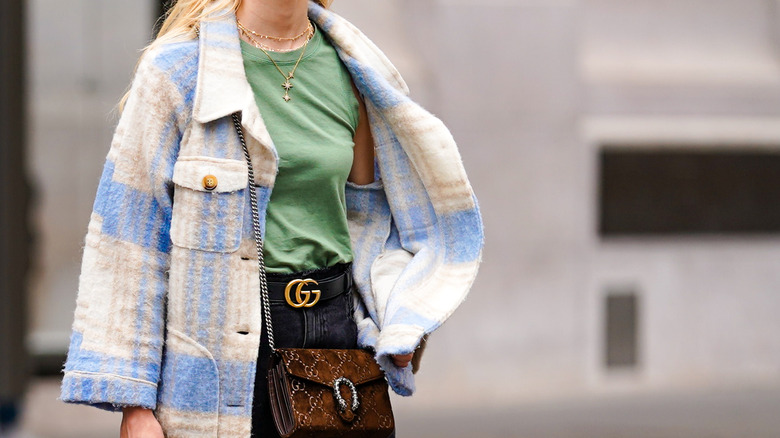 Edward Berthelot/Getty Images
We love it when fashion and comfort align. This is why the shacket will always be one of our favorite pieces for fall and winter months. The garment comes from the combination of a shirt and a jacket, essentially coming together to create an outer layer that's thicker than a button down shirt but not as bulky as a traditional jacket. "Also described as an overshirt, a shacket is a versatile layering piece that can be worn instead of a denim jacket or a utility jacket," Nordstrom stylist Kelly Olson explained. 
Since they're so versatile, the shacket is a dream to style. They traditionally come in plaid prints, though you can certainly find shackets in solid colors too. They tend to be made from a thicker fabric, like flannel or wool, though we've also sourced some thinner ones that work as a light overcoat. They tend to run slightly oversized, and some shackets are extra-long, cutting off around the calf or ankle. However, many are still fitted enough that they can be tucked into skirts, jeans, or trousers if you're after a more polished look. From casual to buttoned up, the shacket is everything. Plus, it's warm, so we're sold.
A shacket and denim makes for the easiest outfit ever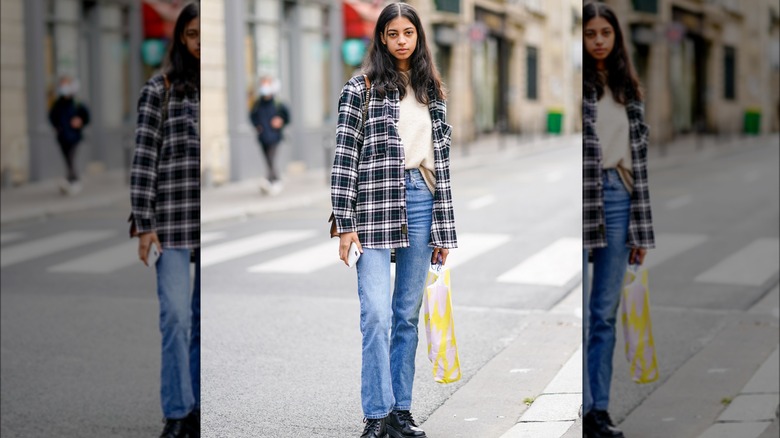 Edward Berthelot/Getty Images
There's no better uniform than your favorite pair of denim, a plain t-shirt, and a shacket overtop. The look is simple and easy for walking around town, making lunch plans, and running errands. The shacket creates an interesting outer layer that adds texture and pattern to your look. Plus, of course, in the fall and winter months, it can provide a much-needed layer of warmth. To add a touch of cool, wear your favorite boots; combat boot, engineer boots, or classic Chelsea boots are all perfect footwear choices with this cozy fall combination. 
Wear a shacket over your favorite mini dress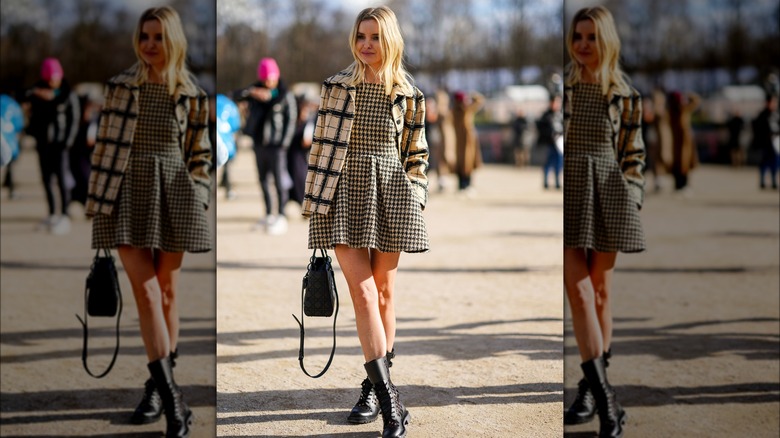 Edward Berthelot/Getty Images
Shackets work beautifully with a dressier outfit, too. Wear one over your mini dress in-between seasons when all you need is a light layer. We love the combination of tonal plaids that are dissimilar enough to tell a story. The square shape of the shacket creates a fun juxtaposition of the timelessly feminine spirit brought by the mini dress. Continue to play with these unexpected statement pieces via combat boots and a simple, black leather bag. 
A shacket suit is a daring way to wear the outerwear staple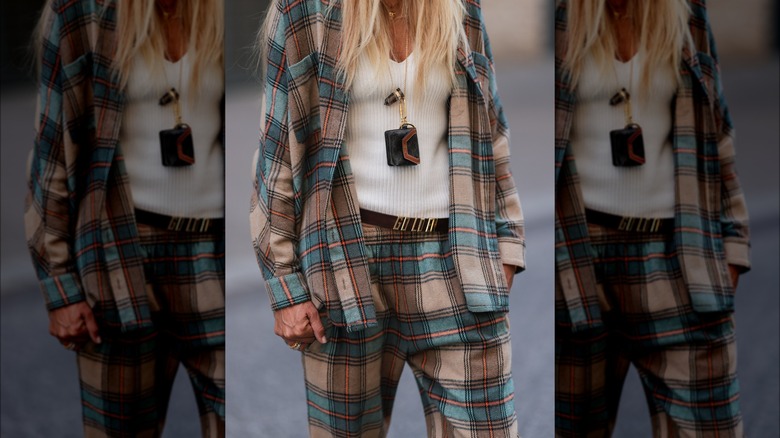 Jeremy Moeller/Getty Images
One of our absolute favorite ways of wearing a shacket is in a suit. The easy, relaxed shape of the shacket with matching trousers harks back the plaid suits favored by women in the 1970s. The shacket top, as opposed to heavily structured shoulder pads and tailored lapels, keeps the outfit fresh and modern. Woven with checks in earthy shades like sand and beige, the shacket suit is a clever way of playing with plaids and the pajamas-as-outerwear trend. Wear with a simple, neutral top and pair with a statement belt and eventful jewelry. 
The long shacket adds extra warmth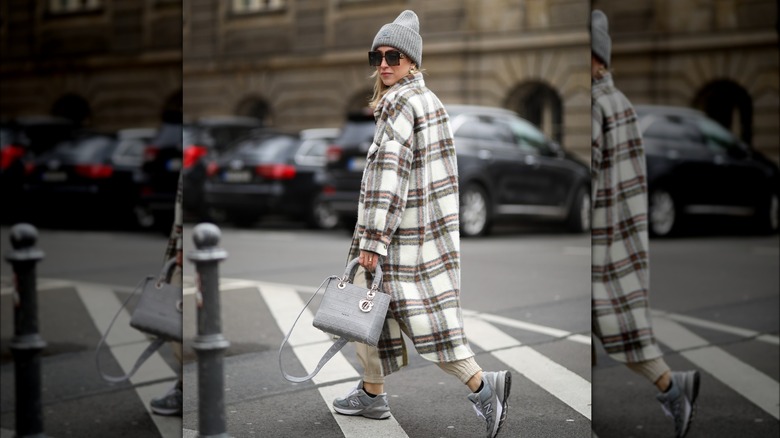 Jeremy Moeller/Getty Images
For the ultimate cozy experience, opt for a long, plaid shacket that hits right at the ankles. The roominess of the extra-long outerwear means that it'll layer easily over chunky knits or your favorite neutral sweatsuit. The combination of creams, browns, and greys create an autumnal colorway that's easy to work with. A tonal knit hat is the perfect finish to this home run of a fall look. Wear with your favorite white or grey sneakers to complete the look.
The shacket as underlayer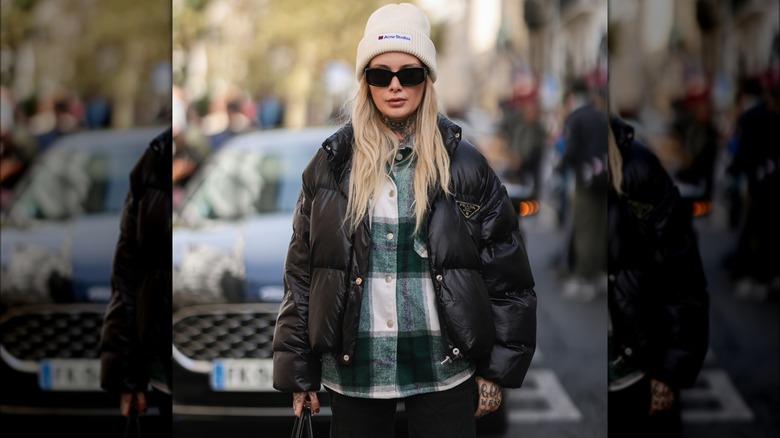 Jeremy Moeller/Getty Images
Depending on where you live, a shacket may not be enough for warmth during the colder. But that's no reason to skip it as a layer. Wear a plaid shacket under a black puffer coat as if it were a cardigan for an added tier of insulation and pop of color. Top it off with a knit cap for a relaxed, winter look and unfussy, lumberjack-chic vibes. And don't forget a pair of sensational sunglasses. 
A shacket over athletic leisure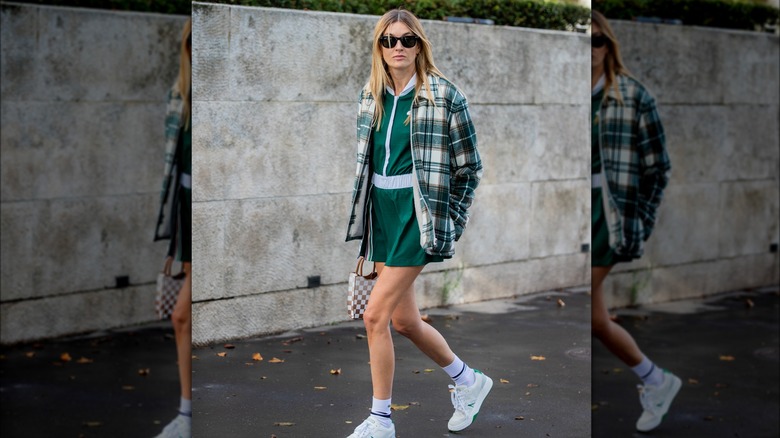 Christian Vierig/Getty Images
Shackets show their functionality when layered over sports wear. You can feel comfortable and confident in your post-workout clothing with a shacket on top. If you, like many of us, prefer working out in the busy and bold prints so popular in athletic leisure trends, then opt for a shacket that's more simple in tone. But know that shackets come in a variety of solid flannel and denim fabrics. Slide on white tube socks and your favorite workout running shoes. 
The oversized shacket as a modern piece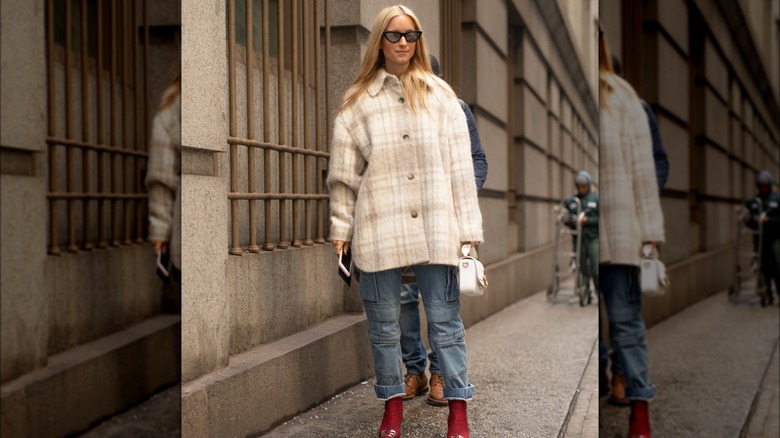 Matthew Sperzel/Getty Images
Don't be afraid to get roomy with a shacket. A larger cut creates a contemporary, menswear silhouette, while the updated, tonal beige version keeps things classic and chic. Lean into color by opting for bright red ankle boots. Red is one of the most versatile accessories for fall, so don't be shy about bringing crimsons, scarlets, and cherry reds into your look. If you want to bring red even further into the outfit, match your lipstick to your juicy accessories.  
The extra colorful shacket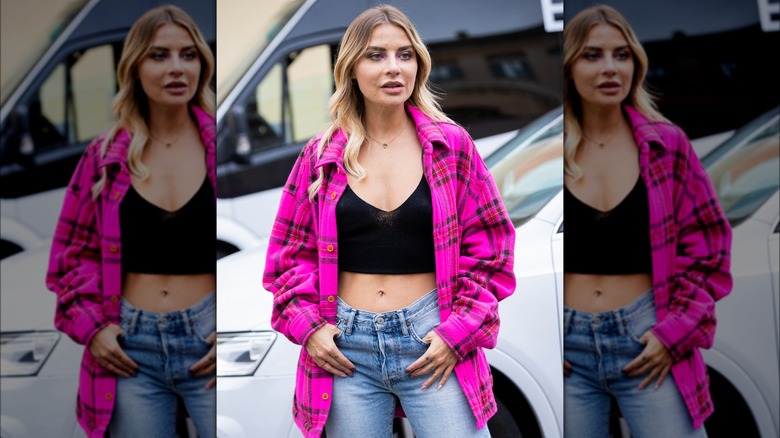 Claudio Lavenia/Getty Images
Just because classic fall colors tend to run in neutrals or earthy tones, does not mean your shacket has to be muted. Enjoy the warmth of a fuchsia pink shacket patterned with vibrant pink checks to give your autumnal wardrobe some vibrancy. If you want to play with sex appeal, let the shacket work as the vivid outer layer over a solid, black crop top that lets some skin peek out. Pair with your favorite mid-rise or high-waisted jeans for a casual look that works for everything from a coffee date to errands. Keep makeup and hair fresh and polished and simple to not look overdone.