Why It's Time To Try Red Blush, No Matter Your Skin Tone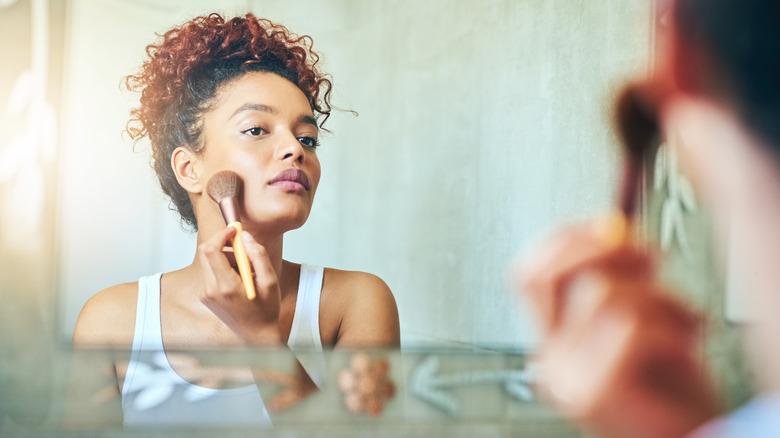 Moyo Studio/Getty Images
Now that we've already established the outdated makeup trends to leave behind in 2023, it's time to consider new approaches to beauty we might have overlooked. Enter: Red blush. All over BeautyTok, the saturated rouge has surged in popularity, with influencers dabbing on colors that range from crimson to tomato.
Now, you may be wondering, with pink being the go-to cheek color for the past few decades, why is red suddenly taking over? According to makeup artist Rose-Marie Swift, red blush offers its own sophisticated hues that you just can't replace with any other shade. "Red gives it that little bit of depth and it looks more natural, like the tone of your cheeks when you were a little kid, almost like the sun gave it a little hint of a burn," she explained to Byrdie. In support of the bold blush makeup trend, we've rounded the best information on all things skin tones, how-to, and makeup inspo. Barbie pink blush may have its moment in the sun, but it's time to welcome fall 2023 with a touch of auburn.
Red looks more natural than pink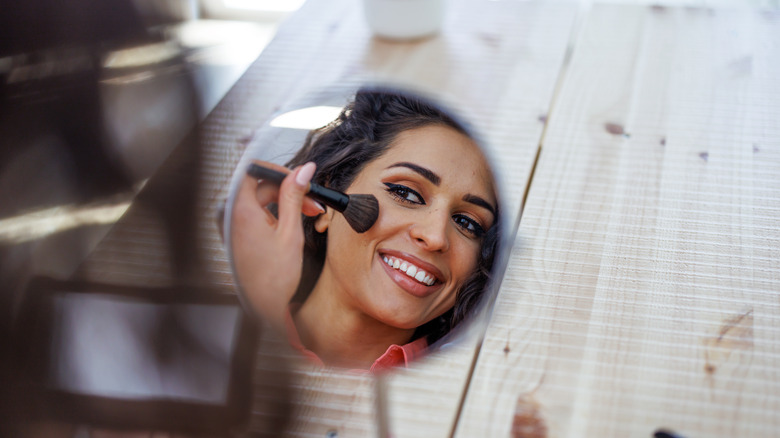 Realpeoplegroup/Getty Images
It's no coincidence that the color red is making a comeback. Red is the color most familiar to the skin, which already emits a reddish pink hue when flushed, no matter how light or deep your skin, or how warm and cool your undertone. Makeup artist Kasey Spickard explained to Bustle, "Red blush is the easiest way to create a perfect natural flush on the skin. It mimics the body's natural response to sun or heat." 
However, just because red looks more natural that doesn't mean it can't go wrong. Choosing the wrong red shade for your complexion can easily give you a clown makeup look if you're not careful. To make the red blush trend work for you, it's important to consider your natural skin undertone. Those with warmer skin undertones should follow the same rules with pink blush and opt for red rouge that contains notes of coral and even orange to complement the heat in their skin. Those with cooler complexions, meanwhile, should look for classic, ruby reds that create a naturally flushed appearance.
Red blush application tips
Believe it or not, there's a right way to apply blush to the cheeks, especially with shades of red. According to makeup director Sara Wren, tapping the product rather than rubbing can help you achieve best results without using too much product at once. "Take a clean brush or sponge and lightly tap or buff over the areas that may be a bit too red," Wren explained to Milk Makeup. "If that isn't enough, gently buff a tiny bit of concealer over the area to help soften the pigment without covering it entirely." It's always best to start the application process with just a little bit of product, then build the color by adding more product to your liking.
Once you've mastered building up the product, there are a few ways to wear it depending on the look you're going for. For example, you can achieve a chilly-weather-look by applying red blush to the bridge of your nose and apples of your cheeks (imitating the way your face looks after getting in from the cold). Another trendy style involves giving the face a 'lifted' effect by bringing red blush from the cheekbones to the temples and hairline.