Outdated Makeup Trends To Leave Behind For Fall 2023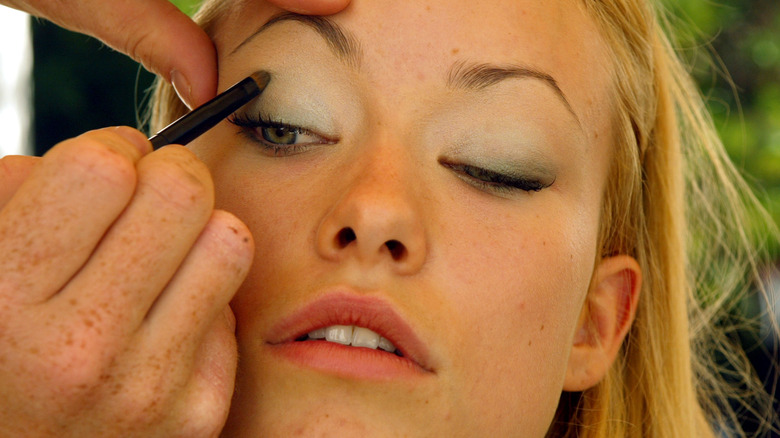 Lee Celano/Getty Images
Listen, we love makeup in every from. But like fashion, makeup evolves and shifts with trends, and what was hot one decade is passé the next. And thanks to the world of TikTok, makeup trends are emerging at the speed of light, so it can feel impossible to keep up with them. For instance, in 2023, we saw the introduction of the angel wing eyeliner technique, an alternative to the traditional cat eye, take over as our primary source of eye inspo. But then there was also the "knot dot" eyeliner technique, which promised to a look more in line with the trendy clean-girl aesthetic.
While we enjoy celebrating the exciting new makeup trends of 2023, we can't deny how fun it is to reminisce over the looks of the past 20 years that once seemed so hot. Now, maybe not so much. That said, we have absolutely no interest in shading anyone who likes to do their makeup in a certain way, regardless of the trend. But if you want your makeup to be of the moment, then steer clear of these dated looks. 
The stenciled brows of a bygone era
Brows are always getting updated; in fact, brows are the easiest giveaway for identifying a particular makeup era, as they've undergone so many evolutions. The ultra-thin eyebrow has reared its tweezed head many times over the last century, from the 1920s and 30s, coming back again with a vengeance in the 90s. The plucked trend is usually followed by a contrasting revolution, with a fuller brow taking its place. However, in the 2010s, the style was a heavily stenciled, deliberately shaped brow. 
"Well-defined and etched-out 'Instagram-worthy' brows brought all the attention to influencers and glam gurus, [which] made everyone realize how important brows are," Shanzey Al-Amin told Byrdie of the 2010s. "The focus was on growing and grooming eyebrows and having them become an identity feature. The influence of celebrities and major makeup artists boosted and brought forward the ever-growing brow industry." We saw that frequently in YouTube makeup tutorials and, of course, on social media. While the look isn't bad, per se, it's certainly a dated way to wear one's brow. The look now is fuller and bushier with an emphasis on keeping the natural shape and growth.
The heavy contour of 2008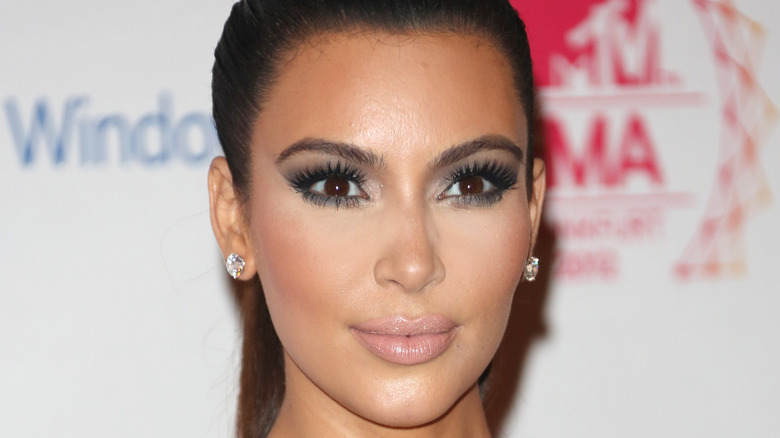 Featureflash Photo Agency/Shutterstock
Ah yes, contouring. This theatrical makeup trend took off like wildfire in the late 2000s. In fact, we can date the craze back to September 2008, when Kim Kardashian and her makeup artist Mario Dedivanovic debuted a modern version of contouring. (To be fair, contouring has existed for centuries, so we can't give credit to these two for inventing the phenomenon). We can all remember the endless tutorials that came out, teaching us where to artificially shade our faces in order to add dimension. There was a debate over cream contour or powder contour products. Kardashian herself sold bundles of contour kits. It became not only a trend but a big money item. 
Nowadays, the trendier way to get a version of this look is through "under painting." You apply bronzer, blush, and highlighter to bare skin and then follow with foundation. The effect is much more natural, thereby enhancing your inner glow.
Heavy, matte foundation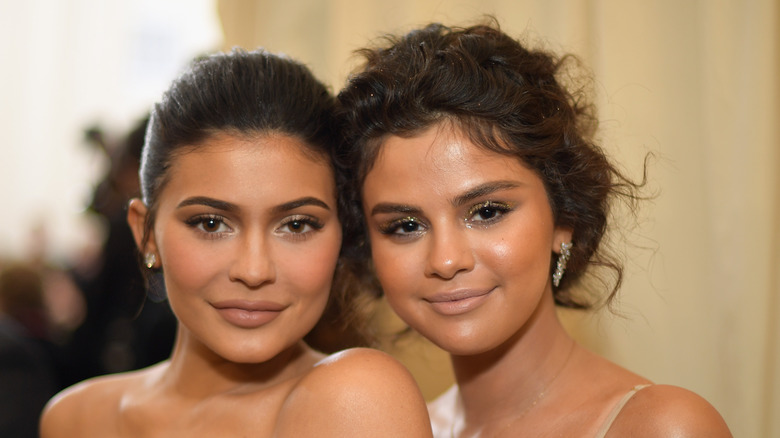 Matt Winkelmeyer/mg18/Getty Images
Makeup trends from the 2010s-2020s were heavily influenced by the rise of YouTube makeup tutorials. The more elaborate the process, the more exciting the tutorial. Part of the essentials of the makeup tutorial look was a full-coverage, heavy foundation, whether your skin needed that kind of finish or not. While full-coverage foundation can look flawless in a selfie, for an everyday makeup look, it could look like a bit much, and in some cases, even appear heavy and cakey. If you started sweating or lived in a humid place, forget about it. Your foundation would literally be hovering on top of your skin. The current look is a much lighter, natural finish. Rather than a heavy-coverage foundation, lightweight products like foundation drops and tinted moisturizers are the look.
Back when baking was in the bathroom
The good old days of baking! This makeup technique was another trend that absolutely blew up thanks to the phenomenon of YouTube makeup tutorials. The "hack," — if we can even call it that — involved applying a heavy layer of loose powder under the eyes following foundation. The powder sat on the skin and warmed up (hence the term 'baking') until one wiped it off, revealing brighter, more flawless skin. The issue was that it left even more product than the already high-coverage foundation was leaving, so the skin was anything but natural looking. Hey, sometimes a dramatic, theatrical look can be amazing. It's all up to you, but in terms of what's current, baking is off the list. 
"I hate to be the bearer of bad news, but makeup baking is so yesterday," an associate editor, Allana, told Makeup.com. "I never thought of myself as a baking fanatic to begin with because I could just never see myself incorporating it into my routine, and I still feel the same way to this day. I understand that baking gives you a more sculpted finish to your makeup, but I find that it actually makes me end up looking a little too harsh and cakey." Oh, we remember. 
Concealer as foudnation
It seems that the defining mantra of makeup from 2000-2020 was: more is more. Part of the elaborate process of getting ready involved applying huge stripes of concealer over heavy foundation. The idea was to both cover imperfections and 'brighten' the face.
Look, we love a good concealer to cover any dark under eye circles, scars, or imperfections. The issue with this trend was that people were using heavy concealers, like Tarte's Shape Tape, to cover huge portions of their faces that didn't need that level of coverage. We're all for a concealer that brightens and perfects, but the product doesn't need to go on half of our faces. 
The ultra-perfect makeup look
Joe Seer/Shutterstock
With the introduction of Instagram and the Instagram influencer, it shouldn't be surprising that throughout the 2010s, it was all about the super pretty, ultra-perfect glam makeup. The effect was almost doll-like, with perfectly symmetrical and sharp black liner, brows, and a slightly pale, powdered face that reflected well on camera. But while it was gorgeous, this too-perfect glam isn't the look anymore. The contemporary attitude towards makeup is more relaxed, something that holds space for smudges and imperfections. Beyonce's makeup artist, Sir John, told Allure, "With the return of smudged, lived-in eyes, messy makeup will be making a strong re-emergence. Think Kate Moss or a hint of Courtney Love in the '90s." This is great news for all of us who can't perfect winged liner! 
Makeup artist Victor Anaya told Cosmopolitan that the less-perfected look has become especially popular for eye makeup. "Think softer, hazy washes of color that wrap around the eye and looks lived-in," Anaya explained. So we can forget about precision and perfection.
Using too many colors at once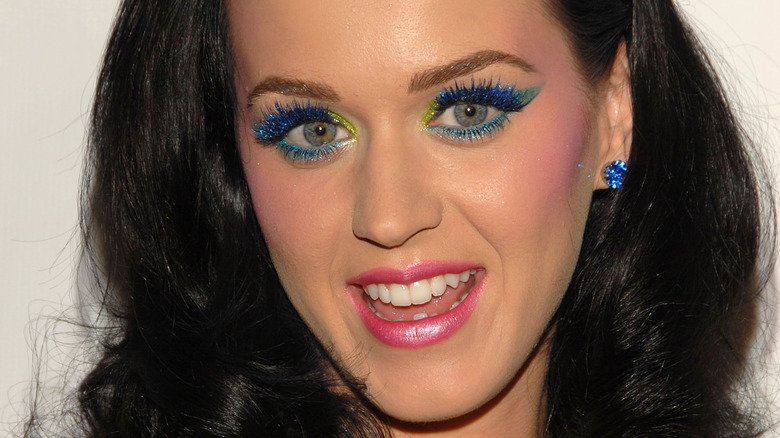 Mark Sullivan/Getty Images
Hey, playing around with neon and jewel-tone colors in makeup is never a bad thing. Colored mascara is perennially in style because it's just so much fun. But when we think of vivid neon liners as everyday wear, we're transported back to the 2010s EDM revival, or the varied color of LMFAO's wardrobe.
Don't get us wrong — we still love colorful eye looks. But rather than random collections of random, bright colors on the lids, what we're loving now is the "dopamine glam" trend. Use bright colors in deliberate ways. Yellow lipstick, ultramarine blue eyeliner, and bright facial art is all a home run. The trick is to keep the rest of the face more muted and neutral. If you're going with an artificially colorful lip, keep everything else natural. 
All over-bronzer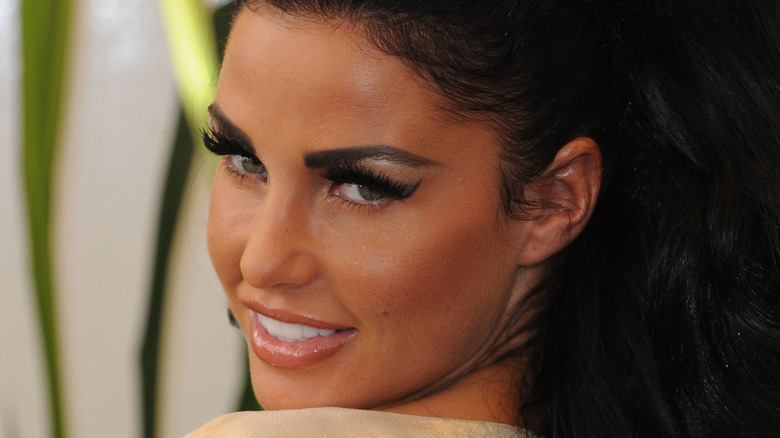 Eamonn Mccormack/Getty Images
Long before anyone heard of terms like contour, bronzer was treated as a free-for-fall. Back in the 2000s, there unfortunately was no limit when it came to faking a tanned look. If people weren't taking to tanning bed, or getting spray tans, then they were sure mimicking it with bronzer all over the face. The look often veered towards a mattifying, single-toned skin that lacked the natural touches of a genuine tan.
While we love the look of a sun-kissed complexion, we know now that there is a limit. We obviously want to keep our skin safe from sun exposure, but we want to use sun-kissed blush or bronzer in a way that reflects how the sun would actually hit our faces: namely, on the high points, like the forehead, cheek bones, and nose. Makeup artist Tasha Reiko Brown told Allure, "Bronzers are going to take a step back." Instead, natural skin with some subtle highlighter is the preferred route of the moment. 
When blush was a whole personality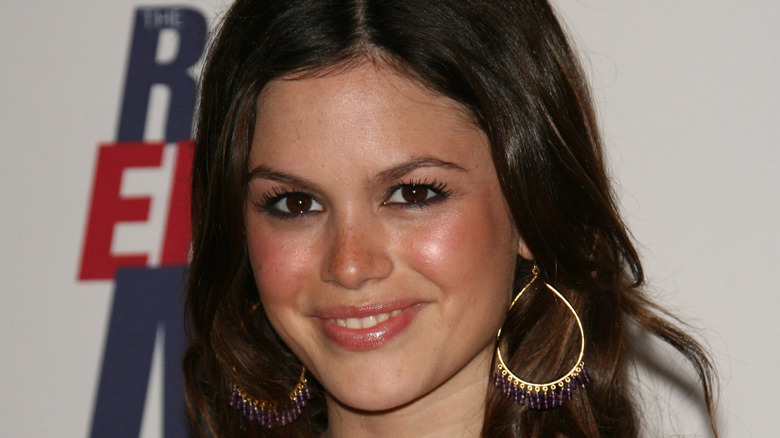 Mirek Towski/Getty Images
We'll never stop wearing blush, but we have updated the ways in which we wear it. The look of the past was far too heavy-handed, appearing slightly more clownish rather than rosy and healthy. This was even more obvious when using powder blushes, which often sat on top of a matte face in an artificial way.
Instead, the trend now is to wear it in a cream formula for a more natural effect. "We've seen more and more clients gravitate toward cream blush because its creamy texture creates a smooth, natural, and skinlike finish that blends seamlessly into your complexion," Sephora's beauty director, David Razzano, told Glamour. "Cream formulas also often have the added benefit of creating a dewy glow and flushed appearance, which is so covetable—and trending—right now." Even liquid blushes have skyrocketed in popularity, thanks to the desire for a skin-like flush. We're also not settling for the same solid, hot pink color, and instead tailoring our makeup to our true skin tones. Those with warmer shades should ditch the cool rose and opt for more coral hues, while those with a cooler complexion can stick to muted pinks.
The whole nude eyeshadow palette trend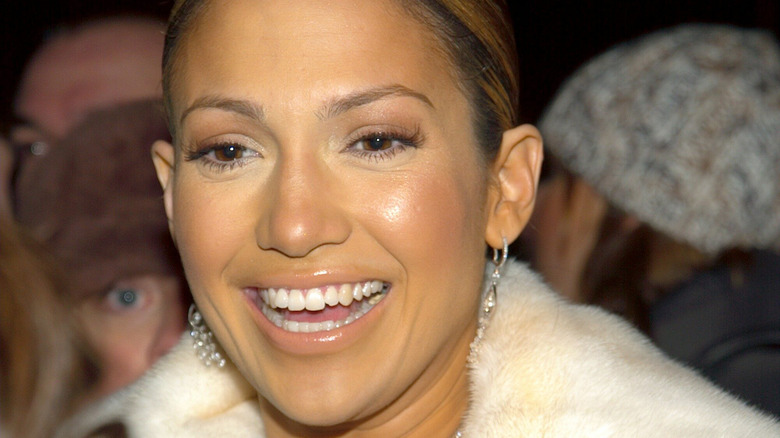 Lawrence Lucier/Getty Images
Who can forget the cult classic Urban Decay Naked eyeshadow palette, packed and pressed full of glittery tan, taupe, brown, and 'neutral pink' shadows and mattes to match. The iconic product launched in 2010 and reached over a billion dollars in sales, with one palette being sold every six seconds that year. Part of the appeal of the sparkly palette was that it's neutrals were designed to sort of go with every outfit. Remember when we were all convinced day-to-night makeup was a thing? 
While nudes and neutrals are still popular, richer berry tones are the new direction. "A rich berry color is going to stand out this fall," makeup artist Patrick Ta told Allure. "It's a beautiful, saturated color that looks good on all skin tones." Berry tones also have the added benefit of brightening the eyes and making one look more awake. Nudes could never. For this reason, people sometimes swipe their eyelids with a wash of their blush to tap into that effect.
Chalky nude lips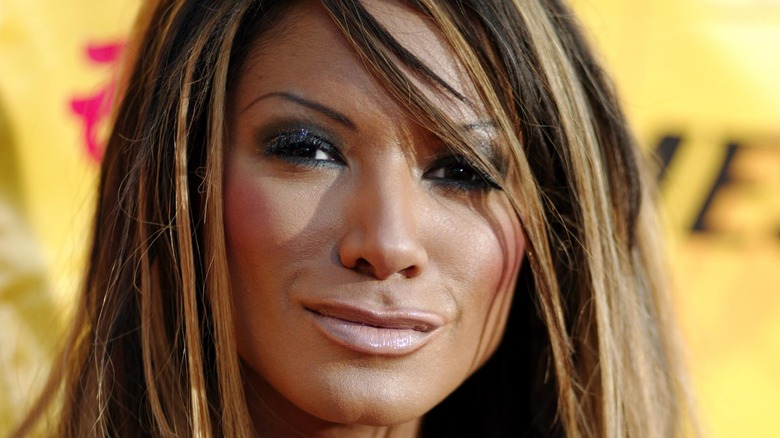 Christopher Polk/Getty Images
There's a case that neutrals never go out of style, but the nude lip era really got out of hand. In the 2010s, a lot of us were reaching for beige lipsticks that were the wrong shades for our undertone, making us look washed out. If the product had a mattifying element, then things went from bad to worse. Often, the lip color was simply too light or cool for our skin tones, and the lips appeared whiteish or gray.
These days, the tried and tested nude lip isn't necessarily a light tan or beige color. The best nude lip is one that's natural looking on you, meaning it matches the natural tone of your lips. For some people, that could be a reddish brown or even a pink. But no more of that chalky, pale lipstick that was too light. 
Thick eyeliner under the eyes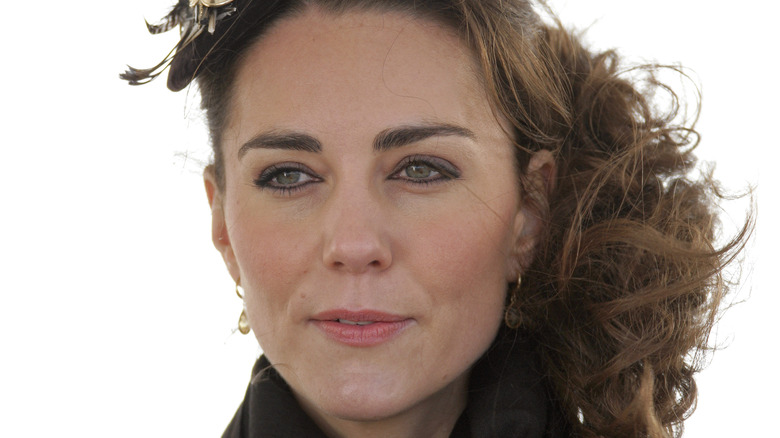 Max Mumby/indigo/Getty Images
Even a princess can make makeup mistakes. In the 2010s, a lot of people were falling for tightlining, aka lining both top and bottom lashes with a thick, black liner. While it certainly drew attention to the eyes, the overdose of eyeliner often appeared too harsh and made features like bags and crow's feet stand out. It also made some people's eyes look smaller.
While speaking of Catherine, Princess of Wales, in August 2011, Vivienne Westwood told the London Sunday Times that the eyeliner look was all wrong. "I think she's got a problem with eye make-up!" Westwood told the publication. "The sharp line around her eyes make her look hard. Either she should be smudgy or wear none." This advice still holds true. Either smudge out your liner for a more lived-in feel, or opt for liner only on the top lashes, because that makes the eyes appear bigger and more alert. If you do still want eyeliner on the bottom, choose a color that's a few shades lighter than the top liner. You definitely don't want to reach for your cobalt black liner for the bottom lash line. 
The endless skincare routine
Somehow, many of us fell for the trap that more skincare products meant better skin. We were out there buying serums, creams, gels, drops, dews, sprays, and lotions until the cows came home. The final result was an overwhelming procedure that cost a ton of money. Thankfully, this maximalist approach to skincare is a thing of the past. "The 10-step skin care routine is definitely waning in popularity, and as a dermatologist I'm very pleased about this," dermatologist Dr. Loretta Ciraldo told CNN. "Not only was it time-consuming and potentially quite expensive, it also introduced a lot of irritants and conflicting formulations into people's skin routines." 
What's replaced it is skinimalism, the process of mindfully choosing a few products that fit our targeted skin concerns. Take care of moisture and sun protection, and then deal with one or two skin concerns, so that you don't overdo it. 
The formulaic smoky eye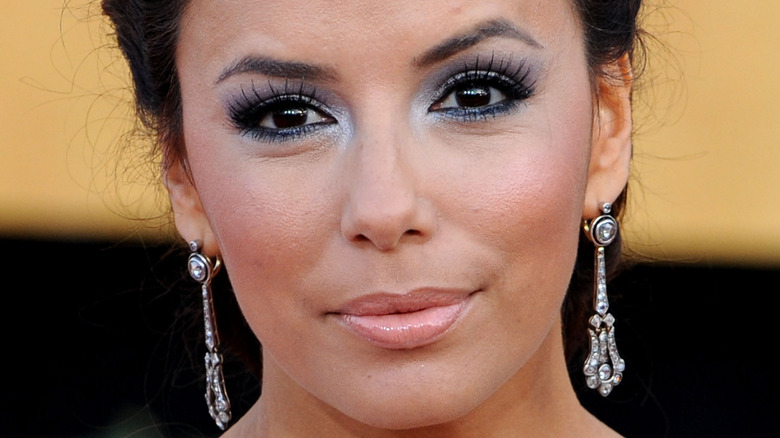 Jon Kopaloff/Getty Images
The smoky eye look was a staple of the late 2000s and 2010s, where we were reaching for an assortment of heavily pigmented eyeshadows to achieve a dramatic finish. In fact, the trend was so popular that pretty much every palette from back then had instructions for how to achieve the look. We'd go heavy in the crease with the darkest shade, then use a pearly shimmer in the outer corners. We'd then line our under eyes in the same dark shades, pop on a pair of false lashes, and bump it out at the club to "Moves Like Jagger." That'll be a big pass now, thanks. While a dramatic eye never goes out of style, we're no longer interested in that formulaic smoky eye of decades past. If you want to update the look, get a little less perfect. "Slept-in smoky eyes are grungy and imperfect," makeup artist Donni Davy told Byrdie. "That's what makes it cool. It's unapologetic and a little scary." Don't worry about being so perfect when it comes to the revamped smoky eye. 
The matte brown lip
While the Y2K aesthetic is having a real moment, the nude, brown lip is done for. Often applied with a matching mahogany lipliner, this era of matte, brown lips is a statement of decades before that we can put behind us. It can certainly be bold, and if you're leaning into a '90s look, go for it. But as far as current lip trends go, what we're after now is the medium brown, glossy lip. This is a huge plus because lip gloss is an easier look to pull off anyway. "People like gloss because it's casual, needs no instruction, and is a kind of treat," makeup artist Tommy Napoli told Allure. We want our lips to look and feel hydrated.