The Game-Changing Tip That Will Make You A Winged Liner Master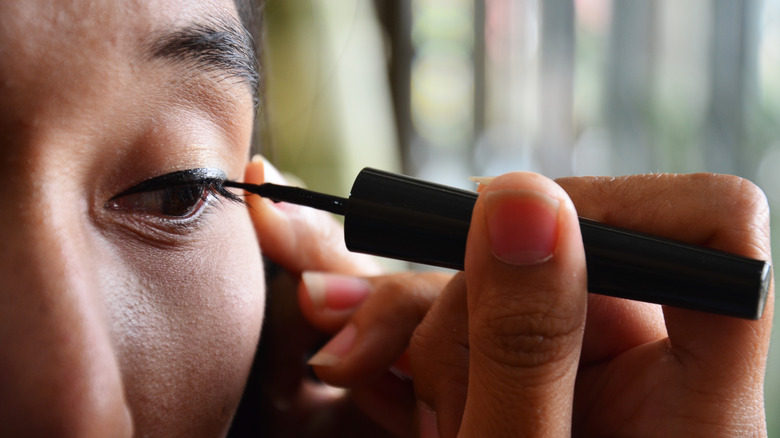 Tuayai/Getty Images
When it comes to doing winged eyeliner, a good rule of thumb is that your eyes should be sisters, not twins. You don't have to get it exactly perfect, so don't stress out too much, but they should be somewhat symmetrical. The unfortunate truth is that doing winged liner can be super tough. It takes a lot of practice to perfect it, not to mention a steady hand, and the product itself can be quite intimidating at times too. Those inky, liquid pens pack a potent punch, so if you mess up — and all of us do from time to time — things get messy.
We keep working at the winged liner makeup technique because it honestly just looks so good. It's always in style, because it gives the eyes a wide-awake effect, making them appear larger and more feline. Even better, there are lots of methods under the umbrella of eyeliner to make eyes appear larger and more alert. We love the knot dot trick, which works by drawing a small dot along the lower lash line, where the bottom lashes naturally bunch at the roots. There's also the fishtail eyeliner trend that utilizes a double wing to create a bold look. But before we get into too many extraneous liner hacks, we want to make sure that we can master the simple winged liner.
Use guide dots for winged liner
Don't be afraid to utilize tools to make life easier as you perfect a winged liner. Makeup artist Smitha Deepak shared a brilliant tip on YouTube. It's worth noting that felt tip pens are the easiest makeup product for doing winged liner. First, line your lash line by holding your pen horizontally, in the direction of your lash line. Don't hold your pen upright or face it downward. To perfect the wing, imagine it as an extension of your lower lash line, Deepak recommended. Use a straight object, like the thin handle of a brow brush, to guide where your wing will go. Mark two dots while using the straight object; add one dot where the end of the wing will be and add another dot at the midpoint. Once you have these two dots, just join the points and thicken the wing as desired.
Another hack that we love is the role that concealer plays in perfecting winged liner. Makeup artist An Knook had a brilliant technique on YouTube. Like Deepak, she also suggests using the lower lash line as a guide for extending the wing. Once she drew on the wing, Knook went back in with Tarte's Shape Tape concealer and a small, flat definer brush like the Tightline Eye Brush by Well People. Using a concealer and a flat brush, go over the edge of the outer wing to clean up any smudges or imperfections. The concealer also brightens the outer eye.
Use eye masks instead of tape
There are a lot of techniques out there for achieving the perfect winged liner look. One that's gained a lot of popularity is the tape technique, which involves applying a piece of tape to the side of the eye in order to use it as a guide for drawing the wing. While this tip does work, yanking off the tape from the outer corners of your eyes regularly isn't great for long-term skin care practices.
Nevertheless, it's incredibly useful to have some sort of guide for the winged portion of the liner, and we've sourced a way to incorporate a guide that doesn't tug at your skin. Use under-eye masks instead of tape. This way, your under eyes can soak up hydrating product while you put your makeup on. Makeup artist Violette, who goes by @violette_fr on TikTok, shared her best hack for a fool-proof winged liner. Every morning, she wears her VIOLETTE_FR x Dieux Skin Forever Reusable Eye Masks and allows the masks to act as a guide. She tilts the masks upwards so that they curve upward from her lower lash line. Then she draws on her liner, peeling away the masks once she applied her liner, leaving a clean, precise edge. Removing the under-eye masks involves no tugging, thereby avoiding the concerns we have around using tape, but you get just as perfect of an edge.