Fishtail Eyeliner Is The Double-Wing Trend That Can Go Simple Or Bold
Don't go full mermaid just yet: fishtail eyeliner has little to do with scales or the tails of fish. Instead, it refers to double-lining your eyes, often top and bottom, making them appear sort of like a fishtail. If you ask us, the trend is less reminiscent of aquatic life and more on par with other popular abstract liner techniques.
You might have seen fishtail eyeliner in the second season of the TV show "Euphoria," created by the show's resident makeup artist, Doniella Davy, and sported by the character Lexi. She certainly didn't look like a sea creature. The trend has been making waves as an eyeliner look that's "unique and unusual but very lovely," celebrity makeup artist Keita Moore told Popsugar. We love that there's more than one way to mimic a fishtail with your lids.
Regardless of whether you're on board because it's unique or you just really love fish, here is how you can try the look for yourself.
Fancy trying fishtail eyeliner for yourself?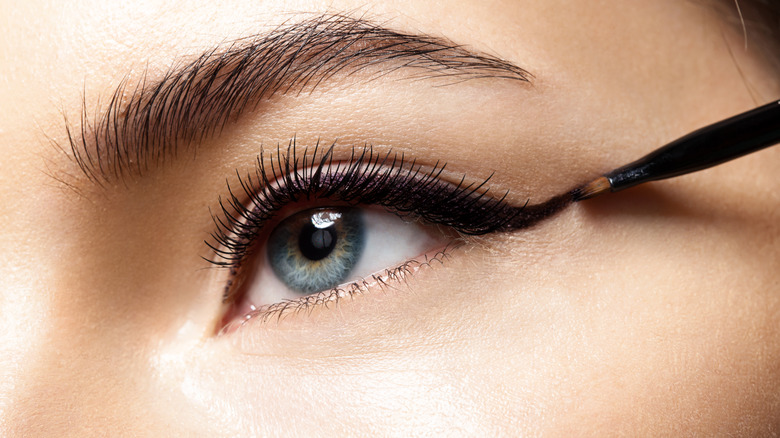 Deniskomarov/Getty Images
Though this liner look is bold, dramatic and even a bit daunting to try and recreate, it's simpler than you think. The secret is an effortless flick on your upper lash line, much like the natural curve of a fish's tail. It's possible to do this with a pencil, although making your liner look as fluid as possible is best achieved with a fine-point liquid pen or an eyeliner pot and brush. Black is an obvious favorite, but you can opt for different colors, even differing the shades used on top and bottom.
Start with your upper lash line, applying a tapered line from corner to corner. Don't be shy; fishtail liner looks best when it's a bit thicker and bolder. At the outer edge, flick the liner upwards at a strong angle, pointing towards the end of your eyebrow and extending past your lash line slightly.
For your lower lashes, you can either line them all the way across or change it up. Consider applying liner only to the outer third or half of your lid. Again, when you reach the corner, taper the line slightly as you flick it. Typically, it should be in the opposite direction of your upper swish, but with graphic liner trends, who's to say where the boundaries are? Feel free to experiment by changing the thicknesses and lengths of the lines, but don't let them touch, as it will look decidedly un-fishtail-like.
There are many fish in the sea
Fishtail eyeliner is just one of the many graphic trends popping up on lids everywhere. Cat-eye was just the beginning, and still works as a foundation for getting more creative with your wings, shapes, and colors. Today's looks are bold, stylized, and decidedly different from standard liner techniques. Take, for example, floating eyeliner or holographic eyeliner. All of these looks put the focus on your eyes, which can be beneficial for anyone but particularly helpful for those with a long or narrow face shape.
TikTok is a practical treasure trove of eyeliner ideas, with the hashtag #graphicliner reaching billions of views at its height. The number of striking colors and shapes is practically as limitless as the ocean is wide. However, if you find yourself in a little too deep with fishtail eyeliner or other graphic eyeliner trends, let us throw you a lifeline. A cotton swab dipped in micellar water works wonders to clean up edges or wipe your lids clean entirely.