Denim Accessories Are Here To Upgrade Your Retro Style Game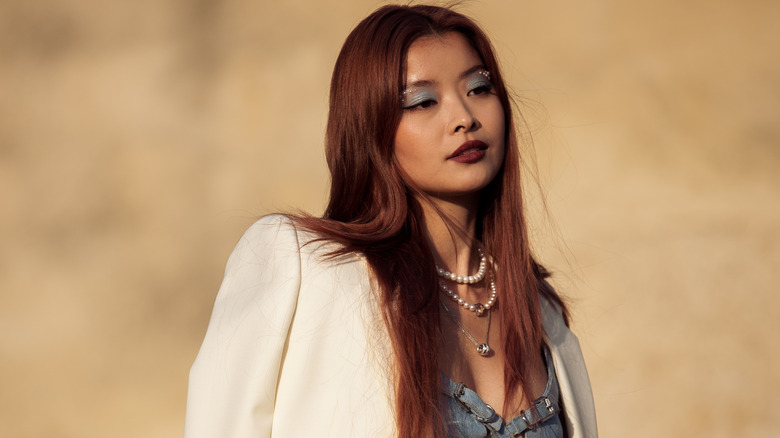 Raimonda Kulikauskiene/Getty Images
Who said that denim was only for pants? Denim accessories are the new way in which the durable fabric is working its way into every imaginable type of look. While denim never goes out of style, it's become one of the hottest styling pieces of our fashion zeitgeist. Along with the return of low rise jeans and denim-on-denim outfits, we're seeing denim headbands, hair bows, hats, and footwear, all working together to make outfits even more retro, yet somehow more current at the same time. 
With this whole world of denim to consider, the era of denim accessories is just adding more fun to the mix! Plus, if you're not ready to go full Canadian Tuxedo, they can be a great way to take on the blue jean trend. These pieces are serving serious Y2K nostalgia, while keeping things fresh. 
The denim bralette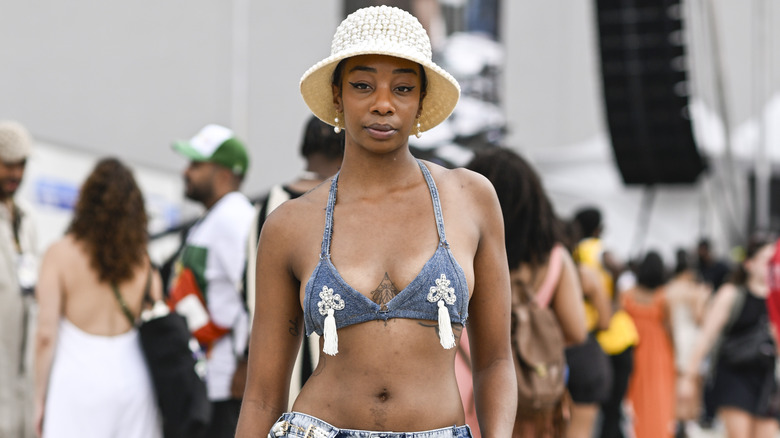 Daniel Zuchnik/Getty Images
A denim bralette is the perfect way to embrace the denim accessories trend. Wear it on its own as your top, or wear it underneath a jacket or blazer to nail the underwear-as-outerwear look. If fall weather means it's too chilly to rock a denim bralette solo, pair it with a chunky button-down cardigan and let the denim strap peak through. If you want to go for the soft girl aesthetic, this is a great piece to wear with a short skirt. "Pair a bralette with a plaid pastel mini skirt, light pink cardigan, and white platform sneakers," fashion content creator Summer Rachel Warren told NYLON. You can also layer it under a pair of overalls for a boho farm girl vibe that's absolute perfection. And if the overalls are denim as well, then you're really on fire. The denim bralette can also be a fun statement piece to wear underneath a sheer top. 
The denim bucket hat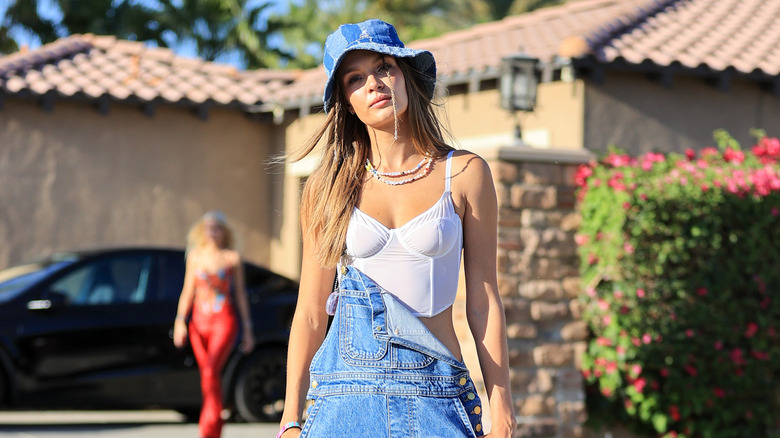 Rachpoot/bauer-griffin/Getty Images
Denim bucket hats are all over the place right now. We're seeing the fun hat served up by Prada, Coach, and Burberry on the high end, and by Zara, PacSun, and True Religion for more affordable price tags. Heck, you can even grab a denim bucket hat on Amazon. The best part about these '90-inspired accessories is that they work in any season. During the summer, we're after all the sun protection we can find. In the fall and winter, the added warmth is much appreciated. Wear your denim bucket hat with loungewear, a chunky knit, denim overalls, or a full-length skirt and you are good to go. The bucket hat can take any outfit from cute to absolute perfection. Plus, if you're having a bad hair day, this is a way to disguise things and step it up. 
The denim handbag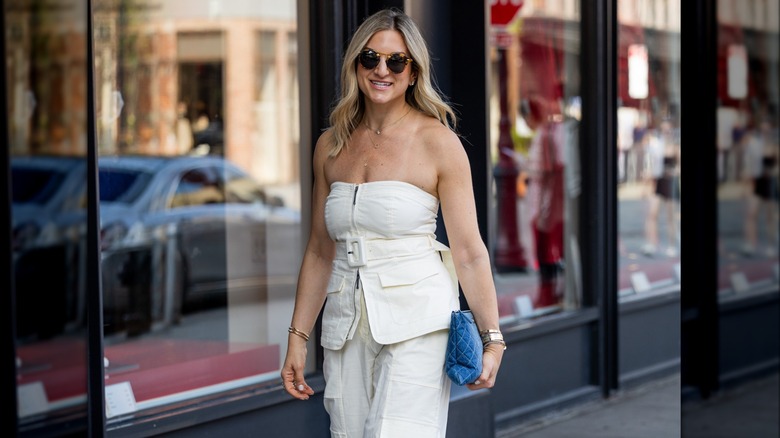 Christian Vierig/Getty Images
Denim handbags are another Y2K accessory that's popping up everywhere. Gucci, Christian Dior, and Chanel are all proving that denim handbags are luxury items. However, the denim accessory is accessible, too. H&M was all about denim, offering the look in everything from dark wash denim tote bags to quilted denim purses. Even better, the rise of denim handbags has inspired DIY projects, with countless tutorials on how to make your own denim bag out of old jeans. So if you want to upcycle and are in the mood for a little arts and crafts project, now's the time to get busy. 
Denim footwear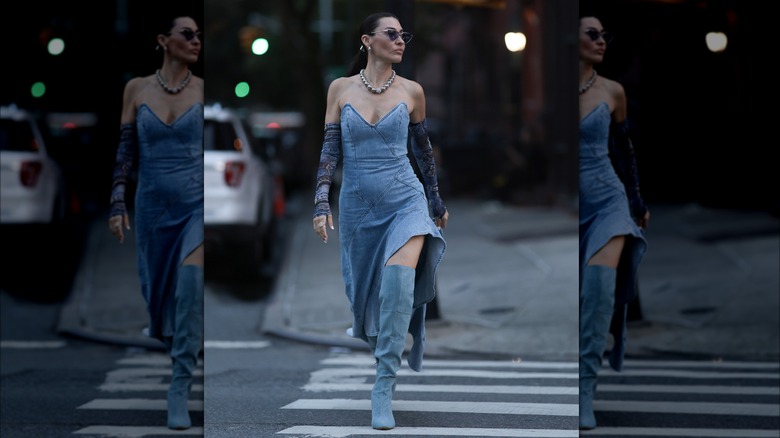 Jeremy Moeller/Getty Images
Forget worry about what boots to wear with jeans. Now we're styling jean boots. Although the denim shoe trend initially raised some eyebrows, many people have fully embraced the trend as one surefire way to make a statement and be totally unique with your footwear. As much as we love a classic black or brown boot, we have to agree.
If you're feeling uncertain, fret not. There are so many ways to wear denim shoes. You can apply the same rules to them you would with a pair of jeans. Don't be afraid to wear different washes together. If the washes all match too perfectly, the look runs the risk of being too matchy-matchy. While denim heeled boots are an easy way to make a statement, there are more comfortable denim choices out there when it comes to footwear. Denim sneakers, strappy sandals, and denim flat sandals are all happening right now, giving an intensely retro feel to any outfit.  
The denim baseball cap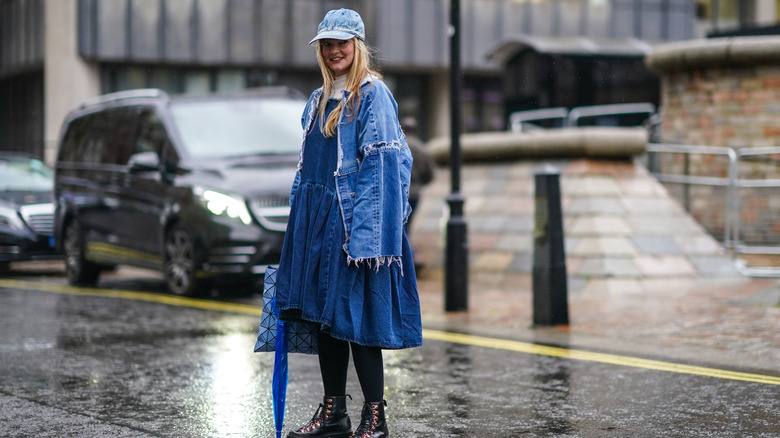 Edward Berthelot/Getty Images
In case you haven't heard, baseball hats are also having a moment, and we can't get enough. Maybe it was because we saw "Succession's" Kendall Roy rocking so many ball caps that it seeped into our collective unconscious. Or maybe it's because athluxury is all over our social media feeds. Whatever the case, the denim trend has met up with the baseball cap trend to give us one of the greatest hats of all time. The great thing about denim ball caps is that they complement, rather than compete with, your look. Wear them with more denim, and don't worry about matching washes. A denim baseball cap is going to level up your look. 
The denim trench coat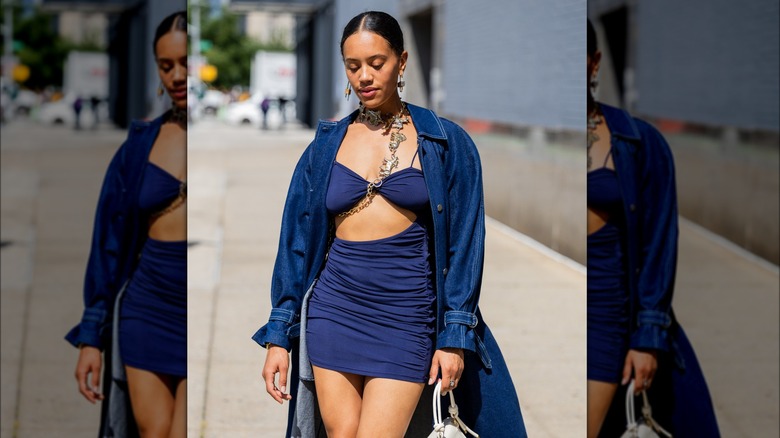 Christian Vierig/Getty Images
Denim trench coats are the ultimate addition to any denim-lover's wardrobe. While we love dainty denim accessories, like denim headbands and scrunchies, a denim trench is a bold way to take the trend further. Oversized clothing is everything right now, and a size up is the chicest way to wear jackets, blazers, and overcoats. A denim trench, especially an oversized one, is a strong way to ride this larger-than-life aesthetic. "We're seeing a return of '90s trends in general, and we really love to see the reemergence of hugely oversized pieces—they can be so fun to play with," stylist Zadrian Smith told Vogue. Even if you're not going XXL with your denim trench coat, the volume of the garment lends itself to this edgy appeal. 
The denim fascinator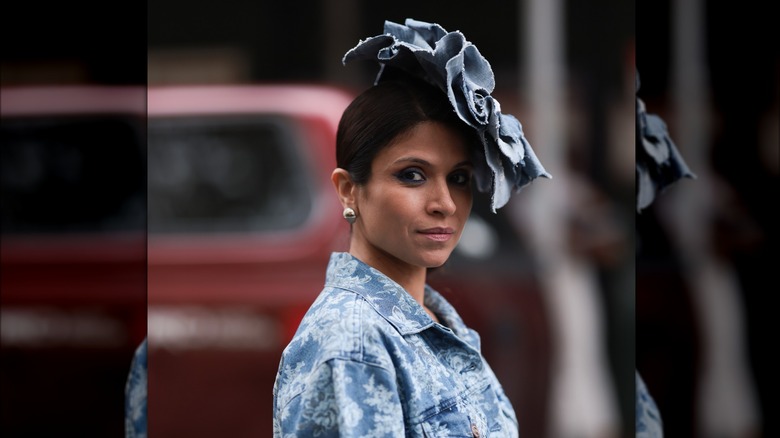 Jeremy Moeller/Getty Images
Perhaps the most playful and fun of all of the denim accessories we've seen, a denim fascinator takes the cake. The accessory is such a home run because it's a contradiction. We're used to headpieces in ultra-formal settings. Think of the royal family wearing their complicated, sometimes fussy headpieces by milliners like Philip Treacy, made with ornate materials and embellishments. A denim headpiece is the irreverent counterpoint to these heavily structured royal fascinators. But make no mistake: The denim version of this accessory adds just as much spark and beauty to a look. Forget a royal wedding. These fascinators are for the streets! 
The denim jacket reimagined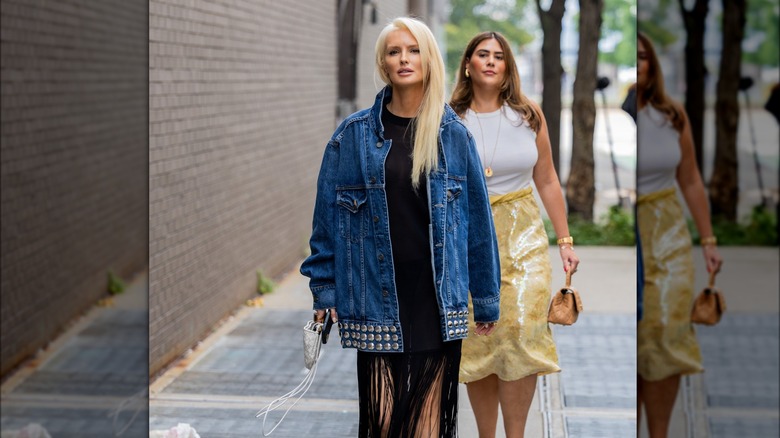 Christian Vierig/Getty Images
Outside of jeans, there is no garment that's so suited to denim as the jean jacket. And while that layering accessory has long been a cult classic, we're seeing the denim jacket reimagined. The baggy fashion trend has worked its oversized magic on denim jackets, and we're seeing them worn with the sleeves bunched up, and hanging well past the waist. Pop the collar up for a slouchier look, and lean into the embellishments. A bedazzled denim jacket, encrusted with pearls, rhinestones, or silver studs, is a brilliant way to contrast the largeness of the jacket.