Athluxury: What To Know About The Comfy Fashion Aesthetic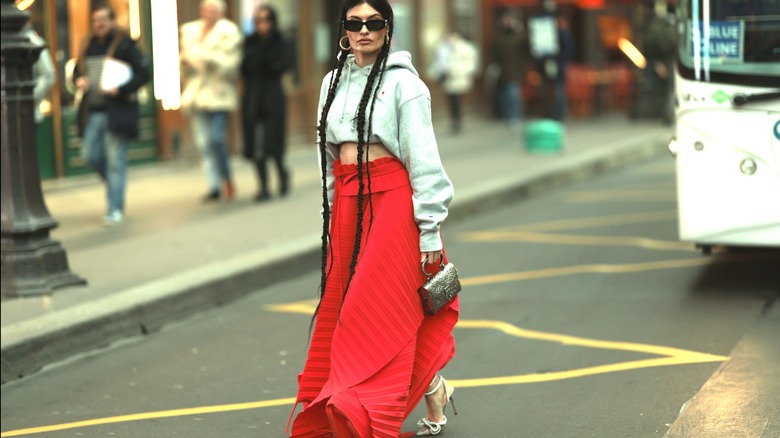 Jeremy Moeller/Getty Images
We may receive a commission on purchases made from links.
When you blur the line between athletic and fashionable clothing, you get athluxury. Whether you're dressing for a tenniscore summer or getting into leisure sports for the outfits (of course), athluxury is an opportunity to dress leisurely while still sporting a clean, sporty, and put-together look. If you remember the early 2010s, you may know of athleisure and obsession with dressing athletically in a casual manner. Athluxury is a take on athleisure with a more sophisticated look in mind. Essentially, athluxury bridges the gap between luxury clothing and the athletic look (Sporty Spice, who?).
In a post-pandemic world, dressing casually while still looking chic feels more important than ever. Navigating luxury fashion no longer depends on having access to loads of money or an understanding of designer brands — instead, it relies on personal style and identity. If you're looking for a timeless sense of style that's authentic and accessible, athluxury might be for you — and we've got some inspo for how to incorporate this aesthetic into your wardrobe.
Dress up with a sports jersey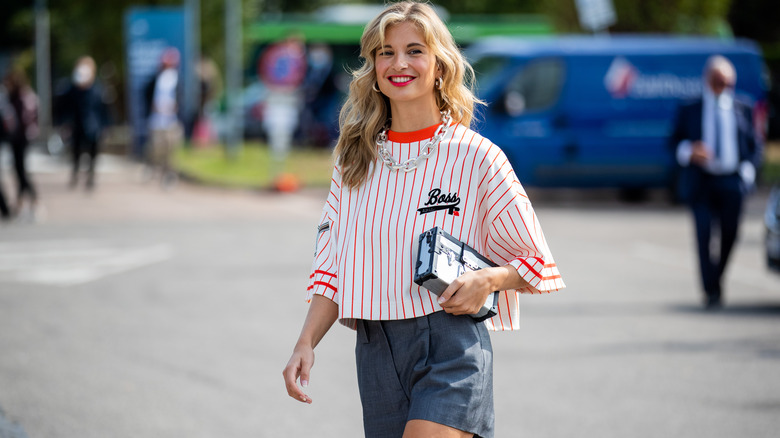 Christian Vierig/Getty Images
One of the most on-trend ways to capture the athluxury aesthetic is by dressing up a sports jersey. In fact, jersey shirts have made a comeback in 2023, and there are specific ways to style them. Celebrity stylist Mickey Freeman explained to InStyle that tucking an oversized jersey into a skirt or shorts can instantly achieve "a healthy dose of femininity with minimal effort." If a tuck doesn't feel complete, enhance your look with a leather jacket or chic blazer.
Find a centerpiece within your closet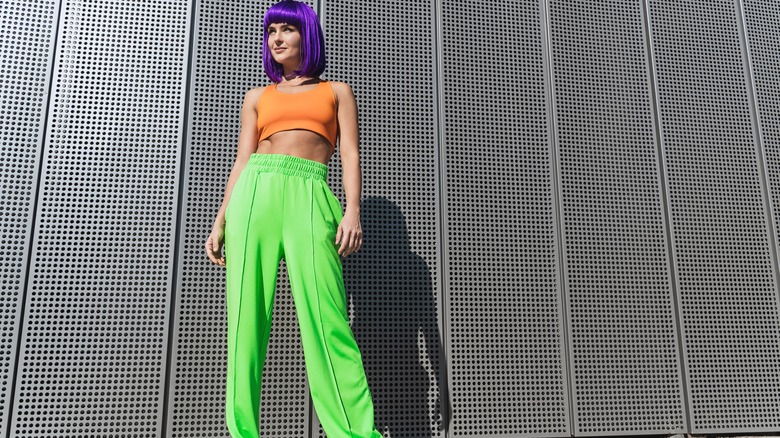 BLACKDAY/Shutterstock
For those of us who are restyling on a budget, start with your closet! It's likely you already have athletic clothing items that can be transformed into an athluxury look. Dig deep to find an old sweatshirt or cozy pair of sweatpants, and make it the centerpiece of your athluxury outfit. Upgrade them with a pair of heels and some statement jewelry and you're good to go. Remember: it's not about following a list of rules, but finding what makes you feel comfortable and incorporating an athletically-chic element.
Express yourself through a pleated skirt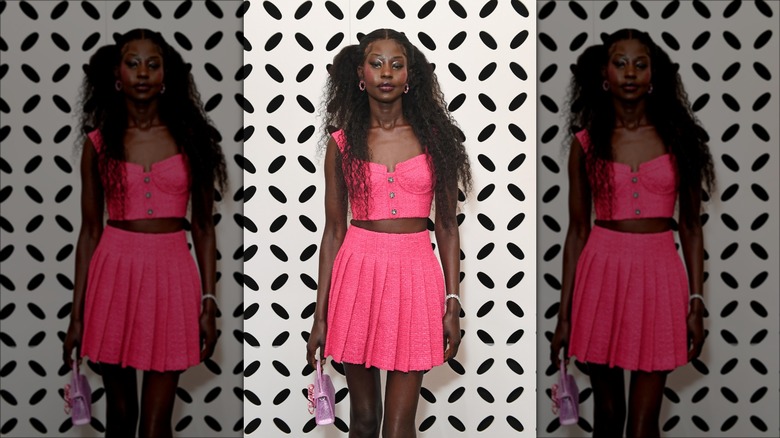 David M. Benett/Getty Images
When it comes to athluxury, a pleated skirt can make any outfit look athletically fashionable. They're also timeless, easy to move around in, and can be paired with almost any shirt (tucked or untucked? You decide). If you're missing a pleated skirt from your wardrobe, try the CRZ YOGA High Waisted Pleated Tennis Skirt from Amazon. You can pair it with a matching top along with a cute pair of flats. Don't be afraid to go for bold colors, like a monochrome hot pink ensemble. We're being serious — the possibilities are endless when it comes to athluxury.
Go for a sports themed purse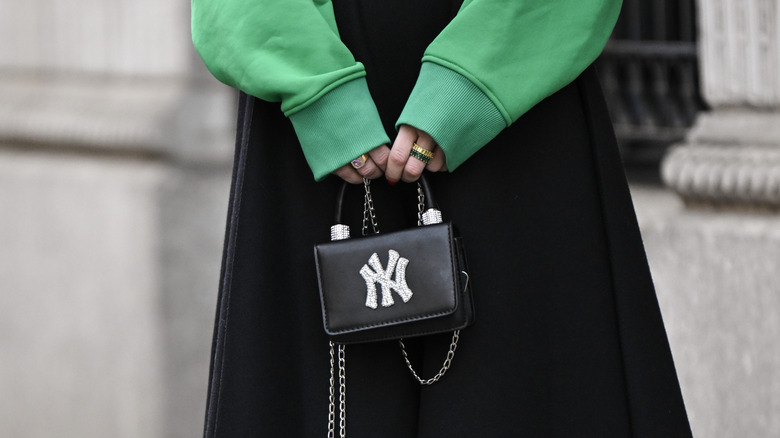 Daniel Zuchnik/Getty Images
It's time to ditch the gym bag and opt for a sporty purse instead. When you can only do so much with your wardrobe, especially for those of us achieving fashionable looks without going over budget, an accessory can glam up any outfit. Finish off your sweatshirt-skirt look with a sporty purse that represents your favorite team or an otherwise important sports logo — you'll not only be repping a part of your identity, but you'll have the perfect place to keep all your belongings safe on a night out. If you have any old letterman jackets around, get crafty by imprinting them onto your favorite mini purse!
Dress up your sneakers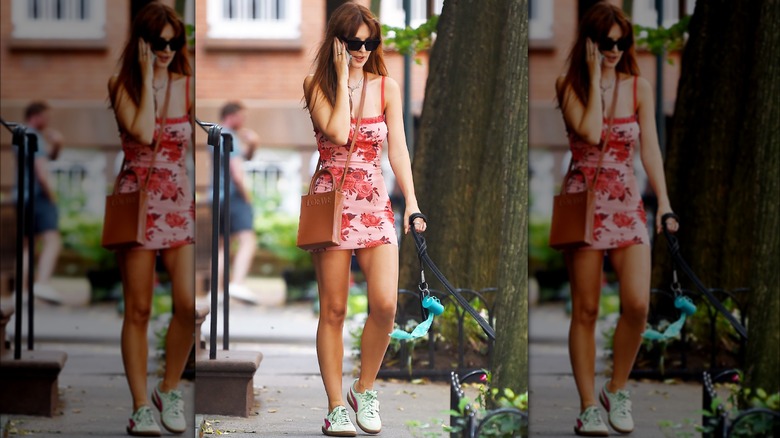 Mega/Getty Images
Say hello to looking chic and walking for miles. A fashionable sneaker can instantly dress up any outfit, and there are a number of designer brands that make luxury sneakers. These Originals Astir Sneakers from Adidas are perfect for that morning walk to work, especially if you're prone to wearing heels and inevitably feeling sore. If you're someone who prefers a minimalistic shoe to pull your outfit together, try these Nikki Sneakers from Kate Spade. The options are endless, but one thing is for sure — with athluxury, you'll never opt for heels again. 
Invest in a tennis dress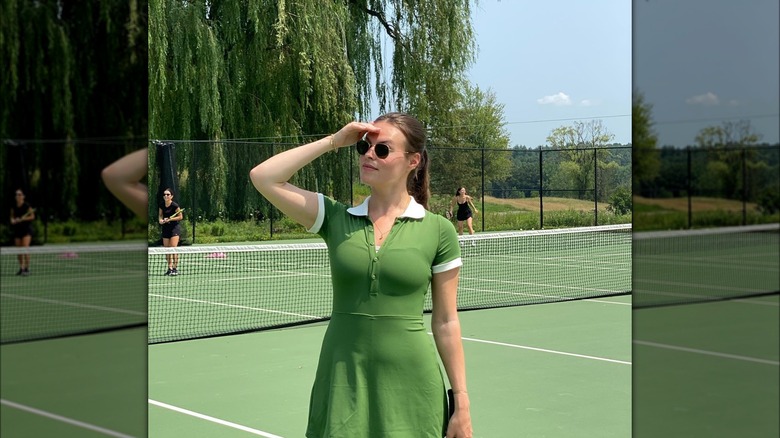 Aleksandargeorgiev/Getty Images
If you're not a fan of ensembles or refuse to sacrifice comfort for fashion, a tennis dress might be right for you. This Charmed Tennis Dress from Alo is perfect if you're headed straight from work to an event or dinner with friends. In the colder seasons, opt for a full-sleeved tennis dress like this flattering Nulux Long Sleeve Tennis Dress from Lululemon. Pair it with your favorite set of earrings and a white or black flat. No matter what style you're looking for, there's a tennis dress that surely fits your wants and needs.
Varsity jackets are your best friends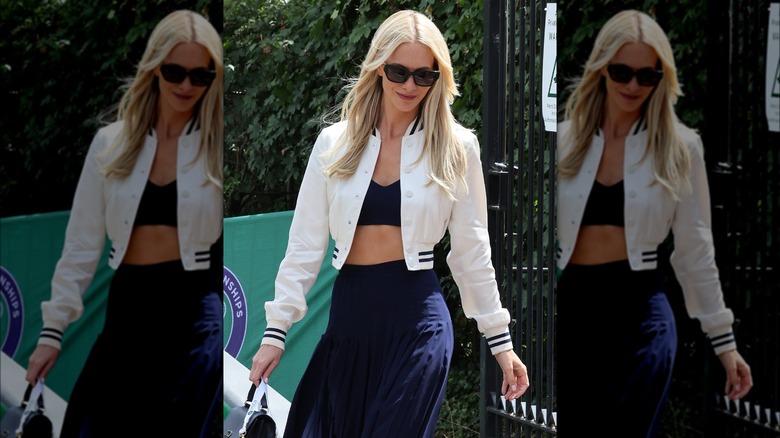 Neil Mockford/Getty Images
Varsity jackets might be the most timeless vintage piece. They're simultaneously a symbol of youth, playfulness, and fashion-forward thinking, stitched to be durable during spring or winter. They're perfect to wear alongside short skirts or one-piece dresses, and can be cropped or fit loosely to look oversized. As brand director of Depop, Steve Dool, explained to The Zoe Report, "Varsity jackets have come in and out of style at various points over the years, but brands like Ralph Lauren, Kith, and Aimé Leon Dore are making them popular again among people who are evolving the classic streetwear touchstones into a prep hybrid style." So what are you waiting for? It's time to layer up. 
Dress up a baseball cap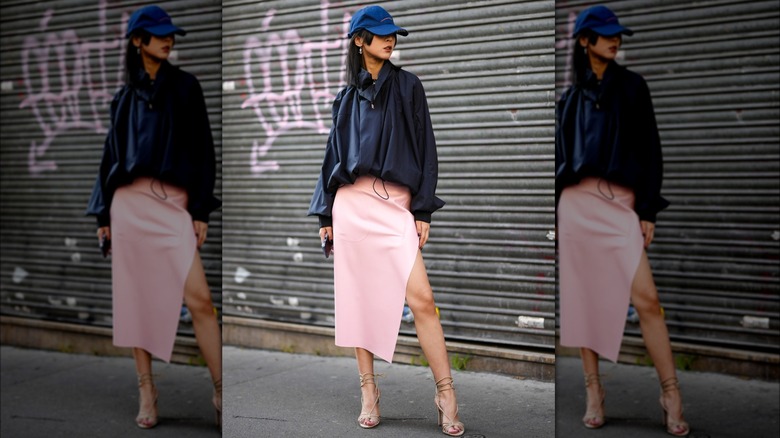 Edward Berthelot/Getty Images
Baseball caps aren't just for bad hair days. They're also one of the easiest ways to dip your toe into the athluxury trend. Regardless of what kind of baseball cap you have, give it that athluxury upgrade by pairing it with a blazer and heels, or dress it up even more with a midi skirt. If you're a fan of high ponytails, needle your hair through the latch for the ultimate sporty-chic look. As always, don't be afraid to experiment with different caps and hairstyles to find what works best for you. With these tips in mind, you'll achieve the athluxury look in no time.