Another Great Reason To Get Into Leisure Sports? The Outfits, Of Course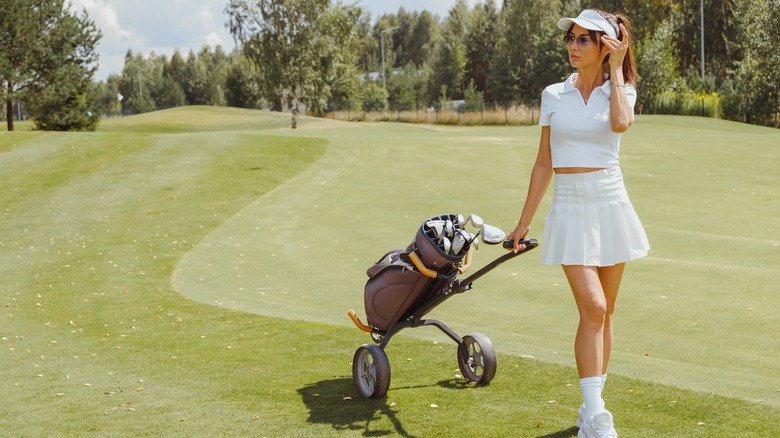 Vladeep/Shutterstock
No, you're not imagining it — sports attire has become way cuter lately. So cute, in fact, that for fashionistas previously not interested in leisure sports, this might just be the "in" we needed. The adorable outfits are a perfect reason to get moving and try your hand at everything from golf to pickleball.
First, a note on how we got here. Sure, athleisure has been a key trend for several years, now. So it's not exactly surprising that the popularity of wearing leggings both in and out of the gym has evolved into more specific sporting attire. However, there's more to it than a natural progression. As the president of Bandier, Danielle LaFleur told Elle, this particular trend has direct links to the pandemic. "People had more time at home, needed outdoor activities, and were seeking out camaraderie and community," she explained. 
But that's still just part of what's influenced the trend. As noted by Elle, leisure sport style goes hand-in-hand with the "Old Money" or quiet luxury aesthetic. This popular style has been made more accessible and affordable with designers offering diverse choices. Whatever the origins of the trend, though, one thing that goes without saying is that fitness is about to get a whole lot more stylish. 
Functionality sets this trend apart
Here's the thing: as much as leisure sport attire is a great way to live out our "Succession" dreams, the biggest perk of this trend is that it goes well beyond aesthetics. Far from it, leisure sport fashion is fully functional — and we're here for it. Speaking to The New York Times about the dress she designed for stylish pickleball enthusiasts, Norma Kamali pointed out that the feature she loved most was the bodysuit. "Having a bodysuit under the mini gives you a lot of movement. You can do whatever you want and it will never be too short," she explained. 
That's not all, though. Sports attire is typically made with fabrics designed to keep you cool and moisture at bay. After all, no athlete is about to embark on a round or match in uncomfortable, scratchy, or stuffy fabrics. Outside of functionality, there's also a lot to be said about the dressiness of sports like pickleball, golf, or tennis. Sure, rocking leggings and a tank may be super comfy for brunch, but there's a quiet elegance to a golf shirt and skirt combo topped with a cardigan that's hard to beat.
Create a leisure sport wardrobe for your new hobby
When it comes to building up a leisure sport-friendly wardrobe, it goes without saying that that'll depend on the sport of choice. Trying out tennis? Reach for a neutral pleated skort or classic pastel tennis dress. If you love bold colors, opt for a statement-making tennis dress a la Venus Williams. 
If you're hopping on the new pickleball trend, you can take some notes from the typical tennis fashion with a more casual vibe. As this less-serious net sport is usually about social time, check out fun dresses and skirts in vivid patterns that add to the fun feel. Don't forget a cute hat or visor to keep the sun's rays at bay.
Those going for golf, meanwhile, have a ton of options to choose from that fit any course's dress code. Golf pants and skirts pair perfectly with cardigans, polos, and nostalgic sweater vests. Keep in mind, the average 18-hole course takes about four hours to complete. So layering is a good call to adjust to the various temperature conditions.