We're Wearing White Sneakers With Literally Everything This Year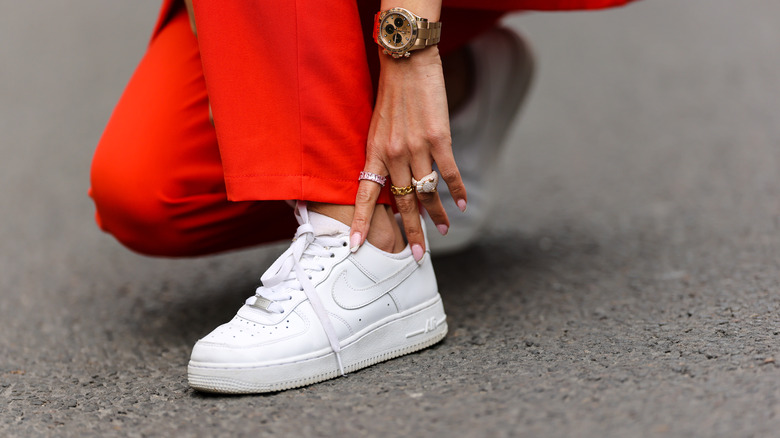 Edward Berthelot/Getty Images
White sneakers used to be the staple footwear of gym coaches and dads with lawnmowers. But things have changed. Thanks to the surprising and shifting world of fashion, white sneakers are now the domain of the very fashionable, though dads and gym coaches are still welcome to the party. The adaptable footwear has proven to be not only functional but also stylish with pretty much any look. While white sneakers look incredible with chill looks, like athluxury, the comfiest fashion aesthetic, or the trendy flared jeans, which have made a huge comeback, they also pair fabulously with dressier looks. Skirts, dresses, pantsuits, and beyond are all palettes that invite the white sneaker. Heck, add a pair of white gym socks to the look and you're really talking trendy and cozy. And honestly, why not? Sneakers are comfortable as all heck, so you can get your steps in, and enjoy walking around the city, while keeping things fresh. Plus, white sneakers go with literally anything, so if you're working with a capsule wardrobe or trying to pack light for a trip, these should be your go-to kicks. You won't need much else. So here's how to style them with literally anything. 
White sneakers and the mini skirt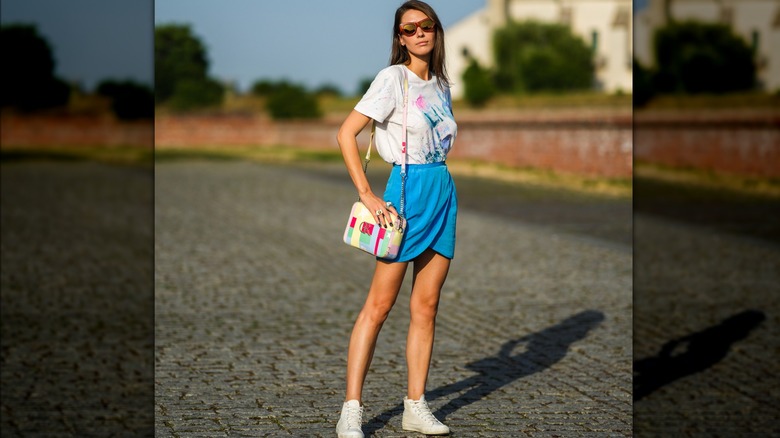 Edward Berthelot/Getty Images
Mini skirts can still offer a sexy vibe when paired with white sneakers. The advantage of wearing sneakers with a shorter skirt is that it maintains the feminine vibe of the look while balancing it with comfort. Pair a mini skirt with a slouchy t-shirt and a colorful crossbody bag to tie in the different colors. The final result is a look that's both functional and effortless. White high-tops are a great way to play around with the white sneaker trend, by bringing in a touch of the basketball court to an otherwise non-athletic look. We love the juxtaposition. 
White sneakers and wide leg pants
There's nothing as comfortable, or as on-trend, as the wide-leg pant. Add a pair of sneakers to those bottoms and you're pretty much set for the ideal outfit. What makes the combination of wide-leg pants and white sneakers so perfect is that you can do pretty much whatever you want in terms of tops and accessorizing. You'll win every time. Opt for a white button-up shirt to craft some low-key polish. Or play it up with accessories, like a scarf, to make the look dressier. If one plus one equals two then wide-leg pants and white sneakers equal a home run. 
White sneakers and structured tailoring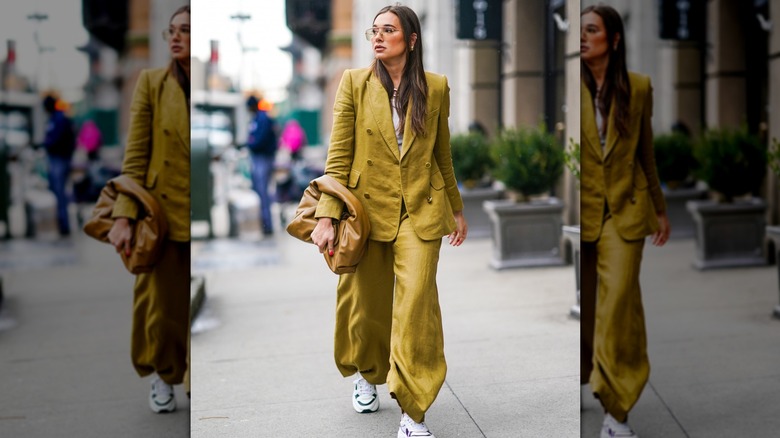 Edward Berthelot/Getty Images
The pantsuit is having a spectacular Renaissance, and we're seeing new cuts and shapes everywhere. While we might not immediately think of sneakers with this quintessentially professional look, the unexpected footwear works fabulously with structured tailoring. White sneakers make the suit more accessible; you can wear it anywhere, not just to the office. Revive unexpected colors, like harvest yellow and olive green, with the freshness of white sneakers. Plus, the footwear breaks up the monochromatic intensity of the pantsuit, creating an optimal balance.  
White sneakers and layered bottoms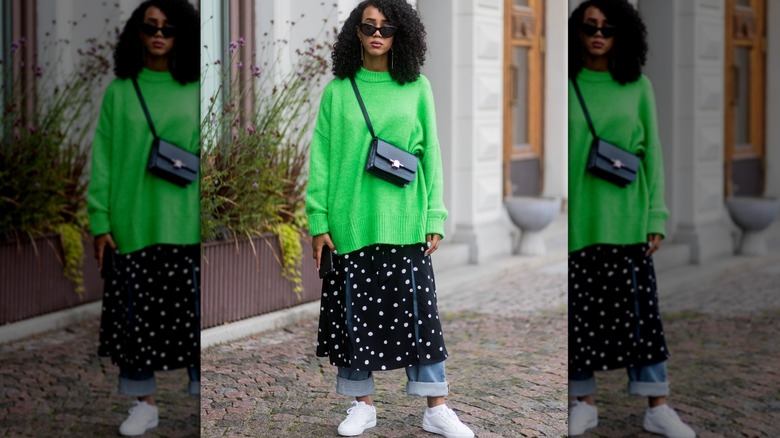 Christian Vierig/Getty Images
Don't be afraid to play with layering, especially since white sneakers are such an easy foundation upon which to build a fabulous outfit. If the weather turns cool, but you still want to rock a summer skirt with high slits, layer it over a pair of rolled jeans. Top off the look with a knit sweater that does the talking, and finish it off with a polished crossbody bag. The outfit works so much better with this kind of footwear as opposed to heels or flats, because sneakers can carry an unconventional look with ease. Accessorize with smart sunglasses and earrings. 
Styling Bermuda shorts with white sneakers
@styledbybritt_

Linen Bermuda shorts are a perfect, comfortable summer wardrobe staple. Here are some tips on how to style them⬇️ (without looking like a grandma) Casual Look: Pair your linen Bermuda shorts with a simple tank for a classic and relaxed outfit. Complete the look with a pair of white sneakers for a comfortable and laid-back vibe. Add a hat and some sunglasses for a stylish touch and sun protection. Chic and Polished Look: Opt for a linen Bermuda shorts in a neutral color like white or navy. Tuck in a lightweight, button-down shirt in a complementary color such as white, pastel, or a subtle pattern. Layer a lightweight blazer or cardigan over the shirt for a more sophisticated look. Complete the outfit with leather sandals or loafers and accessorize with a statement belt or a delicate necklace. Beachy Vibes: Choose a pair of linen Bermuda shorts in a vibrant color. Pair them with a breezy, lightweight linen shirt. Add some flip-flops, espadrilles, or slide sandals for a beach-ready feel. Don't forget to bring a straw tote bag or a canvas backpack to carry your beach essentials! #getstyledbybritt #stylingtipsforwomen #stylingtips #linenshorts #summeroutfitideas2023

♬ sonido original - Disco Mafia
Bermuda shorts are a most welcomed new addition to the fashion scene. Sorry, dads, we're claiming these as well as the white sneakers! Bermuda shorts don't have to look oversized or slouchy, either, though that can be a cute direction to take it in. Style a pair of the shorts with a tailored, linen blazer, and a fitted top underneath to maintain the silhouette. Don't be shy to combine the sneakers with high white, ribbed socks for a nostalgic gym class feel, that's so much more elevated. The trick here will be keeping accessories sophisticated to play up the shorts and sneakers.  
A trench coat and the white sneaker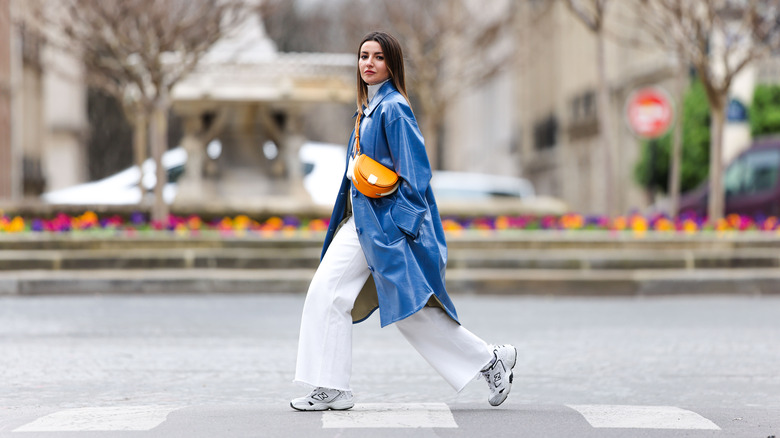 Edward Berthelot/Getty Images
The trench coat, or any long coat, was made to go with white sneakers. Lean into the core New Balance look by rocking chunky white sneakers with thick soles, like the cult-classic 9060 sneaker. What's so wonderful about this combination is that you can work it throughout the year. Sure, summer months might be too hot for a long jacket, but from the fall to the spring, you've got a staple outdoor look that's comfortable, warm, and polished. Plus, lean into bright, primary colors, especially in the winter months. Might as well bring a little sunshine with you. 
White sneakers and the slip dress
If you thought you couldn't wear sneakers on date night, think again. Pair some chunky white sneakers (and white socks included!) with a midi slip dress. If you want to add a cardigan to keep the look seasonal, go for it. If it gets too warm, you can always tie the cardigan around your waist. Or, if it's cool enough, wear the slip dress over a t-shirt or turtle neck. The look is simple and elegant, while still comfortable. Since the silhouette of a slip dress keeps close to the body's shape, you can get away with the heavy sneakers. There's a workable balance of sexy and casual. 
Biker shorts and white sneakers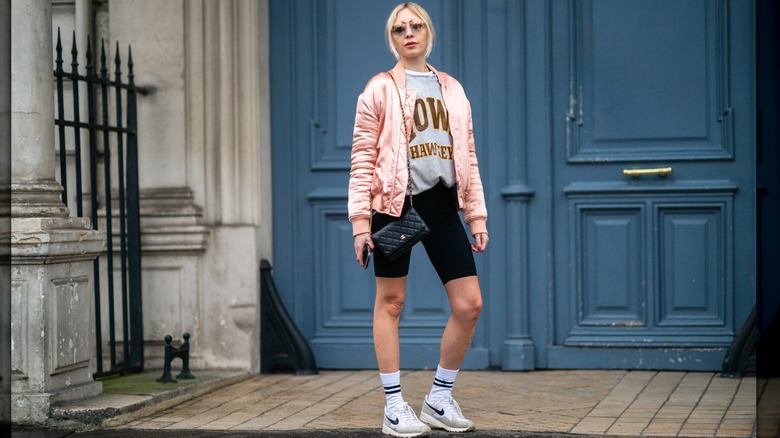 Edward Berthelot/Getty Images
All hail biker shorts and white sneakers. We'd be hard pressed to find a combo that looks more chic. The biker shorts act as the perfect base to build upon, and white sneakers, with or without socks, offer easy footwear to let anything happen. If you want the look to take a casual bent, pair the shorts and sneakers with a sweat shirt or bomber jacket. If you want to step it up a notch, pair the base with a tailored, oversized blazer or untucked button-up top. Keep accessories and jewelry elegant and minimal.