The Beauty Trends We're Seeing Everywhere At NYFW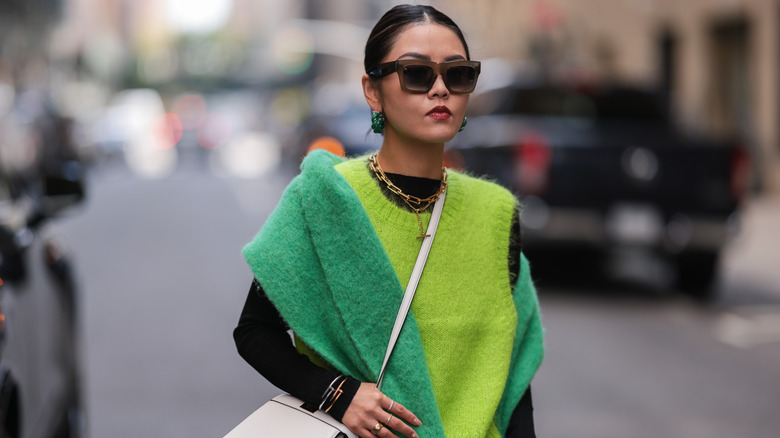 Jeremy Moeller/Getty Images
We may receive a commission on purchases made from links.
New York Fashion Week (NYFW) has kicked into high gear. Commencing every February and September, NYFW is a week-long series of events aimed at showing off the newest fashion and beauty collections from international designers. You may have already prepared for the semi-annual event by jotting down what to know for New York Fashion Week or keeping an eye out for models and designers bringing inclusivity to the industry, yet the newest beauty trends are just foreshadowing what's to come in 2024.
From collections by Coach, Michael Kors, Jason Wu, and so much more, NYFW brought us enough fashion inspiration to better prepare for fall, winter, and the year 2024. Pivoting from the cool and bright colors of summer to the burgundy shades of fall isn't easy, but NYFW has introduced some beloved styles, looks, and designs for us to reinvent ourselves.
We've already been blessed with a forecast of future trends — like celeb-approved vibrant green and making the locket trend work as an adult — but NYFW has set the bar even higher. If you're feeling without inspiration in the fashion realm, we'll bring you right back.
Ariel-inspired hair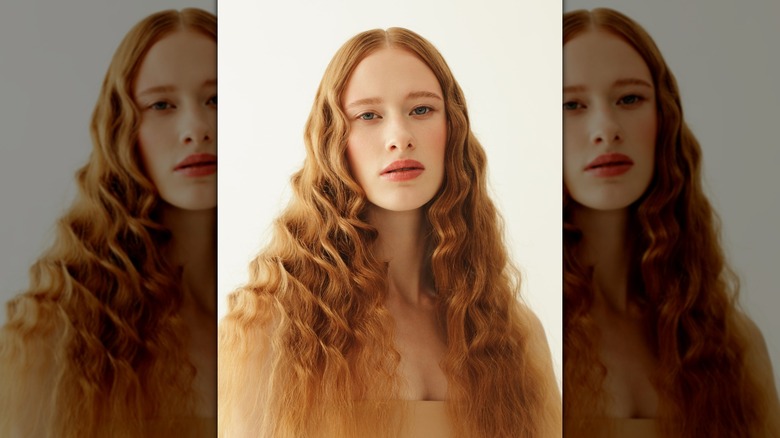 Lambada/Getty Images
Mermaid hair was a huge hit at NYFW 2023. Lucky for us, mermaid-core hair comes in a variety of styles, all of which made an appearance at this year's fashion week. From crimped short hair to shipwrecked waves, mermaid hair attempts to achieve beachy waves that embrace an aquatic aesthetic. In order to achieve the look, you'll need a gel or mousse, smoothing serum, and hairspray. At NYFW, these wavy hair strands were either left to shine on their own or paired with enhancing clips.
Berry lips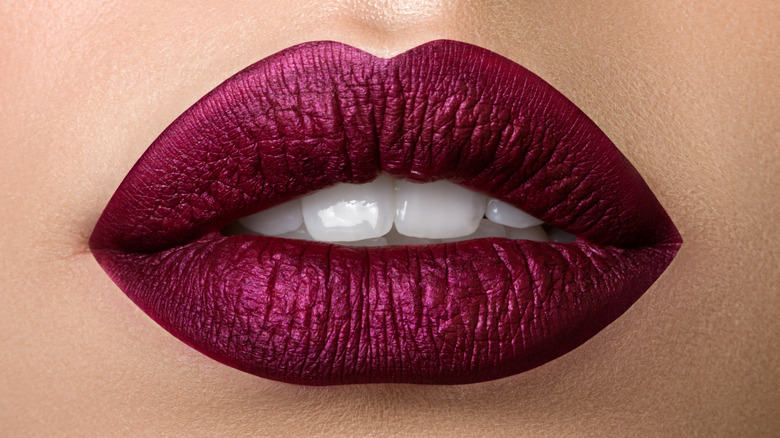 Dutko/Getty Images
You can never really go wrong with berry lips, but NYFW 2023 has reinforced our love for burgundy shades of lipstick. A statement red lip is powerful, but the future is all about exploring other bold hues, like berry. To achieve the look, you'll need a matching lip liner and lipstick, such as Charlotte Tilbury's Mini Pillow Talk Lipstick & Liner Set ($25). Apply a lip balm, follow up with a lip liner, and finish off with lipstick (and gloss, if you're feeling spicy).
Mid-level hair buns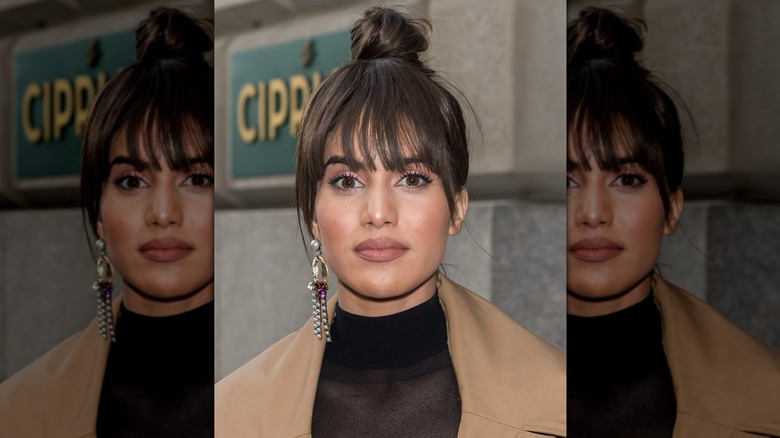 Gilbert Carrasquillo/Getty Images
With a gorgeous mid-level bun, nothing can go wrong. In fact, according to celebrity hairstylist Guido Palau, the hairdo was created to easily compliment any style. "This collection is very chic, so I wanted to create a style that complimented the vibe of the clothes with a natural downtown feel," he told Byrdie, explaining that the right products "allow the look to feel natural while still creating the toughness we were going for, rather than a soft, romantic style." The key is to slick back all the hair into a ponytail, center the bun to the middle of the crown, and tie it up as effortlessly as possible.
Chrome nails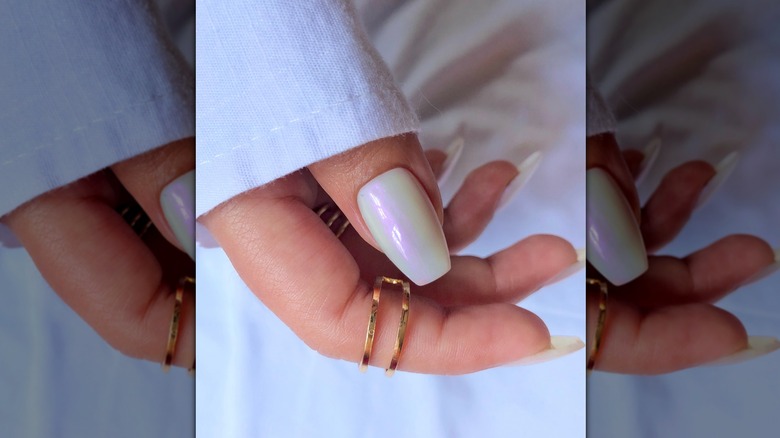 sixpain/Shutterstock
It's not New York Fashion Week without the best nails you've ever seen. For example, chrome nails: the latest trend in the nail world. According to celebrity manicurist Julie Kandalec, "Chrome nails are a type of nail design or polish that uses special ingredients in chrome powder to give a metallic, reflective, mirrored finish to the nail," she explained to PopSugar. At NYFW, some models are pairing their outfits with chrome press-ons in light pink. To get the look, apply a base coat to your nails and follow up with an iridescent nail color — like Essie's Glossy Shine Finish ($10).
Wolf cut with wispy bangs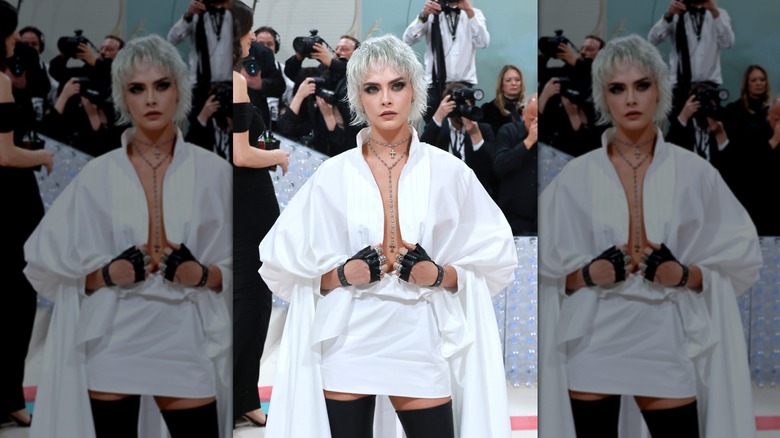 Theo Wargo/Getty Images
The best way to compliment a unique haircut is by pairing it with wispy bangs. At this year's New York Fashion Week, we saw a number of elegant cuts that were perfected with soft, thin, face-framing bangs. More specifically, wispy bangs look great on wolf cuts — a modern feminine take on the traditional mullet. Not only does the hairdo innately enhance your features, but it can also be styled and personalized with hot tools to curl, straighten, or crimp the ends. With these beauty trends making their debut at NYFW, 2024 is shaping up to be a great year for fashion.