9 Tips For Rocking Your Gray Hair With Confidence
There's no doubt that gray hair is absolutely gorgeous. Whether it's a natural transition or one you decide to make on your own, silvery locks are stunning — not to mention totally cool. Over the years, we've seen several famous faces make the move to gray, with the likes of Ciara, Lady Gaga, and Pink all opting for the shade. Then there are the famous faces who have chosen to embrace their natural gray, with Helen Mirren, Jamie Lee Curtis, and Jane Fonda all proudly showing off their natural hair color in movies, TV, photo shoots, and on red carpets.
If there's one thing you can say about all these ladies, it's that they're strong, independent, and confident women. But how exactly do they pull it off? And how can we do the same when it comes to gray locks? Well, there are a few ways to up your confidence level when it comes to rocking gray hair. Soon, you'll be strutting down the street showing off your gorgeous gray at its very best. As celebrity hairstylist Michael Duenas put it to Prevention, "Gray hair is not necessarily a look. It's a mindset."
Work out your perfect gray hue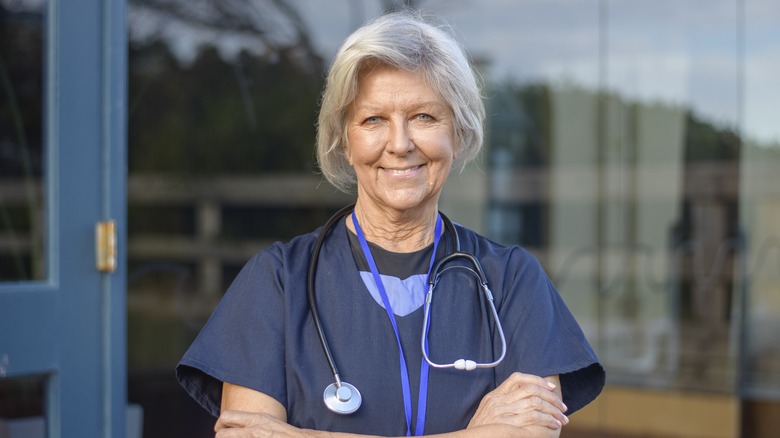 Fly View Productions/Getty Images
One of the first things to do when it comes to rocking gray locks is to find out exactly which shade will compliment you. Of course, there are a lot of different hues out there — and not all of them will work for everyone. Even if you plan on going gray naturally, you may still benefit from a little help from highlights or lowlights in more complimentary tones.
Just like your perfect foundation shade, certain grays will flatter different undertones in the skin. If you have a cooler undertone (which usually accompanies paler skin) medium grays will create a good contrast. Anything too light may wash you out. If you have darker skin, lighter grays like soft ash will suit you better. You can then decide how cool or warm to go depending on your undertones. As for those with a mix of undertones or more olive skin, you're the lucky ones. Pretty much any shade will work for you fortunate few, all the way from light to dark.
Another thing to think about is eye color. Siobhan Jones, L'Oréal Professionnel guest artist and owner of Rose & Wild Hair explained to British Vogue, "If you have light eyes then you can go for a lighter, silvery grey all over. If you have darker eyes, then you'd want to opt for a darker shade or try for an ombre effect — darker at the root and lighter at the tips."
Find a cut that works for you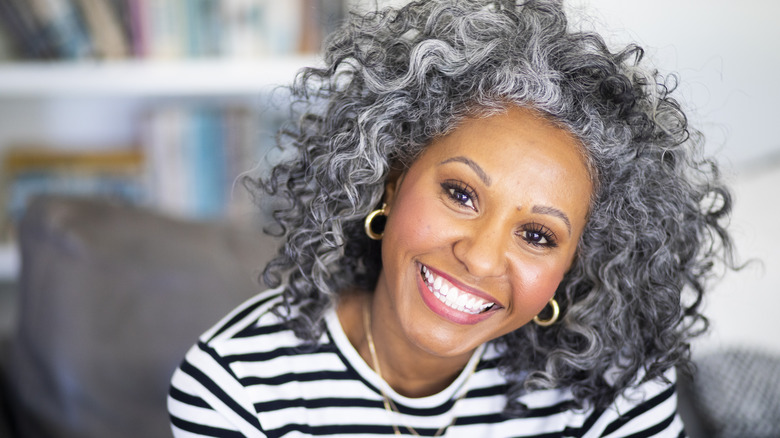 Adamkaz/Getty Images
After finding that perfect shade, it's time to get a cut that works for you and your gray hair. And that may not be the same one you used to rock when your tresses had a little more pigment. In a TikTok video, influencer @meaganonline revealed that going gray doesn't just mean a difference in your hair's color, as there are a number of other factors that play into determining the best cut. 
"Gray hair isn't just about a change in color. It's a change in texture, it's a change in moisture levels, it's a change in the state of fragility. There is a lot going on," she explained. "The right cut or non-cut is everything. Find a style that makes you feel confident, whether that means cutting it off to a sassy bob or letting it grow out gracefully."
Exactly what that will look like is dependent on a number of factors, so we'd recommend booking an appointment with your hairdresser to get personalized advice. A few things to think about before landing on a style, though? Your face shape, the current condition and thickness of your hair, and how long you want to go. Just remember not to keep yourself in a box. "Don't give in to 'old lady hair.' Do something fresh and maybe even a little trendy," stylist Lauren Zabaneh told StyleList. "A graduated bob is always in, and is complementary to any woman."
Learn how to style your new locks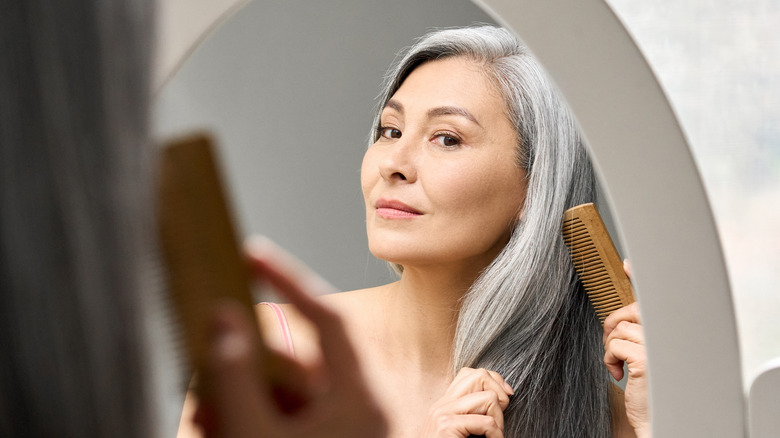 Ground Picture/Shutterstock
Most people get a little bit of a confidence boost when they know their hair's looking great, and that often means it has a bit of a style to it. So, one of the easiest ways to put a little sass in your walk is to learn how to style your locks yourself. Not only will spending a little extra time working on your tresses give you a boost because of how stunning it looks, but you'll also have the pride of knowing you took the time to learn a new skill.
Exactly what works for your hair will depend on a few things like its length, thickness, and natural texture, as well as what tools you have on hand and how much time you have. But there are plenty of places to get a little inspiration. We'd recommend looking toward your favorite celebrity to find styles you like and then heading to places like TikTok, Instagram, or YouTube to watch hair styling tutorials.
 We've even broken down a few hairstyling hacks for you here at Women.com, including how to put gorgeous curls into your tresses without any heat at all! Just remember to stay patient when it comes to trying out new methods. It can be tough to get it right the first time. If you're really struggling with styling, try booking an appointment with a hairstylist who will be able to impart their wisdom and give a few personalized tips.
Spend more time doing what you love (instead of your hair)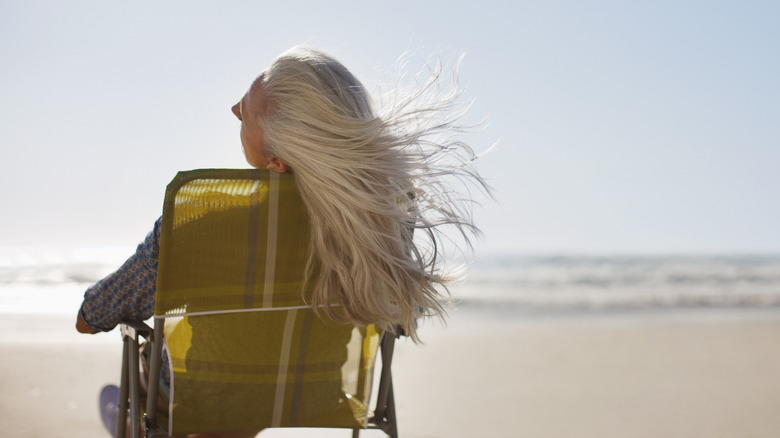 Tom Merton/Getty Images
Though learning to style your hair is a great way to rock the gray, you may actually find that you don't have to dedicate anywhere near the same time to your locks as you did before. That's because letting your hair go gray naturally means you may have more time to do what you love.
Of course, natural gray means no more constant hair coloring appointments — which is a blessing in itself — but the change in texture can also have big benefits. "A lot of women get discouraged from going gray, but the texture [grays] give you can actually make your hair routine more exciting," colorist Jax Williard explained to Allure. "Your hair might dry much quicker, and you might feel that it is much thicker, holding styles better and longer."
That means all that time you used to spend blowdrying, curling, dousing your hair with hairspray, and everything else that went into your locks can now be spent with family. Or heading out on the town. Or basically just doing whatever you want. And that's sure to bring a big heap of newfound confidence.
Wear complimentary colors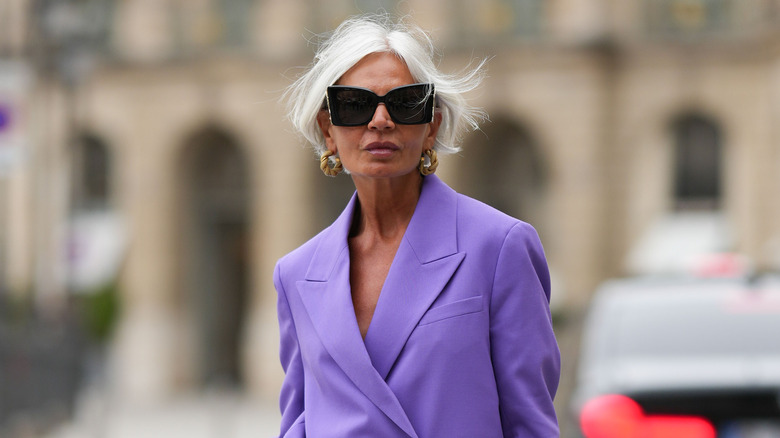 Edward Berthelot/Getty Images
When it comes to gray locks, there are a few different colors you can incorporate into your wardrobe to really help the style pop — and bring a little extra dose of confidence to your day. For a classic and sophisticated look, opting for soft neutral and earthy tones is rarely a bad idea. 
Things like blush tones and light greens also won't clash with your light locks, so they'll let your hair do all the talking. When you want to go a little more dramatic though, gray hair with a black or navy ensemble creates a gorgeous contrast. Want a little more color? Then opt for jewel tones. Rich colors like emerald greens, vibrant purples, and citrine yellows will bring a little color back to your life with a good dose of elegance.
And the colors you wear don't have to stop with your clothes. When you go gray, it's a good idea to bring a little more color into your makeup routine too, as gray is notorious for washing people out. Makeup artist Bobbi Brown told Katie Couric Media that a neutral eyeshadow makes a great base. "Then, you can experiment by adding a slightly darker shade on the lid up to the crease. A taupe or soft gray always looks great," she shared. But that's not the only way makeup can give you a confidence boost.
Change up your makeup routine
Adapting your makeup routine to suit your new gray locks is another way to get a confidence boost. Though you should always remember you're gorgeous with or without cosmetics, there's no doubt putting a little something on can give even the best of us a little boost and extra skip in our step.
If your hair is naturally turning gray with age, there are a few specific ways you can do your makeup to complement a new look. First, focus on your eyebrows. There are several mistakes you can make when it comes to brows, so doing your research first is always a good idea. Brows really frame and bring structure to the face — one thing you can lose with such light hair. Gray hair can easily leave you looking washed out, so a good brow plus a little blush will go a long way.
Similarly, playing up your eyes or lips is a good way to balance things out if gray hair is washing you out. Though we'd only recommend playing up one or the other at one time, a bold lip (think a bold red or vibrant pink) will also bring color back to your face, while a slick of eyeliner will help bring the focus back to your eyes (a brown will be less harsh than a black).
Transition slowly if you need to
Don't think that going gray has to be done all at once. If you're feeling a little apprehensive about the process, you may feel more confident taking it all a little slower. That will allow you to get more used to the big transition, and you can build up your confidence with your new look little by little.
There are a couple of ways to do this. If your hair is naturally darker, you could go for a salt-and-pepper effect by asking your hairdresser for gray highlights mixed with darker strands (while you're still getting used to things). Or, if you don't like the idea of your hair being two-tone for a while with gray roots, touch it up instead. 
This is also a great option for those who dye their locks. Instead of reaching for the bottle, try something like a powder root touch-up to temporarily camouflage what you're not quite ready to show. This can easily be washed out and will allow you to cover the grays as much or as little as you want until each strand is fully transformed. If you don't want to cover your grays totally, you could also create more of a gradient effect so there's not so much of a contrast with your roots.
Update your haircare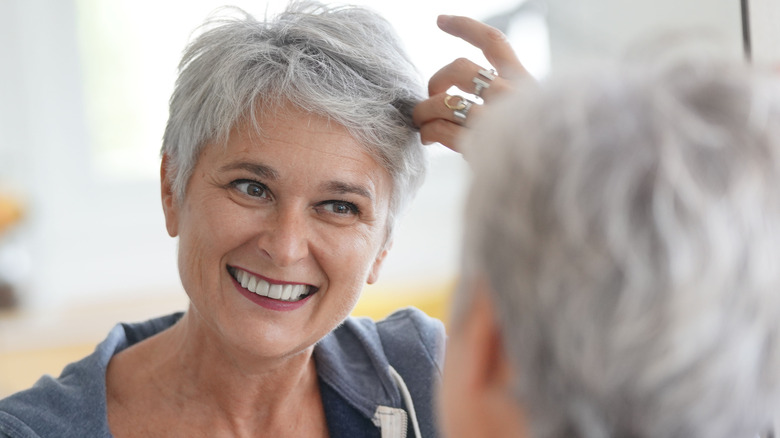 goodluz/Shutterstock
As with many changes in hair color, you may have to change up your haircare routine to keep your new look at its best. And that's no different with gray. As colorist Aura Friedman told CNN, "It's the most intense thing you could ever do to your hair. The quality of the hair changes drastically. The texture changes almost immediately." That means the way you treat your hair has to change.
TikToker @meaganonline suggests using a clarifying shampoo. "Although you want to use this sparingly, you still need to keep it as part of your routine," she shared. "This is going to combat the yellowing pollutants, the hard water build-up, the product build-up, things that are going to work to turn your beautiful whites brassy and yellow." 
But it's not just about the conditioner. Gray hair often requires more moisturizing than other shades, which is why a regular deep condition is in order. "You're going to want to deep condition your hair about once a week to add that moisture back in," she added, noting it will also keep flyaways and frizz at bay. The influencer also recommends adding a protein hair mask into your routine if you don't already, particularly if you do a lot of styling using heat tools. And it's not just your at-home products that may change. Nikki Ferrara, a celebrity hair colorist, told Good Housekeeping that it's also a good idea to get a regular gloss at the salon to fight brassiness.
Remember that gray hair can actually make you look younger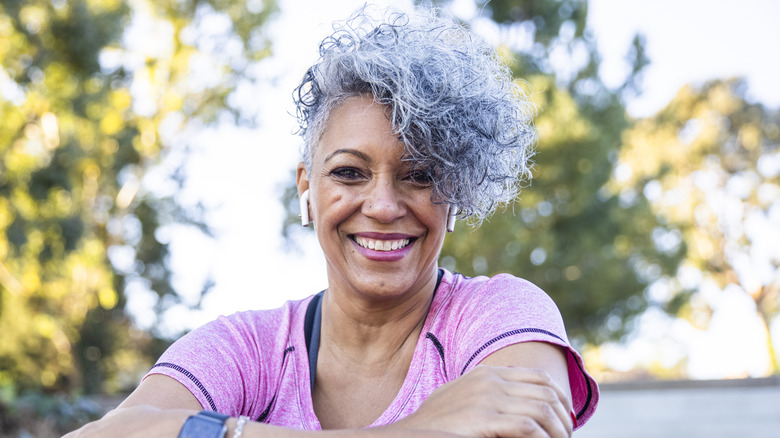 Adamkaz/Getty Images
One of the biggest (and potentially hardest) things to do when you embrace gray hair is to remember that it won't automatically make you look older. Nor is it only associated with age. Plenty of younger celebrities have been known to actually dye their hair gray (hey, Kelly Osbourne!) by choice and it's a common misconception that it will instantly add years to your appearance. In fact, Marcia Ramsey, a StyleList reader, actually had people tell her she looked younger when she embraced her gray locks. "I quit dyeing my hair when I was in my late 40's, and I had people ask me if I had a facelift," she told the outlet.
Other women who have chosen to go gray have also shared how the color complimented their look and made them stand out (in a good way). "I've never colored my hair and like it gray. I think it makes my face look younger because it's soft. I wear it very short in a pixie style, and since I'm petite, everyone says it flatters me," boutique publicity firm owner Miriam Silverberg shared. "It's my signature look — everyone remembers me by it." Memorable and stunning? Count us in!