Mastering Matte Lipstick Is Easier Than Ever With Our Tips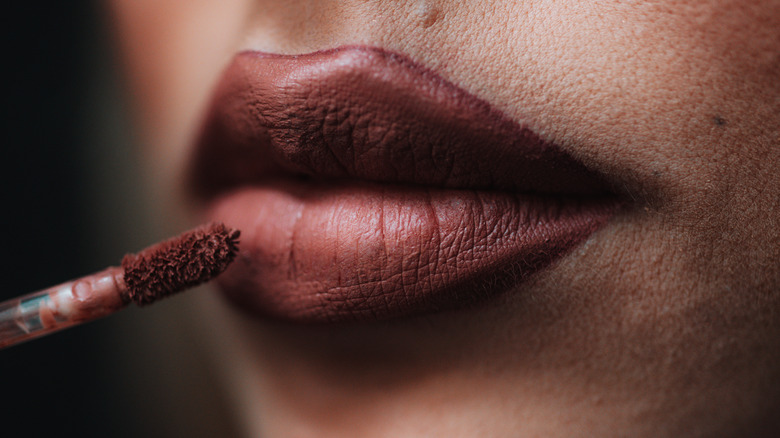 Pyrosky/Getty Images
We all remember the matte lipstick trend that was all the rage on YouTube and Instagram in 2016, only for it to be taken over by glossy, shiny puckers a few years later. However, as of 2023, matte is coming back — but in a totally revamped way. "The difference this time around is that the intention is not to make your face appear lackluster and ashen, but to instead show off your skin with minimal shine for a finish that is more organic than contrived," celebrity makeup artist Jamie Greenberg told The Zoe Report.
Trendy matte lipstick creates an opaque, blurring effect that lasts long and doesn't budge. However, it often comes with one major pesky con: cracking. Especially if you have dry lips, matte lipstick can be extra tricky to pull off. But if you're determined, there are ways you can rock matte lipstick with minimal cracking. While it may take some extra necessary steps, it'll be super worth it. Here are the best techniques to make sure your matte doesn't crack.
Exfoliation and moisture are key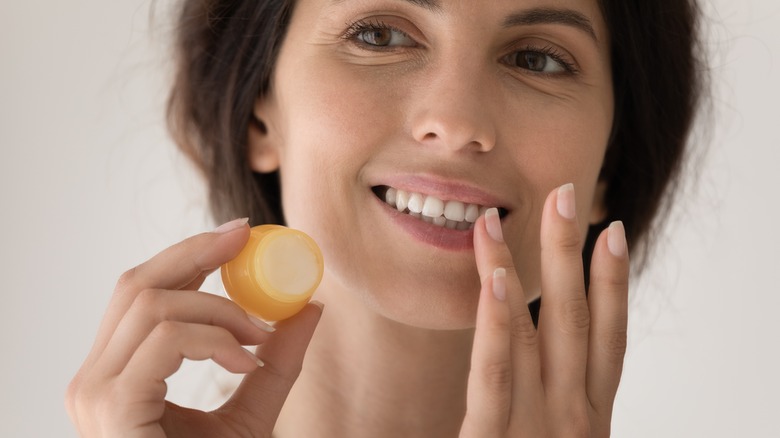 fizkes/Shutterstock
Dead skin cells are often a culprit of cracking and rough, uneven lip texture that make your matte lipstick look less than ideal. This is why it's important to have a smooth canvas before you apply your matte lipstick, as exfoliating conveniently removes dead skin cells. "Exfoliating the lips reveals fresh, smooth skin beneath," dermatologist Ife J. Rodney told Byrdie. "An added benefit is that lipstick can then be applied evenly, and the lips immediately look plumper."
There are many lip exfoliant options out there on the market, which are typically called lip scrubs. However, it's important to note that too much exfoliation can actually make dryness and cracking worse, so apply these scrubs wisely and gently.
After you exfoliate, another tool for an even lip surface is moisture. Make sure to dab on your favorite lip balm before you apply, but don't overdo it, as this can counteract the effects of the matte formula. If you're seriously committed, there are also lip primers out there that are specifically designed to fill in creases and lines.
Choose the right formula, and apply properly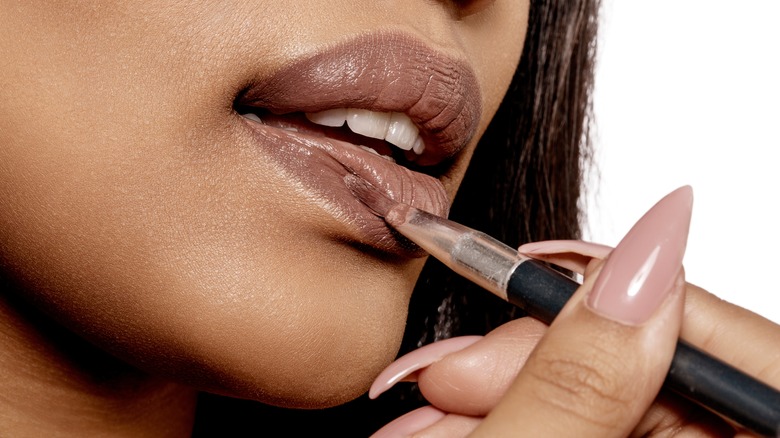 Miramiska/Shutterstock
Now that you've done the prep work, it's time to pick an actual lipstick. Selecting the right product involves looking for the proper formula that won't require constant re-applying. "Look for the finish to be smooth and a velvety, richly pigmented color," celebrity makeup artist Ashunta Sheriff-Kendricks told InStyle.
When it comes to how to apply matte lipstick, be sure to not slab on too much product, as matte lipstick is super pigmented as it is, and overdoing it can make it look textured and increase the chance of the dreaded cracking effect (via L'Oreal Paris).
For the best results, apply your matte lipstick as precisely as possible. A lip liner in this scenario is your saving grace to keep everything in place, and a lip brush will also come in handy for ultimate accuracy. To apply, firstly remove any excess product on the applicator, and start with your top lip at the center of your cupid's bow, moving to the corners of your mouth before you fill in the middle. Repeat for your bottom lip, making sure to gently blot your results, and voilá!