Why You Should Blot Your Lips While Applying Lipstick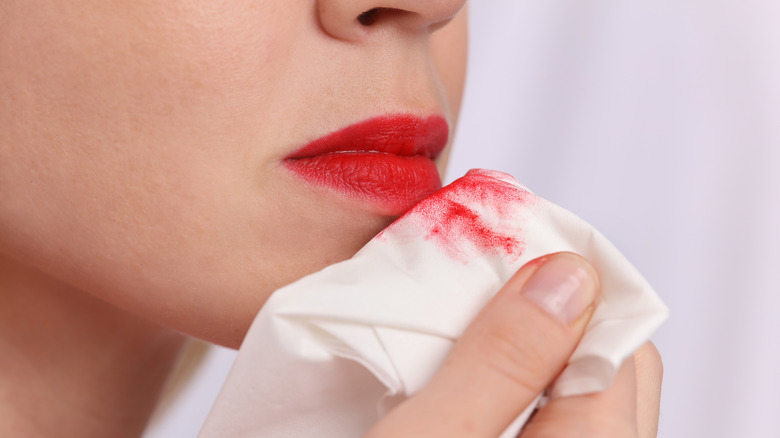 Albina Gavrilovic/Shutterstock
Lipstick comes in handy when you need a touch of color on your face or a gorgeous pop of color against your outfit. There is little lipstick can't accomplish — that is — if it manages to stay on the face and off everywhere else. 
Applying lipstick is a fairly simple process: A few quick swipes, and we're good. If you're a religious lipstick fan, then you know how shifty the makeup can be when overapplied. However, this doesn't always stop us from drenching our lips with it. Unfortunately, this is an unnecessary lipstick mistake we make because more lipstick does not necessarily equal more color or stability.
Sadly, we tend to make peace with the inevitability of having to reapply it every hour or so without looking for an alternative or solution. Many of us aren't particularly concerned with employing special tips or tricks to enhance our lipstick experience, much to our detriment.
However, professional makeup artists have a special trick of blotting lips after applying lipstick, and they are telling us why it helps to do so.
Blotting lipstick in layers improves its stay and color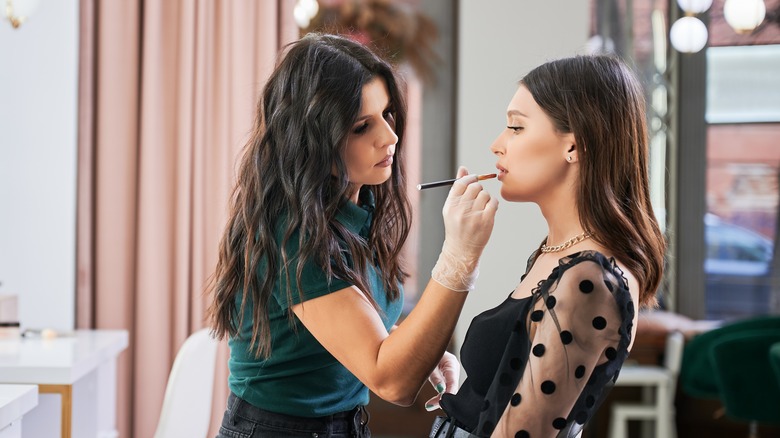 anatoliy_gleb/Shutterstock
Lipstick is typically waxy and oily, which causes it to spread. When you put on too much lipstick, you usually find that it wipes off pretty quickly. Usually, to achieve lipstick that won't wipe off, you'd have to use liquid lipstick or a lip stain. However, professional makeup artists have found a way around this little setback.
Celebrity makeup artist Emily Cheng explained to Coveteur how much of a difference blotting the lips while applying lipstick can make when it comes to helping you pull off a bold lip. She creates vivid lips by putting on three layers of lipstick and dabbing the lips between each application. This serves to lessen the amount of oil and wax on the lips and improves the finishing of the face beat.
Blotting the lips serves to "lock in moisture, creating a rich saturated color," according to Cheng. This technique makes sure that most of the oily base has been taken out of the equation. It also pushes the lipstick deeper into the creases of your lips, enabling the color to last longer.
Use blotting paper instead of tissue for premium oil-lifting
The beauty of blotting lipstick is that it makes the color set and look natural on your lips, sort of like a lip stain. However, the goal is to maximize your lipstick's life as well as its brilliant color, so even your blotting game has to be on point.
When it comes to dabbing out your lipstick, you may be tempted to use an ordinary blotter like tissue, but celebrity makeup artist Diana Carreiro told Beauty Geeks that tissue isn't the best man for the job. "When you use tissue to blot lipstick, it lifts off pigment as well as oil," she explained. Instead of tissue, you're better off using blotting paper, which is specially designed to lift off oil and leave pigment behind.
For this, the Fenty Beauty Invisimatte blotting paper swoops in to the rescue. It also arrives in a gorgeous, refillable container — which will come in handy to soak up the oil and up your lipstick game.