Why Summer Is The Perfect Time To Invest In Bamboo-Based Clothing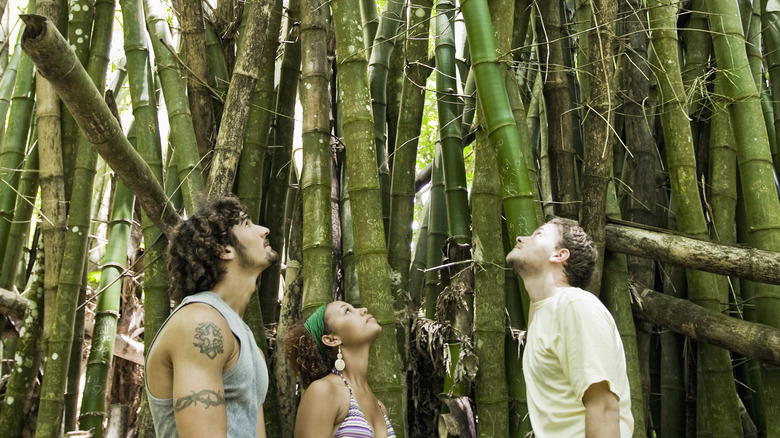 Jupiterimages/Getty Images
Forecasters are predicting heatwaves and warmer-than-average temperatures for 2023, and that means we'll all need to make some adjustments. Wearing hats, sunglasses, and sunscreen (carry Korean sunscreen around with you everywhere this summer) and staying hydrated with filtered water will offer some protection. And, if you have to wear clothes at any point, day or night, consider investing in some eco-friendly bamboo threads — they have some unusual properties, including the ability to help you stay cool.
Bamboo is astonishing. Technically a grass, it can grow up to almost three feet a day. It gets adorable points for being the preferred snack of pandas, and because it contains a lot of silica, it resists wildfires. That makes it a meaningful choice in some reforestation efforts too, because it can grow in depleted soil. When it's made into fabric, under a microscope the fibers are smoother than ragged-edge cotton. Bamboo fabrics are silky to the skin, making them feel luxurious, and they're breathable to boot.
Advantages (and a few disadvantages) of bamboo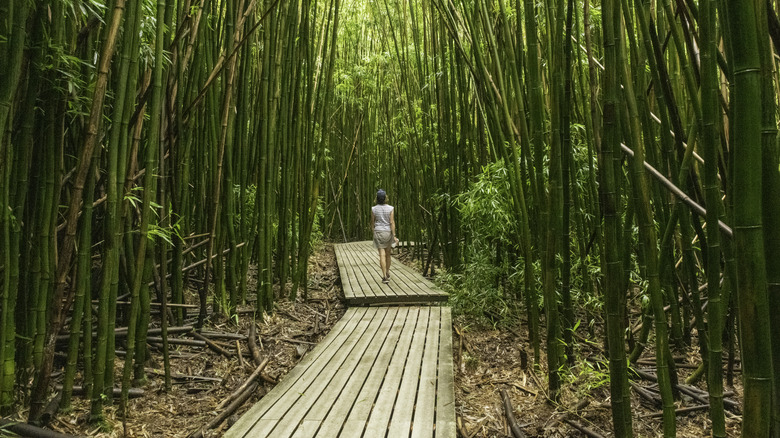 Bobbushphoto/Getty Images
Bamboo has many more pros than cons, and the disadvantages have to do with the way the fabric is processed and made. On the plus side, bamboo fabric is thermo-regulatory, which means it's cooling in the summer yet warming in the winter. In hot weather, it wicks moisture, so it pulls perspiration off your body and onto the fabric, where it evaporates. Yes, please!
Bamboo has antibacterial properties, meaning you can wash your bamboo garments slightly less often than your other clothes. And, it protects from the sun, filtering out 97.5% of UV rays. As noted, it's exceptionally soft and doesn't wrinkle much, making it perfect for t-shirts, loungewear, pajamas, and sheets. You can harvest bamboo without uprooting it, it's usually grown without pesticides, uses less water, and does less damage than cotton crops.
Now time for the cons. Bamboo clothes can shrink, so wash them in a cold water gentle cycle, then line dry. It can be pricier than cotton. Unfortunately, what most people are buying is usually bamboo rayon. The author of London streetwear company blog Cariki noted, "Sadly, bamboo rayon is produced through a highly intensive chemical process that is incredibly bad for the environment." Similarly, bamboo viscose is wood pulp — it can be processed mechanically, which is great, or chemically, which requires the use of caustic soda and carbon disulfide, both toxic to our health. 
What's available in bamboo?
Bamboo works best for less structured clothing or bedding. The Sateen Shortie set from Ettitude has a sateen finish and is perfect as summer sleepwear — but that camisole top is very flexibly designed and can double as daywear. They also carry a sleep shirt and other pajama styles. If there's a fella in your life who's into sustainable fashion, The Bamboo Shirt has 100% Bamboo Men's Short Sleeve Crew Neck t-shirts in neutrals as well as vibrant colors.
Australian company Boody makes underwear, bras, and g-strings out of bamboo as well as activewear. Plus they have this super adorable Short Romper in case you're ready to get romping. Free Fly is a South Carolina-based company that gets its bamboo from pesticide-free regenerative Chinese farms. They have bamboo clothing for kids, and this lovely Women's Bamboo Shade Hoodie, although it's a mix of 68% Viscose from Bamboo, 29% Polyester, and 3% Spandex.
Bamoso is a bamboo sheet company with a few colors for each bed size. They have calming grays, blues, off-white, and crisp white sets, and this Tranquil Queen Bamboo Sheet set looks inviting. As a best practice, we also recommend frequently swapping out your pillowcases to keep bacteria away from your face and your hair unsnarled. To help you choose what to get, we dive into the beauty pros and cons of the pillowcase debate.