5 Reasons To Carry Korean Sunscreen Everywhere This Summer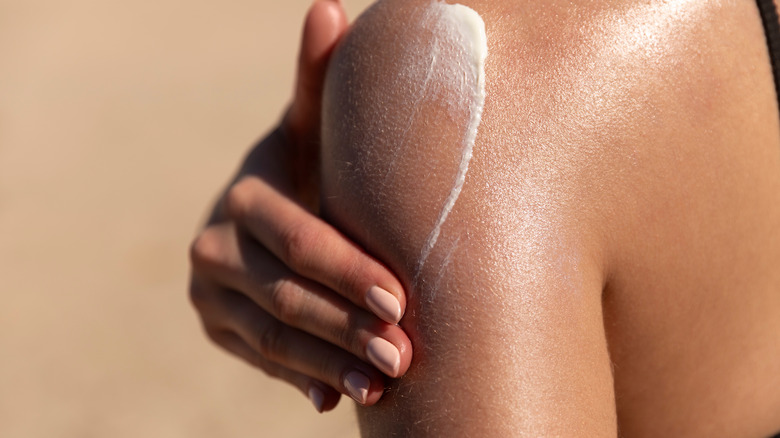 Lea Rae/Shutterstock
We may receive a commission on purchases made from links.
Korean skincare is dominating the world, and this includes sunscreen. There's a good reason for this: Korean sunscreen is gentle on the skin and performs multiple functions at once. It offers protection and is also more targeted towards skincare benefits. Why not demand double duty out of your sunscreen? 
Korean sunscreen has a reputation for being cutting-edge. Innovation has made the formulas more lightweight, and because of this, Korean sunscreen absorbs quickly and easily into the skin. It's easy to reapply and sits well under makeup, so there's no need to change your look just because it's hot outside. On top of that, Korean sunscreen doesn't leave a white cast on the skin, it's great for all skin tones — and you can find great options at affordable prices. There's a lot to unpack when it comes to the benefits of Korean sunscreen, and several reasons why it'll be your go-to product this summer.
Korean sunscreen protects differently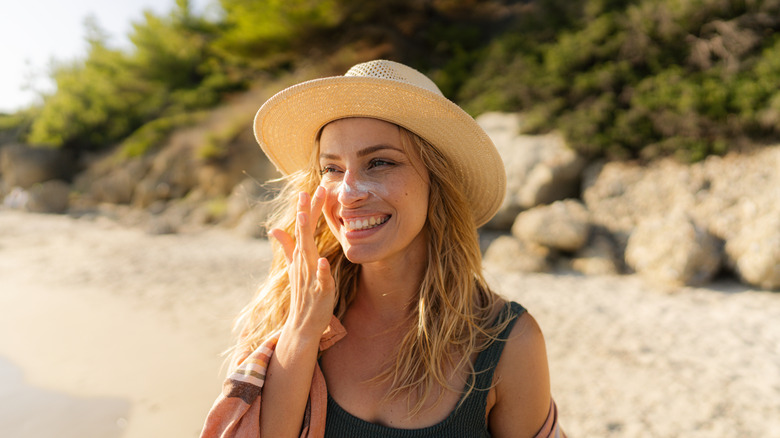 Aleksandarnakic/Getty Images
Korean sunscreen protects differently than many formulas in the United States and elsewhere. SPF (Sun Protection Factor) dictates how well the formula can protect against UVB (ultraviolet B) rays only — in the United States, sunscreen doesn't have to include UVA protection. UVA rays are responsible for tanning; they break down the collagen and elastin in skin, and are responsible for skin aging. If a sunscreen says it's broad spectrum, then it protects against both UVB and UVA rays — but it's difficult to assess how much protection there is against the latter. 
Korean sunscreen uses another form of measurement, called the PA system, which provides more transparency about the UVA protection. This system uses the PPD (Persistent Pigment Darkening) rating system to assess how much the skin would tan without sunscreen. It's listed on the packaging as PA+ with each plus sign indicating four times the amount of protection. So if you see a PA++, this means that your sunscreen has average UVA protection and the area that's covered would take four to eight times longer to tan compared to skin without that coverage on it.
The ingredients are better in Korean sunscreen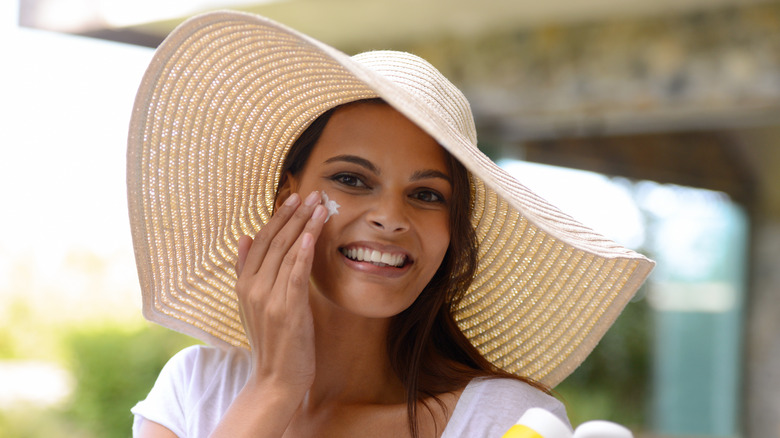 Peopleimages/Getty Images
The problem with many sunscreens formulated in the United States is that the FDA approval process causes significant delays, and as a result, the technology permitted for US manufacturers is over 20 years out of date. In South Korea, the process is still rigorous but it happens rapidly, so sunscreens are created with up-to-date technology and formulations. 
"The Ministry of Food and Drug Safety (MFDS) is the regulatory authority in Korea — similar to the FDA — responsible for creating and overseeing the sunscreen approval process," Teresa Carper, director of product development for Soko Glam, told InStyle. "In order to bring a Korean sunscreen into America, there's an extensive approval process that includes submitting clinical safety and efficacy documentation to the MFDS." Carper added that Korea's process for bringing sunscreens safely to market is much faster than in other countries.
Korean sunscreen is a marvel because it also provides skin care while protecting you from sun exposure. For example, the Shangpree Phyto Essence UV Sunscreen not only offers maximum protection, but it also contains over 20 botanical ingredients to maintain skin health. The Mobitherapy UV Sun Shield SPF 50+ PA++++ has niacinamide and is full of antioxidants, which are vital for maintaining skin health. Sunscreen should protect our skin, but it should also serve our skin in other ways.
Korean sunscreen is wearable under makeup
One of the major challenges with wearing sunscreen on the face is that the greasy, goopy, sticky formulas sit on top of the skin and never seem to fully absorb. Forget wearing any makeup over top! 
This is not the case with Korean sunscreens. Thanks to their newer formulations and precise technology, these sunscreens absorb into the skin without clogging pores or leaving film or grease. They work beautifully under makeup, so you don't need to alter any part of your daily beauty regime in order to make your sunscreen work. "Korean chemists have access to the best and newest UV filters," Carper told InStyle. A fan favorite is Missha's All Around Safe Block Soft Finish Sun Milk EX SPF50+/PA+++, which addresses sweat issues and allows for an even application of makeup overtop. 
It's wise to reapply sunscreen about every two hours. Korean sunscreen has reapplication figured out in a snap. Cica Essence Sun Pact SPF50+ PA++++ is a compact powder form, so you can touch up without ruining your makeup. Not only does Korean sunscreen come in powder form, you can also use it in a spray form. There's MoonGlow & Mizon UV Defence Sunscreen Spray SPF50+ PA++++. It refreshes the skin and touches up your protection.
Korean sunscreen works on different skin tones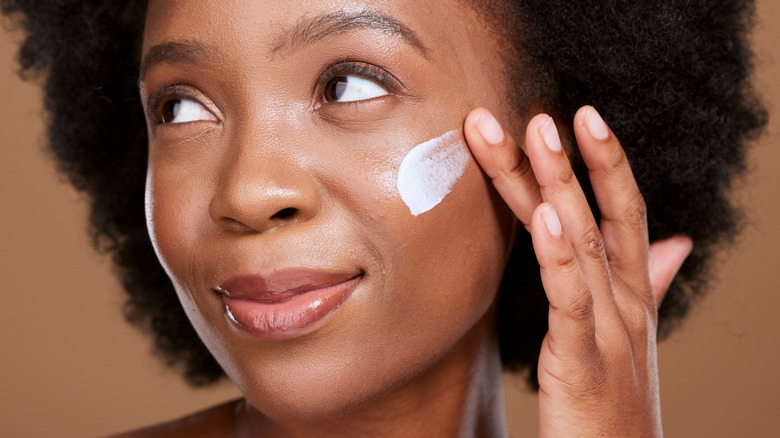 PeopleImages.com - Yuri A/Shutterstock
One of the biggest issues with sunscreen that's behind the times is that it leaves a white cast on the skin. This means that it doesn't soak in invisibly on those with darker skin tones. This creates a huge issue in terms of inclusivity and sun protection.
"People tell us that they don't even feel like SPF. It's a hindrance in the States because having something heavier with a [white] cast that you don't like turns wearing and reapplying SPF into a chore," Yoon told Coveteur. "Someday, I hope more [SPF] filters are available in the US because that will allow for more innovation."
Thankfully, many have found solutions in Korean sunscreen. Vanese Maddix wrote about her disappointing experiences with sunscreen for Byrdie. "As someone with dark skin, I'm always hesitant to try sunscreens that I'm not very familiar with," Maddix began. "I often have to do extensive research to find one that doesn't leave me with a white cast." She explained that she often relies on recommendations from people with a similar skin tone in order to avoid this problem. When she tried the Korean sunscreen by Mobitherapy, she said that the product melted into her skin without leaving behind any residue. So the fact that Korean sunscreen is wearable for all is another huge plus.
Korean sunscreen is affordable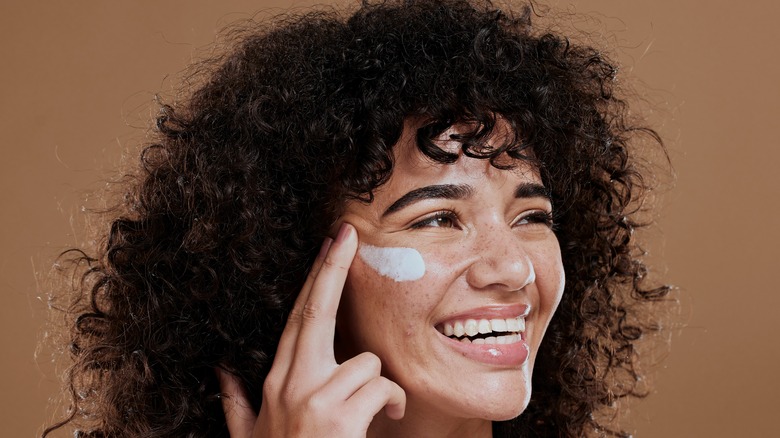 PeopleImages.com - Yuri A/Shutterstock
Korean sunscreen is remarkably affordable considering its many merits. One of the most affordable is Purito's Daily Go-To Sunscreen SPF 50 PA++++ for $12.48. A cult favorite is NEOGEN's Day-Light Protection Airy Sunscreen SPF 50 PA+++. It promises a non-greasy finish and a lightweight formula for $32. Another favorite formula is the Mobitherapy UV Sun Shield SPF 50+ PA++++. The product is lightweight, easily absorbed, and costs $24.50. Best of all, it's completely wearable under makeup. Missha's All Around Safe Block Soft Finish Sun Milk EX SPF50+/PA+++ addresses sweat issues while also correcting the tone and texture of the skin for $29. CosRx Aloe Soothing Sun Cream SPF 50 PA+++ is another classic for just $11.75! 
American sunscreens that offer similar benefits are typically very expensive. SkinCeuticals Physical Fusion UV Defense SPF 50 Mineral Sunscreen costs $42 while EltaMD UV Clear Tinted Broad-Spectrum SPF 46 is $43. Even these products, however, are not clear about how well they protect against UVB rays. They may seem comparable to Korean sunscreen, but they lack some of the clear advantages.
The main hurdle, however, is figuring out where to buy Korean sunscreen. Because of the aforementioned FDA regulations, Korean sunscreens aren't carried in big box stores in America. The easiest way to buy such products is online from outlets specializing in K-beauty, or large warehouse outlets that can import from all over the globe. If you know the particular name of a sunscreen, you can try to find it on Amazon. If you want to see a selection of options, sites like Wishtrend and YesStyle.