Pink Jeans Are The Denim Trend Influenced By Barbie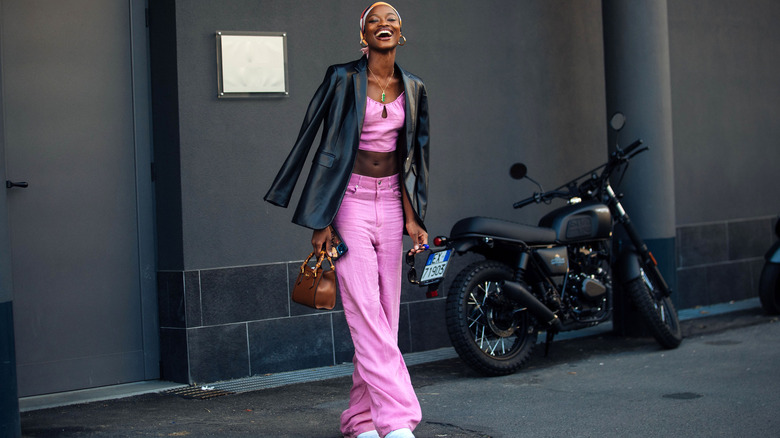 Melodie Jeng/Getty Images
With the premier of the "Barbie" movie taking over the season, the summer of Barbie is in full force. From chic cat-eye sunglasses to pops of pink in your office wear, the influence of the iconic doll is unquestionable, and now the trend has come for our denim. Hearing the words denim and Barbie in a sentence may paint a picture of pink lowrise jeans that wouldn't flatter anyone except an actual Barbie. But we promise that the girly-hued denim influence is a trend anyone can get behind.
Pulling inspiration from Barbie doesn't mean you have to look exactly like a doll. Make the inspiration more suitable for day-to-day wear with subtle shades of pink and pink accents. This is a fun, easy way to play with the trend without going overboard. Look for denim in cuts you are already comfortable in, whether it's mom jeans or skinny jeans. The real secret to pulling off brighter colors and statement pieces is to find pieces that make you feel comfortable in them.
Try different variations of the trend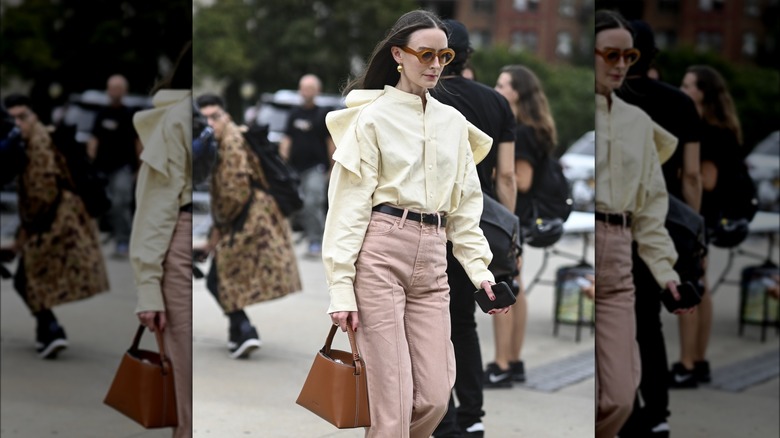 Daniel Zuchnik/Getty Images
Go for a less bold shade like dusty pink or pink pinstripes if you aren't wanting the quintessential Barbieish bubble gum hue. A muted pink shade is still a fun divergence from white jeans or basic blue denim. Plus lighter shades can be easier to style than hot pink or magenta shades. Keeping the shades more toned down can also helps you look more mature in the pink style.
Pink accents on jeans are another way to ease into the trend. Look for details like patches or other pink embellishments. Pink trim on white jeans or delicate pink embroidery is a subtle way to make a statement. You can even take the DIY approach and add some on your own via pink pin-on buttons or a sprinkle of rhinestones. This can make the on-trend style more versatile, not to mention more wearable. Plus, you can add a fun pink belt to play off the accents.
Styling pink denim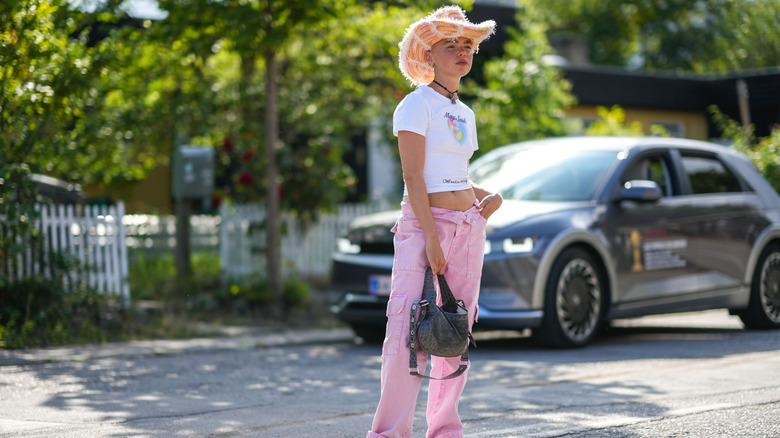 Edward Berthelot/Getty Images
Once you find the right pink denim for you the next challenge is how to style it. Styling colorful pieces can be intimidating, you don't want to accidentally clash colors or make your outfit look chaotic. But, don't be afraid to make your whole outfit the same color. A subtle monochrome pink outfit is perfectly summery and is a fun take on the all-white outfit.
Of course, leaning into the iconic pointed-toe heels is one great way to pay homage to Barbie. Look for a neutral hue to let your denim's color shine. If casual is more your thing, the girly vibe of pink denim plays perfectly off a chunky shoe or pair of old-school sneakers. 
Match any accents on your denim with hair accessories or bags. A fun heart-shaped bag plays off of heart-shaped decals, same with butterfly hair clips and butterfly denim decals. Or, go with a neutral shirt and shoes and wear a pink hat to tie the look together from head to toe.