The Wedding Accessory Trends Every 2023 Bride Should Know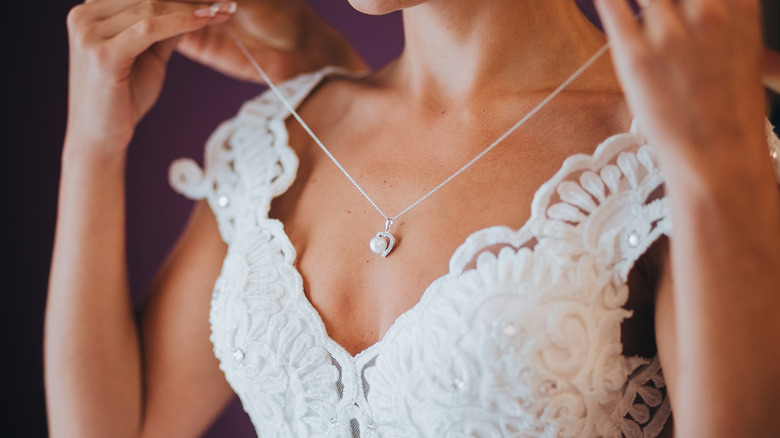 Alex Gukalov/Shutterstock
Wedding planning is no joke. Whether it's picking a color scheme that won't make you cringe looking back on or finding DIY tips to stop your wedding budget from boiling over, there is an endless list of reasons why planning a wedding can be overwhelming. On the other hand, there are exciting and glamorous moments, too, like choosing the perfect accessories to match your dress on a day you'll likely never forget. From shoes to necklaces, to veils, we've got your dream wedding look covered.
Whether it's heart-shaped accessories, headpieces that break down into wearable jewelry, or sparkly shoes that are also perfect for a night out, when finding the best accessories for your wedding, you may want to seek out certain items you'll re-wear (because no one wants to throw their wedding jewelry to the back of their closet). If you're looking for the best accessory trends to follow in 2023, you've come to the right place. We'll make sure your wedding day look is chic and authentically you.
Heart-shaped earrings, necklaces, and rings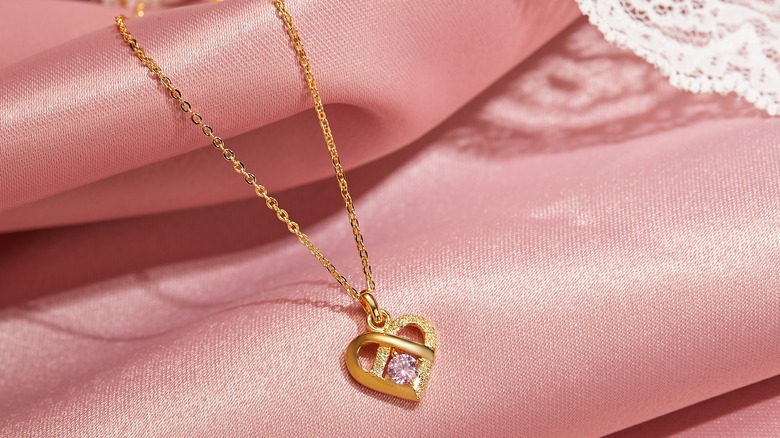 all I like/Shutterstock
What better way to celebrate love than heart-shaped jewelry? Whether it's a necklace, earrings, or the shoe-point of your wedding heels, heart-shaped accessories can instantly enhance any wedding look. Founder of Paris-based jewelry brand, Messika, Valérie Messika, told The New York Times, "There are more declarations of love and the need to say I love you — or 'I love myself,'" emphasizing that heart-shaped designs are back in style, moving beyond its early years of appearing childish or gaudy.
Finding a precious heart-shaped stone can bring more sentimental value to your big day as well as to your personal jewelry collection.  And because heart-shaped everything is here to stay, you can continue to sport your jewelry even after your wedding is over. Whether you're headed for a special night out or just going out to lunch, throwing on your delicate heart-shaped wedding necklace will bring back all the wonderful memories of your beautiful day and give your outfit a special touch.
Lace bridal gloves are making a comeback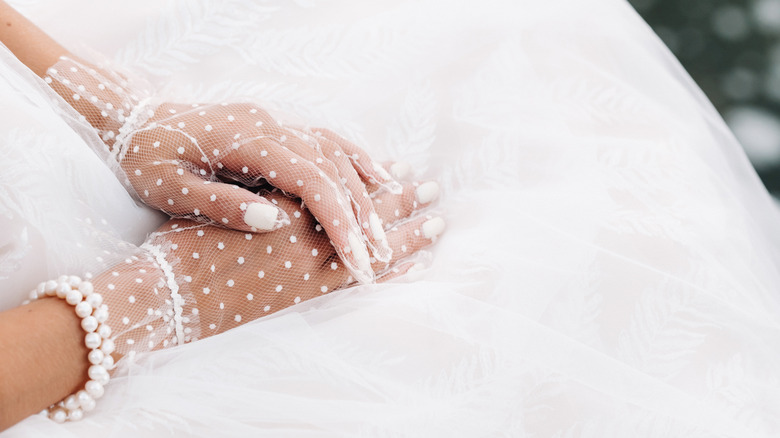 Lobachad/Shutterstock
Hear us out: gloves, gloves, gloves. In accordance with New York Bridal Fashion Week, bridal gloves are back and better than ever this year. There are a variety of options when it comes to choosing the perfect bridal glove, and designers are continuously adapting different styles. For example, some gloves come with fingerless sleeves, while others are lined in pearls from forearm to fingertips. For a look that falls somewhere in between, opt for a lace glove that covers the arms without finger pockets. If you're going for a more traditional look, try searching for gloves made of satin, chantilly lace, or silk.
If your wedding budget allows it, these gloves can also be personalized through threaded embellishments. You can include a word or phrase that's meaningful to your relationship, or a more popular option of a specific flower, bead, or other design embellishments. According to wedding stylist Alison Bruhn, it's best to give yourself enough time to find the perfect pair of gloves, and don't be afraid to try a bunch of different pairs, so you can ensure they match perfectly with your dress and, "make sure that the embellished gloves aren't going to snag on your dress or your veil," she explained to Brides.
Headpieces complete the look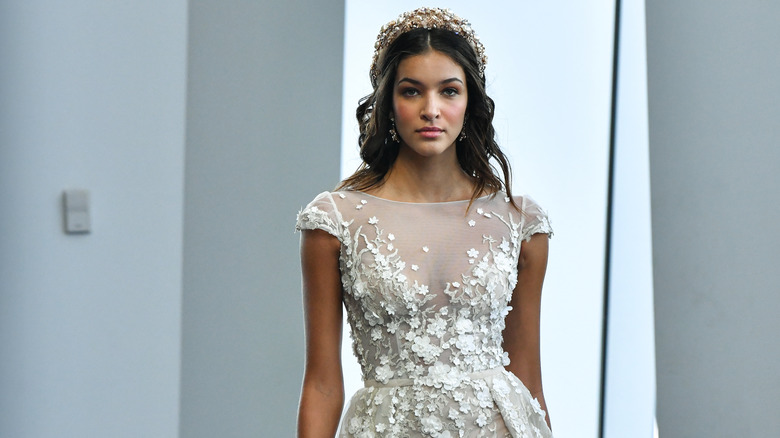 FashionStock.com/Shutterstock
The final touch to the best wedding look: a headpiece. With brides modernizing their wedding accessories each year, headbands and tiaras are being revived like no other. Brands that are well-versed in creating a variety of wedding headpieces do so with flexibility and comfort in mind, so brides can maintain their look all night long. As jewelry stylist Vanessa Chiltern explained to Harper's Bazaar, "the tiaras that we make are always detachable, and simple tiaras can break down into a necklace, while more complex tiaras can break down into earrings, brooches and bracelets."
For more high-brow craftsmanship, going for a more embellished look like a period tiara can help make your wedding look even more sophisticated. However, an extravagant tiara paired with an embellished dress may clash, which is something to look out for. Either go for simplicity with your dress and embellished with your headpiece, or choose a simple headpiece along with a busier dress. Of course, there's nothing wrong with an extravagant look — you just have to pick your battles.
Birdcage veils give off a chic, vintage vibe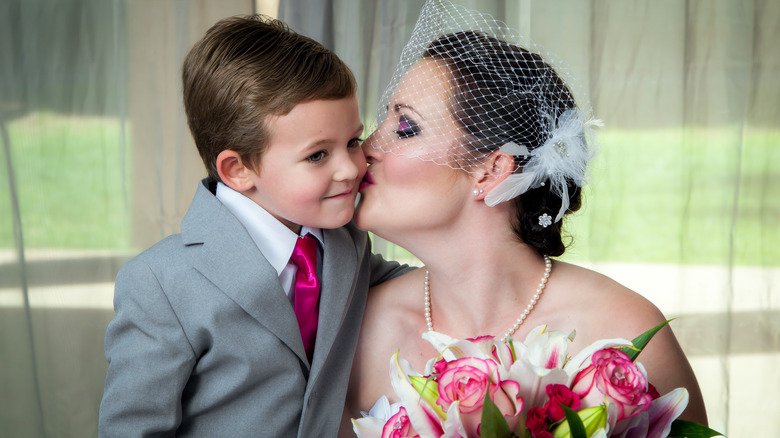 In The Light Photography/Shutterstock
A birdcage veil is a much shorter version of a wedding veil that perfectly sits around the face like a birdcage (hence the name). Just like bridal gloves, birdcage veils come in a number of different designs, from pearled linings to satin bowed bands. According to bridal boutique owner Annelise Sealy, "Not all brides want to wear a full-length veil, so birdcage veils have been increasing in popularity as they add a sense of formality whilst being very easy to wear all day (and night)," she told British Vogue. If you're having an outdoor ceremony or you know you'll be on the dance floor all night long but still want to look bridal, a shorter veil may be great for you.
Birdcage veils are also great if your wedding dress is non-traditional, with shorter seams and unique designs that challenge conventional wedding dresses. In a time where so many women are moving beyond the norm of traditional weddings, why not try a shorter veil to show off your unique style while honoring a vintage classic? Try looking for stand-out embellishments like a bow on top, crystal gems, or a leaf trim.
Bejeweled shoes for a pop of sparkle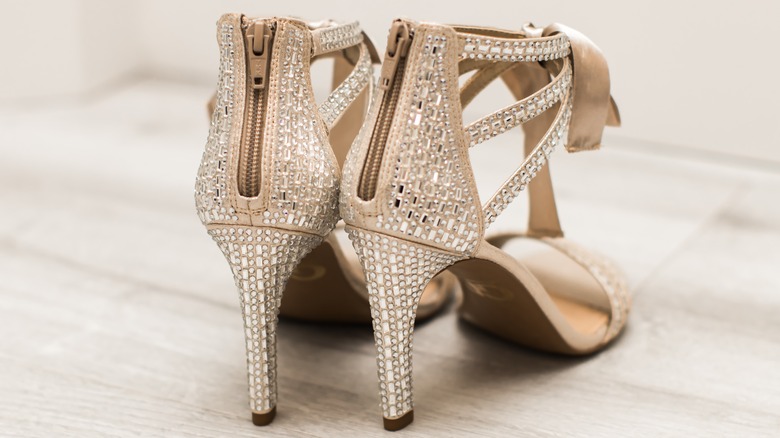 Studio952/Shutterstock
Ready to make the whole place shimmer? Try going for a bejeweled shoe. While many bridal shoes come in the form of satin and diamond-encrusted pumps, there's likely a very small chance that you will want to wear them again. Don't waste your money — opt for a cute yet durable shoe, and when purchasing, think about how you can re-wear it. If you're going to pony up for a pair of beautiful heels, you want to make sure they're versatile enough to wear again — either for a fun night out, a fancy dinner, or to another wedding. 
If heels aren't your thing, try wearing more comfortable shoes like flats, sandals, or short-heeled wedges. For the ultimate glamorously feminine style, you can still incorporate the bejeweled look by searching for a pair with a crystal finish. On your big day, we want you to be equally as stylish as you are comfortable.