Handy DIY Tips That Will Stop Your Wedding Budget From Boiling Over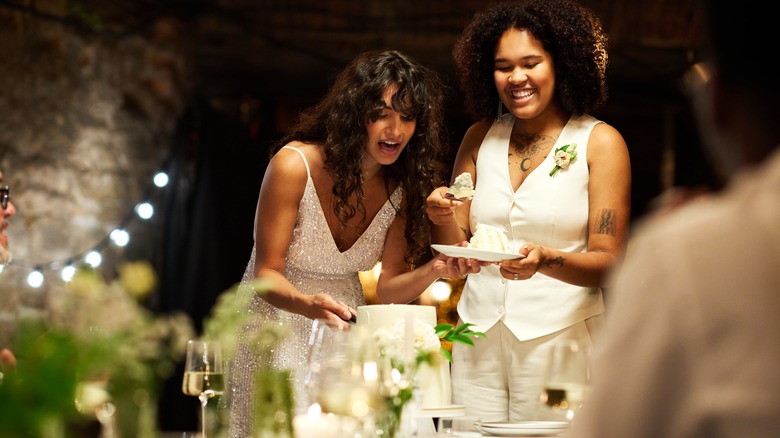 Pressmaster/Shutterstock
While planning a wedding in your head can be fun, actually getting to work can be stressful, time-consuming, and expensive. From flower arrangements to the guest list to booking a venue, there is so much time and money that goes into honoring our celebration of love. There are, however, ways to cut costs through DIY projects that will match your wedding budget while making your wedding uniquely you.
Before getting started, it's helpful to have a general idea of what you want your wedding to look like. For example, some might want an intimate microwedding, while others want a more extravagant celebration. You'll also want to know what kind of wedding aesthetic to curate that is unique to you — color palettes, themes, and the bride and groom's look (traditional or non-traditional? You're the ultimate decider!). If you have no idea where to start, a DIY project can help heighten your sense of decoration, style, and effort. We've rounded up a few projects to keep your budget from boiling over while making this a day you'll remember forever.
Make the flower arrangements by hand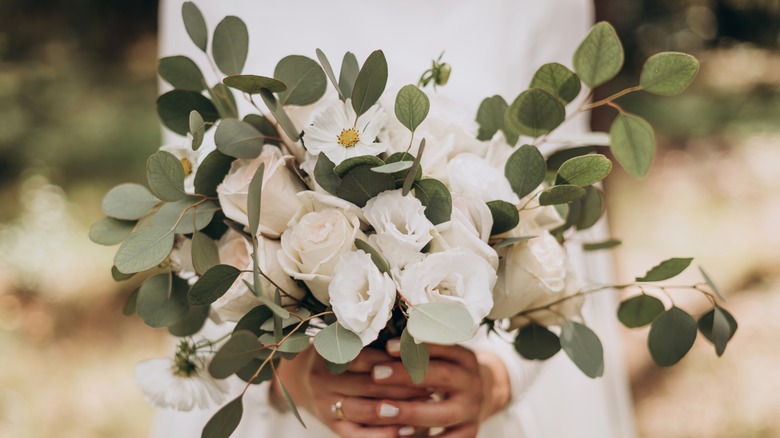 antonina_jurii_mazokha/Shutterstock
Rather than hiring a florist to address your flower needs, making these arrangements on your own can drastically cut wedding expenses. From the bride's bouquet to the flower girl's crown, having a bridal party celebration to put together arrangements can act as a bonding and money-saving activity. You can find flowers and other greenery for this project in your own garden, at your local farmers market, or even at your nearest grocery store. Bouquets and boutonnieres can be arranged by color or style, while flower crowns can be weaved with a chain or sturdy twigs.
While you're at it, you can use this time to create a collar for your pet and add any additional accessories to the wedding or bridal party. Extra flowers and plants can be great for string lights, table decor, or accessories for the reception or afterparty as well. These arrangements and accessories can be used later for apartment decor or as a keepsake from your big day — trust us, it's not a waste of time to make things by hand when you can cherish them forever.
Create self-serving stations for drinks and food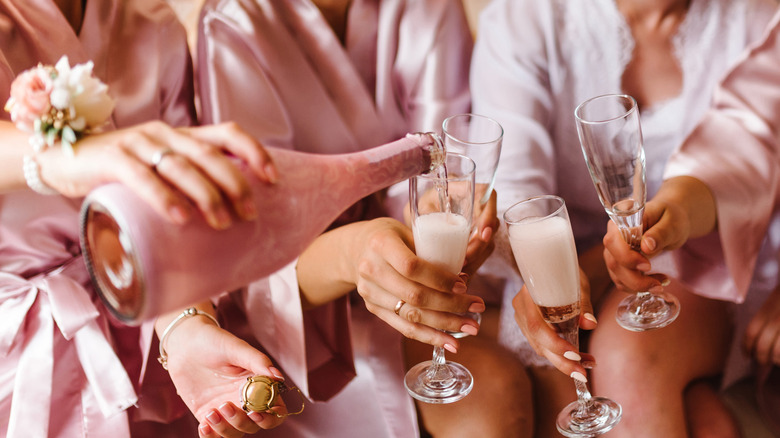 Sergii Sobolevskyi/Shutterstock
Rather than hiring a bartender, which can potentially cost a pretty penny, having a pour-it-yourself station for wedding drinks and appetizers can save you from hiring servers. You can also make it unique to you and your partner by concocting pitchers of your favorite cocktail or non-alcoholic drink. The pitcher and glassware will also help characterize the wedding aesthetic, like glass mason jars for drinks or colorful pitchers to hold your homemade mixtures.
While you'll likely need a caterer for the reception, cutting costs through drinks and appetizers will leave you with enough room in your budget for the main course. You can also hire a local caterer who doesn't charge as much as highbrow or popular chain restaurants. Some alternatives for cutting down costs on food include a potluck wedding, large cheese and charcuterie boards, and food trucks. Cost-effective food doesn't have to mean tasteless.
Use wedding card templates for invitations, menus, and place cards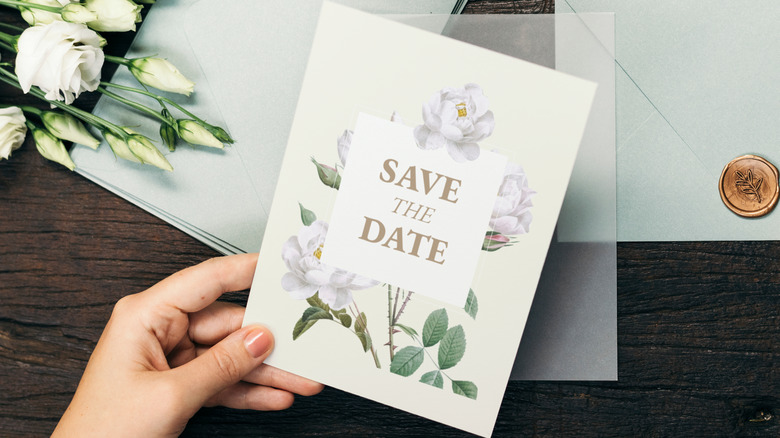 Rawpixel.com/Shutterstock
One of the best ways to keep your wedding budget from boiling over is by making paper items at home. Using a template software like Canva can help you select and personalize your wedding invitations, menu, and name place cards for free (you'll just have to pay for printing, which is way less than what you'd pay for a graphic designer). Canva also offers unique graphic elements that will inspire a more creative wedding that's unique to your style.
Ceremony decor, like backdrops and floral arches, are some of the most intense wedding expenses, and reusing these items throughout the wedding is highly recommended for cost-effective ceremonies. According to wedding planner Lizzie Lumley, "Couples often spend between $2,000 and $5,000 on ceremony decor that is only used for 10 to 30 minutes," she told Insider. "Reusing that decor in the reception is a huge cost-saver."
Rent dresses instead of buying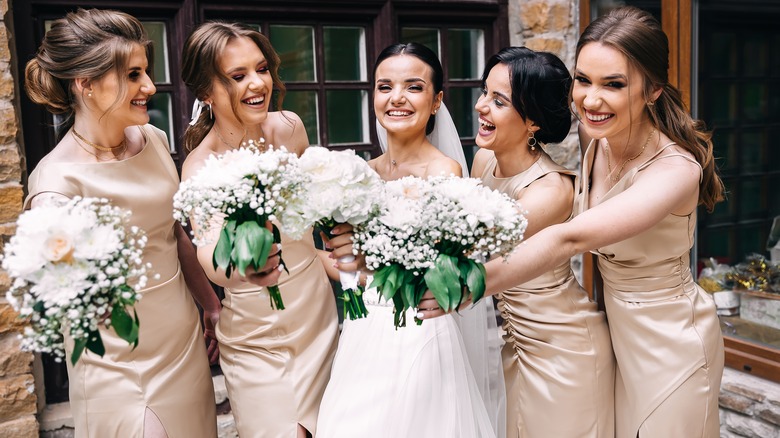 Kyryk Ivan/Shutterstock
There are many sustainable ways to give your wedding dress new life after the big day, but buying a dress in itself is a huge investment. If you're not interested in having your dress after the wedding, paying for a rental can cut costs by more than half, and you won't have to worry about making room for it in your closet after the celebration is over. If you want to own your wedding dress without paying thousands of dollars for it, buying from a secondhand store can provide you with the same stylish looks without breaking the bank.
While there are ways to repurpose bridesmaid dresses, they are almost never worn after the wedding as they are usually specifically purchased for the aesthetic of the ceremony. You can pick a specific color and design for your bridal party that your bridesmaids can rent or buy for a low price. Wedding planner and designer Meggie Francisco explained to Insider that renting bridesmaid dresses can help significantly reduce wedding costs.
Use a streaming service instead of a DJ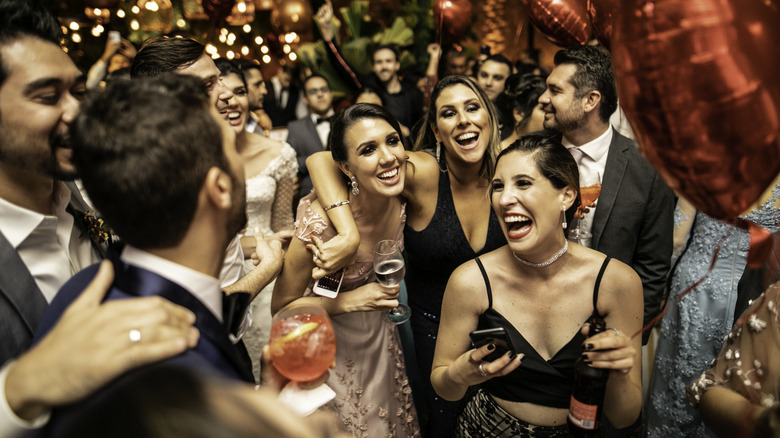 Fg Trade/Getty Images
One of the most significant ways to cut down on wedding costs is by curating your very own playlist. While a DJ can provide certain vibes and tunes you've never heard of, odds are your guests will pack the dance floor no matter what. Rather than spending what is leftover from your wedding budget on a DJ, creating a collaborative playlist with songs that are meaningful to those in attendance will make for a more sentimental reception.
Streaming services like Spotify offer collaborative and shareable playlists that guests can contribute to, download, and listen to long after they've danced the night away. There are multiple guides on curating the ultimate reception playlist, from crossing over genres to leaving room for sing-along songs. Having a playlist that speaks to every guest at the reception will sway almost everyone onto the dance floor, and you can continue adding songs as the night goes on. We can't wait to see the pictures.