10 Tips To Plan Your Intimate Microwedding (Because Small Doesn't Always Mean Easy)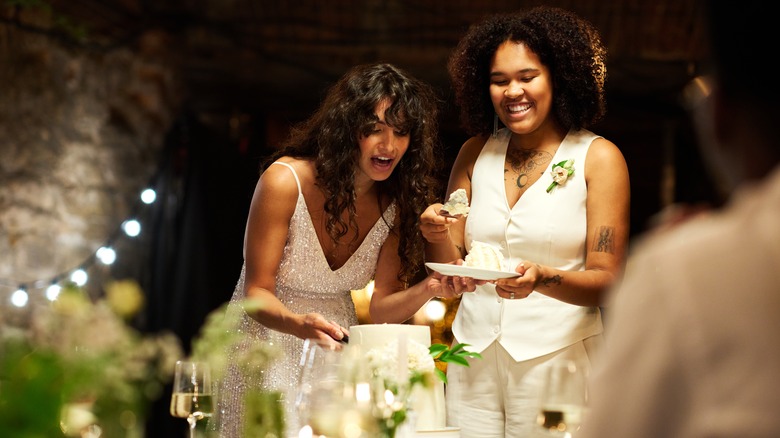 Pressmaster/Shutterstock
Whether this is your first wedding or fifth (we're not judging), you may be looking at making it a small affair — not so small you elope with your besties, but something like a 50-person wedding. Microweddings are becoming more and more popular since the dawn of Covid-19, and we've got the deets on what these mini-weddings entail (and trust us, while the budget is smaller, you should still expect to spend some big money).
In case you haven't heard this term yet, a microwedding is a wedding with 50 people or fewer in attendance. You're still following the basic wedding traditions, but you're doing them on a smaller scale. If you're not looking for the secrecy of an elopement, but you don't want hundreds of guests, this is the direction you want to take. You can still do the walk down the aisle, the seated buffet dinner, and all that jazz. You're just doing it with fewer people on the guest list.
While the guest list may be smaller, there are still some things you'll want to invest in, as well as some things that may pose a challenge when it comes to preparations. We're going to look at some of the things that are integral to making this smaller wedding happen, from the money you'll spend to the time you'll want to invest.
Don't let the guest list get out of control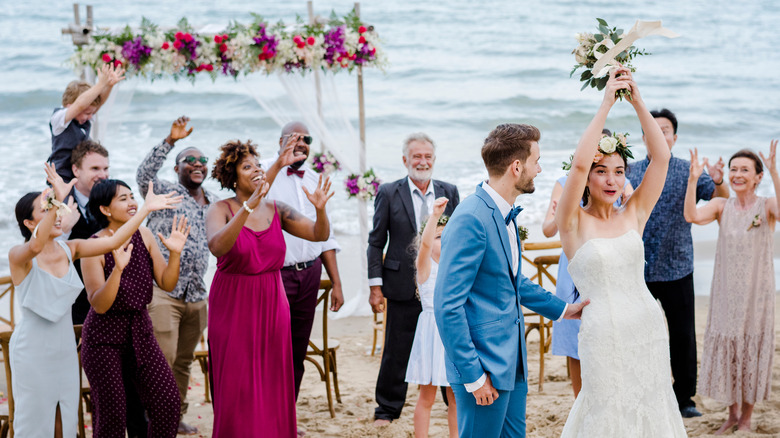 Rawpixel.com/Shutterstock
A 50-person wedding may not be as easy to plan as one where you have no limits, because limits make things more difficult. You'll have to work harder at keeping the guest list below 50 (because, of course, you don't want to forget to count yourselves), but we have some tips that will help you pare down that ever-growing tally of names. A huge feature that you couldn't have a few decades ago is the virtual element; You can invite people to "attend" your wedding virtually. No need for extra seating, drinks, or food — and they can enjoy your big day from the comforts of home.
For those who absolutely need to attend your wedding in person, keeping list numbers low starts with picking a venue that only has space for around 50 max. This makes it so you have strict adherence and an instant reason why some people aren't getting that invite. Two of the other easiest ways to keep guest numbers down are inviting adults and asking that children be left home, as well as limiting how many plus ones you allow (if any). You don't have to allow children at the wedding, and if you're not a parent and you don't have a flower child or young ring bearer, why have any kids at all? Let the adults have some fun without having to keep an eye on the little ones.
Speaking of venues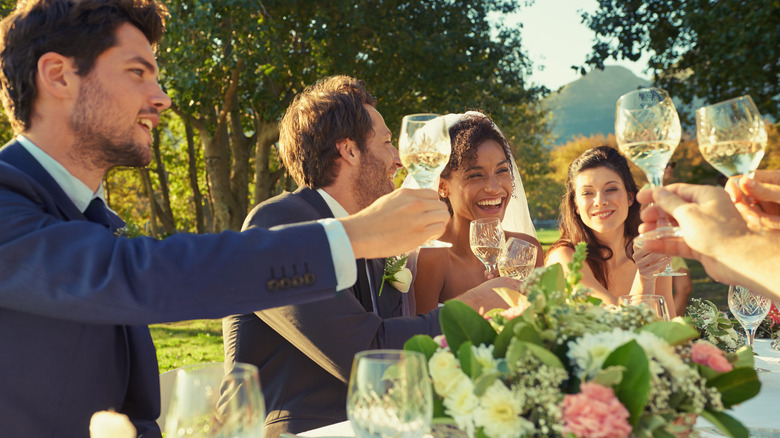 Pixdeluxe/Getty Images
When your wedding only has 50 people or fewer in attendance, it can save you money on the venue. It also opens up more options, like having a wedding in your own backyard, or the yard of a friend or family member. That's an absolutely free venue — though you may need to invest in getting your lawn manicured nicely and putting in some colorful flowers, and you'll still need to rent enough seating and tables for everyone (but a lot less than you would with a hundred guests). Don't forget the importance of bug control and cover for your guests. Keep your guests from being bombarded by bees, flies, and mosquitoes with pest control like repellent and candles, and canopies for sun protection or in case of rain.
If you're having a church wedding and your church is quaint and small, this smaller wedding size will suit it nicely. You could consider renting a pavilion at a local park (prices vary depending on where you live, but are usually under a hundred to about $500 max). Smaller weddings even open up the potential for having your wedding on a rooftop or on a pontoon boat. This is also the perfect time to make your beach or lavender field wedding dreams come true! The sky's the limit with fewer guests because you can leave a smaller footprint on outdoor venues, or better fit into smaller indoor venues, such as your favorite pub (which will help when it comes to drinks).
It still requires some savings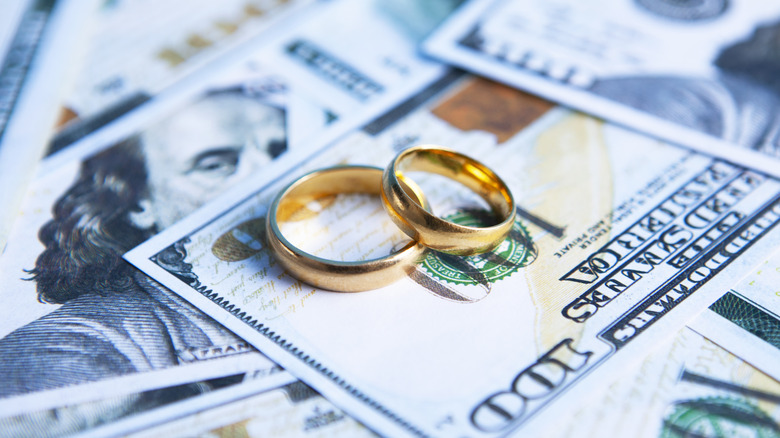 Sargis Zubov/Getty Images
While a microwedding will definitely cost a lot less than a large traditional wedding, you will still need a decent amount of cash saved up to pay for it. While you'll be catering to fewer people, you need to feed your guests, offer them entertainment, and be sure to have enough seating. However, you still have the expenses of wedding bands, your officiant, decorations, your wedding dress, tux or tux rental expenses, and even gifts for your wedding party. Remember, a microwedding is just like a traditional wedding, only smaller in size. Don't skimp on the usual goods.
A larger wedding may cost $30,000 at minimum, whereas microweddings usually chime in at around $10,000 to $20,000. That's still a bit of savings you'll need on hand before you start making any major wedding plans. As far as all the things you'll still need to spend money on, we'll dive deeper into those expenses as you read on. Most of them are must-haves for any traditional-style wedding. While they require your time and money, they assist in making your day the best it can be.
You may still want a wedding planner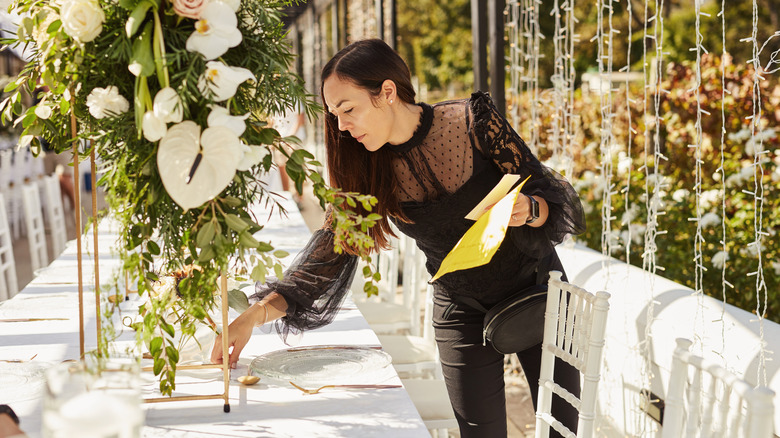 Luminola/Getty Images
Smaller or not, it's still a wedding, and unless you're an old pro, you may want some help making sure your day goes smoothly. That's why we suggest you still hire yourself a wedding planner to help make your smaller big day go off without a hitch. The job of a wedding planner is huge, and without them, you'll have a ton more work to do, like ensuring all the catering is set up and everything going according to plan. Without them, you'll have to set everything up on your own, from securing the venue to putting out the decorations, and more. This is supposed to be your day of joy, not your day of rushing around and adding stress to the picture.
Wedding planners have vendor connections that the general public doesn't have. They make finding the right caterer, photographer, and even the best venue seem like a breeze, making it so you don't have to do so much footwork. With this person on your payroll, you have more time to focus on getting ready for your nuptials, and you have more time to give attention to guests as they arrive (because we all know there are those early birds who get there before everything is ready). While you can do it alone, a wedding planner just makes sense.
You'll still want to feed your guests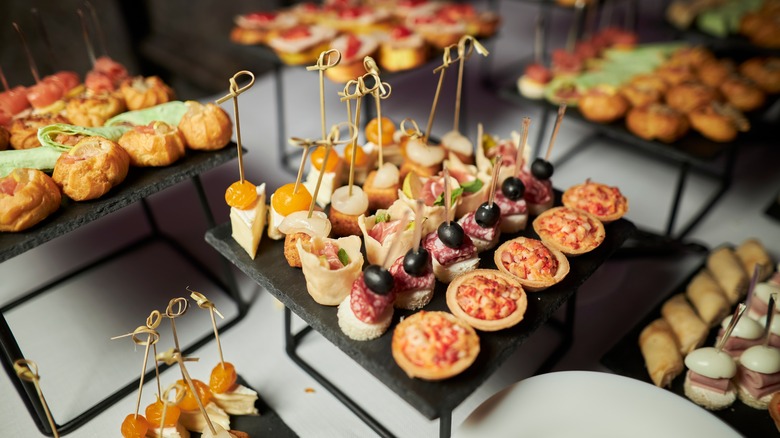 BLGKV/Shutterstock
While your wedding planner will help you with catering, there are many other options when it comes to feeding your guests. You can have a company come in to set up and serve a buffet, a whole service set up where plates of food are delivered right to the table, or you can set up your own buffet. While you'll save money on not having caterers on the premises, you still need to invest in the foods you'll feed your guests and all of the place settings, food service items, etc. This is quite a feat, but not impossible — and it's much easier to do when you have 50 or fewer guests at your wedding.
Start with menu planning. What do you want to feed your guests? Something like a taco buffet will be easier than a fancier meal with steaks. Of course, if you have a grillmaster in the wedding procession, steaks may not be a bad idea. You'll need a way to keep the food hot, and safe from bugs if your wedding is outdoors. Consider, as well, whether you'll get a cake made professionally or make your own. You also want to consider the drinks. If you're having a dry wedding, you need plenty of soda and juice options. If you're serving alcohol, do you want an open bar available or just some coolers full of drinks you picked up on your own?
Put more focus on the decor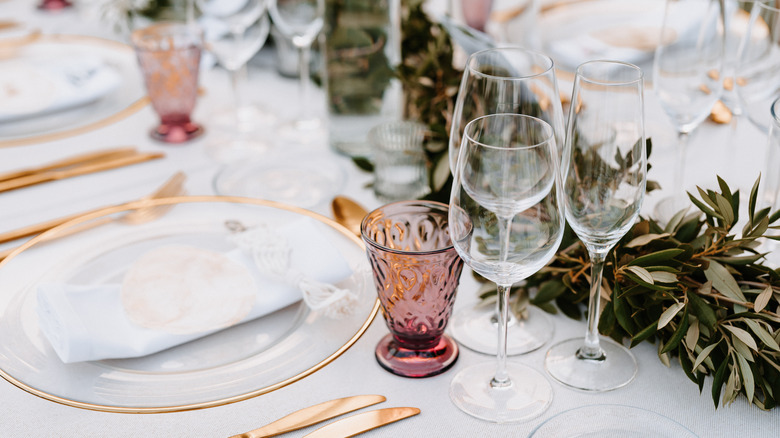 Dianahirsch/Getty Images
Wedding decor is notorious for being something guests can take home with them — like live plants, pretty candle holders, and other purchased or handmade items. A smaller wedding may mean you can invest more in something your guests will love looking at and taking off your hands at the end of the night (because who wants to be stuck with a bunch of glass jar candleholders or faux flower arrangements, no matter how pretty they are?). While you can go ahead and splurge more on this project, you'll still likely wind up spending less than at a larger wedding because you'll have fewer tables to cover.
Decor also includes your table settings, table coverings, and anything you have on the walls or added around the lawn such as a wedding arch, lighting, and dishes. Whether you have one long table or a couple of tables, a runner with some pretty decor in colors matching your chosen wedding shades will make things look classy. Whether you invest in gorgeous flower and greenery centerpieces or make them yourself, these items are worth the investment. Do some research first — you want to determine if it's more affordable to make your own decorations or buy them outright. With place settings, look into renting dishes rather than buying them. If you're catering, the caterer may be able to supply place settings (and they'll wash them at the end of the day too).
Your procession should be small too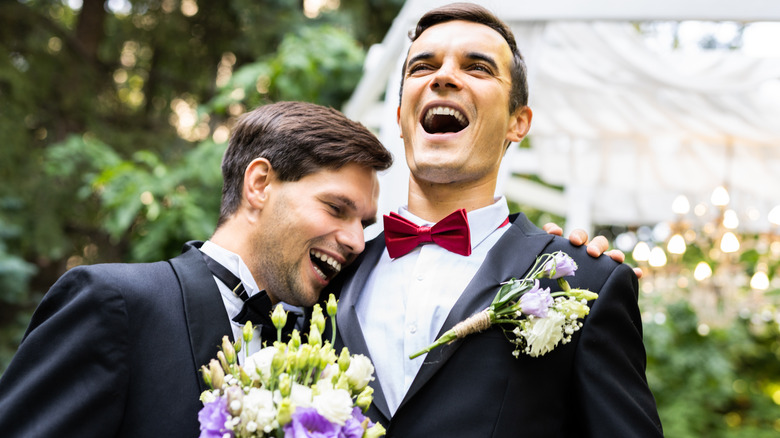 Diamond Dogs/Getty Images
We already talked about how to keep the wedding list at a minimum, but here's one more thing to consider: have fewer people standing with you. A smaller wedding with one or two bridesmaids and groomsmen will mean far fewer folks in the audience. Rather than having an entire bridal party, save money (and help your family and friends save too) by having only a Maid of Honor and Best Man, instead of multiple friends standing with you. Whoever walks you down the aisle, if you go with that tradition, could stay standing, or you can allow them to take a seat during the nuptials as well.
How is this saving you money, though? While it's giving you more people seated while you say the 'I do's," it's also making it so you don't have to buy multiple wedding party gifts, since it's tradition to give personalized gifts to your groomsmen and bridesmaids, as well as the parents of the bride and groom. While old-school tradition says that the bride pays for bridesmaid dresses and the groom's family pays for groomsmen's tuxedos, these days many wedding party participants pay for their own garb. If you're going old-fashioned, having only one person for each of you will definitely be a smaller bill than buying three or more dresses and renting multiple tuxes. If you go with the times, you'll have fewer folks complaining about the cost of their outfits for your special day.
Spend a little extra on fun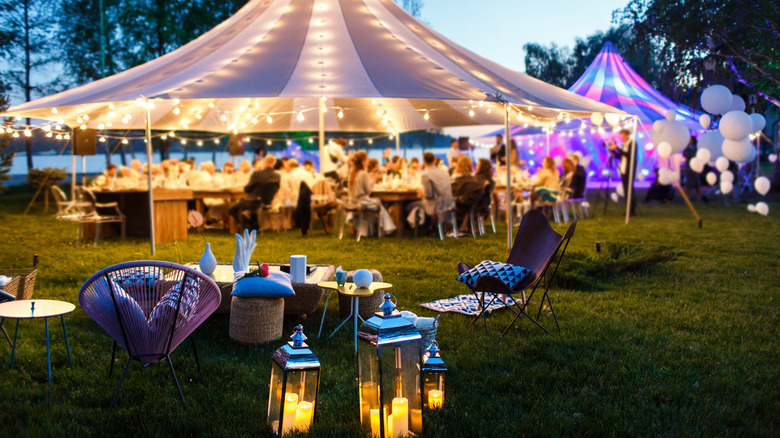 Tsezarina/Shutterstock
Just because your wedding is smaller in size doesn't mean you want your guests to get bored. This leads to more vendors your wedding planner can help you with, so you don't have to add more stress to your plate. Some features that cost a little extra money (and time for research) include having a photo booth, a DJ or a live band for music and dancing, and plans for games. Games are especially great if you're having an outdoor wedding at a park or in a yard, and can include things like cornhole and ladder toss. You may have the stuff on hand for these games, or you may need to buy or rent them. Even small weddings can have a theme, so you may even want to consider games that fit your theme, like a ring toss game for a circus-themed wedding.
If your wedding is for adults only and you want to make things extra adventurous, plan a scavenger hunt. You can find scavenger hunt lists, like this one, online, or you can come up with one yourself that revolves around your particular wedding venue or the theme of your wedding. If your wedding is outdoors in a forested area, add things like acorns and pinecones to your list. If it's a beach wedding, you can add different types of stones (like a Petoskey stone if your wedding is in an area they're commonly found in) and shells.
Don't forget to invest in a photographer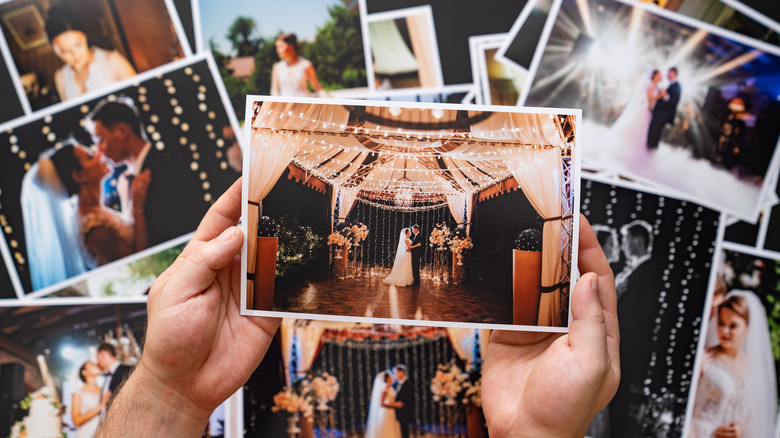 Andrey Sayfutdinov/Shutterstock
Having a good wedding photographer is one area where you don't want to skimp (and if you do, there's a good chance you'll regret it later). While photo booths are fun, they don't replace the need for photos of you saying "I do," cutting the cake, or your first dance as a married couple. While there are ways to save money on your photographer, having your niece who's learning photography do it for free may seem great until you're unhappy with the finished, blurry photos.
When it comes down to it, you want to be sure you capture every memorable moment in pristine photos, and only a pro can promise that. Before you pick a photographer, be sure to check their portfolios. Don't just look at the quality of the photos, but also what moments they captured — you want someone who is going to catch all of the most important parts of your wedding. Even having a pro on hand, you are going to need to take some time to chat with your chosen photog on which moments you want them to get if you want family and bridal party pictures done ahead of the nuptials, and if you want them to hang out for pictures of dancing and more. Make a list. While it will take time, it'll be worth it.
You still need a timeline for that special day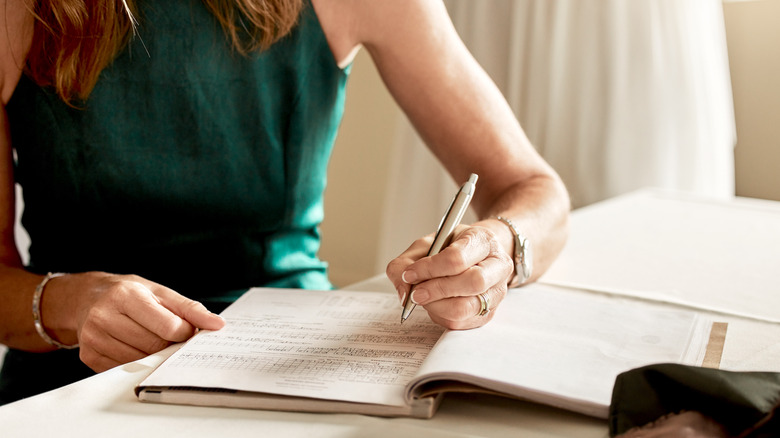 Kobus Louw/Getty Images
You may think that having a smaller 50-person wedding (or fewer) will make things easier, but you still have a lot of planning to do. Of course, having that wedding planner will help ease some of the stress, but you still need to be on top of things. Get a list from your wedding planner of what they're doing and when, and create your own list with anything that you are taking care of outside what they're already doing, including what time you need to be ready to walk down the aisle. Lists are your friend leading up to the day of your wedding, as well as on the day of your nuptials; Write down everything you need to do to get ready (evening putting on deodorant is easy to forget when you're busy).
Plan out a timeline for that special day. You don't want to go in there without a plan in writing and expect things to work out. Of course, there are always things that can get in the way and bump everything right off course — like construction, inclement weather, or someone not being able to come last minute because of illness. Having everything written down with a timeline allows you to see what can be fully bumped and lets you easily change times for each plan. Your day-of list will help keep you from having a wedding day meltdown.