How To Curate A Wedding Party Aesthetic That Is Unique To You And Your Loved Ones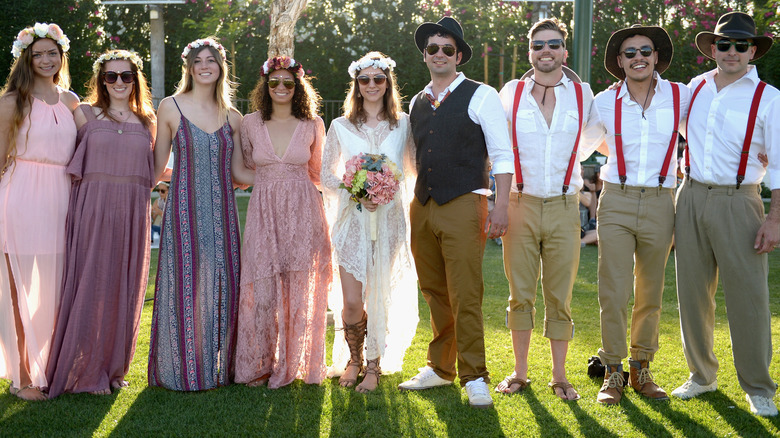 Matt Cowan/Getty Images
Choosing a vibe for your wedding party is a big decision. It sets the tone for the day, it lives on in the photos, and it's the aesthetic glue that holds your wedding party together. But most importantly, you want it to be unique to you and those you're celebrating with. Traditionally, the wedding party gathers around a specific, curated look put together by the couple. This typically includes matching bridesmaid dresses, and groomsmen wearing a similar color. The theme and color palette is carefully monitored and controlled, and everyone wears identical — or at least coordinated — looks. 
The good news is this coordinated palette doesn't have to be the only way. If you're looking for something non-traditional, there are countless ways of trying something different, without falling into a cookie-cutter look. Plus, You can still let your friends express themselves and be comfortable on your big day. There are boundless wedding apparel trends ranging from perfectly curated to funky and fun to create the perfect aesthetic for you!
Choose a color palette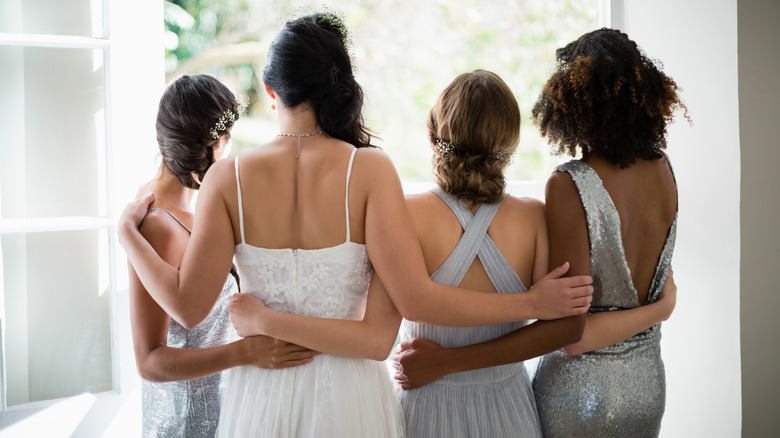 wavebreakmedia/Shutterstock
Even if you're forgoing a traditional matchy-matchy wedding party aesthetic, choosing a color palette can be a helpful step. It doesn't have to be just one color either. Offering your wedding party a range of harmonious colors can help them decide on an outfit. This way, your wedding party has a guide, while still being able to play with different dress looks. "Some of the prettiest bridesmaid photos have mismatched dresses, a variety of colors in the same palette, and a mixture of textures," Bridal Bliss founder Nora Sheils explained to Brides. "Even mixing in prints adds a beautiful touch if done right — it all adds interest and personality!"
It can help to give your wedding party a few swatches of the color aesthetic. Rather than being controlling, this is actually really helpful. No one wants to show up to a wedding and feel like the odd one out because they didn't understand exactly what fuchsia meant.
A concept board is another helpful way to guide the wedding party aesthetic while still holding space for individuality. "This concept board should showcase the overall look that you're trying to achieve with [your wedding party] and then, from there, you let them select their own from ready-to-wear [outfits]," bridal stylist Julie Sabatino told Brides. Let them know that dresses aren't the only option either. Jumpsuits, tuxes, and two-piece looks can work wonderfully into the mix.
Let your theme be your guide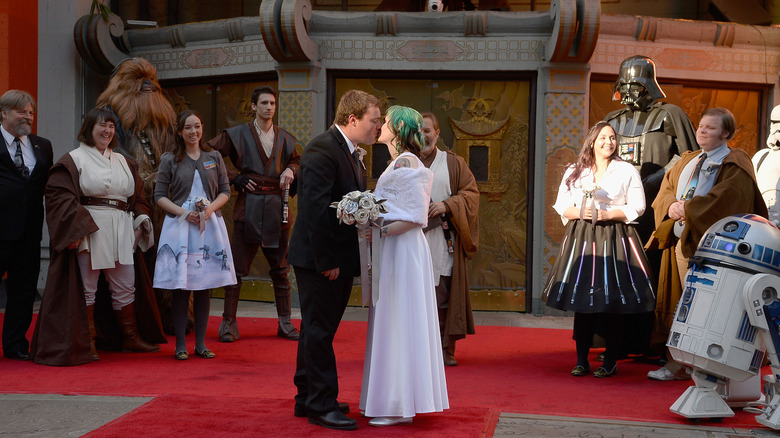 Kevork Djansezian/Getty Images
Choosing a theme can be another effective way to direct the wedding party aesthetic. Take cues from the themes that already play out in your relationship and within your friend group. If you and your loved ones enjoy music festivals, then boho-chic is the way to go. If you and your partner are outdoorsy and adventurous, then your theme can follow earth tones in a relaxed, outdoor setting. Media can also be a hugely popular way to guide a wedding aesthetic. If "Game of Thrones," "Star Wars," or Disney influenced your romance, let that move things along in a unique way. Giving the wedding party a centralizing theme can help anchor the look.
When choosing a theme, consider the venue as well as the season. A winter wonderland offers a plentitude, with the possibility of faux fur accessories, sparkling lights, and festive shades. Allowing your bridal party the chance to dress and accessorize by theme gives them more leeway. That way, they can choose an outfit that they're comfortable in, and that feels appropriate to their body type and taste. Plus, instead of going out and buying an outfit to fit a certain color palette, the wedding party may be able to create a look from their existing wardrobe. 
What to do when you still love the traditional look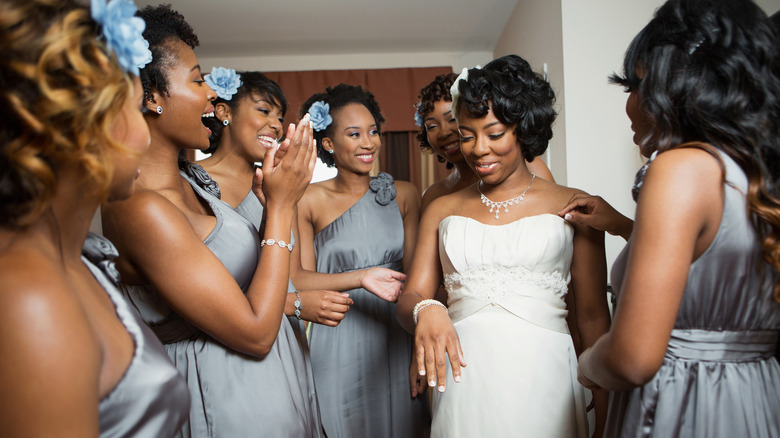 pixelheadphoto digitalskillet/Shutterstock
If you still have a soft spot for the more traditional wedding look, there are still ways for each member of the wedding party to express their style. Traditional doesn't have to mean boring. If you want matching bridal party looks, consider getting the wedding party involved in the planning. "I always suggest my brides be open to feedback from their bridesmaids as much as possible during the process — let them know you want them to all look like rockstars and want to compromise to find a look that works for everyone involved," wedding planner Nicole-Natassha Goulding told Brides.
If the looks are more coordinated, let your wedding party express their personalities through hair and accessories. Headbands, necklaces, and earrings can be a way to let your wedding party still feel unique even when the overall look is more coordinated. Keep in mind, there are other unexpected ways to coordinate wedding party looks that go beyond the traditional dress like fun sneakers or unique jewelry. So be creative and welcome input from your trusted bridal party.