How To Pick A Wedding Color Scheme That You Won't Cringe Looking Back On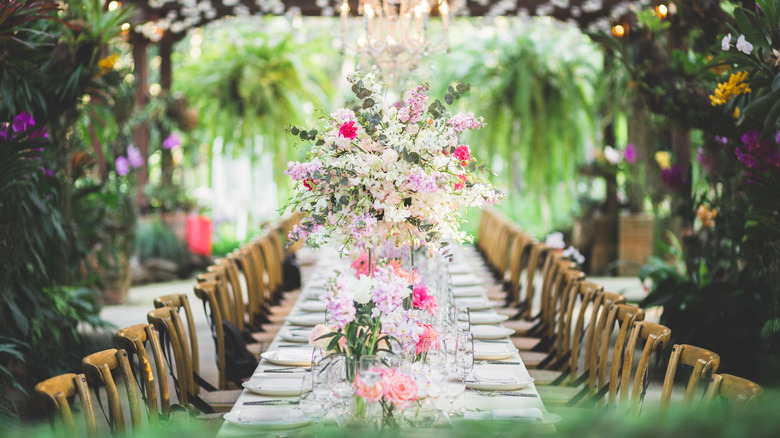 Rungtip Kanta/Shutterstock
Oh, the notorious wedding color scheme. Though it seems pretty small in the grand scheme of things, it can actually be one of the most difficult decisions to make when it comes to your big day because it's going to be everywhere, in every picture, forever. That's why having a color scheme and sticking to it will be one of the biggest favors you do for yourself when it comes to wedding planning. Even if you want to be a little less traditional and are planning something more like a microwedding, choosing colors is pretty much inevitable. As Kylie Carlson, owner of The Wedding Academy, explained to Woman Getting Married, "It's fairly difficult to avoid choosing colors in general unless you're looking to stick to an all-white event or something similarly monotone."
But, after the big day is over and you head into married life, as well as your lifestyle changing, so can your taste. All too often, that means that the color scheme you chose for your big day is no longer your favorite, and looking back at wedding pics only leads to color regrets. So, here are a few tips to make sure you still love your wedding colors a decade from now and far beyond.
Don't follow wedding trends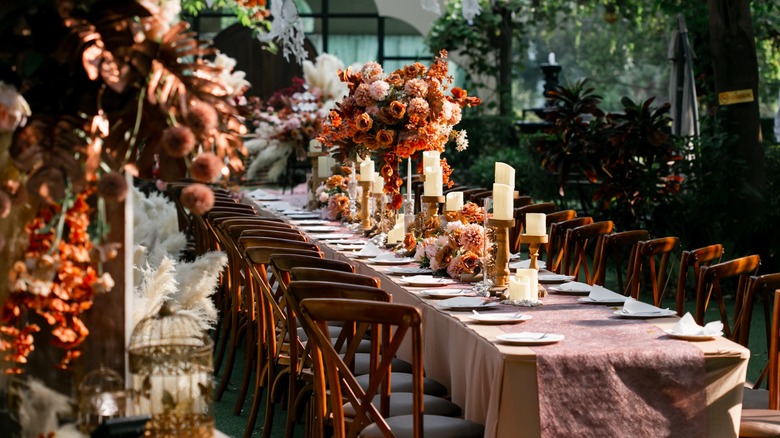 Kittisak Sirichunsuwan/Shutterstock
Sure, sometimes there are trends we look back on and love. But, let's be honest, how many times have you looked back at that '80s perm or '00s concealer-as-lipstick trend and totally cringed? Yeah, us too. That's why, when picking wedding colors, it's best to not just go for what's hot right now. Instead, fall back on colors you've loved for years and that align closely with your personality. Keep in mind, it's more important to put your authentic taste and style over something you feel you have to incorporate because it's currently all over bridal blogs or Pinterest.
You could try looking back through old photos and see what colors you see a lot of in your favorite outfits over time. Also, think back to the childhood moments when you would dream of your wedding day. What colors did you imagine? Looking back rather than forward will help you avoid falling into the pitfall of choosing something because it's trendy, not because you really love it.
That doesn't mean you should be totally closed off to trends if they feel true to you, but just be mindful of any sudden changes in your preferences. Event planner Amanda Hudes told Woman Getting Married that it's important to have a handle on your vision but to also listen to your seasoned vendors. The author explains, "Know what you like and what you don't. However, keep an open mind."
Think natural and neutral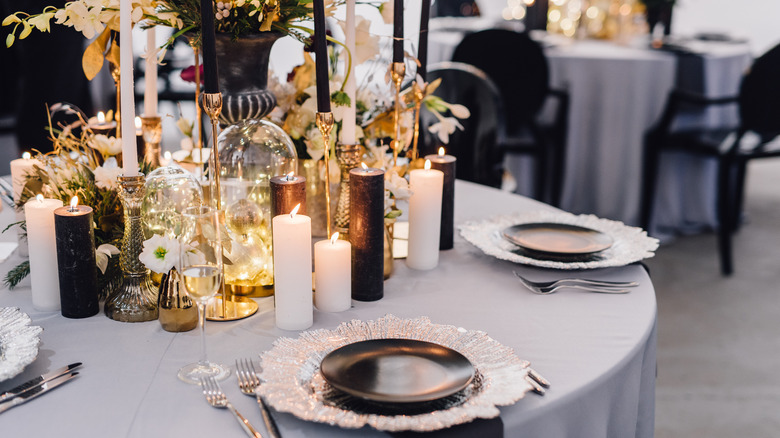 dfrolovXIII/Shutterstock
Of course, there are several examples of bolder colors looking totally stunning at a wedding, but they can be difficult to match. That means, unless you work extra hard and have plenty of time (and money!) to put into making sure everything on your big day works well, you may look back and cringe at how a bold color stands out. That's why wedding and relationship writer Natasha Burton suggests sticking to more neutral shades. "It's best to stick with a color palette that includes natural hues so your other decor and flowers don't clash with each other," she told Brides. "Use neutrals, such as whites, grays, and beiges, if you'd like to keep things more low-key color-wise." 
If you're a more natural bride and your wedding will include outdoor time, natural colors like greens or browns could be solid options to ensure they easily match the scenery around you. While brighter tones will definitely stand out in your stunning outdoor snaps, well, that's not always a good thing. Muted, earth-toned shades never really go out of style and can easily be incorporated into your color scheme no matter what you choose. If you love orange, a peach tone may be more suitable over neon orange, or, for pink-loving brides, blush or rose is more likely to work over a hot pink or fuchsia.
Choose a color scheme that will flatter your bridal party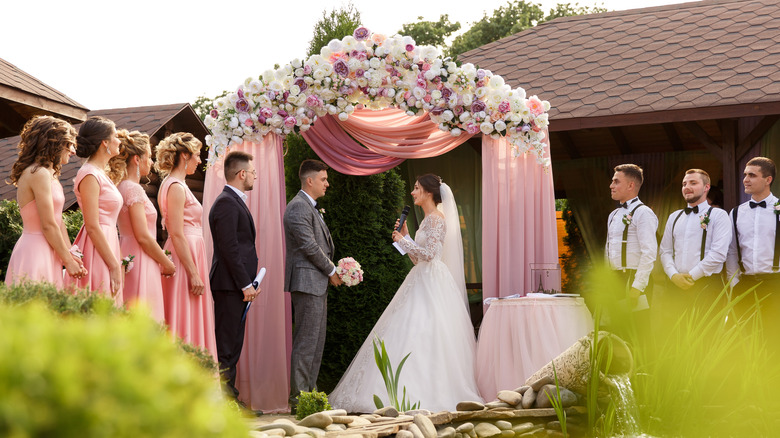 Wedding and lifestyle/Shutterstock
Remember that whatever color scheme you pick for your wedding, you and your guests, particularly your wedding party, will be photographed amongst those colors all day. It's likely that any photos taken during big moments will have your hues as the backdrop. So, you'll likely want to make sure what they're wearing creates a fully cohesive look. Remember that when you're creating your color scheme, the all-important wedding party aesthetic will have to align with the shades chosen. 
Think of your bridal party's ensembles as an extension of the decor, and consider what colors will be flattering and easy to wear. Remember that people with cooler undertones are more likely to look good in blues, grays, purples, and greens while people with warmer undertones tend to shine in golds and peaches. There are some colors that can work for everyone, though! Those include bright red, eggplant, and soft teals. By thoughtfully including wearable hues in your overall color scheme, you'll ensure everyone looks great both alone and immersed in your decor. 
Consider the place and the time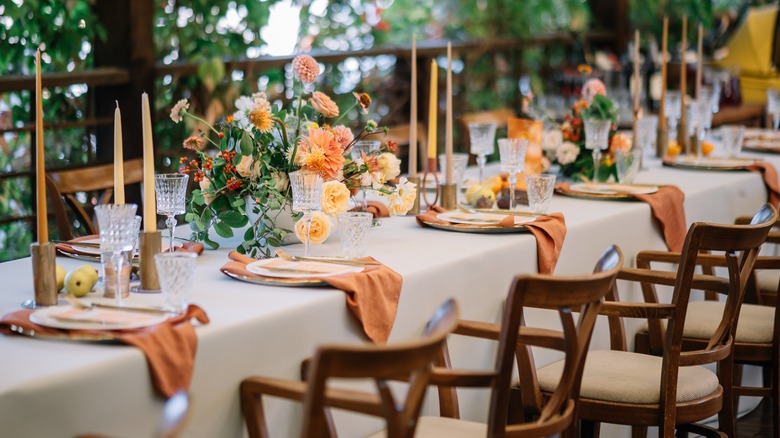 dfrolovXIII/Shutterstock
When and where you're getting married will play a big part in what colors make sense. Again, your wedding colors should be your favorites, but there are a few starting points to think about when it comes to the time of year. In the spring, a soft pastel color scheme can feel bright and welcoming. For a summer wedding, colors most likely to work will include things like blush, orange, green, or violet. For a fall or winter wedding, try darker reds, plums, or even golds. 
Of course, your venue's vibe and setting will also influence what colors will work. Getting married on the beach? Creams and baby blue will be stunning, while more rustic weddings in a barn may call for those browns or natural green hues. If you're going for a more upscale venue like a castle, match the theme with metallics like gold, silver, or royal blue. Maybe you're planning a wine country wedding, then you can use the sagey vineyards and burgundy grapes as your inspiration. 
You'll also want to take the colors that are already in your venue into consideration, as most interiors are likely to blend with a more neutral palette. Just remember you'll need to work with any current design aesthetic, especially if there is already a dominant hue or bold statement element. "Please don't try to cover or hide any colorful elements you don't like, as it will probably be noticeable," wedding and relationship writer Natasha Burton explained to Brides.
Make the color wheel your wedding best friend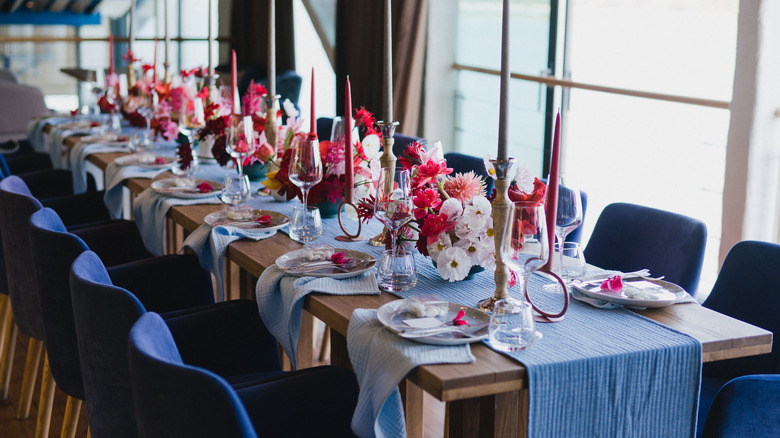 AnnaGorbenko/Shutterstock
Remember at school when you learned about the color wheel and what colors are next to each other and which are opposites? Well, bring that to the front of your mind. This can really help you understand which will complement each other, which won't, and which will help the others really stand out. "Typically, colors that go well together are ones that are opposites because they pair cool and warm. Other color pairings that work well together are the ones on the wheel that are wheel neighbors — they're similar in tone to each other and share a primary color," wedding planner JoAnn Gregoli told Woman Getting Married.
One of the best ways to incorporate this is to use it to choose a base and accent colors. Your base is the color that'll be most prominent, so you have to totally love it. After that, pick two or three accent colors that will be used less. This will stop everything from being too over-the-top matching and add a little depth to your color palette, but it's totally up to you how much your accents match your base. 
What's the best way to incorporate this into your wedding? Use your base color to select your table linens and the main flowers in your centerpieces. Then, use your accent colors to sprinkle in smaller blooms and for your napkins. Or, play with backdrops in your base color and add balloons or other decorative elements in your accent hues for colorful pops.
Get help with your wedding color choice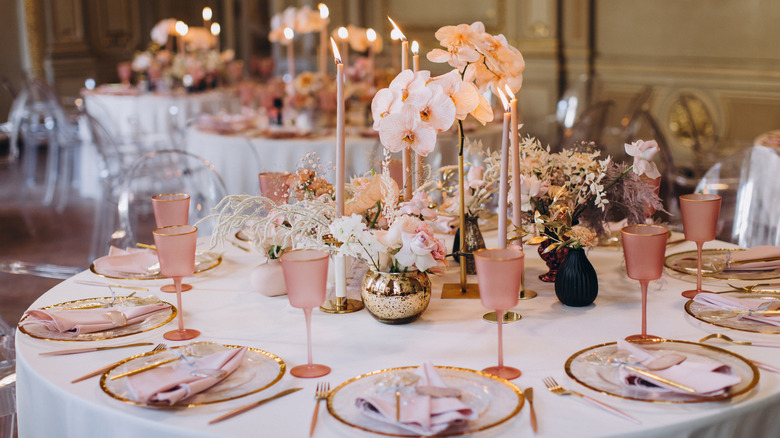 Alex Gukalov/Shutterstock
We totally get it. Wedding planning can feel totally overwhelming to the point you don't even know what actually you like anymore. That can mean all colors look the same while nothing and everything matches all at the same time. But if you're really struggling to choose your color palette or worried you won't love your choices further down the line, there are ways to make things a little easier — particularly if you're not confident in your color-choosing skills.
Asking those around you for a little input on colors is rarely a bad idea — just be prepared for a lot of contrasting opinions. However, there's plenty of help out there for you online. Wedding Wire has a super handy tool that asks you 10 questions about your likes and dislikes before generating your wedding color scheme for you. Chicfetti offers a similar service to tell you what colors you like will go with what, while Bridal Guide has an interactive list of more than 200 different combinations you can click on and learn more about. Martha Stewart also has a handy guide to colors that worked well at other weddings to inspire you. How quick and easy is that!?