Emulate Breezy Italian Summer Dressing With These Wardrobe Additions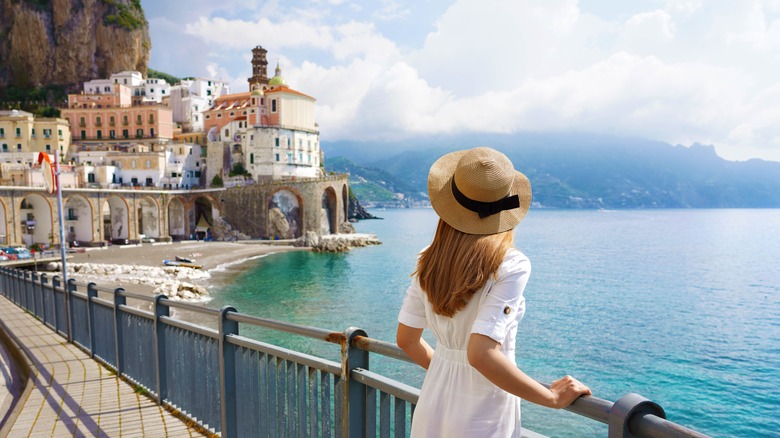 Zigres/Shutterstock
Let's be honest, a summer getaway to an exotic location like Italy would be absolutely amazing right about now — but in this economy? For some people, part of the fun of traveling to exciting new locales is the opportunity to get dressed up and feel like one of the locals. However, that often comes with the hefty price tag of travel and accommodations, not to mention the risk of losing luggage filled with your holiday-ready wardrobe!
This season, let's eliminate the risk (and much of the spending, which can add up) by wearing vacation-worthy looks from the comfort of our hometown. Here are some fun, casual, and glamorous wardrobe suggestions to get you looking the part of a world traveler — and fit whatever vibe you like — without needing to book a flight. And if these looks have people assuming you've just gotten back from a whirlwind vacation, well, I won't tell.
Linen looks give structured outfits a casual feel
If you browse fashion influencers on social media for style inspiration, you may have noticed that suit-chic (including oversized blazers, vests, and wide-leg trousers) has become quite trendy as of late. Of course, there are many ways to incorporate suit elements into your wardrobe, but choosing a lightweight fabric like linen might just be the best way to use it in your summer vacation looks. Just be sure to keep your linen 'fits wrinkle-free with these tips. 
The tailored fit of pieces typically used in suits (such as blazers, vests, and trousers) paired with a flowing fabric like linen makes for a crisp but relaxed look. Another thing to consider is that someone on vacation likely doesn't want to feel like they're in uncomfortable or restricting clothing, so tailored garments in softer, less structured fabrics are a great way to balance the impeccable style that a suit exudes with the comfort of an outfit you'd want to wear while relaxing in an Italian villa. 
Florals are a forever vacation staple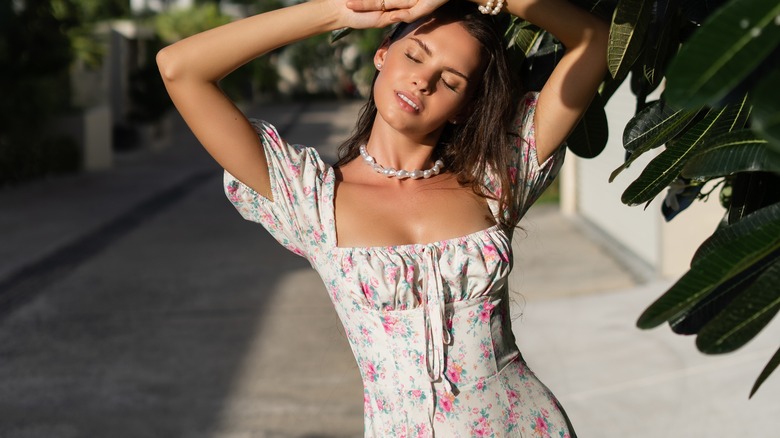 KK_face/Shutterstock
It's highly unlikely to find a style and fashion roundup that doesn't include a mention of florals and floral prints, especially in the spring. It just goes to show the lasting power of floral patterns as a staple in any wardrobe. Though it may not be the most groundbreaking fashion choice, it's certainly a fun one — and what is a vacation outfit if it isn't channeling a bit of playfulness? 
Florals are a great way to add some color and flair to your summer wardrobe — whether you're taking off to a new destination or not — because there are so many options to choose from, whether its the actual clothing pieces, the colors, or even size of the floral pattern. If you're open to the idea, it's very likely that you will find a floral print garment that works within your budget and style.
Fruity prints bring a fun vibe to any outfit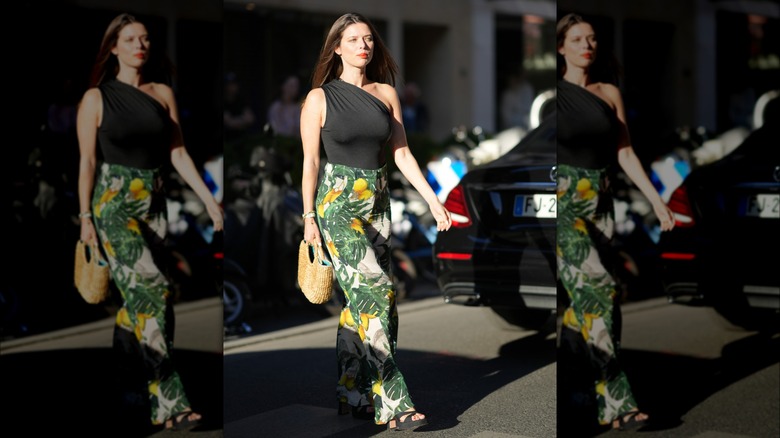 Edward Berthelot/Getty Images
You can catch an Italian vacation vibe and look as fresh as a scoop of gelato al limone with a breezy outfit in a citrus pattern. While this fun and funky pattern may not be for everyone, fruit prints have been popularized by Italian design house Dolce & Gabbana in their recent collections, and you can find dresses, jumpsuits, blouses, and skirts in a range of fruity prints. 
Of course, while it may be nice to just pull a look directly from a runway show to wear to an Italian getaway, this may not be feasible for a lot of people. However, you can definitely still achieve the look without breaking the bank, as the recent popularity of citrus prints means that they can be found throughout many different brands at a wide variety of price points to fit your budget.
Live la dolce vita with a bold animal print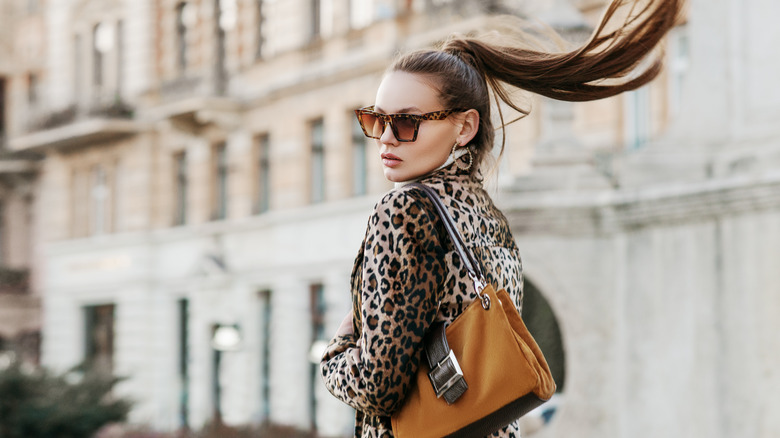 Victoria Chudinova/Shutterstock
When packing for a vacation, it's not uncommon to bring a fancier look to wear to dinners out, or just to add a touch of glamour to your day or night. Although you may not be jet-setting this summer, why use the same principle for dinners at home? An easy way to bump up the glam factor is to add a bold print to your outfit. If you're unsure of what pattern to try, look no further than an animal print. 
While animal prints in clothing tend to feel like a statement piece, they are also classic, and never really go out of style. Leopard print might come to mind at the mention of animal print, but if leopard isn't your thing, try zebra print, or an even more exotic snake print. So much of fashion is about having fun, so this is definitely a trend that's worth trying.
A simple silhouette in a striking color is a winning combo
To some, simple is best. Unfortunately, when it comes to vacation outfits, this may be a product of necessity rather than style, as it isn't always realistic to pack multiple pieces of clothing to make up a single outfit. However, simple does not have to mean plain, and it certainly doesn't have to mean boring. Even the simplest silhouettes can be spiced up by choosing to wear one in vibrant color. 
Though the example above is a fiery red, you may choose to opt for a jewel tone, or a cobalt blue, perhaps? If you're feeling extra daring, a neon shade might be more suited to your style (hot pink, anyone?). Whatever the color, you can make summer 2023's bold color trends work for you. And regardless of how simple the actual outfit or dress is, you're sure to make a statement if you choose to wear it in a bright, eye-catching hue.
Caftans are a simple-but-glamorous vacation outfit choice
Caftans are often associated with robes and tunics, which always channel summer beach vibes. But caftans have also come a long way from just being considered a beach coverup in Western society, especially as people acknowledge the cultural significance of the caftan. To wear a caftan in a more glamorous, dressed-up manner seems like the most appropriate option, as it is more of a dress garment. Of course, this also adds to the versatility of the caftan, which is a great quality to have when choosing clothes to pack on a vacation. Having a piece like a caftan means that you have a garment that is an outfit in and of itself, as well as an outfit that is suitable for multiple occasions during your trip. And even if you're not actually going away on vacation, who says you can't dress up like you are?  
Satin loungewear gives off a glamorous, jet-setter vibe
Comfort is the name of the game for most folks who travel. Whether it's to save space in your luggage for souvenirs, or just to minimize effort when getting dressed with limited clothing options, pieces that are versatile and comfortable are certainly smart choices when traveling. However, this doesn't mean that you need to sacrifice style. Enter: satin loungewear.
Breezy material like silk or satin can keep you looking and feeling cool, and a top and bottom piece can be switched out to make even more outfits, or worn together to feel like a complete ensemble. The best part about loungewear is even if you choose a bright color or an intricately-patterned fabric, there is something so effortlessly cool about seeing someone in what looks like glamorous pyjamas, with some accessories to elevate the overall outfit, like sleek sunglasses or even a perfectly tussled blowout.
Co-ord sets are an easy way to feel comfortable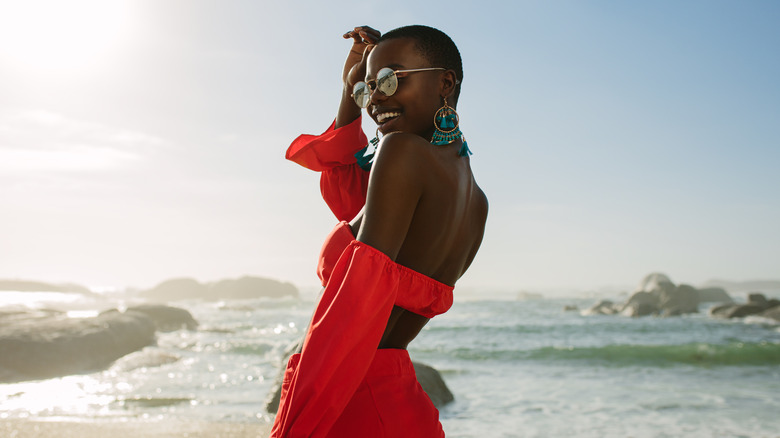 Jacoblund/Getty Images
If loungewear isn't your cup of tea, a co-ord set is a great alternative. Following the same principle, co-ord sets are also a stylish and versatile wardrobe option, whether you're on vacation or just dressing as though you're on vacation. Co-ord sets also generally provide you with more options, as you can have anything from a fun blouse and a skirt, as seen above, to shorts and a tank top.
The key to the co-ord set is that, like loungewear, it takes the guesswork out of putting an outfit together, as one is already created for you by default. The monochromatic look can make for a winning outfit. Having separates is also great as you can switch pieces out to make your outfit look more dressy or more casual, say with a pair of denim shorts. It's always great to have options that don't take up a lot of luggage space when traveling. And if you're not traveling, having wardrobe options that take minimal effort is always handy during the day-to-day bustle of life.
You can never go wrong with a little black dress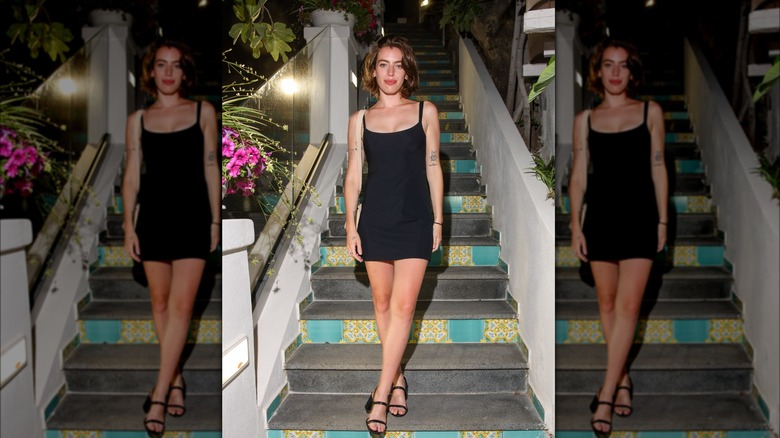 Daniele Venturelli/Getty Images
There are few occasions where a little black dress isn't an appropriate outfit choice, and an Italian getaway isn't one of those occasions. While the little black dress is a fashion staple, making it a classic choice, it's the seemingly unlimited options that make it a true fashion home run. 
The little black dress can suit absolutely anyone, as there are so many options for hemlines, necklines, sleeves, fabrics, you name it! While that may seem a little bit overwhelming, having so many options for dress styles just means that you can be sure to find a dress that suits your aesthetic and budget. This also means that you can style your little black dress however you like! Dress it down for a picnic on the beach, and dress it up for a night on the town — back home, or on vacation!
Don't forget to accessorize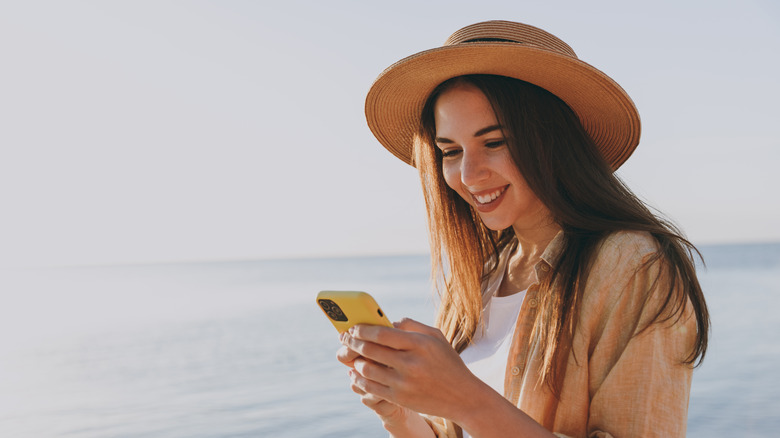 ViDI Studio/Shutterstock
A straw hat not only helps shade you from the heat of the sun — it can also complete and complement your outfit! All of the outfits listed so far might have been missing a key element: an accessory that says, "It's summer and I'm on vacation!" The straw hat is the perfect accessory for such a statement, as it is generally a summer accessory. 
A straw hat also comes in many different styles and varieties, so you can choose one that suits your aesthetic, while still channeling Italian summer getaway vibes. If you're not someone who enjoys wearing a hat, you may want to opt for other great accessories that give off the vacation look: a great pair of sunglasses to add some drama and UV protection to any outfit, or a silk scarf which is a versatile accessory for any occasion. Whatever you do, and whatever you choose to wear, make sure you're having a great time, even if it is from the comfort of your hometown.