Rose Water Is The Haircare Superstar We Wish We Knew About Sooner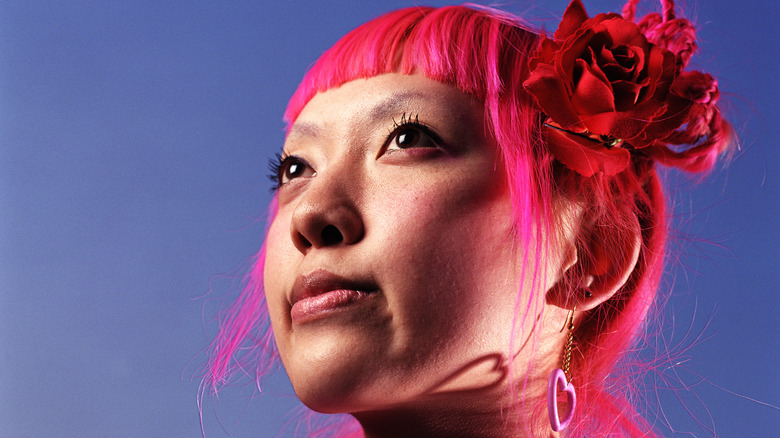 Ryan Mcvay/Getty Images
In case you were searching for a powerful hydrating product you can leave on your hair (and your skin), then get ready for the incredible superstar benefits of rose water. Plus, you'll grace every room you enter with the subtle, evocative scent of roses.
As a beauty remedy for hair and skin, the use of rose water dates back to Syria in the 10th century. These days, through a distilling process, it takes about four roses to produce a liter of rose water, and while it's something you can do at home, there are also plenty of products you can try.
Here's how to use it: Consider it a hair treatment — you can mist rose water all over your dry hair or just on the scalp. Leave it on as you would with a leave-in conditioner; there's no need to rinse it out, although you can. Or, add rose water to whatever shampoo you're using and wash your hair with it. There are also rose-infused shampoos and conditioners you can buy. Another way to use it — after washing and conditioning — is to use rose water as a final rinse while you're still in the shower. It's perfect for combatting curly hair problems because it defrizzes, and it's safe for daily use (unless you're allergic to roses).
The benefits of rose water haircare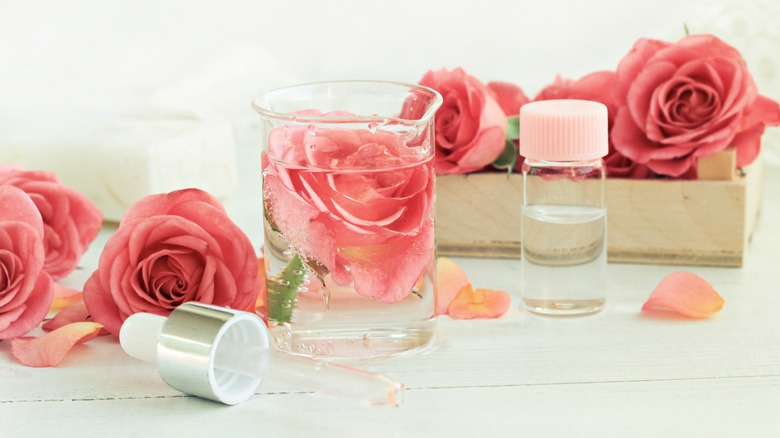 Anna-ok/Getty Images
Rose water is loaded with vitamins A, B3, C, and E. It has natural anti-inflammatory properties which makes it great for scalp issues. Psoriasis is an autoimmune disorder that overproduces skin cells, eventually producing scaly skin, often on the scalp. Eczema is a form of dermatitis that can flare up from environmental irritants, producing dry, itchy skin. To combat this, use rose water in a targeted way directly on the scalp. You might also need to use a dandruff shampoo if you have serious dandruff.
Rose water is super hydrating. Depending on how it's manufactured, there might even be an extra boost from a drop of rose oil. This is great news if the ends of your hair get fried. Khadija, the stylist with a hair care company called Henna Sooq, says on her YouTube channel, "If you ever find that your ends are dry, then you can easily grab that rosewater, spritz your ends, and you will feel so much more hydrated. It's amazing for all hair types."
It's also a mild astringent — this doesn't take away from its hydrating properties, but this is why it's a great choice for all hair types. If your locks tend to be oily, rose water can gently lift some of that excess oil. There's no scientific evidence, but rose water might prevent or slow hair loss because its vitamins create optimally healthy conditions for your scalp.
Where to start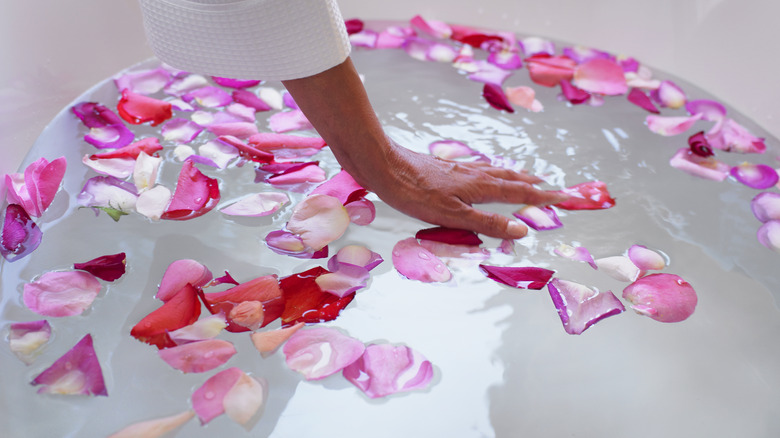 Siri Stafford/Getty Images
If you're as excited as we are about supporting small businesses and women-owned businesses, we encourage you to take a look at some of these companies. We can't wait to try Moroccan Rose Water from Henna Sooq made from Damask roses that grow in the mineral-rich soil of Morocco. Her rose water is free from preservatives, artificial fragrances, and alcohol. 
Veda Oils has an inexpensive rose water product if you don't mind waiting for a shipment from India. If you've got 327 rupees lying around (USD$3.99) go for it. There's even a rose water recipe on their site to treat skin infections.
For a sulfate-free shampoo that contains rose water, try Carol's Daughter Wash Day Delight shampoo. Pink Moon's multipurpose Celestial Sun Brew – Rose Herbal Tea, Facial Steam & Hair Rinse contains loose rose buds, holy basil, and lemon peel. With this one product, you could alternate between drinking a delightful tea, steaming your face, and rinsing your hair. Bonus rose trivia — did you know that if you were born in the month of June, the rose is your birth flower? Regardless of which one it is, your birth flower says a lot about your personality.