What's The Difference Between Mom And Dad Jeans (And How Are We Wearing Them, Anyway?)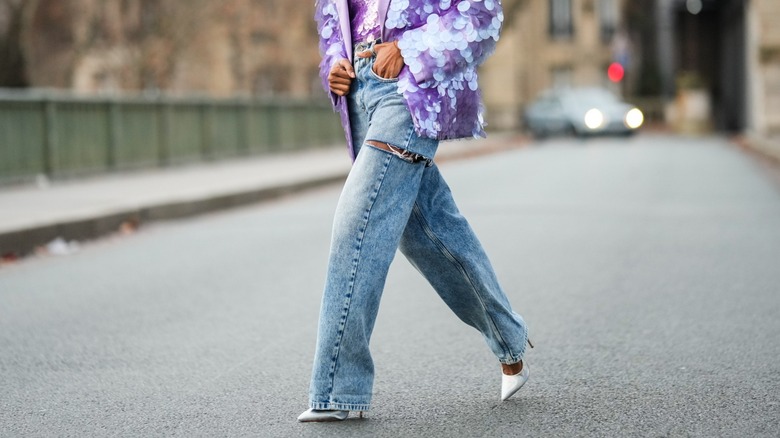 Edward Berthelot/Getty Images
Baggy jeans continue to be at the forefront of denim fashion. Where some might be mom jean lovers, others favor the dad jean look. But wait — which is which again? There is much more nuance to the loose fit than it seems, and knowing what style you're going for can make the search for your perfect pair of baggy jeans easier. So, let's go over a few denim details, shall we? 
Mom jeans had their first peak in the '80s, but in later decades, the cut was not considered as fashion-forward. The term "mom jeans" was used as something of a negative, meant to connote a woman who, strapped with her maternal duties, needed a pair of jeans that were more comfortable than cool. Now, look how the trends have turned. Dad jeans, on the other hand, are something of a newer label, popularized with the normcore aesthetic that has also brought us the rise of the "ugly shoe." Despite their varying origins, both mom jeans and dad jeans are fantastic choices in today's fashion world. This is how to tell the difference between the two cuts — as well as some loose denim styling tips (because we need to prepare for skinny jeans not coming back). 
Get to know mom jeans
Mom jeans have three defining factors. First, mom jeans are unfailingly high-waisted; anything lower than that is not the real thing. Second, mom jeans tend to have a rather loose fit around the leg, where the cut tapers down. This gives mom jeans their signature shape, which is slightly bulkier around the thighs, and thinner around the calves. The function of tapered jeans is largely for comfort, which is part of the reason why mom jeans have made such a huge comeback. The tapering also serves to give the jeans some structure. And third, mom jeans tend to be cropped at the ankles and feature a straight leg down the calves. 
Because of the distinct look of mom jeans, styling them can sometimes be a challenge. TikTok creator Natalierae (@dressmelikethat) offers several styling ideas that are sure to encourage experimentation with this look. Notice how Natalierae cuffs her mom jeans; this can make styling this cut even easier. We also love how she wears them with heels. The combination is simply timeless. 
Dad jeans, defined
Dad jeans also have a few defining factors but are overall slightly more straightforward than mom jeans. Similar to mom jeans, dad jeans are also high-waisted but have a loose-fitting, straight leg — they do not taper at all. As such, dad jeans can be super comfortable and are great for those looking for a casual fit. 
Dad jeans are just as versatile as mom jeans: Check out how TikTok creator Mayra (@labelswithlattes) styles her dad jeans for proof. Mayra offers an everyday look, a business casual look, a streetwear look, a casual chic look, and a date look — if that's not range, then we don't know what is! Dad jeans definitely do not need to be delegated solely to the realm of normcore, and when done right, they can work with any aesthetic. Because both mom jeans and dad jeans are having a fashion moment, no matter which you prefer, you're already styling.