Slip Skirts Are Giving The Denim Maxi A Run For It's Money This Summer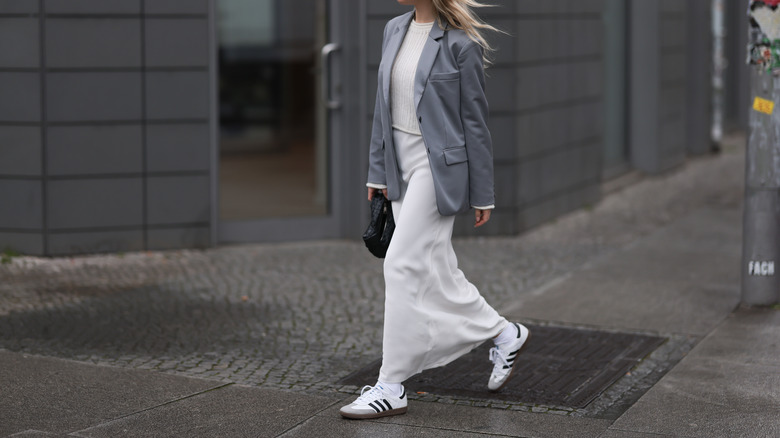 Jeremy Moeller/Getty Images
As you already know, the Y2K revival is the summer style. From blingy jewelry to wrap-around shades, our favorite summer trends unapologetically call back to the 90s and 2000s. The hottest fashions of the past decades are now grown up and ready for the 21st century. Slip skirts are the latest wardrobe staple to receive the spotlight, and they are taking over as the essential summer bottom. Modern takes on the slip skirt go for a sheer, lingerie appearance, keeping up with the corset and exposed undergarment trends we've already seen.
Whether worn formally or casually, this summer essential adds an effortless touch of elegance to any outfit you pair it with. We're all about prioritizing comfort this summer. A simple slip skirt lets you max out your style and comfort at the same time. This skirt is perfect for summer because it is lightweight, simple to style, and won't clutter your carry-on for your girl's trip. Say goodbye to your clunky denim maxi skirts from spring for this lightweight, sexy swap.
Dress it up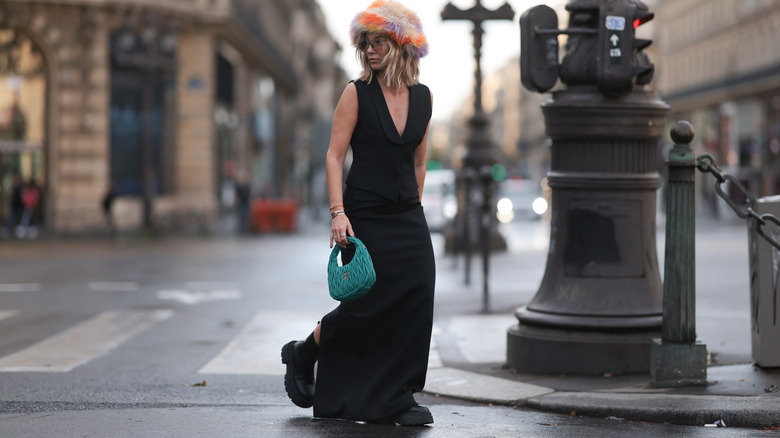 Jeremy Moeller/Getty Images
We love the versatile look a slip skirt can provide. These skirts are an easy base to add a creative spin to outfits. Make the slip skirt your summer go-to for cocktail hours or semi-formal weddings. To keep your look classy, pair it with heels or loafers. Heels and midi slip skirts are a match made in fashion heaven. The height helps combat any awkwardness of the midi-length by keeping your legs elongated. Or, make a statement by matching the colors of your top and skirt. Monochromatic looks are your winning outfit hack for looking put together with minimal effort.
Slip skirts are also making an appearance in the office. Skirt suits in summer are a fun way to bring hints of the warm weather into your office while still looking professional. Pair it with a blazer and minimalist jewelry to ensure it's work appropriate. By incorporating trendy clothes into your work wardrobe, you can ensure getting the most wear out of your purchases. Plus, we love the girl boss vibe this style brings.
Or dress it down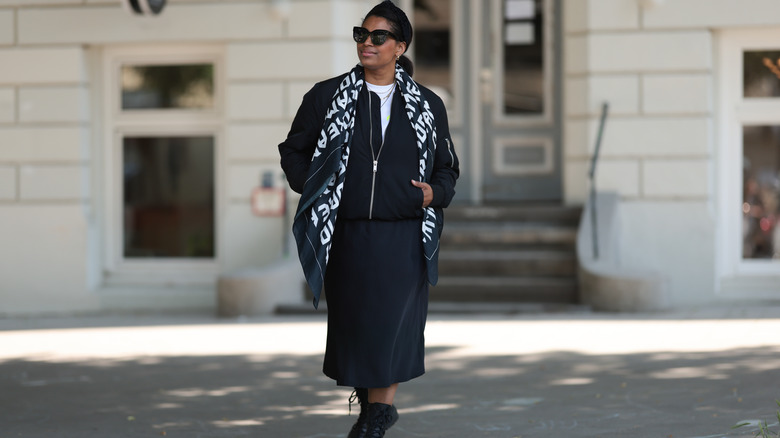 Jeremy Moeller/Getty Images
A slip skirt can totally be casual too. We recommend pairing it with a graphic tee or fashionable sneakers to give even the most casual outfits a cool-girl vibe. Experimenting with materials and patterns lets you customize your look, and going with sheer material is a great way to be stylish while sweaty. A breathable fabric makes rocking your summer fits easy all day. You can say goodbye to the fear of overheating or sweat stains. A common fear with slip skirts is the garment clinging to your stomach or middle area. Try starting with more neutral colors and pairing it with an oversized blazer or shirt while you get more confident wearing it.
Lean into the Y2K look by going for tube tops and chokers, giving your look a more grunge vibe. Sticking to darker colors makes this typically feminine piece more edgy and wearable for both day and night. Or keep the look beachy by opting for sandals and a summer anklet. Don't be afraid to get playful with your looks, that's what Y2K is all about! Reclaim this trend in a way that makes you feel your best and ready to take this summer on with style.