Raffia Bags, You'll Always Be Famous. Why They're The Ultimate Summer Staple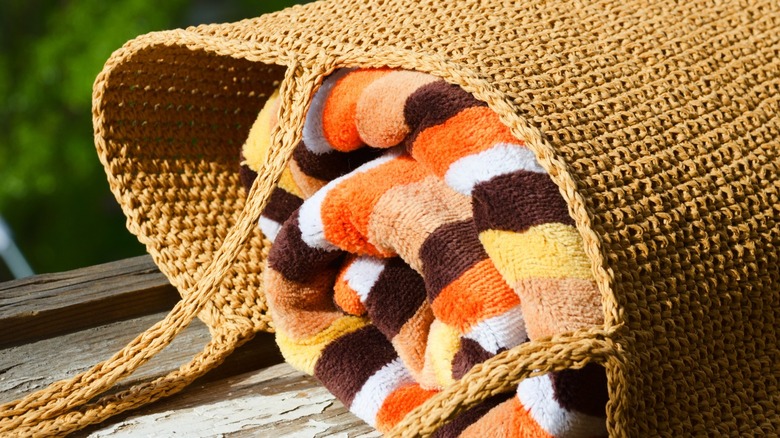 fantasy-ua/Shutterstock
When we think of summer fashion accessories, big sunglasses, floppy hats, slide-on sandals, and satin scarves are typically the first to mind. But we all know that the raffia bag is the ultimate summer staple. Genuine raffia bags are made from palm leaves typically sourced from Africa, namely Madagascar, which adds to the high price point of the bags, along with the labor-intensive practice of extracting the fibers from the plants. For a less expensive option, bags made of woven straw, which is collected while harvesting various grains, as well as rattan and wicker, have a similar look and appeal as raffia bags. 
When expertly woven, these natural-fiber bags are durable, flexible, lightweight, and beautiful — not to mention synonymous with summer fashion. For example, the Prada Raffia Bag was last year's summer fashion star, spotted on faraway beaches and accompanying supermodels in their selfies. Earlier this season, Sophia Vergara was also spotted wearing a Christian Dior raffia tote bag. All of this is just to say: Raffia bags, you will always be famous. 
Raffia bags are versatile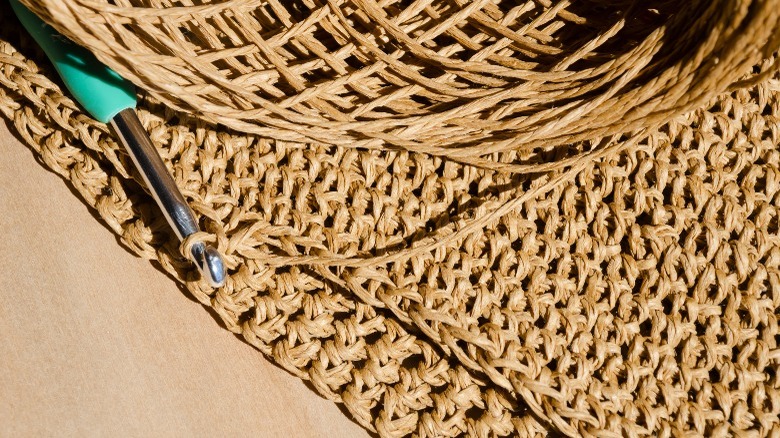 Natalia Synenko/Getty Images
Raffia bags can take many forms. And although summer attire tends to skew a bit more casual, raffia bags can be dressed up or down, making them an instant summer classic. Some are small, beach-chic clutches, definitely worthy to debut at a summer wedding or beachside dinner date; others are massive totes, essential for stewing all your sunny-day essentials (water bottle, beach towel, books, a change of shoes, sunscreen, portable cell charger) all in one place. Depending on how you see yourself using the bag, and what kind of investment you are willing to make in one, there is a raffia bag out there that meets all of your must-haves. 
For an all-around solid tote, this bohemian-style raffia bag from Eileen Fisher retails for $128 and comes in both natural and black. Handcrafted in Madagascar, the tote bag uses responsible sourcing and promotes economic growth for its artisans — all the more reason to get in on the trend. When you want to go a bit more upscale, as well as a bit more whimsical, this shell-shaped rattan bag (note, not raffia) from Neiman Marcus retails for $295, but will last you years and years of summer fun. And for a more minimal option, this small, crossbody raffia bag from Club Monaco costs just under $80. And because raffia can be stained, a colorful raffia bag could be a fantastic summer piece as you make summer 2023's boldest color trends work for you. 
Raffia bags are eco-conscious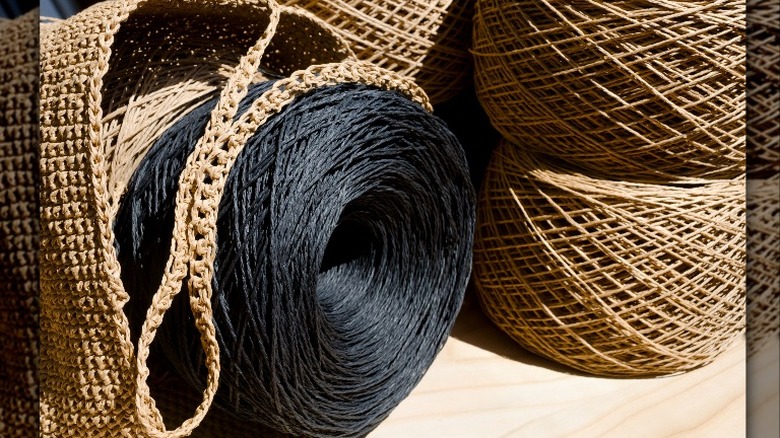 fantasy-ua/Shutterstock
Wearing a raffia bag is comparable to walking barefoot outdoors — you feel connected to the natural world around you. This could be, in part, because raffia is a renewable crop, where the plant can regrow after being harvested. Where fast fashion poses a significant threat to the environment, opting for clothing items and accessories made from natural fibers, renewable materials, and harvested in a sustainable manner, could be crucial in protecting the Earth from climate change. Bags made of various plastic materials will never biodegrade, and instead break down further into microplastics, wreaking havoc on both land and sea. But bags mades made of natural materials, such as raffia, will biodegrade, meaning the bags are a far more eco-conscious choice than bags made of plastic materials. 
Where trends come and go, sustainable summer fashion will always be chic. Opting for staple pieces that you know will last for years, and those that are made of natural materials, can do much more good than harm throughout each step of the process. Remember that, because the bags are made of natural fibers, take extra precautions when it comes to long-term care, as some damage could be hard to restore. Simple messes can be spot cleaned with a damp cloth and left to air out in the sun, where the raffia must be dried completely to avoid ruining the fibers.