It's Time To Stop Overlooking Your Hands When You're Applying SPF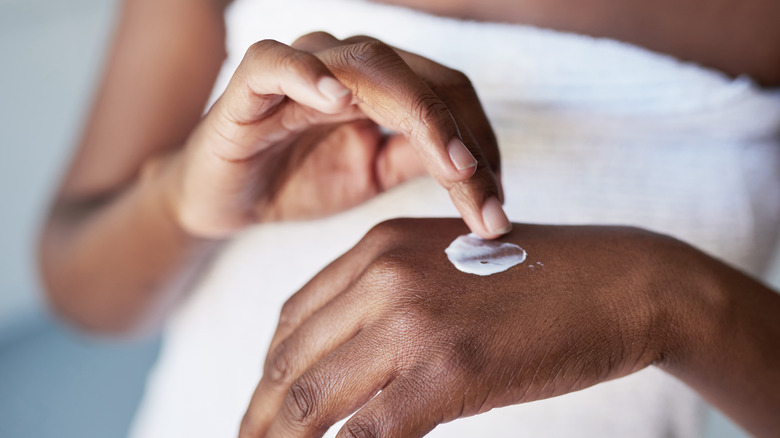 Laylabird/Getty Images
Nobody can argue that sunscreen shouldn't be a critical part of one's skincare routine. Not only can the right sunscreen make your skin silky smooth, but it also protects it from harmful UV rays if you have the right SPF for your needs. We all know the drill when it comes to how you should apply your sunscreen — get it everywhere on your face (except your eyes), and make sure you apply it as evenly as possible on your difficult-to-reach areas.
However, there is one part of the body that's easy to overlook during your routine, and it's your hands. It might be easy to presume that your hands are getting the proper amount of sunscreen they need just by helping apply it all over the rest of your body. Not only that, but they often don't seem to get any sunburns or negative reactions to UV exposure, right? If only it were that simple.
Why you need to put sunscreen on your hands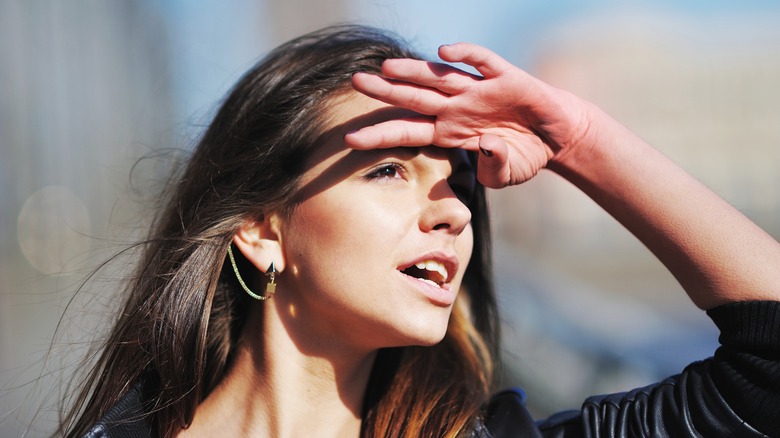 sun ok/Shutterstock
Sunscreen residue is not enough to protect your hands from the effects of the sun's UV rays. Dermatologists say that this is because your hands experience so much stress and use on a day-to-day basis, especially outside, that long-term and unprotected exposure to UV can actually age them. Signs of this include wrinkles, sunspots, and freckles popping up where you normally wouldn't find them.
"The tops of the hands are especially susceptible to long-term UV damage and risk of skin cancer and premature aging," dermatologist Michael Kassardjian told Healthline.
Hands are largely considered an important sign of aging, so it's important that you give the same love to them as you would your face. Spray or aerosol sunscreens are not recommended for your hands. Instead, put on sunscreen manually much like you would apply hand cream. Also not unlike hand cream, you should put it on numerous times a day in order to ensure maximum protection.
Should you use specialty hand sunscreen or your normal brand?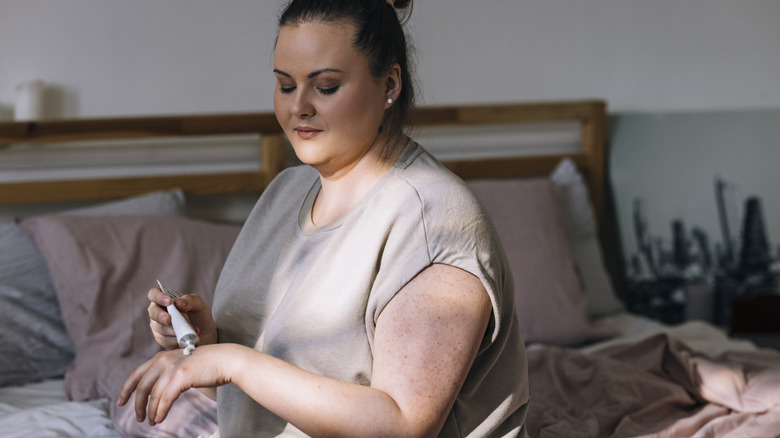 Freshsplash/Getty Images
When searching for "hand sunscreen" on Google, you'll find many different results for specialty products. It really is a testament to how popular and important skincare has become in the wider beauty industry, especially when it comes to such a critical product as sunscreen. However, nobody wants to spend extra money when they don't have to, so should you splurge on these hand sunscreens or just use your regular one?
Honestly, it should be a combination of both. When you're beginning to start your day, put a coat of your regular facial sunscreen over your hands in order to have a strong and solid base against UV rays. However, as you continue your day and you find yourself either working with your hands or washing them more, switch to a more specialized formula. This is because hand creams, including those with SPF, can provide more long-term moisture thanks to the ingredients they carry. Once you get into this important routine, your hands will thank you.