Your Nails But Better Is The Name Of The Summer Manicure Game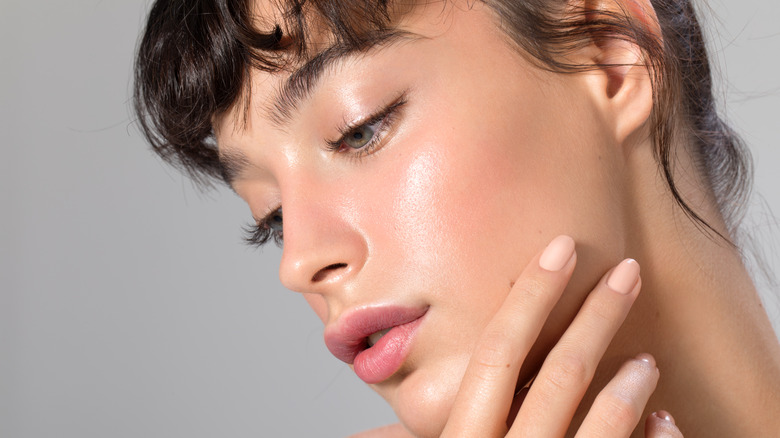 Svetikd/Getty Images
We may receive a commission on purchases made from links.
From lip gloss nails to naked nails to milky nails — glossy, sheer, natural nail looks are taking over. With the wave of quiet luxury trends in fashion, makeup, and hairstyles it's no wonder our nails are finally joining in the minimalist movement. Perhaps as a response to the bold anything-goes, in-your-face nail art, "your nails but better" is the newest manicure trend you'll want to rock this summer. It's all about ultra-healthy-looking natural nails with glossy, nude or pink translucent polishes (quite the opposite of reclaiming black nails as an adult staple), looks that can be achieved at home or in a salon.
Quiet luxury in fashion and beauty reflects minimalism, understated elegance, and muted tones — think the Roy family's wardrobe in "Succession" or Gwyneth Paltrow's recent courtroom looks. It gives off a natural, effortless beauty vibe but isn't always as low-maintenance as it's meant to look. Maintaining super healthy-looking nails does actually take some effort. But pair your healthy natural nails with the perfect sheer polish and you'll have a look that will last and be on trend for this summer.
Who's rocking the look and what it's all about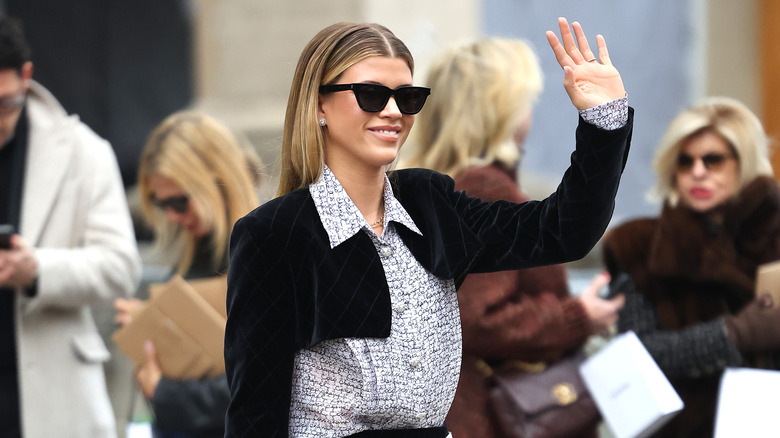 Jacopo Raule/Getty Images
While naked nails are more about a healthy, clean slate, no polish look, "your nails but better" manis are meant to mimic your natural nails but with some improvements — like the sheerest, glossiest, nude nail polish. Less glam than iridescent donut glazed nails and more see-through than lip gloss nails, "your nails but better" are more of a barely there manicure. Zendaya, Sofia Richie Grainge, and Jennifer Lopez are some celebs who have embraced the natural, glossy, barely there nail trend. Richie Grainge, a quiet luxury queen, particularly made waves when she rocked the trendy manicure for her wedding day.
While traditional nude nail polishes offer an opaque block of color, polishes for this trend are glossy and super-sheer or semi-translucent — enough that you should be able to subtly see the tips of your nails through the polish. You should be able to see some contrast between your nails and the tips but not as intensely as you would with a French manicure or if you had no polish.
"I've definitely noticed a trend for more clean, natural-looking nails amongst my clients — new and existing," leading nail technician Metta Francis confirms (per Bazaar). "More people want to achieve this 'perfect' hand and nail look — and much like skin, have a desire for healthy, glowy nails," she says. Essentially, "your nails but better" manis should look polished and perfect, but natural too. Easy, right?
How to achieve the look at home
Embracing your natural nails will save you money at the salon and can also give your nails a much-needed break from acrylics or gel manicures. But you're still going to need to pamper yourself in order to achieve the look. If you scan Instagram and TikTok for images of "your nails but better" manis, you'll notice how flawless and healthy those nails look, from the meticulously shaped tips to the perfectly trimmed cuticles.
Think of this trend as a manicure for your whole hand. Francis says, "Hydrated hands, including the skin around the nails and cuticle, are key." You can use a hand scrub once per week, she says, to get rid of dead skin around your nailbeds. Also, to keep your nailbeds looking flawless, trim your cuticles and apply cuticle oil regularly to keep the area moisturized. To grow long and strong natural nails, apply a nail strengthener like the tried-and-true Sally Hansen Hard As Nails. You can also try silk wraps as the ultimate broken nail hack for keeping your length even after a break. 
For the right polish to achieve the look, choose a sheer milky or light pink shade, such as OPI's Bubble Bath, or try to find a shade that complements your skin tone. According to Allure, manicurist Deborah Lippmann suggests matching your polish to the color of your nail beds to find the best nude shade for your skin tone. Zendaya's manicurist revealed on Instagram that she used CND Shellac Gel Polish in Backyard Nuptials on the celeb's natural nails. As an alternative, keep it simple with a clear top coat over your healthy natural nails.